People see your dreadlocks and assume you woke up like that, all gorgeous and kept together, but they don't know the work you put in to prevent dandruff, dry hair, and product residue.
Don't even tell them this story.
It'll scare them. Instead, focus on getting a good shampoo and conditioner so your locs continue to make heads turn.
Do you know there are shampoos formulated for locs?
I found one, it's called Lion Locs, and it has a leave-in conditioner. I ranked it as one of the best shampoos for dreads for the reasons I have summarized below. Read on.
Which Are The Best Shampoos For Dreads?
I don't know about you, but for me, product build-up is the worst that can happen when growing locs. The first few months after starting the dreadlocks journey are exciting, filled with involuntary urges to retwist even the smallest growth.
A few months later, the locs have an odor, they stop growing, and residue makes them heavy. Therefore, this journey is easier when you have the right products; you need a shampoo and a conditioner.
Let's look at the nine best shampoos for locs, and in there, discuss some of the ingredients that boost hair growth but prevent build-up.
Afterward, we'll talk about harmful shampoo ingredients and what they do to your scalp and locs.
To start us off on shampoo reviews:
The 9 Best Shampoo For Dreads Reviewed
1. Lion Locs Shampoo And Conditioner – Best Overall
Lion Locs cleanses both your dreadlocks and your scalp to remove residue like dirt and product build-up so that your locs don't dry out. It also softens them, making them easy to retwist and style.
Furthermore, as a leave-in conditioner, your locs will be smooth throughout, and your hair won't break as you're retwisting locs.
This shampoo and conditioner suit all types of locs, from sisterlocks to dreadlocks.
It's also beneficial to note that it's vegan and organic, with ingredients like green tea leaf extract, vitamins A & E, castor oil, and argan oil.
Once you massage this product from your scalp to the tips of your locs, your fingers will slide smoothly through the locs. Give it a few minutes (about 5), then rinse it, and your dreads will have a soft, shiny look.
Pros
Cleanses and hydrates

2 in 1 formulation

Leave-in conditioner

Aids hair growth

Removes residue

Suitable for all locs

Lightweight
Cons
Can't tell how much of each product you've used in a 2 in 1 formulation.
Takeaway
Looking for a shampoo formulated for dreads can take longer than a day because such products are rare. Therefore, when you get one that is not only a shampoo but a leave-in conditioner, it's a moment that deserves a smile.
---
2. Head & Shoulders – Best Anti-dandruff Shampoo
Dandruff is a common problem among adults, not only in people with locs. When you use this Head & Shoulders Shampoo regularly, it relieves your dry scalp.
Next, its active ingredients like zinc pyrithione remove dandruff so your locs can have a natural shine without flakes of dead skin cells.
On top of that, its formulation is specifically for natural and curly hair to maintain your God-given hair texture. It foams well, which means you'll use less product every time you wash your hair.
Moreover, the coconut oil in it brings a natural scent that prevents odor until your next shampoo day.
Lastly, don't worry about parabens and dyes, as this Head & Shoulders Shampoo doesn't have such controversial ingredients.
Pros
Parabens free

Has no dyes

Coconut oil adds a fresh scent.

Hydrates dry hair

Rich foam

Relieves an itchy scalp

Has 1% zinc pyrithione
Cons
Has sodium laureth sulfate
Takeaway
Dandruff is a bother until you get a shampoo with an active ingredient that eliminates it. Also, it's beneficial to use a shampoo that relieves an itchy scalp so you won't keep scratching your head. The Head & Shoulders Shampoo meets these two needs.
---
3. Artnaturals Organic Set - Best For Damaged Hair
The first thing you'll notice when you open your Artnaturals Shampoo & Conditioner set is that they are sulfate-free to prevent scalp irritation from the over-cleansing power of sulfates.
This shampoo moisturizes, so you'll not have traces of dirt or oils in your hair that can accumulate and irritate your scalp later.
What's more, if you've suffered from the effects of locs styling or heat, this formulation of oils like argan oil repairs damaged hair by restoring the hair moisture level. Plus, it strengthens your hair shafts to prevent hair breakage that can stop your journey to long dreadlocks.
It also stimulates hair growth to give you length even though your priority is a shampoo that leaves your hair healthy and strong. You'll love that it has a wide range of rich oils and minerals like aloe vera, thyme, rosemary, and white willow bark.
In summary, when you have a shampoo and conditioner set, you're sure they are both formulated for use together, so the ingredients aren't counterproductive or destructive.
Pros
A rich combination of oils and minerals.

Repairs damaged hair shafts

Sulfate-free

No parabens

Shampoo and conditioner set

Breakout free conditioner

Lightweight conditioner
Cons
Takeaway
With dreadlocks, it's not so much about length but the strength and health of the locs. Thus, this formulation with natural oils and minerals provides nutrients to strengthen even damaged hair.
---
4. Apple Cider Vinegar Thin 2Thick Set – Best Regrowth Set
The first thing I look at when I see a new locs shampoo is the combination of ingredients.
With Apple Cider Vinegar Thin 2Thick Set, you'll get numerous good oils and herbs like peppermint oil, rosemary leaf, tea tree oil, and castor oil, all of which improve hair health.
It's for both men and women so getting a set for your household is cost-effective.
When you have such good ingredients in a shampoo, it's only fair to get the same quality in a conditioner, and that's why this Apple Cider Vinegar product comes in a set.
It's a clarifying shampoo for locs infused with apple cider vinegar, which balances your scalp PH by removing residue.
During this process, it also locks the moisture and prevents a dry scalp without causing hair tangles. With this comes thicker locs because the strands are strong, so less hair breakage in your locs. 
Such a change is so refreshing after you've experienced hair thinning along the hairline due to loc styling.
Pros
Prevents hair thinning

Has apple cider to balance natural oils

Ignites hair repair

Reduces hair shedding
Cons
The shampoo leaves the hair too dry.
Takeaway
Nature heals. Thus, using this organic Apple Cider Vinegar Shampoo and Conditioner gives your locs a range of exotic oils like peppermint, rosemary, and grapefruit seed oil. These oils strengthen your hair shafts and renew the growth of damaged locs.
---
5. Aveeno Scalp Shampoo – Best Apple Cider Blend
It goes beyond soothing your scalp by leaving your locs shining after it removes product build-up. If you've experienced a dry or itchy scalp, it combats such problems to give you locs that smell fresh and are residue-free.
All hair types benefit from this shampoo from Aveeno. Additionally, it lathers well as you massage it into the locs and scalp to reach the residue that's deep inside your locs.
As you rinse it off, you feel your scalp cooling down.
If you've encountered the problems of heavy shampoos in the past, this one comes in a lightweight gel that is easy to apply and rinse off.
Pros
Lathers well

A soothing effect

Subtle scent

No residue
Cons
Takeaway
Apple cider vinegar cleans locs by removing residues like oils and dirt. Unless your shampoo gets rid of such residue, your dreadlocks will feel heavy and smell funny.
---
6. Love Beauty & Planet Set – Best Vegan Option
Manufacturers are upping their game in response to consumers, and this Love Beauty & Planet Set is an example of such growth.
It's vegan, cruelty-free, and plant-based. It doesn't have silicones, paraben, sulfates, and other harmful ingredients.
This set has ylang-ylang and coconut oil to repair damaged locs, leaving you with shiny, healthy hair. After a few days of using it, your locs feel soft and non-greasy. Since it removes all residue, your scalp will heal, and dandruff will disappear too.
In conclusion, the packaging is appealing.
It's easy to differentiate the shampoo from the conditioner while in the shower.
Pros
Mild scent

Vegan formulation

Contains antimicrobial phytochemicals
Cons
May leave traces of oil on the scalp.
Takeaway
The world needs more brands that champion cruelty-free processes, and Love Beauty & Planet brand is leading by sourcing its ingredients like ylang-ylang ethically.
I would recommend this vegan shampoo and conditioner set to those who care about hydrating locs after severe hair damage.
---
7. Majestic Pure – Best Shampoo and Conditioner Set
Instead of going out to look for a conditioner after you've bought a shampoo, Majestic Pure gives you shampoo with apple cider vinegar and a conditioner with avocado and coconut oils. This set doesn't exclude anyone as it's for all genders, for all hair types.
If your hair is oily, you'll notice a considerable decrease in oils after using this shampoo; thus, your locs will be lightweight. Even in humid weather, your new growth won't tangle, and your hair will remain smooth.
It's also for people who've had dyed, brittle, broken hair for the longest time, and they're looking for a solution because their locs are too dry.
After regular use, the locs become healthy, and they shine.
Pros
Pure apple cider vinegar

Formulated to treat damaged hair.

Has many essential oils

Has a pump to prevent contamination
Cons
The shampoo is thick.

Very mild scent.
Takeaway
Rarely will shampoos focus on renewing damaged hair, so Majestic Pure made that a priority in the shampoo and conditioner. It restores the shine you had before residue and product build-up destroyed your hair.
---
8. SheaMoisture Shampoo – Best Black Castor Oil
You're in for a real treat as SheaMoisture cleanses your scalp thoroughly without stripping natural hair moisture. Its formulation consists of quality ingredients that aid hair growth. Further, you only use a small amount as the foam is so rich it lathers a large area at once.
Plus, it has castor oil, so it's thick.
As you wash your hair, it doesn't cause hair breakage to leave you with a tuft of hair in the bathtub. Finally, the peppermint scent gives it a good smell.
Pros
Peppermint scent

No harmful ingredients

Removes build-up

Reduces hair breakage

Promotes hair growth
Cons
Hair feels a little dry

Doesn't help with hair loss
Takeaway
The two roles of the SheaMoisture Shampoo are strengthening and restoring broken hair. We know locs break when retwisting; consequently, a formulation like this stops further damage to weak dreadlocks.
---
9. Neutrogena Shampoo – Best Budget Option
Neutrogena is renowned for its skincare products. That being so, you might have missed this product unless you've checked hair care forums.
Nonetheless, since you're here, let's talk about what it's offering you. Its main objective is residue removal, which makes it a clarifying shampoo.
It breaks up the bonds of product residue in your locs and eliminates them together with dirt and oils. Note that, while removing residue, it won't unravel your locs.
It's non-irritating, and once the residue is out of your hair, you'll notice an increase in volume and your hair will grow healthier. Over and above that, it also reduces the number of styling products you need as locs without residue are lightweight and easy to style.
It's budget-friendly; you don't have to dent your wallet to take care of your locs.
Pros
Anti-residue shampoo

Aids hair growth

Doesn't unravel locs

Non-irritating
Cons
Has sodium Laureth sulfate

Can dry your hair when used too often.
Takeaway
When you've accumulated residue in your locs, getting rid of it may take a while. This build-up prevents moisturizers from reaching inside your locs. Hence, a clarifying shampoo like Neutrogena Anti-residue Shampoo will take care of your locs.
---
And...
As we conclude in this section, if you've been using soaps or using shampoos without a conditioner, the list above gives you nine options that can work on your locs.
Now, let's talk about the contents of a shampoo bottle.
What's In The Best Shampoo For Locs?
A simple shampoo formulation has surfactants (surface active agent), preservatives, fragrances, a solvent, and a conditioning agent. Water is the main ingredient as it dilutes the cleansing agents to protect your hair and scalp from chemical damage.
Furthermore, water creates a solution that you can pour on your hair and massage into the scalp.
The preservatives in your shampoo bottle keep the formulation within the sell-by date; they also prevent microbial growth since water is the main ingredient in shampoos.
Parabens are common preservatives that make headlines in the skin and hair care industries since studies showed they mimic estrogen. These preservatives also surfaced in breast tumors. Nonetheless, no conclusive findings link these preservatives to cancer.
The Purpose Of Surfactants
Surfactants do most of the work in your shampoo. They also increase the foaming power of shampoos.
When you wet your hair and pour a generous amount of shampoo, surfactants in it reduce the surface tension that repels water from the hair surface.
It enables the expulsion of sebum, dirt, and oils from the hair shaft. Moreover, it solubilizes oils, and as you rinse your hair, these residue oils come off.
Common surfactants in shampoos are sodium lauryl sulfate and sodium laureth sulfate. You'll also come across shampoos with ammonium laureth sulfate.
However, these cleansers may irritate your scalp when used in high amounts; thus, some brands use them alongside other milder surfactants or manufacture sulfate-free shampoos.
Sulfate-free shampoos contain surfactants that cause less irritation. Such shampoos are healthier on your skin, but they are not as thick as the shampoos with sulfates like sodium laureth sulfate. Consequently, you may use more shampoo by opting for sulfate-free products.
Would you like to try herbal shampoos instead? They work, and they have very effective oils either in raw or purified form. The good thing about herbs is that they contain safe and healthy active principles, such as vitamins, amino acids, and enzymes.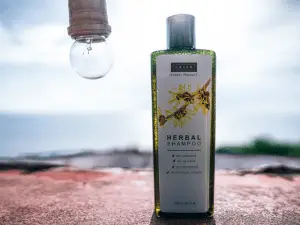 Let's look at a few common ingredients in herbal shampoos based on what they do:
A Summary Of Popular Ingredients in Herbal Shampoos
Antimicrobial agents: holy basil, neem, thyme

Conditioning agents: henna, rosemary, velvet flower

Hair growth stimulators: barberry, jaborandi, nettles, Southernwood, yarrow

Antidandruff agents: witch hazel, eucalyptus, sandalwood, lemon, tea tree, soap nut, camphor
There are specific formulations for scalp problems and damaged hair. Therefore, as you look for the best shampoo and conditioner for dreadlocks, bear in mind any existing scalp problems.
Two Common Hair Problems
Dandruff
Dandruff is messy, especially when stuck on your locs. The whitish flakes don't brush off after you rinse your hair. Sadly, the cause of dandruff remains unclear, so you can't counter them before they form.
However, there are reports that dandruff comes from Malassezia yeast species. They cause inflammations on the scalp that lead to uncontrollable flakes of dead skin cells. Therefore, antidandruff shampoos contain ingredients to inhibit these yeast species.
Some of the antifungal actives in shampoos are zinc pyrithione, salicylic acid, selenium sulfide, and ketoconazole.
Folliculitis
Folliculitis is another common disorder that affects the scalp, caused by bacteria called Pseudomonas aeruginosa. When you're infected, blisters form around inflamed hair follicles. This condition lasts for about a week. Use only the best shampoo for folliculitis on the scalp to control the problem.
Not convinced you need shampoo? Read about the benefits of using a shampoo below:
Why Use A Shampoo In The First Place?
Soaps are for other cleaning tasks, not necessarily to take care of your hair, so they strip off all the oils. On the other hand, shampoos have ingredients for specific hair problems, such as relieving an itchy scalp or treat lice. In the case of dandruff, you can find the best dandruff shampoo for black men.
Secondly, shampoos have ingredients that protect hair from weather conditions, heat, and styling. Thirdly, the sebum, residue, and dirt in your hair are water-soluble; water alone is not enough to clean your hair.
Now you have the basics to get you the best shampoo for locs. Do you have a conditioner?
Here's why you need one.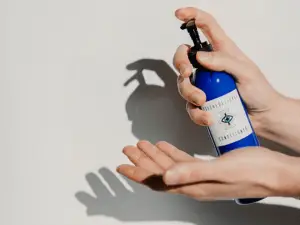 Why Use A Conditioner
After shampooing, the scalp stays bare until fresh sebum replenishes the surface. Additionally, the cleansing power of shampoos removes good oils and dirt indiscriminately. When you condition your hair, it's an attempt to restore what's lost using conditioning oils.
The conditioning actives make your locs soft and smooth. Thereby, when your dreads are smooth, there's reduced friction between hair fibers meaning twisting the new growth becomes less painful.
Instead of a wet conditioner, you can use a dry hair conditioner that contains silicones like dimethicone and conditioning oils to stick to the hair shaft giving it a healthy, shiny appearance.
So far, we've answered what shampoo is good for dreads and how to spot harmful ingredients.
Popular Questions About Shampoos For Dreadlocks
Do you have other burning questions about shampoos?
I answered some questions below.
How Often Do You Have To Shampoo Dreads?
If you wash dreads too soon after retouch, they loosen. Thus, some prefer to wash them every other day or once in two weeks. Space your wash days for the sebaceous glands to replenish the scalp and roots with the sebum naturally. This sebum helps you twist your hair into locs.
On the other hand, avoid taking too long before washing your locs as it may cause product build-up. A build-up leads to fungus, dandruff, and other unsightly problems. Besides, when you retwist dirty locs, you retwist even dandruff and dirt.
Washing your dreadlocks every day is time-consuming because you have to dry them, and if you do so naturally, it'll probably take a whole day, even when it's sunny.
The other option is drying your hair with a dryer, which damages your hair when done under extreme heat.
In summer, wash them at least once a week, especially when you're active outdoors.
You may also wash them regularly when you're working out a lot as the sweat and oils on the scalp can cause odor. In all situations, moisturize your locs after washing them.
In this video, you'll know how to wash dreads and how often should you do it.
Is It Safe To Use A Regular Shampoo For Dreadlocks?
No. Preferably look for a dreadlocks shampoo as its formulation contains ingredients to detangle the new growth. When looking for a shampoo, go for one that's thick so that you don't use a lot of it on your hair. The more product you use, the more water and time it takes to rinse it. Avoid products that irritate your scalp, skin, or eyes.
It should have low toxicity and a PH of less than seven so that the acidic environment prevents hair breakage. Note, alkaline PH causes shaft damage when the shaft swells, making its protective cuticle penetrable.
Why Use A Special Shampoo For Locs?
Some regular shampoos leave residue in your locs that irritate your scalp and they may also cause dryness. Furthermore, residue prevents locking so your twists never tighten.
Read Also: 15 Most Popular Long Hairstyles for Black Men
Conclusion
Using a shampoo formulated for locs is much better than a general shampoo.
The Lion Locs Shampoo is one such product, infused with hair growth oils plus a leave-in conditioner to smoothen your locs and prevent residue build-up. To that effect, it's lightweight to stay on your hair until the next wash day.
The range of oils in it, such as green tea leaf extract and ylang-ylang, aren't in Neutrogena Shampoo, but the latter promises to fix residue in your locs on a budget.
I know you'll find a shampoo that'll leave your locs looking neat and healthy.