Shopping for the best electric razor for a black man is really essential.
Why?
With a basic need to shave without cuts, bumps, or irritation comes a multibillion-dollar industry. In other words, there is an ocean of shavers out there, which includes knockoffs, and top-grade products.
Using an underpowered shaver can be disastrous for your facial hair. So we separated the wheat from the chaff so you have only the best electric razor for black men on your shopping list.
If you are in a rush, our best electric shaver for black men is the Panasonic Arc5 Electric Razor. 
Product
Details

1. Panasonic Arc5

Highly Recommended

Active Shave Sensor
LED Display
Waterproof
Pop-Up Trimmer
Close Shaving

Check Current Price

2. Philips Norelco Shaver 510

Built For Travel

1-Hr. Battery Life
Lightweight
Easy-Clean
No Oiling Needed

Check Current Price

3. Wahl Professional 5-Star Series Finale

Gold-Plated Foil

Close Shaving
Cordless & Corded
Charging Stand
3 Mos. To Replace Head

Check Current Price

4. Braun Series 7085cc

Adapts To Density

Wet/Dry Operation
Multipurpose Dock
Lasts For Years
Pricey But Worthy

Check Current Price

5. Philips Norelco Shaver 9700

Award Winner

High-End Shaver
Precision Shaving
3-Speed Option
Digital Interface

Check Current Price
The 5 Best Electric Shavers For Black Men Reviewed
1.

Panasonic Arc5

- Overall Best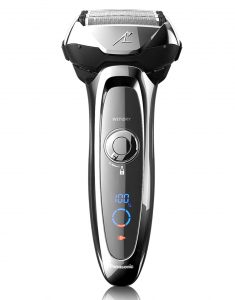 The Panasonic Arc5 is a modern electric shaver with all the features you could ask for to get a convenient shave.
Right off the bat, the Arc5 will give anyone a super close shave. It has five nanotech blades, cutting at 14,000 rotations per minute, and a pivoting head that adjusts to cover every inch of your skull or face.
Most foil shavers only have four blades, at most. This also makes it an excellent choice for black men with sensitive skin - the blades cut swiftly without irritation, and its foils protect the skin. Not to mention the razor automatically adjusts power to the level of your beard.
Furthermore, it has a wet/dry design which means you can use this razor under the shower or with shaving cream for ultimate comfort.
With the Panasonic Arc 5, you also get a pop-up trimmer. It makes up for the lack of precision in foil shavers, allowing you to edge your beard and sideburns.
Finally, this shaver is well worth its price.
It offers valuable features like an active shave sensor that adjusts to the density of your beard and a LED that displays more than just battery percentage and travel lock.
Pros
Backed by the majority

Active shave sensor adjusts cutting power to beard thickness

Close shaving 5-blade razor

Waterproof

Informative LED display

Pop-up trimmer for shape ups
Cons
Takeaway
If you are looking for a powerful and modern electric razor for your curly hair, you can't go wrong with the Panasonic Arc5. It's worthy as the best shaver for black men, all in all.
---
2.

Philips Norelco Shaver 510

- Most Affordable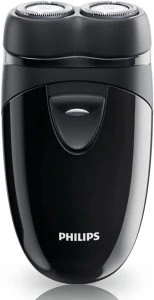 Whether you only need the cheapest shaver for the money or a portable one for travel, Shaver 510 is a steal.
The Philips Norelco Shaver 510 is typically built for travel - lightweight, powered by AA batteries, and low maintenance.
This baseball-sized shaver, though not the most powerful, would give you a clean shave. If it takes Panasonic's Arc5 two minutes, Shaver 510 can finish your shave in ten to fifteen minutes.
But that's usually not a bother for me on short travels. I enjoy it and realize how much more convenient it is than carrying my heavy corded clipper along.
The rechargeable AA batteries that come with it last up to three months, but I can't assure everyone. For one, you probably shave less or more than I do, plus a dry, coarse and curly beard may take longer to shave.
Cleaning Philips Norelco Shaver 510 is a breeze. All you have to do is rinse the head under a tap and clean stuck hair with its cleaning brush.
Like most electric razors, you don't have to worry about oiling.
For what it's worth, a longer time shaving is the only "gripe" you have to live with. If you intend to use it long-term, perhaps as a backup to your main razor, you only have to change the cutting head yearly.
Pros
Inexpensive shaver

Lightweight

Battery lasts up to an hour
Cons
No battery status display

Takes longer for a clean shave
Takeaway
Philps Norelco Shaver 510 is a travel-oriented electric razor many bearded black men rave about, even as a backup shaver. But I won't recommend it if you have sensitive skin.
---
3.

Wahl 5-Star Series Finale

- Best for Sensitive Black Skin
The Wahl 5-Star Series Finale is a powerful razor that gives even bald heads a clean shave. Yes, it's appropriate for a close shave of facial and head hair without any problem.
It's a handy shaver with gold-plated foils that protects sensitive skin from bumps, cuts, or irritation. If you ever get the Wahl Finale, never press it down on your face!
The lithium battery it uses should last about 90 minutes, give or take. Also, it has a charging stand that doubles as a "display" stand, so you can always be charging when not in use.
Other accessories included in the Wahl Finale are cleaning brushes and a six feet long charging cord. While the latter powers the charging stand, it can be used for a quick shave when the shaver is low on juice.
While the Wahl Finale has a reputation for close shaves, its foil is also infamous for breaking easily. On average, it only lasts 3 months before it needs a replacement head.
Pros
Good bang for your buck

Offers one of the closest shaves

Corded and cordless operation

Easy to clean
Cons
The foils only last a couple of months
Takeaway
If you have sensitive skin that prevents you from enjoying pain-free clean shaves, the Wahl Finale is built for this purpose. The only issue you have to deal with is the delicate head.
---
4.

Braun Series 7085cc

  - Best Foil Electric Razor
The best of the best is what I call the Series 7 models from the Braun Line. But the 7085cc Model, in particular, is the total package.
Series 7085cc is a technically advanced electric razor with auto sensor technology like Arc5. It automatically matches the shaver's power to the density of your hair, letting you shave with convenience and technique.
Even better, it has a 360-degree flex head that makes it easy to shave at angles and in nooks and crannies. Plus, you can install beard trimmer attachments (0.5 and 7mm) if you want to shave a fuller beard or shape up.
With the ergonomic grip and shape of the 7085cc, you can shave with lather or under the shower without hassle.
Thanks to the 4 in 1 Smart Care Center of the 7085cc, you can charge, clean, and lubricate the blades of this model all in one hub. Besides, it's an attractive stand wherever you decide to place it.
The battery is stipulated to last three weeks' worth of shave. That's assuming you shave in 3-4 minutes every couple of days. Besides, its sleek LED display would indicate battery status, travel lock, among other things, so you aren't left guessing.
All in all, the Braun Series 7085cc is the most expensive shaver for black men in this review. But you get what you pay for. 
Pros
Good value for the money

Adapts to the density or toughness of your beard

Attaches with beard trimmers

Multi-purpose charging dock

Wet/dry operation

Will serve for years 
Cons
Takeaway
If you want the best foil shaver money can buy, Braun Series 7085cc is unlikely to disappoint. Well, if you don't consider its user manual in the rating.
---
5.

Philips Norelco Shaver 9700

- Best Rotary Electric Shaver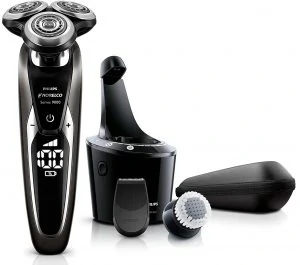 For black men who prefer to shave every other day, have coarse hair or tough skin, and contours on their face, high-end rotary shavers are priceless.
A design award winner, the Philips Norelco 9700 follows the contours of your face using patented technology to cut more hair in a single pass.
What's more, its V-track precision blades give a nick-free shave that's closer to the skin than most rotary razors.
Even better, you can select cutting speed among three levels: slow, normal, and fast. As you can tell, slow will be more friendly on soft or sensitive skin, and so on.
It's also safe to use with a shaving gel, foam, or under a shower if they are more protective options for you.
A standout feature of the Shaver 9700 is its facial cleansing brush attachment. You click on the brush to the shaver head and use it with any facewash to scrub your face clean.
Regarding cleaning, its SmartClean Plus dock not only cleans the shaver but also dries, lubricates, and charges it.
However, the cleaning takes four hours to complete, which isn't so bad. But it's smart to first clean the shaver by yourself under a faucet or dust off stuck hair before using the SmartClean dock.
Lastly, Norelco Shaver 9700 also has an advanced digital interface indicating battery percentage, replacement head, travel lock, and low battery indicator for your convenience. 
Pros
Impressive battery life

Shaves tough or hard-to-get places easily

Charges in an hour

Affordable maintenance
Cons
Takeaway
The Philips Norelco Shaver 9700 is the best electric rotary shaver for a black man. The rotary blades follow the contour of your facial hair down to your neck, even if it grows wildly.
---
Choosing The Best Electric Razor For A Black Man 
All electric razors have one job: to shave your facial hair close to the skin without risking cuts or razor burns.
But different electric shaver models achieve this with varying features. Old fashioned models get the job done, but more advanced and expensive models offer a host of other features for convenience.
Have an idea about one or two of these features so you can pick the best product for you. Your preference is what it is: personal.  
2 Types Of Electric Razors
Rotary blade razors 

Foil shavers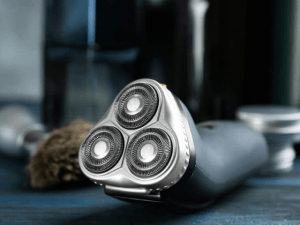 Electric rotary shavers are best used to cut uneven beard growth or shave thick beards that extend to the neck. Ideal as the best shape up trimmer but they are not the best choice for black men with sensitive skin.
Unlike rotary, foil versus rotary shavers is gentler on black skin. The blades of these shavers are covered in foil for extra protection. Subsequently, they cut your hair without nicks, less irritation, and are remarkably fast.
Generally, it costs more to get a quality entry-level foil shaver than a sophisticated rotary shaver.
And to enjoy useful features like a swiveling head and trimmer attachments to cut edges and in crevices, a high-end foil shaver is a must. 
Features To Look For Before Buying
Power Source
Electric razors are powered either by a cord or a rechargeable battery. Some models may be a hybrid that works both ways.
You should choose between a cordless and corded electric shaver depending on your lifestyle or budget. For me, I like the convenience of cordless while shaving, yet using a charging dock isn't my style.
If you have your things in order and don't often shave in a rush, like many of us, go corded. It costs less to buy a corded electric razor with impeccable quality. 
Battery Life And Pattern
Check out how long the battery of your potential electric razor would charge and drain. Many follow a pattern.
Some electric shavers have a short charge time and shorter operating hours. While some charge for hours and could last for weeks, depending on use.
Does the shaver also have a quick charge function?
This is an important feature for unruly men like myself. A 5-minute quick charge feature gives me all the time I need to shave when I'm in a rush and forgot to charge. 
Top-Quality Blades
I can't stress how important this is, especially for a black man with sensitive skin.
The best budget electric shaver for black men would give fast and smooth shaves in one pass. There's no reason for you to apply pressure while you're shaving. It only exposes you to irritation and nicks.
Watch this video from Tyrone Magnus if you don't know your way around the best ball shavers just yet. Shaving is not trial and error.
On the other hand, remember to shave with the grain if you have sensitive skin.
Advanced Technical Features
Only the high-end electrical razors offer handy ergonomic features like nanotech blades, pivoting heads, cleaning systems, and sophisticated LED displays.
While you can do without "fancy" features in electric razors, they can be important — Yea, including the LED indicator.
Imagine you have a battery-powered shaver. It makes sense for you to know the battery status so you don't overcharge or make plans to use a dead razor - better not be away from home either.
Using Shaving Cream Or Not (Waterproof Capability)
If you want the complete package in an electric razor, you should get one with wet/dry capability. 
It gives you the option of using the best shaving cream for black man or gel for extra protection.
The good thing about electric razors is that you don't need to lather up as much as a cartridge or shaving stick. And having a waterproof feature makes it not only easy to shave but to clean electric shaver as well. 
Price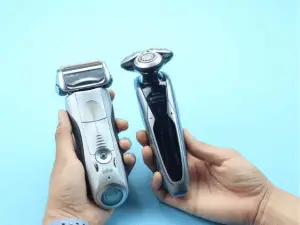 Shopping for the best electric shaver for African American men is all about your taste.
If you're not prone to irritation or have razor bumps, you can make do with an affordable shaver.
But to unlock access to advanced features that make shaving a lot easier for even the toughest beards, you'd have to splurge on a top-of-the-line model.
Even at that, you need to streamline the features to what you really need. That way, you'll save money buying an electric razor with only the features you'd use.
FAQs About The Best Electric Razor For Black Men
What Is The Best Electric Razor For A Black Man?
The Braun Series 7085cc is the best electric razor for a black man. The foil shaver has a 360-degree head adaptation to shave through any face structure. It has AutoSense technology that switches the razor's power to your beard thickness. You can cut anytime, anywhere with a battery capacity lasting up to three weeks.  
What Is The Best Rated Men's Electric Razor?
The best-rated men's electric razor is the 2 in 1 Panasonic Arc5 with wet/dry capability and a pop-up trimmer attachment for shape-ups. Unlike most foil shavers, this rechargeable shaver has five blades for a clean, quick, and comfortable shave. Moreso, it adjusts to beard density and shows battery percentage on an LED screen.
What Is The Best Men's Electric Shaver For A Close Shave Without Stinging?
The Panasonic Arc5 is a powerful electric shaver for a close shave without nicks and cuts. It has a 14,000rpm cutting power, which is almost as good as a clipper but much more gentle. Regardless, most foil shavers with at least 4 blades will get the job done.
Wrapping Up
Now, we hope you have an idea of what electric shaver would work for your beard and skin type.
Just a reminder, for the cleanest shave with a sophisticated and reliable electric shaver, our top pick, Panasonic Arc5, is an excellent choice.
It costs double its actual price if you prefer the model with a charging and cleaning station.
For a more affordable option to take on travels, consider Philips Norelco Shaver 510. A little more expensive but worthy all-around shaver for black men is the Wahl Finale.