52-year old Raymond on "Ready To Love" Season 3 looks like a 28-year-old. His face is flawless and firm.
Point is...
Instead of second-guessing what he's done to look so young, we can use what's available to us.
We can use moisturizer.
Have you found one your skin loves? 
While searching for the best moisturizer for black skin, I found CeraVe Moisturizing Cream, a fragrance-free cream infused with three essential ceramides. I'll define these essential ingredients and why this cream was my top choice below. 
Product
Details

1. CeraVe Moisturizing Cream

Paraben-Free

No Fragrances
Normal To Dry Skin
For Sensitive Skin
24-Hr Hydration
Light On Skin

Check Current Price

2. Kleem Organics

Skin-Firming

Prevents Wrinkles
Max Hydration
Not For Sensitive Skin
Fights Free Radicals

Check Current Price

3. Simple Water Boost

All Skin Types

Lighweight Gel
No Colorants
Non-Greasy
Combats Acne

Check Current Price

4. CeraVe AM Facial Moisturizing Lotion

UV Protection

Unscented
5 Active Ingredients
Hydrating
Combats Breakouts

Check Current Price

5. Neutrogena Rapid Wrinkle Repair

Promotes Elasticity

Regenerating
Rapid Wrinkle Repair
Cost-Effective
Heals Dry Skin

Check Current Price

6. MARLOWE. No. 123

Affordable

Lightweight
Anti-Pollutant
Soothing
Lotion Form

Check Current Price
Reviews Of The Best Moisturizer For Black Skin
1. CeraVe Moisturizing Cream – Best Overall
The CeraVe Moisturizing Cream is the best overall from the long list of products because its composition makes it mild but effective on black skin. 
If you're struggling with dry skin, the kind of coverage you expect in a moisturizer is 24-hour hydration. You're in luck as the hyaluronic acid in it hydrates your skin round the clock.
Despite it staying on longer, it's still light on your skin; you won't feel like you wrapped your face in bubble wrap. Since it's non-comedogenic, your pores won't clog.
Once your skin absorbs it, the three essential ceramides create a natural barrier that stops dirt and other acne-causing issues from sipping into the pores. 
With time, once these ceramides create a supple skin barrier, the dry, flaky problem is history.
It's a cream for your face and body; thus, one of the best lotions for black skin. About parabens and all of that controversial stuff, this one is clean, and the National Eczema Association has also stamped it safe for use.
Pros
Paraben-free

For normal to dry skin

Three essential ceramides

Non-comedogenic

For sensitive skin

No fragrances

Hydrates for 24 hours
Cons
Takeaway
I'd pay any amount to get a moisturizer that stays on black skin without aggravating acne. This formulation has no fragrances; hence, long-term hydration with no irritation.
---
2. Kleem – Best Organic Moisturizer
What grabs your attention in Kleem is its range of natural ingredients like jojoba oil and green tea. Therefore, if you're into organic products, here's a winner. 
When you read down its list of ingredients, you come across vitamin E, which we know fights free radicals that cause breakouts. Hyaluronic acid is also in there for maximum hydration.
You'll love that it contains retinol to firm your skin and prevent wrinkles, so goodbye to premature aging.
For combining these ingredients, this moisturizing cream is one of the best moisturizers for black skin.
Pros
For most skin types

Anti-aging

Organic ingredients
Cons
Takeaway
Who wouldn't want wrinkles and fine lines to disappear? Kleem takes care of that with its composition of green tea, jojoba, and retinol.
---
3. Simple Water Boost – Best Budget Option
My melanin-rich skin doesn't like most ingredients in moisturizers, so it's often tiresome looking for something I like. If your skin is as irritable as mine, Simple Water Boost might be your only solution. 
It's as simple as its name suggests without hidden chemicals that will later cause inflammations.
In the 1.7-ounce tube, you're getting a simple gel that hydrates your skin and infuses plant extracts.
This simple formulation also makes it safe for use twice a day without irritating the skin. The gel is lightweight; consequently, it won't feel greasy or sticky.
Pros
For all skin types

Non-greasy

Fragrance-free

Lightweight gel

Simple formulation

Contains plant extracts

No artificial colors
Cons
Too simple to combat acne and breakouts.
Takeaway
If you have normal, acne-free skin, you're going to enjoy this simple formula because you only need to hydrate your skin.
---
4. CeraVe AM Facial Moisturizing Lotion – Best Seller
Your skin doesn't like it when you stay out in the sun. That being so, when you're up and about without sunblock, you might irritate it. That's the message the CeraVe AM moisturizer is passing to you.
It's telling you to apply an SPF 30 moisturizing lotion so that you're hydrated and protected from UV rays.
This lotion doesn't contain oils, and it's unscented. As with the other CeraVe moisturizer we discussed above, this one has three essential ceramides for correcting the skin barrier.
Another ingredient worth noting is niacinamide, which repairs and calms your skin. Even acne-prone skin can benefit from the active ingredients in this lotion to combat breakouts.
Pros
Has five active ingredients

Has niacinamide and hyaluronic acid

Unscented lotion

For different skin types

Suitable for sensitive skin

Has sunscreen
Cons
Leaves residue when you use too much.
Takeaway
It's a 2-in-1, so as you hydrate, you also block damaging UV rays.
---
Neutrogena Rapid Wrinkle Repair gives you a combination of retinol and hyaluronic acid to increase skin elasticity and hydration.
As this moisturizer penetrates your skin, the dullness clears up, thereby reducing hyperpigmentation. It's cost-effective because it's for use day and night.
It also works wonders across your face and neck to eliminate wrinkles and fine lines.
Pros
Anti-aging

Hydrating cream

Day and night cream
Cons
Takeaway
I'd recommend this one if your main issues are dry skin and wrinkles because it solves both problems.
---
6. Marlowe Men's Facial Moisturizer – Best For Men
Marlowe No. 123 is in lotion form, and it's so lightweight you won't feel like you've covered your face with a comforter in summer. It contains natural extracts like green tea to make it mild and soothing on your skin.
It's for all skin types, and the whiff of citrus is not overpowering.
To counter the effects of pollutants in the air, it contains antioxidants like passionflower extract. The deep-sea algae extracts soothe your skin if it's already inflamed.
Pros
For all skin types

Rich in natural extracts

Affordable

Lightweight

Hydrates without clogging pores
Cons
Not for skin with breakouts
Takeaway
Men also need a moisturizer, and since products targeting women dominate the market, it's interesting to see a brand formulated for men.
---
Have I convinced you to look at a few moisturizers? If not yet, let's look at reasons your face needs hydration now.
Why You Should Use A Moisturizer
The phrase "black don't crack" is not a myth because science proved that the bone density in black people stays almost the same in ten years. That being the case, the facial features of a black person are the same for a longer time; hence, age-defying.
We also know that black skin has more melanin, which reduces UV damage to the DNA. As this pigment absorbs or repels the UV rays, it prevents skin damage and cancers like melanoma.
That aside, black skin suffers more transepidermal water loss than Caucasian or Asian skin. The skin hydration and ceramide level are also lower.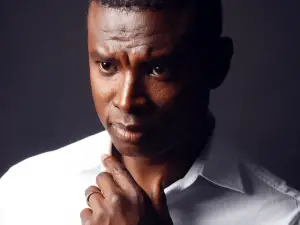 The solution is,
Moisturize to create a barrier that protects your skin from irritants that may dry it. This process also smoothens your skin and hydrates it. 
So, since we've agreed you must moisturize black skin, I have a few tips for you below.
How To Make Your Moisturizer More Effective
Avoid Soaps
Overhaul your entire skin regime to make your moisturizer effective. It means you have to do away with soaps and use cleansers instead because the alkaline PH in soaps often breaks the natural skin barrier and causes your skin to dry up. 
Since your face has a PH of over 4.5 (it's slightly acidic), you ought to use the best face wash for black men that has almost the same PH level to avoid an imbalance. 
Check The Ingredients In Moisturizers
A good moisturizer has a PH of 4 to 7. Consequently, when shopping for the best lotion for black men, look out for ingredients that adjust the PH, such as zinc oxide, which makes it faintly alkaline.
In general, a simple moisturizer has water, an oil, and an emulsifier. However, you'll rarely come across a product with three ingredients. Most of them have over 15 ingredients to make the product effective, stable, and safe on the skin. 
These ingredients mimic the components of the epidermis, such as vitamins, ceramides, and fatty acids. This long list of ingredients might be confusing with all the chemical names there, but when you breakdown the composition further, here are the main ingredients you'll have.
Humectants
They hydrate the skin by forming a barrier on the surface to prevent water evaporation. Additionally, humectants fill intercellular spaces on your skin to boost skin elasticity.
Examples of humectants are glycerin, hyaluronic acid, urea, and AHAs like glycolic acid. 
Emollients
They soften and smoothen the surface and fill the spaces to boost elasticity.
Examples of emollients are waxes like bee wax, vegetable oils, hydrocarbons, and fatty acids like stearic acid.
Occlusives
They assist humectants by preventing water evaporation, a vital role in dry skin. Their sticky effect makes them less popular in moisturizer formulations.
Examples of occlusives are petrolatum, dimethicone, cholesterol, and vegetable oils.
Ceramides
They hold the skin barrier together by filling the space between cells.
You must have heard the debate on parabens and their effect on the skin. 
These preservatives may irritate some skin types, but the best face moisturizer for African American skin requires a preservative. Therefore, if there are no parabens in your moisturizer, make sure it has an alternative.
Know Your Skin Condition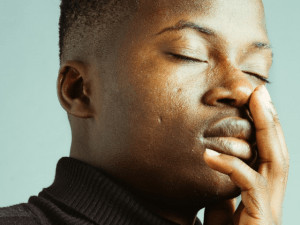 When you have normal skin, it's as if you're God's favorite. You have a simple skincare regime, you can buy skincare lotions even over the counter, and they won't irritate you. 
When your skin is dry or oily, it's the opposite. It feels like the universe has conspired to punish you with acne breakouts and hyperpigmentation. The sebaceous glands aggravate the problem by working overtime. They flood your skin with oil and enlarge your pores.
If the products for skin care for black men you are using at that time clog such irritable pores, you're done!
So, as you shop by skin type, remember,
Dry Skin
Use products with humectants, occlusives, and some emollients.
Sensitive Skin
Avoid scented products.
Oily Skin
Ideally, find a water-based formulation like a lotion or gel because it's oil-free. The ingredients should be non-comedogenic to prevent breakouts.
Normal Skin
Go for moisturizers with humectants and emollients to maintain your glow.
FAQs About The Best Cream For A Black Skinned Face
Why Do Black Men Have To Invest In The Best Skin Moisturizer?
Acne is a common skin problem among black people. There are also other problems black people face, as outlined in the section above. For these reasons, your moisturizing product matters a lot, and it can wreck your skin further.
The truth is your skin type changes with time because of factors like PH and hydration level.
Additionally, the environment can cause this change due to sun exposure and the humidity in your neighborhood. Therefore, your choice of moisturizing products may change as your skin type changes.
When Is The Best Time To Apply Skin Moisturizer?
Apply a moisturizer as soon as your face dries after cleansing. In such a state, the skin is supple, and the ingredients sip into the pores easily.
Do You Have To Cleanse Your Face Each Time Before Applying Moisturizer?
Prepare your face for the revitalizing ingredients in moisturizers by washing it with an effective face wash. As we discussed earlier, soaps are not effective. That said, cleanse your face a maximum of two times a day to avoid irritating the skin.
Know the reason why men need to moisturize and how to use it from here:
Conclusion
Before we figure out what keeps Will Smith, Denzel, and Pharrell William so youthful, let's moisturize. I recommend CeraVe Moisturizing Cream for supple, healthy-looking skin. Its three essential ceramides revitalize the natural barrier to block damaging UV rays from hitting your skin.
It also hydrates your skin and fills the intercellular gaps to give you skin elasticity you thought was impossible. 
All of these benefits aren't in Simple Water Boost, which is one of the basic formulations you'll ever come across in moisturizers. Nonetheless, such a simple combination suits you if you have normal, healthy skin and you're only looking for skin hydration. Plus, it's a budget-friendly moisturizing gel.