If you're planning on trimming your hair, then you should be eyeing clippers that are made for both convenience and comfort.
But... 
If you end up with irritatingly noisy ones, they would neither be convenient nor comfortable to use, would they? Through this quiet hair clippers review, we'll discuss with you everything you need to know about a clipper to help you identify what's best for you.
The Wahl Color Pro Hair Clipper & Trimmer offers high-quality performance and smoothness while being safe and quiet at the same time. 
To find out more about the best quiet hair clippers, take a moment to read!
Top 5 Best Quiet Hair Clippers Reviewed
1.

Wahl Color Pro Hair Clipper & Trimmer

- Best Overall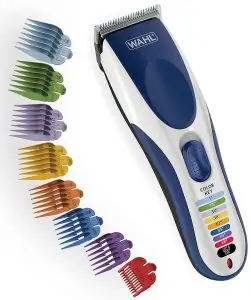 One of the best hair clippers is the Wahl Color Pro Hair Clipper & Trimmer. This comes with 26 pieces of accessories that allow for easy maneuvering and lower noise levels.
This rechargeable cordless clipper comes with a color key to make it easier for you to find the right comb attachment size. 
It can be used even while it's charging!
This product is just one of the silent hair clippers that provide step-by-step instructions for ease. It can also be utilized by men, women, and children alike.
This features a heavy-duty motor with its 60-hertz power drive for exceptional, hassle-free performance. With this, you can make 6,000 strokes per minute with no noise!
It also promotes hygiene with its detachable blade making cleaning and maintenance easier. All you need to do is detach the blades and soak them along with the clipper.
This model also has permanently aligned carbon steel blades. These are rust-free self-sharpening blades that can cut through all types of hair.
Pros
Smooth maneuvering

Has heavy-duty motor

Hygienic and safe

High-quality anti-rust blades
Cons
Takeaway
This Wahl Color Pro silent clipper is easily adjustable for effortless trims. This is also ideal for traveling with a battery that lasts up to 60 minutes.
---
2.

Philips Norelco MG3750 Trimmer

- Best Budget Buy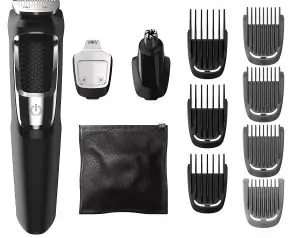 This Philips MG3750 is one of the soundless hair clippers which offers an affordable price for its features. Overall, this has 13 accessories included in the package. 
This contains a full-sized steel trimmer, a steel precision trimmer, a nose & ear hair trimmer, three hair trimming guards, three beard trimming guards, a stubble guard, an accessory travel storage bag, and a brush used for cleaning and maintenance.
One of its best features is that this quiet hair trimmer does not need oil to perform high-quality, smooth, and precise hair cutting.
Also, its blades are detachable for easy cleaning and maintenance. 
It also offers maximum precision with its DualCut technology, which contains 2x self-sharpening blades. These blades maintain their sharpness for two years at most. This can be utilized for all types of hairs.
Pros
Affordable

Convenient and easy to use

Smooth and tender maneuvering

It has a comfortable grip

Good for everyone
Cons
Poor battery

Produces small sounds from vibration
Takeaway
This affordable silent clipper offers everyone a good experience with its smooth and precise cutting.
---
3.

Surker Hair Clippers

- Best Battery Life
The Surker Hair Clippers provide an ace to hair trimming. Its durable carbon steel body ensures its longevity over other soundless hair clippers.
Its highlight is its battery life which lasts up to 5 hours.
In other words, it can be used not just once but multiple consecutive times. This is what makes it superior to any other quiet trimmers.
Its high-quality battery has a built-in rechargeable 2500 mAh premium with a three-hour charging duration. This is much better and safer than the usual Lithium battery ion cell.
This is definitely one of the quietest hair clippers as it only produces a smooth sound with its rotary motor. Furthermore, it has an anti-jarring vibration feature and does not pull on the hair strands as it cuts.
This Surker Clippers kit contains six guide combs, ranging from 1.5 millimeters to 13 millimeters. Even though the guard comb sizes seem to be smaller than usual, you can adjust its length using the lever on this product.
Plus, this also has an LED ergonomic display for you to be informed of its battery display so you'll never face a situation where it shuts off in the middle of a haircut.
Pros
Professional quality that lasts years

Has strong motors

Solid and smooth maneuvering

Constant power
Cons
Tends to overheat

Limited range of guard combs
Takeaway
This mid-range product is one of the best hair clippers that offer excellent quality performance.
---
4.

Andis 01557 Professional

- Best For Cutting And Tapering
The Andis 01557's specialty is its all-around cutting and tapering. This adjustable blade hair clipper has a powerful, single-speed magnetic motor that generates 14,000 cutting strokes within a minute. Jaw-dropping isn't it?
And... not just that, it also only produces 75 decibels at most.
Its fully adjustable blade goes from fine to coarse size, that's from 000 up to 1! It can also be customized to zero-gap for better fades and excellent clipper tapes and for various hair types, such as thick, curly, or fin.
Andis 01557 offers a balance between its sharp blades and high-quality motor preventing uneven cuts and the pulling & snagging of hair strands.
Moreover, it features an ergonomic design for it to fit perfectly and comfortably in your palms. Its switch is positioned just near enough for your thumb to reach when in single-hand use.
The styling of this model is enhanced with its lightweight aluminum housing, which has been proven durable. It may even last for years.
However, its downside is that this is prone to overheat when used for a long time, we suggest taking intervals between haircuts.
Pros
Lightweight and durable

Painless

Easy to operate

Consistent power
Cons
Takeaway
Being one of the quietest hair clippers, this model produces excellent power with no noise included best for all-around cutting, fading, and tapering.
---
5.

Wahl Professional 5-Star Trimmer

- Best In Precision
The Wahl Professional Hair Trimmer is designed to achieve cuts like an expert with its lightweight body. This product highlights the precision you can achieve even when you are at home.
Its adjustable blades and edges are designed for laser-sharp trim.
Plus, it can also be zero-gapped. With this, 14,000 cutting strokes can easily be achieved within a minute.
It has a noise rating of 57 decibels at most. 
The accessories included are eight guide comb attachments, a comb for styling, a cleaning brush, blade oil, and a blade guard.
It can also efficiently deliver traditional scalp-work such as fading, clipper over comb work, and tapering. Furthermore, its aluminum metal bottom structure allows protection for its blades and other components from damage. It can withstand regular wear and tear.
This clipper makes use of a lithium battery ion with a charging time of 3-4 hours and a run time of 90 minutes.
With its electromagnetic motor, 8-feet professional power cord, adjustable taper lever, and 0000 adjustable blades, you can achieve both comfort and luxury in one model.
The model is considered one of the most ergonomic and quietest hair clippers as it prevents strain and offers a tight grip that spreads the vibration of the motor evenly throughout its body.
Pros
Lightweight

Comfortable to grip

Easy to operate

Precise cutting

Durable
Cons
Does not have a battery indicator

Blades are too sharp and delicate
Takeaway
This product that's designed for tapering, precision fades, and clipper over comb work will surely raise your standards with its performance.
---
Factors In Choosing The Best Silent Hair Clippers For You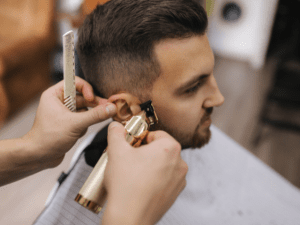 A low-quality hair clipper will surely disrupt your grooming process' flow and momentum with its high-frequency vibrations and irritating noises. It's guaranteed discomfort for both the user and the people around them.
And that's exactly why it is important to know a clipper's parts and features by heart. Below are the things you need to know about silent hair clippers.
Noise Level
Since the focus of this review is no noise hair clippers, knowing the decibel rating of a clipper and what it means is more than significant.
It is common for hair clippers to produce noise with 50 to 75 decibels. These noises come from the motor and blades, so it is essential to know more about them.
Motor
The audibility and outcome quality relies on the clipper motor itself. Power and motor size differences will determine the quality of its performance and its longevity as well as the price.
Low-quality motors tend to produce loud noises as it functions. However, with the variety of engines present, you can easily choose the degree of power that the motor will use. So it is pretty obvious that quiet clippers can only be achieved with the use of a high-quality motor
For an impressive speed and quality cut, it is recommended for you to invest in a powerful motor. Keep in mind that the engine you should buy prevents overheating as well.
Listed below are the types of motors available:
Magnetic
This motor is also known as the universal motor, it can operate on both AC and DC.
In terms of appearance, this motor is small and compact. However, this does not hinder its ability to perform at high speeds.
Its only downside is that in terms of quietness, it certainly isn't the first runner-up. This type of motor produces a lot of noise and is very prone to wear and tear.
Rotary
Rotary motors have gained popularity over the years due to their quality and affordability.
This motor, designed for versatility, is most commonly found in hair clippers; it provides a good balance between blade speed and power. This is ideal if you're into a variety of cutting styles.
Pivot
Although Pivot motors are powerful, products that make use of it tend to produce slow blade speeds.
This of course doesn't change the fact that professional stylists highly prefer and recommend this motor due to its ability to perform well in cutting both wet and thick hair.
Blades
The blades are just as important as knowing what motor you should go for. Poorly manufactured blades tend to dull quickly and significantly impact the overall performance. Furthermore, it will also give you a painful experience by tugging your hair strands as it functions.
Titanium, stainless steel, carbon, and ceramic, are the most common blades you'll find being utilized in a clipper.
Carbon blades have good longevity and are low-maintenance. Plus, they remain as sharp as ever for an extended period even when in constant use with thick and wet hair.
A ceramic blade does not heat as it functions, but it is found to be more fragile compared to a steel blade.
Meanwhile, titanium is a high-quality material that comes at a non-budget-friendly price.
Length Settings
These determine the unit's capability to do its task efficiently. 
Likewise, it is ideal if the product you choose to buy includes various guide comb lengths. The more accessories it contains, the more flexible and versatile the silent hair trimmer can perform.
Accessories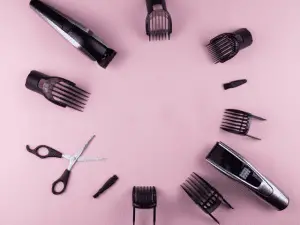 Accessories are the tools that allow you to achieve the look and style you're aiming for. These are comb attachments, clipper oil, cleaning brushes, and blade guards.
Some models come with guards that can turn your clipper into a baby hair clipper and even into dog clippers. The use of a certain clipper relies on its technology and accessories.
Efficiency
The things you have to consider if you're into its overall efficiency are weight, design, and ergonomics. 
It is recommended to look for a lightweight and silent hair trimmer for easy maneuvering. When a trimmer is heavier than it should be, it will surely cause wrist and hand fatigue, worst-case scenario, muscle strain.
Plus, the weight can affect the performance of how you trim. If you cut your hair on your own, a lightweight clipper can help you ease tiredness as you take your time in cutting delicately.
You should look for the quietest hair trimmer that is both sturdy and ideal for daily use, these all lie in their ergonomic design and high-quality materials.
Cleaning And Maintenance
If you don't properly clean and maintain your clipper, you can pretty much expect it to break down and malfunction.
Don't just brush or blow off the dirt and tiny hairs on your clipper. Instead, flush it with faucet water in the sink, making sure to protect the motor from getting soaked.
Corded clippers would of course need more intensive cleaning due to their interface.
Frequently Asked Questions
What Are The Quietest Clippers?
Looking at the quality of performance, the Wahl Color Pro Hair Clipper & Trimmer is one of the quietest hair clippers. It's good noise ratings and top features, such as its powerful motor that provides quiet, precise, and no-snag hair trimming. Meanwhile, the Wahl Professional Hair Trimmer is also a great alternative Wahl clipper with its 57 decibels noise rating and 14,000 unique stroke count per minute.
Can You Get Silent Hair Clippers?
Yes. There are multiple units available in the market worth investing in with its ready-made silent feature. All you need to do is check their configurations. Consider factors such as their vibrations, precision motors, and noise reduction technology.
And of course…
Never forget your comfort, choose what suits you best.
How Do I Make My Hair Clippers Quieter?
Adjusting your hair clipper's motor power to reduce noise usually requires a certain tool. Tools like these should be included with your purchase, but if not, then you may need to look for a substitute. On either the left or the right side of your clippers, you should see a small and round button. If you've found it, you may insert the screwdriver/tool, and you can either tighten or loosen it as the clippers are turned on.
From there, you may hear the sound get louder or quieter. You can adjust this to your preference and make sure to oil the blades. However, to avoid any product malfunction, I suggest looking for a professional who can fix the noise or buy a new clipper with a noiseless feature.
Here's a video on how to make adjustments to make your clipper quieter:
What Are Some Features To Look For In Quiet Hair Clippers?
In buying the best quiet hair clippers, you also have to consider factors such as their comfort, versatility, longevity, and power. These can shape and affect the performance of the product. Comfort refers to the ease it can provide, cordless clippers would be an example of a comfortable model. Versatility means the flexibility of the clipper to accommodate different types of hairs. 
Some clippers have mechanisms that allow them to work around your beard and nose hair as well so that you won't have to buy a separate nose trimmer and beard trimmer. 
How's that for versatility?
On the other hand, longevity tells the product's durability on how long you can utilize this. Lastly, power is the ability of the clipper to cut various hairs, incredibly thick ones.
The Bottom Line
All hair clippers have their downsides, but when their highlight is efficiency and ability to provide you with a quality trimming experience in a silent operation, then you should definitely go for it!
Our best product that surely won't disappoint you is the Wahl Color Pro Hair Clipper & Trimmer. It can provide you with a silent trimming experience anywhere with its battery-powered feature.
Plus, our Philips Norelco Trimmer is a great budget alternative that is sure to give you the precise hairstyle that you want.
Of course, feel free to find what suits you best! A good trimmer should be quiet but should never lack smoothness, comfort, and precision.