Braun is one of the most renowned and respected manufacturers in the world of foil-based shavers.
But...
With a broad range of shavers available, you need to ensure thoughtful, relevant considerations in getting the most suitable hair removal device for you.
Hence, our Braun Series 6 Shaver Review will provide you with helpful information about this product. Here are a few details about its performance and why it may be the beard trimmer of choice for you.
Main Features Braun Series 6 Shaver Review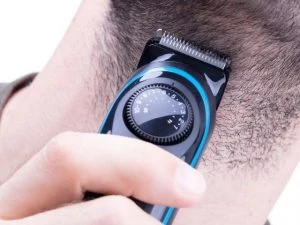 Braun trimmers are fast and effective in providing an effortless shave.
Braun didn't have a Series 6 line before 2020's launch, making this series a brilliant innovation. As the series fall under the high-end category of beard trimmers, their units come at a high cost.
However, the Braun series are well-known for their durable construction and excellent performance. These plus other handy features make the Braun series 6 price worth the investment.
But of all their exceptional devices, we will focus on providing an extensive review of the Braun series 6 6090cc in this article. We will highlight all the main features to help you decide if this is the most suitable Braun shaver for you.
Series 6 6090cc Shaver Head
What makes this series unique from the 6900 model of the Philips Norelco Shaver is its shaver head type. Many users with sensitive skin love how Braun 6090cc features a foil shaver head.
It has two metal sheets of perforated foils covering the oscillating blades and a middle trimmer.
Such is a skin-friendly feature for a foil shaver that delivers an impressively close shave, thanks to its Sensoflex technology. This technology makes shaving less daunting and eliminates the worry of experiencing skin irritation.
Moreover, its SensoFlex design allows the shaver head to move up and down, smoothly gliding on facial contours that reduce skin pressure. The foil will move accordingly in response to your movements, like over a reared area such as your jawline.
Like Remington F5-5800, the 6090cc also takes pride in its manageable foil shaver head without the spring-loaded blades, a feature common to only Braun shavers. However, those with longer hair benefit more from a rotary shaver than a foil shaver head.
Nevertheless, with this great shaver that allows you to apply minimal pressure, you can prevent shaving rash or nasty cuts. It undoubtedly makes a perfect choice for those who seek skin comfort.
Ergonomic Design
Braun 6090cc has a well-designed soft-grip handle that helps you keep your face clean of unwanted hairs in one hassle-free movement.
It has a stylish combination of blue and black shades, giving this beard trimmer a more dynamic look.
This Braun 6 model is convenient to hold and enables you to control shaving more accurately. The excellently contoured handle of 6099cc can even make shaving of hard-to-reach areas a breeze.
Convenient EasyClick Feature
One of the many best things about this Braun electric shaver is its EasyClick system.
This unique feature helps you clean, charge, and lubricate your shaver with just one click of a button. Lubricating your electric shaver is essential to maximize and maintain the blades' efficiency.
You only need to place your electric razor in its SmartCare Centre, and it will do the rest of the job for you. It is this feature where Braun provides you with the same cleaning convenience that you would mostly expect from Philips Norelco shavers.
It would be best to clean your electric shaver for no less than three to four months. Cleaning and maintenance become more effortless when using the interchangeable alcohol-based cartridges in the handy station.
Spare a moment to watch this short video to learn how to maintain your cleaning station and make it last longer:
Handy Accessories
This Braun Series 6 review shows how this model has various accessories, including a precision trimmer attachment.
Expect your package to include a stubble trimmer and a beard trimmer attachment, both of which are useful for taming sideburns.
The package also includes an automatic voltage converter you can use at 100 to 240 volts. Nonetheless, if you're using it outside of the United States, you may need an extra adapter.
Imagine how awesome it would be to have so many accessories included in one package for nearly the same price as the Philips Norelco!
Not to mention, you will also get a cleaning brush and a traveling case, perfect for frequent on-the-go users. While it protects your beard trimmer, it also allows you to complete a quick grooming session at any time and place.
SensoFoil Blades
Another excellent feature of the Braun series 6 is how to use it hassle-free.
Its SensoFoil blades are gentle enough to keep sensitive skin safe from nicks and cuts.
The razor's blade does more than merely cut through your beard; it trims through each hair thoroughly and leaves your skin feeling soft and smooth.
These blades offer extreme flexibility in shaving beneath your nose and the neck area. You can do it with more precision since the foil glides smoothly, even in inaccessible areas of your skin. It provides a better user experience, unlike using a rotary shaver head.
Waterproof Design For Dry And Wet Shaving
This Braun series shaver 6090cc model is a waterproof electric razor that you can use when showering.
You can use this device for body grooming or for removing facial hair using shaving cream, shaving gel, or foam in the comfort of your home.
Whether you choose to use it for wet or dry shaving, you will enjoy the convenience of its cordless operation. Additionally, its waterproof design makes it easier to keep clean.
Use the SmartCare Centre or wash it manually if you have no access to the cleaning station. Rinse the beard trimmer under hot water after cleaning the blade with soap. After washing, shake off excess water and allow the body to dry completely.
The Braun Series 7, by the way, also uses the same cleaning station as this Series 6 model. To use, push the button after you place the shaver upside down in the cleaning station. A red light will start flashing from the station to indicate that the cleaning process is over.
Excellent Battery Life
This Braun series electric shaver has an exceptional battery life, holding more charge than the Braun Series 5 models.
It boasts a robust Li-Ion battery that lasts up to three weeks' worth of shaving or 50 minutes of runtime with an hour of full charge.
You can expect the same battery efficiency from the other Braun Series 6 models, such as the 6020s, 6072cc, 6075cc, and 6090cc. Using the SmartCare Centre allows this beard trimmer to charge automatically, so you won't have to worry about running out of battery power.
A battery that lasts so long should be sufficient for most people, even when traveling. Towards the bottom of the electric razor, an LED indicates the charging status and battery level. The LED also informs you whether to clean your razor or replace its parts.
Accessibility Of Replacement Parts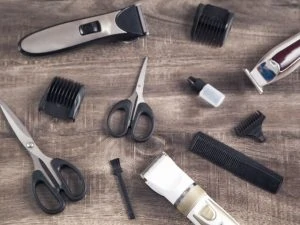 You would expect Braun series 6 6090cc parts to last for several months, but you can easily replace them when they wear out.
These replacement parts are usually available through the manufacturer's official website or other online retailers. However, other retail websites may not always offer the interchangeable shaving head.
Travel Lock
Lastly, this Series 6 model has a travel lock feature, which is crucial, especially if you're a frequent traveler. It would be so hard to be at the airport or on board a flight and have your electric shaver turn on accidentally.
This feature is ingenious if you have a child who might unintentionally get into the shaver. It can prevent a potentially dangerous event from happening to yourself or your child.
Another thing you'd like about the Braun Series 6 is how to use its features with enhanced convenience, like its travel lock, for instance.
Pressing the power button three times will lock your shaver, so you cannot use it or anyone else by mistake. To unlock the shaver, press again for three seconds, then press again to turn it on.
Pros
SensoFlex head provides a satisfying close shave 

Adapts well to facial contour, removing hair even in inaccessible spots

A smart foil shaver that's gentle on any skin type

Ideal for delicate skin

100% waterproof for wet and dry shaving

A handful of accessories included

EasyClick application

Long-lasting battery life

Cordless operation

The travel case is perfect for comfortable shaving while on-the-go

The SmartCare center simplifies maintenance and cleaning

Ergonomic design for a secure grip and ease of use
Cons
Some find the device to be pretty costly

Pricey replacement parts

The absence of noiseless operation

Not suitable for thick, coarse hair

User manual lacks brevity and provides little to no help

SmartCare Centre is pretty voluminous, not applicable for traveling

Coverless blade
Frequently Asked Questions
What is the difference between Braun Series 6 and 7?
Despite being a great beard trimmer for the money, Braun Series 6 might not be the optimal choice for people with coarse hair. Series 7 can adapt to various beard densities, with the motor using its power according to hair type. Such is a feature that Braun Series 6 models do not have.
The recent Series 7 models even have 360° flexible shaving heads allowing you to follow through facial contours smoothly. Such a feature ensures a close shave even on hard-to-reach areas of your face, jawline, and neck.
Some users claim that Series 7 trimmers perform more optimally than previous models. But none can come close to how good Series 6 shavers are when delivering more skin safety.
While Braun launched its first electric shaver in 1950, they now offer various models and accessories. The public first knew Braun Series 6 in early 2020 with nearly the same characteristics as the other Braun models (as explained in our Braun Series 3 review), featuring almost identical accessories and designs.
The many choices Braun offers, including the Braun Series 7 vs 9 may make selecting the right shaver difficult. As a result of this guide, we hope that you will be able to narrow down your preferences based on performance, budget, and features you need the most.
Is Braun Series 6 good for sensitive skin?
Yes. Its Sensoflex technology is one of the best things about the Braun Series 6 6090cc. This brilliant innovation ensures a low-pressure shave. It's perfect, especially for those with sensitive skin who'd like a close shave without skin irritation. Likewise, the use of this handy device means no burning, itching, stinging, tingling, or redness.
After shaving with a new electric razor, there's the possibility of experiencing some rashes, razor burns, and itching on your skin. It can be very frustrating. There will be occasions when you'd rather have bristly stubble than a clean shave.
Consequently, this is a product that we highly recommend to those with delicate skin. The device gives the same results as the other models without causing skin problems.
Can you use Braun Series 6 in the shower?
You may wash the shaver head of all Braun devices under running water to make cleaning a more hassle-free experience. However, only those suitable for wet and dry shaving, like the Braun Series 6 6090cc, are 100% waterproof.
You may freely use this electric shaver while showering. Many people prefer to shave off unwanted hair in the shower since it softens their skin, especially after a warm bath. Doing so is most recommended for those with delicate skin since shaving when the skin is supple and wet minimizes the risk of razor burns.
The growing demand for grooming body hair and facial hair has led to many products, such as an IPL hair removal device. But most would still resort to using electric razors to reduce the side effects of using other methods, like blisters and permanent scars.
In addition to skin safety, shaving in the shower also allows you to wash away trimmed hair with lather. It can save you more time and could be more convenient too.
Final Thoughts
In summary, we hope that the overview of the Braun 6090cc series electric shaver helps you decide if it's well-suited for your needs. The main features we highlighted in this article are worthy of consideration when choosing the best electric razor.
Men who fancy a comfortable hair removal epilation and a close shave often regard Braun as their top choice (though we've found great Panasonic shavers for men as well). Apart from their unique designs, Braun offers a particularly gentle shave compared to others that use blades.