How long did it take you to find your signature scent?
Well…
If you haven't found a fragrance that suits your personality, I'll tell you how to differentiate colognes to find your signature scent.
But, before that:
Let's list top-rated colognes for black men so that as we discuss scent families, we'll have reference points. I'll also tell you why we ranked Nautica Voyage as the best cologne for a black man.
Product
Details

1. Nautica Voyage

Great Formulation

Long Lasting
Masculine Scent
Economical
Great For Day Use
For Casual Wear

Check Current Price

2. Acqua Di Gio

Subtle & Classy

Rich Oil
Famous Brand
Fresh Scent
Spray Form

Check Current Price

3. Curve For Men Cologne Spray

Exotic Base Notes

For Active Lifestyle
4 Fragrance Options
Manly Scent
Not Overpowering

Check Current Price

4. Paco Rabanne 1 Million

All-Occasion Cologne

Bold & Captivating
Masculine Seduction
Worth The Price
Liquid Form

Check Current Price

5. Versace Eros

So Manly

Day Cologne
Fresh Notes
Luxurious Scent
Wears-Off Quickly

Check Current Price
Best Cologne For A Black Man: Top Picks For 2023
In fragrance terminology, you'll come across Eau de Parfum and Eau de Toilette fragrances. These two phrases differentiate the oil concentrations; they define a scent's strength and how long it wears. 
Eau de Toilette is lighter (5 to 15% of oils) and it has a lower concentration than Eau de Parfum (15 to 25%)
Therefore, Eau de Toilette can last about 6 hours while Eau de Parfum scents wear for about 8 hours.
On the other hand, colognes have a lower concentration of oils, about 2%, and their scent lasts around 2 hours.
Now that you know what to look for, let's get started.
1. Nautica Voyage - Best Overall
What stood out for me in Nautica Voyage is its composition of top, middle and base notes that give it a unique, masculine scent. It has apple, musk, green leaf, amber, and moss notes. Combined, they aren't overpowering, so they blend with your natural scent to create your signature fragrance.
Nautica Voyage has a playful but intense scent that suits casual engagements.
Hence, on dates, this mix of musk, moss, and amber will linger on your date's mind.
Further, it's economical because it's in liquid form, and one spritz goes a long way.
Pros
Long-lasting fragrance

For casual occasions

A beautiful blend of scent notes

Masculine fragrance
Cons
Not an all-seasons fragrance
Takeaway
It's difficult to tell which scent to buy for day or night occasions. Therefore, it's helpful to get a cologne like Nautica Voyage specified for day occasions. Now, you only need to find another scent for nightfall.
---
2. Acqua Di Gio - Best Mediterranean Scent
Of course, a Giorgio Armani fragrance had to be on this review, and we chose the long-lasting Acqua Di Gio. It brings a Mediterranean richness to your collection with its composition of patchouli, green tangerine, rosemary, and jasmine.
You're never wrong when you wear a mythical fragrance like this one to an event.
It makes everyone around you want to know who has just stepped into the party.
Pros
Rich Mediterranean oils

Made by a famous brand

A subtle, classy fragrance
Cons
Takeaway
Every black man desires a cologne that is fresh, manly, and classy. These three words describe Acqua Di Gio perfectly. Though it won't linger the whole day, it'll leave an impression on those around you.
---
3. Curve - Best For Day And Night
Curve has the right notes for a manly scent, but it's not overpowering. Its wonderful blend of spicy, woody notes suits an active man who loves adventure and the outdoor environment.
Hence, you have a scent you can wear to the gym or when you're up and about.
Curve cologne suits both day and night occasions. 
Pros
For both day and night occasions

Suits an active man

Exotic base notes

Four fragrance options
Cons
Takeaway
You can wear Curve cologne during the day or night; thus, it's a good fragrance if you want to get one scent and get over the shopping hustles.
---
4. 1 Million By Paco Rabanne - Long-Lasting Fragrance
We're talking about a combination of scents like grapefruit, rose, cinnamon, and amber.
It might sound like too much to put in one bottle, but once you dab it on your wrist, you'll be amazed at how the notes work together.
It's a bold scent for evenings, but it's also captivating for an office setting.
1 Million leaves you smelling fresh even after tasking activities like unexpected sink repairs.
Pros
A rich mix of fragrance notes

You can wear it to any occasion

Long-lasting fragrance
Cons
Takeaway
1 Million may cost you more than the average cologne, but it's worth every dollar because it wears long. Furthermore, you want a signature scent; you don't want to go out smelling like every other black man.
---
5. Versace Eros - Best Exotic Fragrance
We know great scents come from Italy, and Versace Eros is another one to add to your collection.
It has fresh notes of mint leaves, lemon zest, and green apple combined with amber, vanilla, and a few woody notes. The outcome is a luxurious manly scent that lasts for about five hours when you're active. Hence, it can last longer on a laid-back day.
Interestingly, it shares a name with the god of love, but it's a day cologne. That's fascinating enough to make me want to try it.
Pros
Manly notes

Wears for about five hours
Cons
A strong start then fades away quickly.
Takeaway
It may not last double the hours of other stronger fragrances, but Versace Eros stays for about five hours. The rich manly scent isn't too strong; consequently, you can wear it during the day.
---
6. Cool Water By Davidoff - Best Budget Option
Cool Water is an Eau de Toilette daytime spray, so you'll wear it almost throughout your working hours before the need for another spritz. It's a manly scent with notes of jasmine, musk, sandalwood, and lavender.
These notes give it an aquatic freshness that you'll love from the moment you spray it after a shower.
It's also the reason you can wear this fragrance in any season, from winter to summer, because it's like a breath of fresh air.
Pros
Manly fragrance notes

Affordable

Suitable for all occasions and seasons

Not overpowering
Cons
Takeaway
If you're looking for a fragrance with ocean freshness, you'll love Cool Water because it blends into your natural scent to create a distinct, pleasant scent that isn't overpowering.
---
7. For Him By RawChemistry - Best Pheromone Cologne
Unlike most colognes, For Him By RawChemistry has a light, easy-going, woody scent that'll have those around you trying to figure out your new fragrance.
It's such a neutral scent that it can work with your aftershave or shampoo and still have a signature scent.
Plus, it wears long, so you'll have it for almost a full day. That'll boost your confidence around your peers, more so around the other gender. Lastly, it's a pheromone cologne; it's bound to draw attention.
Pros
Alcohol-free

A mild, woody scent

Lasts for hours
Cons
Pheromones may cause skin irritation.
Takeaway
For Him By RawChemistry is a distinct, light, manly scent that wears for hours. It doesn't have alcohol or silicones, and its purpose is to let your love interest know you just stepped into the room.
---
With this rich range of colognes, you have a starting point as you search for a cologne that suits your lifestyle, natural scent, and your environment.
In the introduction, I promised a few shopping tips, didn't I?
So...
How To Choose The Best Cologne For Black Men
Some factors that influence how long a cologne wears are out of your control. For instance, the day's temperature and your natural scent are out of your control. The most you can do is take a shower, hydrate, and watch your diet to avoid foods that cause body odor.
Therefore, to find the best cologne... 
Spray It First
The best way to tell whether you'll like a scent is not by how long it wears. Instead, spritz before deciding your signature scent. Once it mingles with your natural scent, you'll know if it suits your personality and the occasion you want to wear it.
However, don't rub it as the heat breaks up the molecules, and this can wear it out before you get the gist of the notes - which can happen with even the best Burberry colognes.
Define The Scent Notes You Want
When you take in the cologne you've sprayed, attempt to name a few of the scents in it.
A cologne has:
Top Notes
These are the strongest of the three notes, but they evaporate quickly. Examples include citrusy notes like lemon and lime. 
Middle Notes
Primarily, they are floral scents, and they are the heart of the fragrance. They last longer than top notes.
Base Notes
You'll have these scents all day as they last the longest. These prominent scents include wood, vanilla, and musk.
Now you have a scent note in mind.
Next:
Define Scent Families
We can say there are eight scent families, and these are classes that help you know how a scent smells rather than what is in it.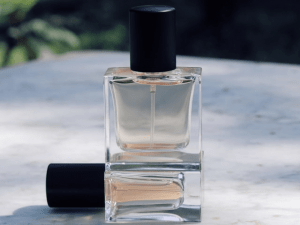 Two are excellent choices for winter, and the rest suit a happy, sunny summer. We've listed the eight families alongside some of the fragrance notes in those classes.
Winter Scents
Oriental: amber, vanilla, musk

Woody: sandalwood, moss, cedarwood
Summer Scents
Herbal: lavender, thyme, rosemary

Green: vegetables, green leaves

Citrus: grapefruit, bitter orange, lemon

Floral: rosewater, lilies, rose

Water: ocean, humid air, dew

Fruity: peaches, berries, melons
Colognes have a combination of fragrance families. For example, it may have woody notes and oriental notes. From the ones we reviewed earlier, can you guess which colognes have such a combination?
One example is Versace Eros. It has oriental notes like vanilla and geranium flower and woody notes like cedarwood.
Still not sure which scent suits you?
I'll let you in on a secret.
Analyze What You Use Daily
Think about the scents you love in your coffee, your shampoo, body lotion, or aftershave for black men. Therein lies your favorite scent. It took me a while before settling for a woody fragrance.
But after realizing that most of the products I love have woody notes (including my best smelling beard oil), I knew my signature scent right away.
Consider The Season
You can buy one scent for the whole year, but since you're adventurous, how about getting two scents?
Get a heavy scent for winter, and a light, fresh fragrance for the summer months. If you decide to do that, your priority will be comparing scent families.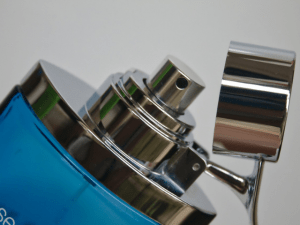 Popular Questions About Cologne For Black Men
How Do I Choose The Right Cologne For The Occasion?
Consider the setting and interactions you'll have there. For example, at work, you want a scent that's light and distinctive. Your colleague in the next workstation or cubicle shouldn't suffer from a headache whenever you're around. Also, choose a scent that lasts most of your workday. Citrus notes don't last that long.
Your choice also depends on your objective. For instance, on a date, you hope to make a lasting impression. Consequently, you choose a fragrance your date hasn't come across.
That way, your date can remember you with it. There are more tips in the section above.
Wear cologne immediately after a shower. When your pores are open and fresh, your natural scent is less likely to alter fragrance because you're not sweaty.
Check the list of ingredients for dermal irritants like lemongrass, clove bud, cinnamon, and thyme. If you are allergic to such essential oils, then wear the cologne on your clothes only. If not, then spray your neck, wrist, chest, or forearm. These are all warm places where the fragrance mixes with your natural scent fast.
A cologne may stain your clothes, so instead of spraying it directly, you can spritz a paper napkin and stash it in your drawer.
Learn exactly where and how to apply it for a long-lasting scent:
What Cologne Scent Should I Wear At Night?
As I mentioned previously, the event or occasion determines your choice. Nights are generally cooler; therefore, you can wear oriental, woody, fresh, or floral scents.
Research shows that scents influence the perception of attractiveness; thus, you're not just wearing a fragrance when going on a date. On a lighter note, you won't get that second date unless your personality rocks as much as your cologne.
As we conclude our review of the best cologne for black guys...
Final Thoughts
Nautica Voyage is the top cologne for black men because its fragrance notes are manly yet subtle. It's like an ocean breeze as the amber, apple, and musk aren't overpowering.
The voyage starts when you spritz in the morning and lasts to the night as this cologne suits all occasions.
If you're looking for a cheaper option, get Cool Water. It's almost similar to Nautica Voyage for its natural notes of jasmine, sandalwood, and lavender.