The best clippers for black men's hair aren't a mystery. All you need is a powerful and sharp trimmer that can cut that coarse and curly hair.
Otherwise...
You may get irritation reactions bumps after every haircut.
I've been there, and you definitely don't want to. If you are already going through this phase, you might find refuge in a change of clippers.
In this review, we compiled a list of 7 of the best clippers for black hair today including our top pick, Andis Professional Master Clipper.
And we answered burning questions you may have about choosing the right trimmer for your black hair. 
Product
Details

1. Andis Professional Master Clipper

Classy Housing

Bulk Hair Cutting
14000 SPM
Great For Fading
Aluminum Housing
Adjustable Blade

Check Current Price

2. Wahl 5-Star Magic Clip

Value For Money

Powerful Motor
Lightweight
Durable
Stagger Tooth Blade

Check Current Price

3. Remington Hc4250 Shortcut Pro

Styilsh

Ergonomic
Waterproof
Extra Wide Blade
9 Guide Combs

Check Current Price

4. Andis T Outliner

Dapper Hairline

Handy Grip
Precise Carving
No-Fuss Cutting
7200 SPM

Check Current Price

5. Oster Classic 76 Universal Motor Clipper

Vintage Look

Long/Thick Cord
With Comb Set
W/ Lube Accessories
Hangs On A Hook

Check Current Price

6. Oster Adjustable Fast Feed Clipper

Whisper Quiet

Self-Sharpening
8 Foot Cord
Wet & Dry
Powerful Motor

Check Current Price
The 6 Best Clippers For Black Hair Reviewed
1.

Andis Professional Master Clipper

- Overall Best Clipper
Looking at the classy and shiny aluminum housing of this clipper, you know it's no joke. It's literally indestructible yet not a burden in the hands with its aluminum housing.
Andis Professional Master doesn't disappoint in performance either.
It's one of the fastest clippers out there with a speed of 14,000spm, unimaginably powered by a magnetic motor!
A cordless device can come in handy because of the convenience and freedom it provides, especially when traveling.
The magnetic motor begs for regular maintenance and you should oblige for it to work well for years to come. By the way, this clipper is heavy, but not so much to fatigue your hands quickly.
Aside from these, it remains one of the best clippers for black men's hair. Not only does it make cutting bulk hair a breeze, but fading couldn't be any better. The blades adjust from #000 to #1, with the pull of a conveniently positioned lever by the side of the clipper.
All in all, you won't regret forking out over a hundred bucks on this clipper.
Pros
Classy and indestructible aluminum housing

Perfect for bulk hair cutting

Functional adjustment between #000 and #1 blades
Cons
You risk clipping your scalp if it's not lubricated

Aluminum heats up and burns
Takeaway
Although on the pricier side, the Andis Professional clipper is worth every penny. It's perfect for personal or professional use and would work on any hair at all.
---
2.

Wahl 5-Star Magic Clip

- Best Cordless Clipper
Wahl is the first company to manufacture the electromagnetic clippers we still use today, over a century ago. Unsurprising but remarkable, all their clipper models still make big waves for standing out in their specialties.
The 5-Star Magic Clip is notably dubbed for its convenience and precision cuts. It uses a patent stagger-tooth blade that cuts hair with speed and uniqueness. The clipper makes a crunch sound at each swipe of hair, so you're more aware, especially while blending.
Even better, this clipper weighs less than a can of soda at 10oz. You can cut through thick conveniently patiently and without weary hands.
The wave master, 360Jeezy, is an advocate for this clipper.
The 5-Star Magic Clip functions with a power cable or on a battery charge. On a single charge, you'd have an average of 65 minutes barbing for an average of 60 minutes for the first year. It lasts as long as 90 minutes for the first few months but diminishes afterward.
Another possible gripe is that the clipper might look shabby straight out of the box. . The clippers are tried and tested for 100 percent performance before they are shipped to you.
Finally, an accessory kit containing a reliable charger, blade oil, and cleaning brush is included in the box.
Pros
Good value for the money

Crunchy stagger tooth blade

Powerful enough to cut all kinds of hair with patience

Extremely lightweight, yet durable

Reasonable battery life

Operates both corded and cordless
Cons
Battery dropped by 20 percent after a few months

Could potentially look shabby from factory testing for quality
Takeaway
Wahl Cordless Magic Clip is one of the best clippers for African American hair. Its crunchy stagger tooth blade is built to beast on blending and fading and is okay for clean shaves as well.
---
3.

Remington Hc4250 Shortcut Pro

- Best DIY Clipper

Guys who are all about cutting their hair by themselves would love this clipper.
The Remington Shortcut Pro is designed to fit so well into the palm to better cover all areas. You'd have a great feel of the clipper with the freedom to hold it like a brush.
What's more, you can cut hair efficiently with its curved and extra-wide Power Curve blades. With this feature, you'd hardly miss a step, even at difficult angles like the back of your head or hair.
Once done shaving, you can wash it under running water for a thorough clean.
The only issue with this clipper is the rechargeable battery lasts only 40 minutes on a 4-hour charge time. That's truly abysmal efficiency, but it would suffice with its corded operation.
Finally, this little handheld device has all the accessories for use at home or on the go. It has a travel pouch, cleaning brush, 9 guide combs (1/16" - 5/8"), and lubricating oil. 
Pros
Ergonomic palm grip

Waterproof

Extra-wide blade

Nine guide combs for customized styling
Cons
Takeaway
If you don't want to waste time waiting in line at a barbershop every other week just to shave your hair, use Remington Shortcut Pro.
The Shortcut Pro makes self-cutting easy and convenient, but most of all, super-affordable. And would have no issues shaving coarse black hair.
---
4.

Andis T Outliner

- Best Outlining Clipper
The Andis T Outliner is one of the best hair trimmers to groom neat edges.
It took years of shuffling between local barbers who could never give clean edges. There was always something to nag about after t, and my hair was probably the issue after trying so many barbers.
Its blades make it easy to carve out the hairline, work out a good fade, and design artistic carvings too.
However, it may feel underpowered for serious hair cutting.
With its powerful 7200spm motor, it heats up under long use - well, it's not a surprise for an Andis clipper. You might need to have another clipper to cut the bulk of your hair. Sadly, you'd spend about an extra 50 bucks if you don't already have one.
The T Outliner is shaped in a way that's easy and actually fun to grip. This allows you to hold it with an artistic touch to outline with more accuracy. Your barber would tell of its tales even if you don't cut your hair yourself.
Pros
Brings out a dapper hairline

Handy grip for precision carving and outlining

Cuts through dry and coarse hair smoothly

Reduces hand fatigue close to nothing
Cons
May not be powerful enough to cut thick or close to skin hairstyles

Heats up after prolonged use
Takeaway
If you are tired of never having the perfect edges, give the Andis T Outliner a try. It's built for this.
---
5.

Oster Classic 76 Universal Motor

 - Best Clippers
If you ever wonder "what clippers do barber's use," Oster 76 is the ideal example - solid build, high-performance blades, and a killer vintage look.
In the right hands, it is arguably the best clipper for black barbers. It cuts into thick afros or coarse hair like a metal spoon through ice cream.
You can tell it would last from its thick cord supplying the forceful motor with the necessary power. More specifically, any barber would appreciate that it's 9-foot long and has a mount for hanging.
Also, it cuts with two detachable metal blades that are more assuring for a pro barber. The sizes (#000 and #1) are boldly engraved on the blade for ease.
Pros
It would last a while even under heavy everyday use

Long and thick power cord

Useful attachment comb set

Complete lubrication accessories

Hangs on a mount or hook
Cons
Costs as classy as it looks
Takeaway
For all the old-school barbers out there, this is the real deal.
Not only does it spot a vintage look, but it also works with the needed durability, extra-long wire cord, and easy-to-handle frame you'd find welcoming.
---
6.

Oster Adjustable Fast Feed Clipper

- Best Budget-Friendly
The Oster Fast Feed is a reasonably-priced premium hair trimmer. It functions just as powerful as way higher-priced clippers. It's no surprise since it's also one of the best pivot motor clippers on the market. And the only one worthy of this list.
What's more, its powerful motor is dubbed whisper quiet and is adjustable. The adjustment lever is just by the side of the clipper.
The blade adjusts between #000 and #1 to cut as close to the skin or long as you prefer. This hair clipper also has a 4-set (1/2", 1/4, 3/8", blending) attachment comb and a blade guard.
With a cleaning brush and lubrication to top off the list of accessories, you'll be getting more than your money's worth. While the Fast Feed is similar to the Oster 76, it doesn't cut full hair as well. or thick hair either. But it gets the job done, only takes longer. 
Pros
Good bang for your buck

Self-sharpening metal blades

Powerful motor cuts easily through a bush of dry or coarse hair 

Works fine for dry and wet shaving 

One of the quietest hair clippers 

Convenient 8-foot power cord
Cons
Not fasters clipper for full and thick hair 

Low-quality attachment combs 
Takeaway
The Oster Fast Feed is one of the best hair trimmers who want to groom on a budget. The reliability and tenacity also make it a prime candidate for everyday use or beginner and intermediate barbers.
---
Buying Guide
Clippers are machines that do what they are built to do and nothing more or less. So, right off the bat, you should buy one that meets your needs, style, and most importantly, falls within your budget. 
Are The Best Hair Clippers For Black Hair Expensive? 
The most recommendable clippers are priced in the range of $50 to well over $140 a unit. But this is only a rough estimation.
For instance, you bought a $148 clipper. It's the perfect model for your hair with the right specs but missing guide combs. Unless you always keep a clean shave, you may have to buy a set of attachment combs out of pocket.
Shopping for those could cost you $10 for a Wahl plastic set online or over $30 on a magnetic or metal set, which is way more reliable. At the end of the day, you'd be spending as much as $180, excluding delivery costs.
Alternatively, a clipper with a complete set of attachments and lubrication kit could cost as low as fifty bucks and be a disaster to your hair.  
How To Choose The Best Hair Clippers For Black Men 
Check Razors
Whether you're shopping for a trimmer vs clipper to cut straight hair or black hair, sharp blades are essential.
The good thing is most brands use high steel blades that sharpen themselves over time.
If you feel like splurging or want a clipper with minimal noise, ceramic blades are the go-to. They hardly ever heat as much as metal blades and even last longer.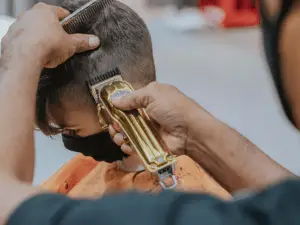 Motor Power
The motor is the engine that drives a clipper. And you'd imagine only powerful ones would efficiently cut curly and coarse black hair. Well, any clipper would do the job, but you are likely to be dealt a bad hand of bumps if they're underpowered.
The popular choice is between rotary and magnetic clipper motors. 
Rotary Motors
Rotary motors generally have the fastest cutting speed and afford you multiple speeds. So you can cut your hair with less power whenever you do closer-to-skin hairstyles. However, they are the most expensive clippers. 
Magnetic 
On the other hand, magnetic motors are more reliable and affordable but less powerful. Although some magnetic-powered clippers combine their doggedness with even more power, they no longer qualify as affordable.
A typical example is our top pick, the Andis Professional Master Clipper.
Pivot
In the middle of things are pivot clippers. These clippers aren't so common but notable within barber circles for their versatility with shaving wet and dry hair. If that strikes a chord with you, then a pivot motor clipper would make an excellent choice.
Summary: The motor in your clipper determines how fast it cuts and if it would last. 
A clipper with 5000 to 6000 strokes per minute (SPM) is decently powered for cutting black hair.
Superfast clippers with over 10,000SPM will be more than enough to cut through even the thickest hair, like a hot knife through butter. 
Corded Or Cordless?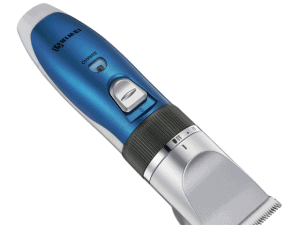 It's not rocket science.
Best cordless hair clippers are more convenient to use - either for your barber or yourself - because, well, they are cordless.
But corded clippers come with the perk of more torque for heavy or bulk cutting. More often than not, they cost only about half the price of a cordless clipper with similar power and specifications.
Would you prefer charging after each use for convenience and freedom to maneuver? To cut your hair anywhere and at any time, perhaps - of course, when you've charged the clipper.
Or to enjoy the convenience of stashing away a corded clipper after each use, not worrying about charging or changing batteries?
By the way, brands like Wahl usually have their cordless clippers also function while charging. But the cord might be flimsy compared to that of an actual corded clipper. 
Quality Of Guide/Attachment Combs
If you only want the best clippers for bald head or only cut close shaves, you may not bother much about this feature.
But if you love getting premium faded hairstyles, guide combs matter enormously with the best clippers for fades. If you don't already know how to use the many sizes, learn how and unlock a new level of freshness.
That said, many clippers come with flimsy attachment combs that fall off easily or in operation. Even the best brands do this to cut costs with their budget-friendly models.
So, if it really matters to you, be sure to pay attention to the combs' quality and if they hold firmly. Or if there's any at all.
Here's a guide to hair clippers cutting guide sizes:
Maintenance Is A Compulsion
It takes longer for the lot of us to get an even cut or fade with DIY barbing. Or even at the barbers, regardless of power.
Mind you, most, if not all, these powerful clippers cut at an ample 4000SPM or more. The result of this on the metal blades is that they get hot pretty fast. You know it's worse when the clipper burns your scalp.
On a lighter note, the clipper starts to cut slower, or it catches your hair (gets stuck) if you decide to cut at a slower speed to cool it down.
The easiest fix is to consistently clean and lube your clipper blades. If you're smart, you may use cooling sprays, but they only make cutting faster while they dry up oil in the clipper.
Regularly cleaning and oiling prevents the clippers from getting hot in the first place.
Frequently Asked Questions 
What Features Do I Look For In A Hair Clipper For A Black Male?
The single most important thing to look out for is a powerful motor. A clipper with a fast stroke per minute (SPM) of 4000spm or more would smoothly cut any type of black hair. Consequently, you would be less likely to develop (or even heal) bumps and irritation after getting haircuts. Or to have the clipper stuck in thick strands of hair with such power.
Is A Cordless Hair Clipper Better To Use Than A Corded One?
A cordless hair clipper helps to evade the restraints moving around power cords. You can pick up your charged clipper and shave anywhere. However, you'd spend way more than you'd have on an equally powered or stronger corded clipper. There's also the likely issue with battery life, especially if you're a pro barber.
Do All Hair Clippers Have The Same Size?
No. Hair clipper blades and guide combs all come in different sizes. Not all brands make their accessories compatible with others. Clipper blades and combs are usually measured in inches and/or millimeters to indicate how deep they'd cut. The sizes are assigned universal numbers, such as number #5 for 5/8" size guard combs across most brands or Number #000 for a 1/50" clipper blade.
Wrapping Up
The best clippers for black hair aren't hidden in a vault where only a select few have the keys to open.
They are out in the open, available to everyone who knows exactly what and where to look, of course.
Hopefully, you've found a befitting one among our list for your hair, convenience, and budget.
If it still feels like a behemoth task to decide, have a go at our top pick, Andis Master Clipper. It's perfect for personal use, lasting you years, constantly delivering clean skin cuts and precision with faded cuts.