A full beard attracts all manner of perceptions. To the ones that love it and know the painstaking process of growing it, a full beard is not a sign of wisdom, age, poor grooming habits…
To them, a full beard is a style.
I know you're in this group.
So let's get you a beard trimmer to groom it a bit as it grows.
We've found ten trimmers that you'll like. Of these, we ranked the Philips Norelco Multigroom Series 7000 as the best beard trimmer for long beards. I'll tell you why below.
10 Best Trimmers For Long Beards - Reviewed
1. Philips Norelco Multigroom Series 7000 - Best Overall
We ranked Philips Norelco Multigroom Series 7000 as the best overall because it has trimmers for your beard, body, and head hair in one kit.
It comes in a 23-piece kit inclusive of 14 guide combs. These range in length from 1 to 16mm, and their strong fiberglass reinforcement prevents bending when cutting through your beard or mustache.
You'll also love that it has exceptional runtime, giving you five hours of cordless power.
It has self-sharpening blades with exclusive technology from Philips to give you unmatched precision even in intricate areas like the cheek lines and neckline. There's also a foil shaver in your kit to define your cheek lines professionally.
What's more, this trimmer uses a powerful metal motor to cut through any hair thickness with ease. It won't feel heavy in your hand as it's a lightweight trimmer that's barely one pound in weight.
Plus, it's easy to maintain it because you can rinse it and the 23 attachments in water after use.
The downside of the Philips Norelco Multigroom Series 7000 is the confusion having so many trimmer attachments can cause. But, once you figure out the guard for each length, you'll have an easy time.
Pros
Foil shaver to define cheek lines

A range of guide combs

Nose and hair trimmers inclusive

Five hours runtime

Durable non-corrosive blades

Washable trimmer

DualCut Technology with two times more blades

Self-sharpening blades
Cons
Takeaway
The Philips Norelco Series 7000 has one of the best runtimes in beard trimmers. It has self-sharpening blades, and it comes as a complete kit with guide combs, a hair trimmer, and a nose trimmer.
---
2. Philips Norelco Series 3000 - Best Budget Option
If the Philips model above is out of your budget range, here's an affordable one. The Philips Norelco Series 3000 has fewer attachments than the one above as it comes with 13 only. Less confusing, right?
Since it comes with a hair trimmer, you trim both your head and beard at once.
It has three beard trimming guards, which give you length options depending on the look you have in mind.
Plus, if you're starting your journey to a full beard, there's a stubble guard for that stunning stubble look.
The tempered steel blades don't rust, so they'll serve you for years. They also self-sharpen, which makes the trimming process fast.
The trimmer's battery lasts for an hour, and when it runs out, don't panic. Why? It has a quick-charge feature that recharges it in five minutes.
The kit is also inclusive of a cleaning brush, and since this trimmer is waterproof, cleaning it will be so simple. Brush it off, rinse it, dry it. It's such an easy process.
Pros
A body hair trimming kit inclusive of different hair trimmers

Easy cleaning process

Inclusive of a cleaning brush

Precision trimmer

Three beard guards

Quick-charge feature

A stubble guard
Cons
Takeaway
The Philips Norelco Series 3000 has seven guards to give you various trimming lengths. Its strong motor, and self-sharpening blades, glide over your beard with precision to leave you with an even trim.
---
3. Remington Foil Shaver - Best Lightweight Option
It weighs one pound only, a small weight to hold as you define the lines of your beard. Additionally, this Remington trimmer consumes a little charge such that you'll use it multiple times without the need to recharge it.
On top of that, you can use it corded or cordless.
When cordless, the LED battery gauge shows you the amount of power left. The sleek foil finish makes it easy to clean, more so because you can rinse it under running water.
You'll get nothing short of professional, consistent close shaves when working on your neckline and cheek lines. It's all thanks to its pop-up detail trimmer that flips up whenever you need it.
This trimmer's foil guard stays on throughout the shaving process. It has a sturdy design, plus it has no attachments to fix and remove.
Pros
LED battery gauge

Pop-up trimmer to define your lines

Three-stage cutting system to pre-trim and close shave

Saves power

Corded/cordless use

You can wash it in water
Cons
No attachments to vary the trimming length
Takeaway
Its sharp guard trims impressively, and its pop-up trimmer cleans your sideburns and cheek lines. You can use it corded or cordless, plus it's washable for easy maintenance.
---
4. Panasonic Multigroom Kit - Best Adjustable Settings
The most outstanding feature of this kit is its 39 adjustable length settings, from 0.5mm to 20mm, that boost precision when cutting or detailing. The battery life is exceptional because it can serve you for a week without recharging.
Its motor is powerful, so it'll cut smoothly without pulling your beard. This Panasonic Multigroom Kit is sturdy, with a rubberized handle for a firm grip to prevent slipping. Further, it comes with three combs to trim your head, beard, or body hair.
Since most full beard styles come with a mustache, wouldn't you love a trimmer that details your mustache? Well, this one has a slide-up trimmer for your sideburns and mustache.
The hypoallergenic stainless steel blades won't irritate your skin; hence, it's the best long beard trimmer for people with sensitive skin. What's more, the trimmer's blade slants at a 45-degree angle to cut fast and clean.
Pros
Lightweight

Slide-up trimmer for your mustache

Three comb attachments for diverse use

Rubberized grip

50 minutes runtime

Corded/cordless use

39 trimmer settings
Cons
Takeaway
The Panasonic Multigroom Kit gives you 39 adjustment settings to vary your shaving length to your beard style. Additionally, it has a slide-up trimmer for detailing your mustache and sideburns. You can use it plugged in or cordless.
---
5. Philips Norelco One Blade - Best For Wet & Dry Shaving
Since it's suitable for both wet and dry shaving, you can use this trimmer even in the shower, with its Lithium-ion battery giving you an hour's runtime.
This trimmer is fast, with a blade that cuts 200 times per second to prevent irritation caused by dragging or pulling. It performs well on a single charge.
The Panasonic Norelco One Blade doesn't clog as you trim your long beard because it cuts any length. Further, it comes with four stubble guards for that even stubble look.
Expect nothing short of a professional trim as the blade follows the contour of your face.
Finally, it's dual-sided to trim difficult areas like your mustache.
Pros
Dual-sided blade

Trimming follows the contour of your face

A durable blade

Powerful motor, up to 200 strokes per second

An hour's runtime

Four stubble guards
Cons
Takeaway
This trimmer has a powerful motor that makes 200 strokes per second. That means no pulling irrespective of the length of your beard. Additionally, it's dual-sided to reach those stressful spots like below your nose.
---
6. Wahl All In One Kit - Best Runtime
First, when you charge this Wahl Trimmer for an hour, it serves you for six hours, the best runtime in our review. It makes it the best beard trimmer for longer beards. If it runs out of power while in use, you can charge it for a minute to get three minutes' runtime.
Its LED indicator will notify you when charging completes or when it's in charge mode.
This trimmer has 12 guards for various trimming lengths, including stubble guards, so your beard grows evenly.
Pros
Excellent runtime

Quick charge feature

12 attachment guards

Worldwide power adapter

Made by a renowned brand

Self-sharpening blades
Cons
Problematic charging unit
Takeaway
This lightweight Wahl trimmer charges in one hour to give you a runtime of six hours. It has a built-in travel lock to prevent it from switching on when not in use.
---
7. Surker Beard Trimmer - Best 6-In-1 Kit
The Surker Beard Trimmer takes care of trimming, precision cutting, and detailing of your beard. This kit also takes care of your head and nose hair making it an affordable, convenient purchase.
It comes with five guide combs ranging from 3 to 12mm to adjust the trimming length to your beard style.
Also, it uses sharp titanium blades to even the trim without pulling hair or heating up. You'll enjoy a 99-minute runtime with this trimmer, and you may not even use all that charge at once because it has a powerful motor and sharp blades.
Even when you're on vacation, you can charge it fast as it uses a USB cable. This Surker trimmer is waterproof, an excellent feature for wet shaving. You can detach the blades when cleaning it to ensure you reach each part of the unit.
Pros
Stand base for the trimming kit

6 in 1 kit inclusive of a design trimmer

USB rechargeable

Five guide combs

99 minutes runtime
Cons
Takeaway
This Surker trimmer is a trimming kit inclusive of hair trimmers and a design trimmer. It has a 99-minute runtime, USB charging, and it's waterproof.
---
8. Remington Smart Trimmer - Best Design Option
We've moved from the age of shaving with razors and a pair of scissors to cordless trimmers with state-of-the-art technology.
This Remington Smart Trimmer takes the game a notch higher by offering you memory settings and a touch screen. What do these even do? Don't worry, I'll tell you.
First, no more second-guessing your trimming length as this trimmer saves the last trimming length. Further, its sensor adapts the trimming speed to the beard length and thickness, taking another stressful task off our hands.
It's easy to operate since there are no attachments like guide combs to fix or remove every time you trim your beard.
It's washable, which makes the care routine so easy. Plus, you can use it cordless or power it as you work on your beard. The cordless runtime is 50 minutes, which given the advanced technology it uses, you'll trim in half of that time.
The downside is it suits a shorter beard as long hair may clog it.
Pros
Washable trimmer

Adjustable speed based on hair length and thickness

Memory settings to save your previous trimming length

Touch screen control

Wake up feature

Charging indicator

Corded/cordless functionality

50 minutes runtime

Lightweight
Cons
Takeaway
The Remington Smart Trimmer is a plug-and-play. It saves your trimming lengths, so you pick it up, switch it on and trim. It works both corded and cordless, and its USB-charging feature makes it so easy to charge it at home or on vacation.
---
9. Remington All-In-1 Grooming Kit - Best Detail Shaver
Onto another Remington model with fewer digital features but has a detail shaver to define the lines of your cheeks, chin, and neck.
This Remington Grooming Kit gives you 65 minutes runtime, enough to trim your growth and shape your beard for several sessions without running out of power.
If you're shaving to start growing your beard all over again, it has stubble combs for an even trim. It cuts neatly without tugging your hair as the blades are sharp.
Remington is a famous clippers' brand, with engineering to give you a long-lasting blade. For example, this Remington model has a stainless steel blade, which means you're not going back to the shop soon.
It's a full-size trimmer with a non-slip for a firm fit in whichever angle you hold it to reach all sections of your beard.
Furthermore, it weighs about one pound only. The package includes a travel pouch that can also serve as a storage bag when you're at home. 
Pros
Durable blade

Washable attachments

Guide combs

About an hour's runtime

Travel pouch

Detail shaver included

Nose and hair trimmers included

Textured grip
Cons
Takeaway
Remington has many beard trimmers in the market, and this one doesn't disappoint. It gives you about an hour's runtime, 14 length adjustment settings, and it comes with a detail shaver to trim your neck and cheek lines.
---
10. Suprent Adjustable Beard Trimmer - Best Simple Option
We've looked at trimmers with digital length settings, others with full-body trimming kits, and over a dozen attachments. Now, here's a simple Suprent Trimmer.
Instead of a dozen guards, it has an in-built precision dial. This dial gives you 19 length settings with 0.5mm increments to make the trimming process fast and hassle-free. It's waterproof, so it takes under five minutes to clean it.
When you travel, you have 90 minutes of cordless power to take care of your beard. Lastly, it charges in a short time, one and a half hours, unlike other trimmers. 
Pros
19 adjustable length settings dial

Stainless steel blade

Lightweight

Affordable

USB charging

Washes in water
Cons
No storage bag

A USB port only
Takeaway
This Suprent Trimmer doesn't use guards; hence, the trimming process is simple as there are no guide combs to attach or remove. Also, you set the length to trim on an in-built dial. It's an affordable, advanced, lightweight trimmer.
---
Now you have a list of trimmers to look at when shopping for the best beard trimmer for long beards. How will you tell the best trimmer apart? Here are tips on:
How To Choose The Best Long Beard Trimmer
Compare:
Blade Quality
A self-sharpening blade glides through a long beard swiftly, without pulling your hair. You'll also not replace it as it'll never be dull. Also, choose blades made of durable materials like stainless steel as they are easy to maintain.
Corded Versus Cordless Power
Trimmers with both are the best. When cordless, it should give you at least an hour's runtime.
Guards And Other Accessories
Your range of guide combs (guards) defines the length you can cut. Therefore, to make your DIY look professional, you need guide combs to align the beard length to the shape of your face. There are also the best shape up clippers you can use.
Some trimmers have adjustable, built-in guards, while others have three or more attachments. The attachments make the trimming process liberal, but having so many guards can also be confusing.
For instance, what do you do when you have 13 trimmer attachments with an increment of 0.5mm each?
Why Use A Beard Trimmer?
Your full beard needs a trimmer because...
It's less irritating compared to razors. A trimmer cuts with precision and its motor moves fast and swiftly, so it doesn't pull the beard.

There's a cordless option that lets you trim your beard wherever you are. With up to six hours runtime, like in the

Wahl All In One

model in our review, you can use it for days without recharging.

It trims at even length, and the guard guides your hand to prevent patches. You have at least five guide combs of different beard lengths in most kits to customize your beard style as much as possible. That would not be the case when using a traditional razor on a full beard. 

A trimmer comes with additional features like memory settings to save the length settings for later use. With a razor, it's trial and error the next time you want to define your cheek lines.

Options like the best vacuum beard trimmer saves time with a clean process.
FAQs About The Best Trimmer For Long Beards
How Often Should I Trim My Long Beard To Keep It Healthy?
During the growth stage, forgo trimming to get length and density. When your beard fills out, trim it once in two months to keep the beard length manageable and neat. But, if it grows fast, trim the cheek line and the neckline once or twice a week.
Trimming is only one aspect of the black men beard care routine as there are other things to do to keep it healthy. For instance, shampooing and massaging it with a conditioner and beard oil moisturize it. Applying beard oil also prevents dandruff caused by skin dryness or irritation.
Also, comb it as part of your daily care routine to remove any food particles stuck in it.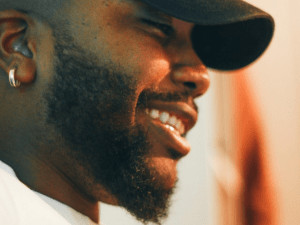 Is A Cordless Trimmer Better For Long Beard?
Both cordless and corded trimmers suit a long beard. A corded one eliminates the long charging sessions that take up to 4 hours on some models. However, with a cordless trimmer, you can trim your long beard on vacation.
We've even come across a cordless trimmer with six hours runtime, the Wahl All In One Kit mentioned in the section above. Also, it's easier to maneuver a cordless trimmer when you have a Viking beard or a long goatee because there's no cord to worry about when trimming.
How Do I Clean And Maintain My Beard Trimmer?
It's an easy process that takes a few minutes. 
Switch the trimmer off and disconnect it from the power source.

Brush off beard hair stuck to your blades. Unscrew the blades to reach long strands stuck inside.

Spray a disinfectant on the blade. You can use rubbing alcohol.

Oil the blade and let it absorb the oil for about a minute.

Dry it completely, then screw the blade on if you'd taken it apart.

Store the trimmer in a ventilated area.
Learn how to disconnect, clean, and reconnect the best beard trimmer for black hair here.
Note, if it's waterproof, you can use water, liquid soap, and a brush. If it's not, use a dry paper towel or brush.
The Verdict
When you get the Philips Norelco Multigroom Series 7000, you can trim your beard and shave your head. It's a complete trimming kit with 23 attachments that include firm stubble guide combs. Its runtime is five hours, and it's a lightweight trimmer.
However, if you'd like to start with something cheaper, there's an affordable model from Philips, the Philips Norelco Series 3000. It has guide combs, self-sharpening blades, and a powerful motor. But, it won't cost you a lot.