Bruh, it's time to talk about ashy knees and elbows.
Well, actually...
It's not your fault, no; it's the lotion you're using.
Either it's too light for your skin, or it doesn't contain moisturizing properties. If you've not looked at the list of ingredients on your bottle, I urge you to take that lotion bottle now. I'll tell you what should be in your bottle shortly.
Before that:
Let's highlight some of the best lotions for 24-hour hydration and why the CeraVe Daily Moisturizing Lotion is the best lotion for black men.
Product
Details

1. CeraVe Daily Moisturizing Lotion

Renowned Brand

No Stickiness
Derma Approved
Ceramides Infused
Softens Dry Skin
Unscented

Check Price On Amazon

2. Eucerin Skin Calming Lotion

Heals Skin Fast

24 Hr. Hydration
Treats Dry Skin
Fragrance-Free
Dye-Free

Check Price On Amazon

3. Nivea Maximum Hydration

3-In-1 Formulation

Revitalizes Skin
24 Hr. Hydration
Masculine Scent
Light On Skin

Check Price On Amazon

4. Gold Bond Everyday Moisture

Rapid Absorption

Light Consistency
Vitamins Enriched
Non-Greasy
Excellent Extracts

Check Price On Amazon

5. Marlowe No. 002

Mild Scent

Dry/Sensitive Skin
Fast Absorption
Long Lasting
Non-Greasy

Check Price On Amazon

6. Aloe Unscented

Parabens-Free

Fragrance-Free
Rich Formulation
Anti-Inflammatory
Hydrating

Check Price On Amazon
6 Best Lotions For Dark Skin Reviewed
1. CeraVe Daily Moisturizing Lotion - Best Overall
We've begun our review on a high note, presenting a lotion formulated to reduce moisture loss and repair the natural skin barrier.
To that effect, this lotion from CeraVe contains hyaluronic acid and ceramides.
We've ranked it as the best overall since it's lightweight, hydrates dark skin, and leaves you with a velvety texture. It's so light that when you moisturize your skin before bed, the sheets won't stick to your skin.
Plus, it's not overpowering such that you wake up with fragrance allergies.
This brand uses the input of dermatologists when formulating its skincare products. For that reason, the CeraVe Daily Moisturizing Lotion is fragrance-free, which means no irritation for people with sensitive skin. 
Pros
No stickiness

Infused with ceramides to repair your skin barrier

Unscented, suitable for sensitive skin

Softens your dry skin

Made by a renowned brand

Formulated by dermatologists
Cons
The smell can be off-putting.
Takeaway
CeraVe Daily Moisturizing Lotion repairs the skin barrier so that you can retain moisture to boost skin elasticity and health. It's a light lotion.
---
2. Eucerin Skin Calming Lotion- Best For Itchy Skin
It's fragrance-free, one of the reasons that make it an excellent choice for itchy, sensitive skin.
On top of that, it has a blend of emollients that moisturize your skin to soften it and reduce dryness.
Additionally, it's about to become one of your all-time favorites as it contains a natural ingredient, oatmeal, to treat the itchy skin by helping it heal fast. You'll also discover that Eucerin Lotion provides 24-hour hydration on knees, elbows, and other ashy-looking areas.
Pros
Fragrance-free

Treats itchy, dry skin

24-hour skin hydration

Dye-free
Cons
Unsuitable for severely damaged, itchy skin.
Takeaway
Fragrance may exacerbate skin irritation; therefore, using this fragrance-free lotion on sensitive skin protects you from further damage. Eucerin lotion also calms your itchy skin as it heals.
---
3. Nivea Maximum Hydration - Best Budget Option
How about a lotion formulated specifically for men? Nivea's range of lotions and creams for men presents a few solutions.
We chose the Nivea Maximum Hydration from the rest of their products for many reasons.
First, it's budget-friendly, so you can buy as many bottles as you need.
As strange as that sounds, it might be necessary because this is a 3-in-1 lotion; thus, you use it on your face, hands, and body.
That being so, it can run out fast. You'll also note that it's a hydrating lotion, which means extra moisture for 24 hours. It lasts that long because it has aloe vera to trap moisture on your skin.
It takes a short time to apply Nivea Maximum Hydration as your skin absorbs it in seconds. 
Further, after application, it leaves you with a smooth, glossy texture that isn't sticky. Have I mentioned that it's a lightweight lotion? Its scent isn't overpowering either; don't worry.
Pros
The pump bottle looks stylish

Three-in-one formulation to work on face, hands, and body

24-hour skin hydration

Revitalizes dry skin

From a renowned skincare brand

Masculine scent

Lightweight lotion
Cons
The lotion's scent starts too strong.
Takeaway
Nivea Maximum Hydration is affordable. It comes in a large bottle that you'll use for a while on your face, hands, and body. Though its fragrance is strong at first, it doesn't linger.
---
4. Gold Bond Everyday Moisture - Best For Dry Skin
Why did we crown it as the best body lotion for black men with dry skin? Well, Gold Bond Everyday Moisture has seven moisturizing ingredients.
You'll be rubbing your skin gently with excellent extracts like aloe, shea butter, watermelon rind, among others.
Despite this array of nourishing ingredients, each bringing its scent, this lotion has a mild, distinct fragrance.
Since it's a hydrating lotion like the Nivea lotion above, your skin absorbs it quickly without leaving an oily residue. On top of that, it takes a short time to apply, thanks to its light consistency. 
Pros
Rapid absorption

Light consistency

Enriched with vitamins

Non-greasy
Cons
This lotion doesn't last long.
Takeaway
If you're struggling with dry skin, Gold Bond Everyday Moisture will soften it and seal the moisture all day long.
---
5. Marlowe No. 002 - Best Light Formulation
Marlowe No. 002 lotion is light because of its composition of natural extracts like passionfruit flower, green tea, and willow bark.
It relieves your dry skin fast as your skin draws in all of those excellent ingredients in seconds. Plus, this lotion stays on your skin for a long time to prevent an ashy appearance.
Further, you'll love its light scent that doesn't compete with your aftershave or cologne.
Since it has no harsh chemicals like phthalates, you can apply it to sensitive skin.
Pros
Non-greasy formulation

The skin absorbs it in a few seconds

Mild scent

Suitable for dry plus sensitive skin

Long-lasting lotion
Cons
Takeaway
Marlowe No.002 is a light lotion with a mild, fresh scent that doesn't linger. It's also non-greasy; further, it lasts long.
---
6. Aloe Unscented - Best Organic Lotion
We ranked Aloe Unscented as the best lotion for black people who love organic formulations.
True to its objective, this lotion has no fragrances, controversial preservatives like parabens or sulfates.
It has a blend of hydrating essential oils and organic extracts like aloe, shea butter, and calendula oil from marigold flowers. Have you ever heard of calendula?
It's an anti-inflammatory oil that eliminates bacteria on your skin to prevent irritation or other skin problems.
That being so, Aloe Unscented is the best body lotion for black men with skin that needs repair.
Pros
Suitable for dry skin

Unscented lotion

Rich formulation of essential oils

No harsh preservatives
Cons
Sticky as it's not absorbed fast
Takeaway
When you pump Aloe Unscented from its bottle, you're ready to oil your skin with rich organic ingredients like olive, aloe, lavender, safflower, plus avocado oil. It's all there to nourish your dark skin.
---
After looking at those hydrating lotions for black men, let's now define ingredients that make one body lotion better than the rest.
3 Beneficial Classes Of Ingredients In Body Lotions
Attempting to understand every ingredient on your lotion bottle can make you feel dizzy. Consequently, here's a simple way to conclude that you're indeed treating your skin to the best formulation.
Look for three classes:
Humectants
With a humectant on your skin, you'll pull in moisture from the environment to stay moistened. Therefore, even on a dry day, you'll have nourished, glowing skin.
Which humectants make the difference?
1. Glycerin
You'll rarely miss a humectant like glycerin in a bottle of lotion. It's so good at pulling water from the air to the topmost skin layer that you'll notice your skin becomes supple within months of using it. 
2. Hyaluronic Acid
Dry skin needs this ingredient. Though it's in your body already, aging, among other issues, can decrease it. That being so, a body lotion with this ingredient smoothens your skin, taking away wrinkles. In our reviews above, CeraVe is one of the lotions with hyaluronic acid.
Occlusives
These do the opposite of humectants. Instead of pulling in water from the environment to hydrate your skin, they create a film over your skin to prevent water loss.
In the process, they trap humectants and emollients to keep your skin moistened. Popular occlusives are petrolatum, jojoba oil, olive oil, and beeswax. These ingredients are present in most products, even in the best moisturizer for black bald head. One that's the talk of the organic lotions world is:
Argan Oil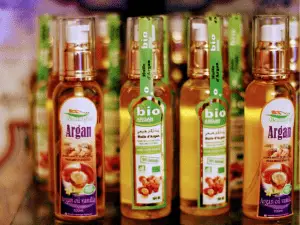 It's rich in fatty acids; thus, you'll be repairing your skin from sun damage while soothing it with natural fatty acids. Argan oil lets you tap into the botanical wealth of Morocco, where the argan tree grows.
Emollients
These soften your skin. Emollients also soothe your skin to reduce irritation. Two common emollients among African Americans are shea butter and coconut oil. Another one that's slowly becoming a hit in body lotions is:
Colloidal Oatmeal
Yeah, we're suggesting that you need some oatmeal in your body lotion. This ground oat grain has so many nutrients, from vitamins to minerals.
It's an emollient; therefore, your skin will soften over time. It'll also calm your skin, which we all need in summer or winter.
Colloidal oatmeal is also an active ingredient in body lotions for sensitive skin, more so for skin prone to eczema.
Now you'll know to look for humectants, occlusives, and emollients before you add a lotion into your shopping cart.
We can summarize what we've talked about by answering the questions below.
Popular Questions About The Best Lotion For Black Men
What Lotion Is The Best For Men?
CeraVe Daily Moisturizing Lotion is the best because it repairs the skin barrier to prevent further moisture loss. It's suitable for all skin types even sensitive skin. This unscented body lotion won't compete with the fragrance in your cologne or aftershave. Lastly, it has hyaluronic acid to draw in moisture from the environment and keep your skin hydrated.
What Are The Best Lotions For Black Skin?
The best lotion for African American skin has enough humectants, occlusives, and emollients like the ones we discussed in the section above. Simply look for a lotion that keeps your skin hydrated with the least amount per application. It shouldn't be too heavy that it's greasy or too light that you have to deal with ashy legs. Finally, for men, choose one that's fragrance-free for sensitive skin or a masculine scent for normal skin.
Watch this video to understand more about how the moisturizing factor in lotion works:
What Happens When You Don't Put Lotion On Black Skin?
You make it easier for your skin to lose moisture, which leaves your skin dry. When it's dry, there are more chances of skin irritation through exposure to pollutants. Furthermore, body lotions boost skin elasticity to give you a younger appearance.
Are Body Lotions For Men Any Different From Women's Lotions?
Yes, for two reasons. One, there are structural differences between a man's and a woman's skin. Two, men's lotions have a masculine scent with a hint of cologne for black men. When we talk about structural differences, men have thicker skin, which means they aren't as sensitive to ingredients as women.
For that reason, the ingredients in their lotions may be too strong to use on a woman's skin. Also, thicker skin means more collagen, so their skin is elastic longer. Thus, their lotions may have fewer ingredients to boost skin elasticity, such as the humectants we talked about earlier.
On top of that, men have testosterone, while women produce estrogen. The main difference between these two hormones is that one stimulates sebum production, and the other suppresses it.
Can you name the culprit? If you guessed estrogen, you're right. Men's skin has more oil, so it's less dry. Consequently, a woman's lotion may require more moisturizing agents.
The Verdict
You'll say goodbye to ashy legs when you buy CeraVe Daily Moisturizing Lotion. It contains humectants like glycerin and hyaluronic acid to pull in moisture, plus three ceramides for skin barrier repair. What's more, it's fragrance-free.
However, if you'd like to try something cheaper, for now, Nivea Maximum Hydration is more affordable. It hydrates your dry skin for 24 hours in a lightweight formulation that doesn't feel greasy. Further, you can use it on your face too.