Employing an electric razor is among the many ways of maintaining your grooming habits.
It either provides you a fresh look or keeps your rascally facial hair in style.
However…
It can be daunting to find a good one when you have to choose the best budget electric shaver that's also high-performing despite its price.
To help you make this significant decision, we rounded up several budget electric shaver reviews in varying prices and features.
Keep reading to find out what makes Philips Norelco Electric Shaver 3500 our best overall product.
Product
Details

1. Philips Norelco Electric Shaver 3500

Great Features

100% Waterproof
Global Voltage
Quiet Operation
Smooth, Close Shave
Flexing Heads

Check Current Price

2. Braun Series 3 ProSkin 3040 Electric Shaver

Ergonomic

Micro-Comb Tech
Waterproof
3 Foil Style Heads
Wet & Dry

Check Current Price

3. Panasonic Arc5 Electric Razor

Ideal For Quick Shave

5 Foil Blades
Auto-Clean System
Powerful Motor
Pop-Up Trimmer

Check Current Price

4. Philips Norelco 2300 Rechargeable Electric Shaver

Competitive Performance

Pop-Up Trimmer
Classic Look
Affordable
At Par W/ Pricier Mods

Check Current Price

5. Remington F5-5800 Electric Razor

Travel-Friendly

LED Power Gauge
Quick Charging
Cordless
Foil Type

Check Current Price

6. Wahl Groomsman 7063 Electric Shaver

Travel-Lock Design

Easy, Smooth Shave
Easy Grip
Rugged
No Pop-Up Trimmer

Check Current Price
 The Best Budget Electric Shaver Reviews Of 2023
1. Philips Norelco Electric Shaver 3500 – Best Overall
Can you imagine anything more powerful than a razor with three shaver heads moving in different directions?
Yes, you read that right! It is how Philips Norelco Electric Shaver 3500 got its sweet spot as our best overall product.
It is a rotary-style electric shaver that gives you a clean, smooth shave in minutes the same way that a safety razor can.
This shaver operates quietly, versatile enough to let you trim both short and long beards, and has a pop-up hair trimmer for shaving smaller areas of hair.
Moreover, Philips Norelco 3500 has flexing rotary heads that conveniently allow you to adjust to your face's contours while shaving. Besides, it is entirely waterproof, resulting in effortless cleaning and the capability to use it with any cream, gel, or lotion of your choice.
Pros
Comfortable, close shave

Waterproof

Robust battery life

Ideal for traveling

Easy maintenance

Quiet operation
Cons
Requires longer hours of charging
Takeaway
Having an electric shaver with a global voltage can be a godsend when traveling as it enhances its portability aside from being lightweight and compact. In addition to that, being 100% waterproof also comes in handy because it makes the razor a lot easier to clean after use.
---
2. Braun Series 3 ProSkin 3040 Electric Shaver – Best Value
If you're looking for the best cheap electric razor offering the best value for your money, then the Series 3 ProSkin 3040 Electric Shaver from Braun is an excellent choice.
Its micro-comb innovation can catch more hair into the cutting parts, allowing you a quick shave.
Its ergonomic construction saves you from any hand cramps and enables a comfortable experience while shaving. 
Contrary to the belief of most consumers, this razor from Braun is affordable but not cheap.
Let's not forget about its top-quality blades with SensoFoil protection to reduce the likelihood of any skin irritation, even anyone with delicate skin. Further, its quick-charging feature works well during travel and emergencies.
Pros
Advanced micro-comb technology

Secure rubber grip

Entirely waterproof

Three varying foil-style heads

Trims long and short hairs

Suitable for both wet and dry shaving

Quick charging
Cons
Non-rotary heads

Several passes needed for a close shave

Quite a struggle to use with longer hairs
Takeaway
Braun Series 3 is undoubtedly an excellent buy for the budget-conscious individual. You may not get all the features that Braun is well-known for, but it has all it takes for a comfortable shave without spending a lot.
---
3. Panasonic Arc5 Electric Razor – Best Seller
Another noteworthy foil electric razor gracing our list is the Arc5 Razor from Panasonic. It's the best affordable electric razor in terms of performance, affordability, and convenient usage.
The variety of settings, powerful motor, and rotating blade heads are among its top features.
It delivers an amazingly close and flawless shave through its five foil blades, capable of trimming a lot of hair in one swipe. This electric razor is ideal for a quick shave and even has a built-in sensor that can measure a beard's thickness.
Nonetheless, the Arc5 can also be one bulky unit, making it more complicated to control challenging spots around the mustache.
While it might be the costly one on our list, the Arc5 is the best seller, but with all the features mentioned above, it's not surprising at all.
Pros
Automatic cleaning system

Shaving sensor for hair density

A powerful motor system with pivoting blade head

Guaranteed smooth shave in less time

Comfortable grip

Pop-up trimmer

Suitable for a wet or dry shave
Cons
Takeaway
A clean shave without unsightly ingrown hairs is now made easy with this electric razor from Panasonic. Its powerful motor contributes to the razor's working efficiency, allowing the user to save on grooming time, and making it the best electric shaver for the money you spend.
---
4. Philips Norelco 2300 Rechargeable Shaver – Best Budget Buy
I'm sure you'd be excited that your long search for the best cheap electric shaver is finally over with Philips Norelco 2300.
It's relatively competitive about performance and for a reasonable cost. What's even fascinating is you won't be missing out on essential features despite the price.
It has an electric shaver's classic look, having three slightly tilting heads that shift to different directions for optimal results.
For its price, you might think that this shaver doesn't have a pop-up hair trimmer for maintaining your sideburns and beard, but it does have one.
However, it would've been nicer if its hundred percent waterproof like other brands, and having a LED display could also help keep track of the device's battery life.
Still, Norelco 2300 is ultimately impressive for daily use at home and archives its purpose of giving you a clean look.
Pros
Rotary heads

Pop-up hair trimmer

Affordable

Rechargeable

Ideal for sensitive skin
Cons
Suitable for dry shaving only

No LED display

Not waterproof
Takeaway
Norelco 2300 can make you rethink your perspective that your hunt for the best budget electric razor will get you stuck with an unpopular brand. You'll be in for a big surprise to find out that this shaver works just as well as the pricier models in meeting your daily shaving needs.
---
5. Remington F5-5800 Electric Razor – Best For Traveling
When choosing the best value electric razor, you would also want something conveniently portable when you need to be on the go.
It's the part where the Remington F5-5800 can be genuinely heaven-sent since it's a powerhouse, inexpensive, and travel-friendly option for you.
This electric shaver makes an excellent long-term investment if you think about saving on frequent barbershop visits.
It may be short of an automatic cleaning system like those you'll find in other brands we reviewed, but you can conveniently rinse it with running water after use.
Remington's perfect for those with longer facial hair who'd regularly need a trim. Likewise, while the razor is suitable for men and women alike, Remington also has models specifically designed to meet every woman's needs.
Pros
Handy pop-up trimmer

LED fuel gauge

Quick charge

Cordless shaving

Foil-type with oscillating blades

Minimize skin injuries
Cons
No secure grip

No cleaning system
Takeaway
An hour of cordless shaving does so much wonder, especially when you're traveling. For this reason and more, not only did Remington earn the spot as the best inexpensive electric razor but also the best for your traveling needs.
---
6. Wahl Groomsman 7063 – Best Ergonomic Design
The ability to take over your grooming routine during a time as challenging as now can be priceless.
So, you're probably looking not only for the best affordable electric shaver but also one that is comfortable enough to use on your own, just like the Wahl Groomsman.
It has a striking ergonomic design that feels pleasant to hold and exceptional functionality in cutting powerfully and smoothly, even for hair growth up to 4 days long.
The dual floating shaver heads feature foil patterns, allowing the razor to raise and trim the hair off with ease.
This travel-ready, waterproof device also offers a non-slip grip that's so convenient for anyone needing a quick and straightforward shave even while on the go. The newbies love how its combination of a broad head plus close-cutting foils helps them prevent bumps and nicks.
Pros
Convenient travel lock design

Sturdy battery life

Quick charging

Easy-grip ergonomic design

Rugged construction and shock-resistant casing
Cons
Difficult to use the shaving head in some facial contours

No pop-up trimmer
Takeaway
It's a perfectly sized shaver that allows a secure grip for more comfortable use and even has a compact travel-ready design. Aside from the individually flexing foil heads, the razor also comes with a mid-section trimmer for cutting longer strands of hair. Further, it's easy to use for newbies.
---
Why You Would Need An Electric Razor
Before you start looking for the best cheap electric razor, first, you need to understand why you need one. The following are several of the many reasons that make an electric shaver a staple in your grooming regimen:
Time-Efficient
This type of razor is capable of shaving away unwanted hair faster and more efficiently than manual razors. It saves your precious time from having to lather up, shave, and then rinse off for a close shave.
Hence, if you find such a strenuous routine very time-consuming, switching to an electric razor could be your best way to go. It significantly reduces the amount of time you need for self-grooming since it can cut your hair in few precise movements.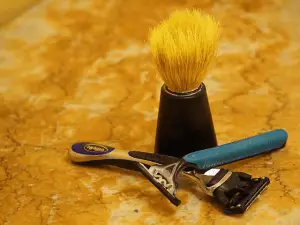 Precise Control
Utilizing an electric shaver allows you to control the beard length easily since they come with various trim settings.
These razors typically have flexible, sometimes pivoting heads that enable you to maneuver around your face's outline.
With the potential to move in different directions to meet your jaw and lips' angle, the electric shaver can help you achieve a clean-cut. You can now give your stubble a dapper look effortlessly.
Skin Protection
It can be pretty challenging to avoid getting nicks and bumps while shaving, and this is one reason why most users opt for electric instead of manual razors. Electric razors have unique blades designed for optimal precision.
They often come with outer foils, lifting each hair so the razors can glide smoothly over the skin. It keeps the risk of getting cuts, irritations with each pass, and awful razor burns at a minimum.
Portability
When working with an electric razor, you have the option to use it cordless, which makes this handy device travel-friendly.  Some of these razors also have a quick-charging feature and allowing you the freedom to use them anywhere for shaving with the best shaving cream for electric razor, wet or dry.
Shaving With Confidence
Nowadays, we have various electric razor models, so there are greater chances of finding the best value electric shaver that fits your needs. Consequently, employing an electric razor gives you more confidence when shaving any spot in your body, even without a mirror.
Most of these devices also have ergonomic handles, allowing you a firm grip to use them securely and safely. Hence, you can be more confident that there's a specific razor that you can use whether to shape your beard, address body hair especially as the best trimmer for balls, or merely shaving in the shower.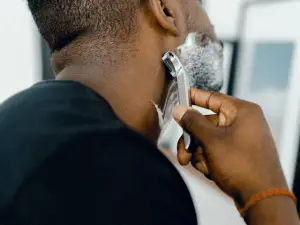 Frequently Asked Questions
Do cheap electric razors leave stubble?
Yes, they do. These electric razors work so well for cleaning up your face in a breeze, especially helpful during busy days. Therefore, using this type of razor is ideal for a quick shave but not a perfect one since it sometimes leaves some stubble.
How to clean & maintain an inexpensive electric razor?
So what's the next thing you do after finding the best budget shaver? For starters, an electric razor, just like any other device, requires your tender loving care.
Ensure that you clean your razor regularly to remove any hair and gunk buildup between its nooks and crannies.
Replace the foils and the blades whenever necessary, and lubricate the blades consistently too. You might need to entirely disassemble your razor, rinse it off with water in some cases, and then air-dry all parts before reassembling.
Furthermore, operate your shavers on full power even when some devices claim to function just as well without complete charging. Doing this increases your electric razor's lifespan.
What to consider before I buy a budget-priced electric shaver?
As you would with any other product investment, you need to evaluate your needs before looking for the best price electric razor. It would help you make the proper selection and end with an ideal device fitting your demands.
There are many factors to consider when purchasing the best value electric razor; here are a few of them:
Choosing Between Rotary Or Foil Shavers
Rotary shavers feature rotating heads that raise and trim hair with ease. They also have a unique design that allows you to glide them over facial contours effortlessly. Moreover, this kind of shaver is ideal for regular skin types with beard density ranging from medium to coarse.
Alternatively, the foil shavers come with metal foils covering the cutting blades. They are more capable of delivering a close shave, even for longer hair, since the foil can efficiently capture the hair within its holes. A foil vs rotary shaver is more suitable for those with fine facial hair.
Price Range
It is essential to understand that you always go for the razor type with top quality and within your budget. While there might be many expensive razors offering exceptional features, it is not imperative to spend so much to acquire a fully functional electric shaver.
Power Option Variety
Choosing between a corded or a cordless electric shaver means you also understood that either of these could have its distinct advantages and disadvantages.
A cordless device can come in handy because of the convenience and freedom it provides, especially when traveling.
Relatively, using a corded shaver can come with restrictions, so it's less flexible, and you also can't use it in the shower. However, some shaver models now come with cords in either adjustable or retractable design to offer more convenient usage.
Ease Of Maintenance
Today, electric shaver models are inclusive of cleaning brushes, while some have the capacity to a self-cleaning feature. Choosing to have either of these two would ultimately help you on how to clean electric razor.
When making your choice, consider the kind of lifestyle you have or the quantity of time you have for cleaning your razor. It will determine the style of cleaning convenience you require your razor to have.
What is the advantage of a cheap electric shaver over other types?
A cheap electric shaver is as functional as the costly ones you can find in the market today. However, using the best electric shaver for black men is the quickest way to get a cleanly-shaven look without consuming much of your time and one you can do wherever you are.
Final Thoughts
In conclusion, relieving yourself of excess hair doesn't need to be costly. Once you know what to look out for, it will be a lot easier to find the best cheap electric razor suitable for you. Eventually, you will learn to see shaving as a vital part of self-care instead of a tiring chore.
Given its affordability and incredible features, the Philips Norelco Electric Shaver 3500 stood out as our best overall product. Additionally, the Braun Series 3 ProSkin 3040 Electric Shaver is also an equally affordable model that offers the best value in handling longer stubbles.
While the best electric razor varies for every person, we hope this review will guide you into making a worthwhile investment.