Shaving can be exhausting for seniors with weak eyesight or hands without a firm grip. The problem escalates when the shaver is too heavy that added pressure causes nicks.
Therefore:
Weight, design, and shaving speed are three features we'll focus on in this review. If you're looking for an electric shaver for you or your loved one, you'll love this list of various top models.
After rounding up electric shavers with outstanding features, the Panasonic Arc5 LV65 stood out as the best electric razor for an elderly man. We'll tell you why.
Best Electric Shaver For Seniors: 9 Top Picks
1. Panasonic Arc5 LV65 - Best Overall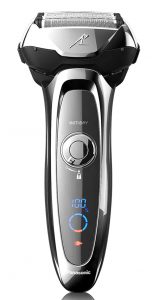 Its sleek, modern design is appealing, coupled with the fact that it's slim to fit comfortably in your hand. The Panasonic Arc5 LV65 has a quintet of ultra-sharp blades that cut close even in the hard-to-reach areas like under your jawline.
The shaver and trimmer combination brings precision to your grooming process as sometimes, all you need is to trim stubble. This pop-up trimmer also comes in handy when trimming sideburns or a mustache, thanks to its precision.
On top of that, its inbuilt sensors tell the difference in beard density and adjust the shaving power accordingly.
Every senior would need such profound precision trimming. Plus, its motor is powerful to complete the shave in a few minutes. All this while, you'll see the charge level on the LCD.
The Panasonic Arc5 LV65 is safe to use as you take a shower.
Pros
Pivoting head for precision

Powerful motor

LCD charge level display

Five-blade design

Wet shaving

Sleek, modern design

Inbuilt density sensors

Pop-up trimmer

Close shaving
Cons
Takeaway
The Panasonic Arc5 LV65 is the best electric razor for an older man looking for a shaver under half a pound in weight. Its modern design gives a comfortable grip, and its powerful motor cuts through dense hair fast.
---
2. Philips Norelco FFP - Best Budget Option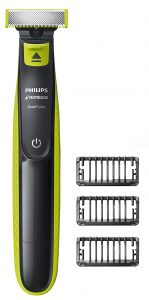 Shaving your beard at home shouldn't be an expensive affair. That's why we've listed this budget-friendly shaver from Philips Norelco. It's a one-blade trimmer with a stainless steel blade that makes it long-lasting. It's lightweight, as it weighs less than one pound, just what every senior wants to hear.
This Philips Norelco FFP uses a replaceable blade, so you're sure to get a close shave using a sharp blade every time. Plus, it's cost-effective as you need a replacement every four months.
The Philips Norelco FFP is versatile as it works on hair of different lengths, from stubble to a full beard.
Its slim design gives you a firm grip as you move about to reach all the stubble on your face. On top of that, it has a dual face blade for shaving in all directions.
It comes with three stubble combs ranging from 1 mm to 5 mm for precision as you edge or trim.
This shaver is also water-resistant, so you can shave in the shower and wash it under running water afterward. Lastly, you can take it with you when staying away from home as its battery lasts 45 minutes.
Pros
Suitable for different trimming lengths

Replaceable blade

For contouring

Water-resistant blade

Wet and dry shaving
Cons
Not for a close shave

Charges in 8 hours
Takeaway
The Philips Norelco FFP is suitable for seniors as it's budget-friendly, lightweight, and shaves even in the shower. What more could a senior ask for in a shaver?
---
3. Philips Norelco 9700 - Best For Superior Contouring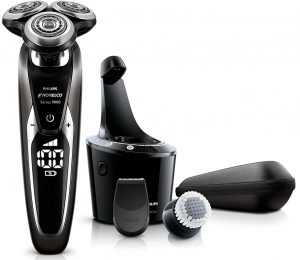 The Philips Norelco 9700 makes close shaving possible, even on a beard that's several days old. It's the kind of shaver a senior needs, more so when shaving every day is exhausting.
This smart shaver has superior contouring that moves the shaving head in about eight directions to follow the natural curve of your face.
You have a variety of speed settings to match your ability and hair type.
When you have time to groom your face, medium-speed lets you maneuver your beard easily, and when you want to cut close without irritating your skin, there's the slow-speed setting.
It comes with a cleansing brush to wipe off hair from your face after shaving. Lastly, the Philips Norelco 9700 is dependable as you have an hour of cordless shaving.
Pros
Cleansing brush 

Three-speed settings

Contouring shaving heads

Close shaving

Wet and dry shaving
Cons
Takeaway
The Philips Norelco 9700's technology suits a senior citizen as it comes with different speed settings to match a user's ability. Its shaving heads work along the curve of your face, which removes the burden of contouring with a heavy shaver. It also has a cleansing brush to clean shaved hair stuck on your face.
---
4. Philips Norelco 9000 Prestige - Best Travel Shaver
Though most cordless shavers are travel-friendly, we ranked this one higher than others as it comes with a travel case, so you don't have to worry about damage to its delicate parts.
The Philips Norelco 9000 Prestige also flaunts a rotary razor that cuts closer than most brands. You'll have a clean shave without cutting your skin because it has skin comfort rings over the shaving heads for a smooth glide on your skin.
Every senior needs an effortless shave, more so when recuperating.
That being so, this shaver checks the density of the beard and adjusts the trimming to your hair length.
As you cut along the jawline or neck, the contour detector moves accordingly in eight different directions.
Pros
Contour detector, eight contouring directions

A sensor adjusts the cut to hair density

Smooth-comfort rings

Precision blades

Travel case
Cons
Takeaway
Its cost shouldn't bar you from enjoying its unique features, as the Philips Norelco 9000 Prestige comes with a variety of advanced settings. For example, it has skin-comfort rings that create a pad on which the trimmer can glide over your skin without causing razor burns.
---
5. Braun Series 5190 - Best Firm Grip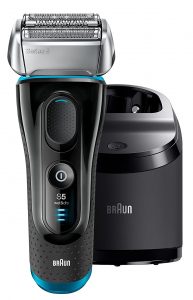 You know how some razors feel like they'll slip from your hand, and the blade will nick your skin? Well, the Braun Series 5190 won't do such shady stuff as it has an ergonomic shape for a firm grip even in the shower.
Yes, you can use it in the shower. What's more, you can use gel or foam with this razor. On top of that, the Braun Series 5190 has skin-sensitive technology meant to prevent irritation as you work on your beard several times a week.
Its autosensing motor can tell where your hair is thicker and reduce the pressure on areas with thin hair.
That's how efficient this electric shaver is for an older user.
Further, it boasts the same eight-direction technology as the Philips Norelco 9700 we discussed earlier. Its ActiLife trimmer in the middle is thorough as it lifts flat hair for a clean, even shave.
Pros
Wet and dry shaving

Precision trimmer

Lifts flat hair

Charges for an hour

Direction-adapting comfort head

Firm grip
Cons
It's heavy, weighs over 2 pounds.
Takeaway
The Braun Series 5190 is a powerful shaver with a firm grip suitable for the aged. Its middle trimmer lifts stray hairs for the razor to glide over them, and the comfort head moves in eight directions to trim along the jawline.
---
6. Braun 9290cc - Best For Smooth Shaving
If the Braun model above is too heavy for your hands, here's a lightweight option. The Braun 9290cc has five shaving elements for a close, smooth and comfortable shave.
As four of these elements cut your beard, one acts as a skin guard to prevent razor cuts by smoothening the hair for the trimmers to glide over it. It captures more hair at once because one of its cutting elements is hexagonal.
Unlike other electric shavers above, the Braun 9290cc can move in 10 directions to make the task less tiresome.
Even more exciting is the fact that you can lock the flexible head in one spot for precision.
When you do that, don't worry about nicks if there's thin hair as the motor adapts the power to the hair density.
This shaver makes wet shaving possible as it's waterproof. Cleaning is also as easy when you wash it under running water.
Pros
Has a skin guard

Flexible head

A cleaning station

Long-lasting titanium blades

A set of shaving blades for precision

A 10-directions flexible head
Cons
Takeaway
The Braun 9290cc is the best electric shaver for an elderly man as its flexible head curves in 10 directions, so you don't have to move your hand a lot. Its protective guard prevents nicks should you apply too much pressure on the shaver.
---
7. Braun Series 7 790cc - Best Gift Option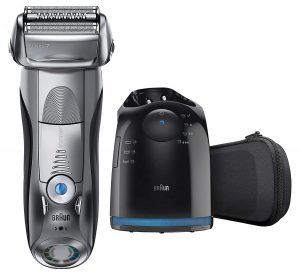 We ranked it as one of the best gifts for dad or grandpa as it comes in a complete set with a cleaning station and a travel case. Like the model above, the Braun Series 7 790cc has a skin guard, two blades, and a trimmer.
This combination cuts as close as possible but keeps the blades away from your skin using a protective guard. 
It's such a meticulous shaver that you can shave hair that is as short as 0.5 mm.
Plus, one of the blades is an ActiveLift trimmer that lifts hair lying flat along the jawline, around the nose, and on the neck. 
Pros
Cleaning station

Cuts hair from 0.5 mm long

Eight shaving directions

50 minutes runtime

Firm handle

Adjustable power to match hair density
Cons
The cleaning station is bulky.
Takeaway
The Braun Series 7 790cc is another quality model from a renowned brand offering eight shaving directions when contouring your neckline or jawline. The handle is firm, and this shaver comes with a cleaning station. It's easy to clean as it's waterproof.
---
8. Wahl Professional 5-Star - Best Professional Shaver
After looking at shavers anyone can use, we now turn to a model suited to seasoned users. The Wahl Professional 5-star shaves with precision, but it doesn't cause razor burns. It's the best electric shaver for an older man because its design gives a good grip. Its rectangular design almost feels like you're holding a television remote.
Hence, it'll glide effortlessly on the jawline.
It'll also be bump-free shaving as the gold foil glides over the skin gently.
We've listed a few pricey shavers in this review, so you'll love to note that this one is affordable.
Pros
Affordable

Lightweight

Small head to shave around your nose

Gold foil
Cons
Takeaway
The Wahl Professional 5-star is for seasoned users that need a shaver that's both effective and gentle. Its cordless power lasts an hour, enough time to trim even the hard-to-reach areas as the razor's small head makes it easy.
---
9. Braun Series 3 3040s - Best For All Types of Beard
We complete our list with a model for all hair types. If you have thick hair, you need an electric shaver with a powerful motor. When you use anything less, you risk pulling your hair. The Braun Series 3 3040s has a triple-action shaving system that takes the blades as close as possible, cuts fast, and without irritating your face.
This shaver works so well because its foil blades use SensoFoil technology to keep the shaver away from the skin.
It also has a precision trimmer to contour your sideburns.
This shaver is also convenient for elderly men as they can clean it under running water.
The Braun Series 3 3040s also uses micro comb technology to cut more hair with one stroke to save time and reduce irritation.
Pros
Shaves in the shower

Precision trimmer for sideburns

Mirco-comb technology

SensoFoil technology to protect your skin

Charges in an hour
Cons
Not the most powerful motor
Takeaway
The Braun Series 3 3040s is affordable and suitable for all beard hair, even thick hair. It uses micro comb technology to cut more hair in one stroke, minimizing contact between the razor and your skin.
---
So, which one did you like?
Frequently Asked Questions(FAQs)
What Is The Safest Way To Shave An Elderly Person?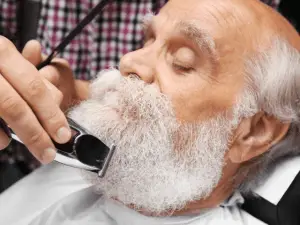 A few cautionary measures make the process of shaving a senior safe. For example,
Shave with short strokes, gliding slowly over the beard. Find a technique suitable for shaving an elderly man as the skin is not as taut as a young man's. One of the troublesome areas will be the jawline and the neckline.

Work in a well-lit room to see the direction of hair growth. Whether the person is sitting or lying down, you should see all edges of the beard. When the person is comfortable, you can take as much time as needed to shave, unlike when you ask the senior to sit in a rigid position. You'll also have an easy clean-up afterward without having to ask the person to move.

Hold

the shaver at a 90-degree angle. If the shaver has a rotary head, glide it in circles over the beard.

After shaving, switch the electric shaver off and keep it away to avoid injury. 

Clean and disinfect the tools or bacteria will thrive. 

Use an electric razor to reduce the risk of cuts as these can be detrimental to seniors taking blood thinners.
Here are some tips when shaving an elderly:
What Is The Best Men's Electric Shaver?
You know you have the best shaver if it has these features:
A Powerful Motor
The shaving speed reduces the time spent shaving, more so when you have a thick beard. 
Waterproof
If it's waterproof, it'll have a rating to show the depth you can submerge it. For example, the Braun Series 3 3040s we discussed earlier is waterproof up to 5 m. Also considered the Braun series 9 and 7 in terms of their waterproof features. 
On the other hand, there are water-resistant shavers. You can use a water-resistant shaver in the shower and also wash it under running water. These two features are necessary as a senior user can do all the grooming while taking a shower.
Plus, it's better to have a shaver that cleans fast and easy than one to pull out some parts and clean them separately. A shaver with wet and dry shaving options is preferable, for such flexibility comes in handy when you need it.
Cleaning Station
We've mentioned a few models that come with a cleaning and charging station. It's one of the features that make the Braun Series 7 790cc the best electric razor for an older man as it makes cleaning easy. After shaving, place the shaver in the cleaning station for hassle-free maintenance. Proper cleaning is also vital for your electric razor to last longer. The opposite is tedious and not suitable for a senior.
Other features that make one shaver better than the other include a rechargeable battery with about an hour's runtime, a sharp blade, a protective guard to prevent nicks, and a firm handle.
What Is The Best Electric Shaver For Shaving An Elderly Patient?
Based on the features highlighted above, we've concluded that the best shaver is:
The Verdict
The Panasonic Arc5 LV65 is the best electric shaver for seniors as a senior can use it in the shower. Its pop-up trimmer also makes the shave different for its unmatched precision on the mustache or sideburns. You can use it on stubble or a full beard.
But, if you're looking for an electric shaver under $100, our best pick is the Philips Norelco FFP. It matches up to the quality of the Panasonic Arc5 LV65 as it trims a variety of beard lengths from as short as 0.5 mm. It's also comfortable for a senior as it's lightweight.