Let's face it, grooming your nether regions can be a daunting job, but with the right tool, it can turn everything around and make the process a breeze. As someone who has tried dozens of trimmers with different motor capacities, I can confidently say that the Panasonic's Arc5 Electric Razor is the best trimmer for balls on the market.
After hours of research, reading through reviews, and personal testing, I've come to the conclusion that the Arc5's precision blades and ergonomic design make it the ideal tool for achieving a smooth shave and nick-free trim. It has the right side of power and comfort. Say goodbye to painful nicks and awkward cuts, and hello to the confidence that comes with a well-groomed and tidy appearance.
In this review, I'll be sharing my top pick for the best ball trimmer and why I believe it's the perfect choice for any man looking to tidy up down there. So sit back, relax, and get ready to discover the ultimate tool for keeping your private parts neat and tidy.
The Best Ball Trimmers Reviewed
Here are my top picks for the best ball trimmer in 2023, and I've considered a lot of factors including motor power, design, and warranty before preparing this list:
Best Overall: Panasonic Arc5 Electric Razor
Best Budget Buy: Remington PG525 Body Groomer Kit
Great Ball-Only Trimmer: The Trimmer By Meridian
Premium Trimmer: Manscaped The Lawn Mower 3.0
Portable Shaver: Philips OneBlade Face + Body Shaver
Long-Lasting Razor: Wahl Lithium Ion+ Stainless Steel Trimmer
Best for Sensitive Skin: Philips Body Groomer Series 7000
Product
Details

1. Panasonic Arc5

Great Precision

Digital Stat Panel
Nanotech Foil Blades
Pop-Up Trimmer
Wet & Dry
Multi-Flex Head

Check Current Price

2. Remington PG525

Great Bang For Buck

Head-To-Toe Kit
Trusted Brand
Clean/Fresh Trim
1 Hr.+ Bat Life

Check Current Price

3. The Trimmer By Meridian

Sleek Design

Made For Balls
Great Functionality
3 Shaving Options
Waterproof

Check Current Price

4. Manscaped The Lawn Mower 3.0

Ceramic Blades

Showerproof
Ergonomic
Powerful
W/ LED Light

Check Current Price

5. Philips Norelco OneBlade

Affordable

Cuts Remarkably
Wet & Dry
Long-Lasting Blade
Small Enough

Check Current Price
1.

Panasonic Arc5 Electric Razor

– Best Overall
I found the Panasonic Arc5 Electric Razor's Active Shave Sensor Tech warranty to be incredibly useful, especially for shaving beards. It automatically adjusts cutting power based on the thickness of the hair, making it ideal as both a facial hair and pubic hair trimmer.
With an impressive 14,000 cuts per minute (CPM), it ranks high on the best ball trimmer power spectrum. Thanks to the razor's powerful motor, it provides a seamless experience. When using it, I made sure to be extra careful in the sensitive areas. One thing I love about this trimmer is that it maintains its phenomenal power until the battery is completely drained unlike other options that diminish in output.
The Arc5 features five nanotech foil blades, honed at a 30-degree angle to provide a close and safe shave. I appreciated the trimmer head's flexibility, which allowed it to adapt to my body's contours, making it perfect for the pubic area as well.
An LED panel on the front of the trimmer displays battery, charge, and usage status. This seemingly simple feature sets the Arc5 apart from its competitors. Not only does it show the remaining battery life, but it also displays the time spent shaving – a rare feature among trimmers for balls.
The panel also includes a travel lock, which I found quite useful for on-the-go use. This state-of-the-art trimmer supports both wet and dry shaves, ensuring you won't miss out on any standout features. However, it does come at a price. While it's the most expensive unit in my balls trimmer review, I believe it's well worth the investment, based on the reviews I read and my own experience.
Pros
Guaranteed clean shaves
Suitable for wet and dry use
Multi-flex head for improved handling
Precise and safe-cutting nanotech foil blades
Digital status panel
Pop-up trimmer for detailed grooming
Cons
Expensive

Replacing batteries may require an expert or a handy person
Takeaway
The Panasonic Arc5 is the ultimate ball trimmer for men – intelligent, powerful, long-lasting, and capable of delivering a clean shave. The higher price point is justified to me as this electric trimmer is a top-tier product, much like Gucci is to shoes.
---
2.

Remington PG525 Body Groomer Kit

– Best Budget Buy
The Remington PG525 is an affordable head-to-toe trimming kit that, while not exclusively designed as a foil shaver for shaving balls, conveniently covers the task. Furthermore, the versatile device can be effective on areas such as the neck and chest hair due to its diverse selection of devices contained within the kit.
As I unpacked the kit, I found a bundle of nine attachments that felt like a steal, considering their price. Alongside these items was a pair of hair clippers, a device often overlooked but ideal for preliminary trimming. Though not all of them are specific to shaving balls, most proved handy for the task, elevating the look of my grooming routine.
The foil head attachment is particularly useful for gliding close to the skin without risking any mishaps. Given its precision, I'd recommend using this device more for trimming rather than full-on shaving.
Among the main attachments are a vertical body hair trimmer and nose, ear, and detail trimmers. However, the effectiveness of its clipper comb, beard, and stubble combs was somewhat questionable in my experience.
Perhaps the most significant concern I have with the Remington PG525 is its irreplaceable battery. Under normal use – being every other week – it should last for years. However, a few customers, including myself, experienced faulty ones that lasted only weeks.
That said, the groomer is a rust-free and waterproof device, so I was able to clean it and the attachments in a sink or bowl after use. No more excuses for storing razors with bits of pubic hair on them.
Although the Remington groomer kit isn't the best overall head-to-toe option, it certainly provides a clean and fresh look for the pubic area, as well as managing chest hair for adults using the device.
If you're on a budget and want a full body groomer kit, the Remington PG525 is a reliable, inexpensive option that's more than suitable for safely trimming balls.
Pros
One of the best deals for ball trimmers
Head-to-toe grooming kit
Over 1-hour use per battery charge
Trusted name brand
Cons
Some complaints of faulty batteries
Flimsy design
Takeaway
If you're on a budget and want a full body groomer kit, the Remington PG525 is a reliable, inexpensive option that's more than suitable for safely trimming balls.
---
3.

The Trimmer By Meridian

 – Top Choice For Balls
The Trimmer by Meridian is my top pick for the best below-the-belt trimmer. Not only is it well-priced, but it also performs just as efficiently as higher-priced, top-rated devices.
Featuring a ceramic blade, typically found in the best ball shavers, I was impressed by how gently it glides on sensitive skin, making it ideal for shaving delicate areas like the back, chest, and balls.
With the Trimmer, you have three shaving options: shave directly (without trim guards) or adjust the two included trim guards for a customized look.
The sage-colored electric razor device by Meridian has a calming and soothing effect, much like the admiration one feels when looking at a 1950s architectural masterpiece.
Beyond its aesthetic appeal, this functional scrotum shaver boasts a battery life of close to ninety minutes, which I found to be more than adequate. Trust me, if you're spending more than an hour "down there" you're doing something wrong.
Moreover, it's waterproof, facilitating easy clean-ups and allowing for a comfortable wet shave under the shower. The product page's photo of it submerged in water is no gimmick.
Another advantage of the Meridian Trimmer is that they make blades and parts readily available for effortless replacement.
The Trimmer is a few bucks more affordable than the Lawn Mower 3.0 (TLM 3.0), my next-rated designated trimmer for balls, yet they have almost similar features. What you'd miss (though I didn't) is a charging dock and, undoubtedly, the LED light of TLM 3.0. This tool, while efficient, didn't cause any irritation, which sometimes can be part of other grooming processes such as waxing.
Pros
Sleek and calming design (Sage)
Good deal on the trimmer with a ball spray
Safe-cutting ceramic blade
Reasonable battery life
Easy maintenance
Cons
Takeaway
The Trimmer is a few bucks more affordable than the Lawn Mower 3.0 (TLM 3.0), my next-rated designated trimmer for balls, yet they have almost similar features. What you'd miss (though I didn't) is a charging dock and, undoubtedly, the LED light of TLM 3.0.
---
4.

Manscaped The Lawn Mower 3.0

– Trimmer Option For Balls
Manscaped, a startup dedicated to producing the best trimmer for balls and other grooming tools, managed to secure funding support from the renowned Shark Tank judges. Their innovative creations take care of the often neglected part of men's grooming and are suited for various settings - from quick trims to more in-depth grooming sessions.
Their latest innovation, The Lawn Mower 3.0, has garnered mixed attention, but in my opinion, it's the closest bet to finding a top-notch trimmer for balls and other delicate areas. While some users may prefer traditional grooming tools, others, like me, heavily appreciate the advancements of modern technology.
I appreciate its utilization of SkinSafe technology, which replaces traditional metal blades with ball-friendly ceramic blades, allowing me to shave with confidence knowing I can trim close to the skin with minimal risk, even during the rushed times.
Moreover, it features an adjustable guide comb for trimming different lengths, and an automatic LED light serves as a headlamp to prevent mishaps while shaving in a dimly lit room. Personally, I find this feature quite useful.
The Lawn Mower 3.0 offers a solid run-time of 90 minutes on a full charge, and I love that it charges using a portable, convenient, and stylish charging dock.
However, a few reviewers have reported sustaining nicks and cuts despite its SkinSafe technology. I believe overconfidence might be the culprit behind these incidents as my trims were nick-free.
Manscaped makes maintenance a breeze for me. Apart from being safe to wash under the how much we care about our grooming routines, I can receive fresh new blades quarterly when I register with Manscaped, ensuring easy upkeep.
All in all, the Lawn Mower 3.0 is a powerful blade boasting 7,000 rotations per minute (rpm). I always remind myself to be careful, regardless of the promised safe cut.
For me, Manscaped provides an intimate user experience like no other with the TLM 3.0 when it comes to shaving balls. If you appreciate a personalized, user-centric service, then the Lawn Mower 3.0 is easily one of the best electric shavers for balls.
Pros
User-friendly service
Innovative LED light for illumination
Rust-free ceramic blades
Ergonomic, streamlined body trimmer
Showerproof
Cons
Powerful enough to cause injury despite SkinSafe technology if you're not careful (as you should be)
Costly
Takeaway
For me, Manscaped provides an intimate user experience like no other with the TLM 3.0 when it comes to shaving balls. If you appreciate a personalized, user-centric service, then the Lawn Mower 3.0 is easily one of the best electric shavers for balls.
---
5. Philips OneBlade Face + Body Shaver – Portable Shaver
The Philips OneBlade has been a game-changer in my grooming routine. As someone who values a well-groomed appearance, I can confidently recommend this revolutionary electric grooming tool that has already gained immense popularity with tens of thousands of sales online.
What sets the Face + Body trimmer version apart is its ability to cut both facial hair and body hair of any length. The package includes two blades: one specifically designed for the face, and the other equipped with a skin guard that I've found ideal for trimming or shaving sensitive areas like my family jewels.
My firsthand experience with the OneBlade has been nothing short of impressive.The easy-to-grasp frame and soft touch allow me to handle it like a lightweight pen, providing precision when trimming delicate areas. This level of control is essential when it comes to grooming sensitive regions. Each round trimming motion is executed evenly, reminiscent of an artist meticulously applying wax on a canvas; the results speak for themselves.
The blade's versatility has been a huge plus in my grooming routine. It can shave, trim, and edge without the need for multiple attachments, streamlining the process. Each replaceable blade is designed to last up to four months, but in my experience, with weekly use, they tend to wear out a bit sooner. Using an adapter to boost the power supply is quiet and effortless, enhancing the overall experience.
As someone with sensitive skin, I appreciate that the OneBlade is gentle and non-irritating. A full battery charge provides me with 60 minutes of use, which is sufficient, but I found the extended 4-hour charge time to be a bit inconvenient. Additionally, the OneBlade doesn't operate while plugged in, so planning ahead is necessary.
If, like me, you prefer handling clippers with a pen-like touch or want a trimmer that won't fill up your fist, you'd adore the Philips OneBlade. Its budget-friendly price point also makes it easy to understand why it's such a top seller in the realm of the best trimmers for balls.
Pros
Affordable
Precise and effective cutting
Excellent handling and control
Suitable for dry or wet shaving
Cons
Long charging time relative to the operation time
Takeaway
If, like me, you prefer handling clippers with a pen-like touch or want a trimmer that won't fill up your fist, you'd adore the Philips OneBlade. Its budget-friendly price point also makes it easy to understand why it's such a top seller in the realm of the best trimmers for balls.
---
6.

Wahl Lithium Ion+ Stainless Steel Trimmer

– Long-Lasting Razor
Wahl Lithium Ion+ has quickly gained recognition for its ability to shave hair as smoothly as scooping ice cream off a cone. This powerhouse stands out among ball trimmers for its super-efficient operation, silent yet powerful, and long-lasting performance, yielding exquisite results every time.
In my experience, this trimmer can run non-stop for up to 6 hours, while charging takes less than an hour. For those unexpected grooming needs, I've found that a quick 1-minute charge provides enough power for a 3-minute trimming session to tidy up any unruly areas.
The stainless steel frame, built like a fortress, boasts a modern design that I truly appreciate. The LED light incorporated into the body adds a touch of sophistication and practicality. With a dozen attachment heads ranging from 1/16 mm to about an inch, I've been able to customize my shave to my liking.
However, there is one notable drawback: the Lithium Ion+ isn't suitable for wet shaves, as it can't be used in the shower. Although it's relatively heavy, I believe this is a small trade-off for the benefits of its powerful performance and impressive battery life.
If these features appeal to you, it's well worth the investment. For those seeking a more budget-friendly option, the Philips OneBlade or Remington PG525 might be better alternatives.
Pros
Durable construction
Energy-efficient with a fast charging time
A dozen attachments for customizable grooming
Suitable for face and groin shaving
Cons
Not a low or mid-budget option
Only suitable for dry shaving
Takeaway
In conclusion, the Wahl Lithium Ion+ is an attractive choice for those who prioritize durability and performance over cost. If you're looking for a trimmer that can stand the test of time and provide a consistently clean shave, this one will surely hit the mark.
---
7.

Philips Body Groomer Series 7000

– For Sensitive Skin
Philips Body Groomer Series 7000 despite its premium price tag, left me initially questioning whether it was worth the investment. However, after using it, I've found that its functionality justifies the cost to some extent.
This Norelco Series is designed to cover all your grooming needs – from pubic hair to facial hair, chest, and even your head. One aspect I particularly appreciate is the ability to switch between different heads, ensuring a clean and hygienic shave across various body parts.
However, it's disappointing that Philips removed the adjustability feature found in the previous Norelco series, forcing users to switch between 23 different attachments for the perfect fit.
As a first-time user, navigating through so many attachments can be overwhelming, especially when they could have been adjusted automatically. Nevertheless, with time and practice, I became more comfortable with the trimmer.
The Body Groomer Series 7000 offers versatility in its operation, as it can be used both corded and cordless. I find this particularly useful for quick shaves on hectic days. With a charging time of two hours, it provides enough power for up to five hours of continuous use. Despite its drawbacks, it remains a popular body groomer on the market.
Pros
Dual operation modes (corded and cordless)
Numerous attachments for a personalized trim
Ergonomic frame with a rubber grip
Waterproof
Cons
Expensive
Lacks automatic head adjustments found in the Philips Norelco Bodygroom series
Takeaway
The Philips Norelco 7000 boasts impressive build quality and the convenience of corded or cordless use. Although it comes with a hefty price tag and requires manual attachment adjustments, its performance and versatility may still make it worth considering for your grooming needs.
---
The Best Ball Shavers Buying Guide
Why Men Should Manscape (Below The Belt)
You can abstain from shaving your balls clean if you like, but trimming every now and then is a necessity for personal hygiene. This is true from a social point of view, but biologically, having a bush doesn't make you unhygienic or smell bad.
It's up to you if you want a jungle down there, but probably not, since we're both here.
For one, you get a rush of fresh air in your pants when you trim or shave. Your balls enjoy a certain relief and ease, especially after a few days.
Also, most millennial men like to shave before a date or sexual intercourse. Shaving breeds confidence down below that only comes from a beautified bush that shows your partner you take personal hygiene seriously. Oral sex is even more likely when you shave if that's your thing.
Trimming the pubic hair also helps to prevent skin abrasion and injury. Remarkably, it's a safer option than a clean shave if you have sex or hike regularly.
On a final note, shaving doesn't stimulate rapid hair growth at your base. If you've ever thought so, like I've argued with my friends as a teen, it's only a sensation of stubbles or a blunt razor cut.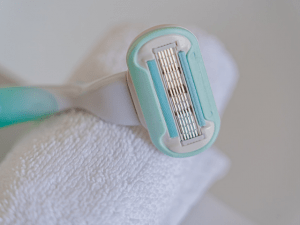 How To Find The Best Electric Shaver For Balls
Now, if you're ready to find your next ball shaver, here are things you should consider. You might save a few bucks or the headache that comes with problematic trimmers.
Blade Replacement
With trimmers for balls, you have to think long-term. If not, you could buy a pack of shaving sticks instead.
Before you buy a trimmer, you should check how fast the blades wear out and if replacements are readily available. It might take months or years, but it'd hurt if you have to throw out a fine clipper only because the blades were worn out.
Most name brands sell replacement parts or blades you can easily buy online.
Power
You need maximum power for a bare shave below the belt. Or better yet, for a swift trim without nicks, tugs, and pulls on any of your body hair.
As horrifying as it may seem, a powerful ball trimmer can be much safer than a handy shaving stick.
Now that a ball trimmer is justified, don't make the mistake of getting a weak one out of fear for your jewels. It would tug on the hair rather than cut through and take way longer than it should.
The best body razor for shaving balls is powered by between 5,000 to 14,000 rpm motors. You can opt for products on the lower end of the spectrum if you have delicate skin.
Accessories
All trimmers don't have identical features. It's up to you to select one that fits your style of shaving and convenience.
For instance, it's only fair your clipper of choice has a waterproof feature if you'd be shaving wet or with shaving cream. And cordless trimmers would conveniently reach the crevices of your groin and sensitive areas for an easy shave.
Then again, corded ball trimmers typically last longer and are the most powerful. The choice is yours.
One final feature to check (cordless) is battery life. Would a single charge for just a quick trim or a longer battery life be befitting? Opting for longer battery life is assuring, but a backup corded trimmer could be lay-saving when you least expect it.
Tips For Shaving Balls Safely With An Electric Razor
While you may already know how to mow your lawn, you can learn a few things that ease the process. These procedures are not limited to use for shaving the balls with an electric trimmer or shaver. You can follow most of these steps with any tool you've got.
Location
Prepare your manscaping location with all the necessary tools and make sure it's spacious. You don't want to stop mid-way through mowing your lawn to get something you forgot.
The obvious location would be your bathroom. Here, you have access to water, soap, and space to shave conveniently while standing or sitting.  Standing is a more practical location
Ready The Tools
Yet another conspicuous, but important tip is to arrive at your preferred shaving spot with all the necessary tools. It's annoying when you have to stop halfway through only to find out you're out of aftershave or toilet paper.
It rarely happens, but there's no harm giving a head's up, right?
I'll list some basic items you should have in your manscape purse or wherever you keep them:
Trimmer

Trimmer attachments

Mini scissors (not the one in your pantry or kitchen)

Shaving cream (mild or women's)

Aftershave (Women's or non-alcoholic)

Hand towel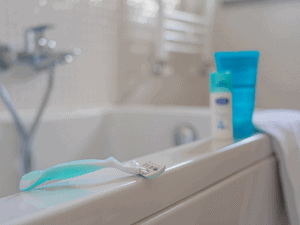 Disinfect What You Can
Prevention, no doubt, is better than cure. And you don't want to take any chances when it comes to issues below the belt.
Any cut in the groin, particularly around the testicles, would easily get infected.
Unsurprisingly, one in three people who trim their pubes suffer cuts, which is quite a number. Luckily, I've never fallen within this alarming statistic, but I still don't take any chances.
In less than five minutes, you can treat your best razor for black men and trimmers by dabbing alcohol over the contact points. Also, wash your hands and groin with soap before getting to the business of the day.
Wet The Pubes
If you've got something of a jungle of longer hair down below, this is perfect. If not, it still is. Wet shaving (using shaving cream) moistens the pubic hair and skin around it. This way, you can shave without cutting yourself, just like it works with beards.
For folks who don't already use shaving cream, the razor would cut weirdly at first. Eliminate this thought with the knowledge that the cream makes things easier.
If you want to have a clear sight of your area, opt for shaving oil or gel instead. You may also use the best hair removal cream for balls for smoother skin without fear of cuts.
Using the best shaving cream for black men followed by applying aloe vera soothes the balls after shaving. You won't have itchy, prickly balls or razor bumps when you put on pants. 
Shaving Technique: Pull the Skin
First things first, you have to use both hands while shaving your balls.
The wrinkled sack of skin can pave a smooth passage for the trimmer. Otherwise, things can quickly get messy.
Cup your penis and skin, pulling the area you want to shave tight. You can cut close to the skin or bare this way without your balls getting in the way. It takes some patience, but nothing's more precious at the time than to fully protect your groin area.
Shaving Technique 2: Shave Against The Grain
The grain is the direction in which your hair grows. When you shave against the grain, you will drastically reduce or stop ingrown hairs.
You may experience ingrown hair unconsciously. It manifests in the form of tiny bumps or darkening of the skin around the ingrown groin hair. Aside from discoloration and bumps, you may experience itchiness and pain in the area.
If you're particularly prone to ingrown hair, you can do these to treat the situation.
Tip: Shave in the counter-direction of the hair.
The Touch Up 
Once you've shaved your body hair to satisfaction, rinse yourself. Better yet, you can have a cold shower, gently washing up afterward – it closes open pores and returns ingrown hair to the surface.
Don't be tempted to apply your regular after-shave. You'd avoid unnecessary pain if you used post- baby oil or aloe vera instead. Better yet, you can use a female aftershave. Their soothing nature eradicates bumps and pimples without stinging the nuts.
Stop doing it wrong and learn the proper way of shaving your balls from this video:
Frequently Asked Questions (FAQs)
Is A Beard Trimmer Safe To Use On Balls?
No, it's not. Your favorite or best corded beard trimmer, though powerful, would be overwhelming for shaving below your waist. Beard trimmers also have larger clippers that make it hard to maneuver around your genitals.

You are susceptible to clipper cuts, which you don't want to deal with around your pubes. Not only is it prone to infection, but it may hurt psychologically.
How Often Should Guys Shave Their Balls?
It's ideal to shave your balls every other week or once or month. It depends on what you like and how your body feels after shaving.
A clean-shaven groin emphasizes penis size smells fresh longer and is more breathable. But you'd have to take a few minutes of shaving weekly to maintain it. Likewise, a low trim is okay. You should also ask a significant other what they like just to be sure. 
Final Thoughts
At the end of the day, the Panasonic Arc5 Electrical Razor is my top choice for the best ball trimmer. Its Active Shave Sensor Tech, five nanotech foil blades, and flexible trimmer head allow for a close and safe shave, even in the most sensitive areas.
The LED panel display is a standout feature that sets it apart from the competition. Additionally, it supports both wet and dry shaves, making it a versatile tool for grooming.
Although it comes at a higher price point, the Arc5's guaranteed clean shaves, long-lasting battery life, and overall quality make it a worthwhile investment for anyone looking for a top-tier ball trimmer.