No tug, no pull.
That's every man's quest in the search for the best ball shaver. It's not just a thing of comfort, but also safety and confidence when it's manscape day.
Well...
Only a reliable or regular balls trimmer can give you that satisfaction. The good thing is they aren't so hard to find. Well, if you know where and how to search for what you seek.
You may find your preferred razor in a trimmer designed for one thing – shaving balls. Or find solace in one manufactured with a delicate touch for a nick-free shave across all body parts.
I did the heavy lifting and compiled eight of the very best shavers for balls, away from the multitude. Go ahead and comb for your perfect fit.
My top pick is Panasonic's Arc5 Electric Razor with Shave Sensor Technology. It's a trimmer in a class of its own.
Product
Details

1. Panasonic Arc5

Great Precision

Digital Stat Panel
Nanotech Foil Blades
Pop-Up Trimmer
Wet & Dry
Multi-Flex Head

Check Current Price

2. Remington PG525

Great Bang For Buck

Head-To-Toe Kit
Trusted Brand
Clean/Fresh Trim
1 Hr.+ Bat Life

Check Current Price

3. The Trimmer By Meridian

Sleek Design

Made For Balls
Great Functionality
3 Shaving Options
Waterproof

Check Current Price

4. Manscaped The Lawn Mower 3.0

Ceramic Blades

Showerproof
Ergonomic
Powerful
W/ LED Light

Check Current Price

5. Philips Norelco OneBlade

Affordable

Cuts Remarkably
Wet & Dry
Long-Lasting Blade
Small Enough

Check Current Price
 

The Best Ball Trimmers Reviewed
1.

Panasonic Arc5 Electric Razor

– Best Overall
Panasonic Arc5 Electric Razor's Active Shave Sensor Tech is worthwhile if you'd also be shaving beards. It automatically adjusts cutting power to meet the demands of your beard volume. When trimming thick hair, it accelerates and vice versa.
It cuts at 14,000 cuts per minute (CPM), which is high on the ball trimmer power spectrum for a record.
So you want to be extra careful when you're descending down there. Impressively, it maintains its phenomenal power till the battery is empty. Other than its high torque, you'll enjoy every bit of tech on this trimmer.
It cuts with five nanotech foiled blades, honed at a 30-degree angle to give a close and safe shave. The trimmer head flexes sideways and back-and-forth to follow all the jaw contours, also a useful hack for shaving the pubic area.
On its front, an LED panel shows battery, charge, and usage status. 
It looks like a simple function but puts the Arc5 way ahead of the competition - You'd think every trimmer for balls says just how much juice you have left after use, but Arc5 also further shows how much time you've spent shaving. 
The panel also houses a travel lock that's useful for on-the-go carry.
Now, this state-of-art trimmer is balanced with the capability for wet and dry shaves. You won't be missing out on any standout feature and it comes at a price. It's the most expensive unit in our best trimmer for balls review, but for solid reasons.
Pros
Clean shaves are guaranteed

Amphibious operation

Multi-flex head for improved handling

Precise and safe-cutting nanotech foil blades

Digital status panel

Pop-up trimmer for details if you like an ornate bush
Cons
Expensive

You need an expert or better be a handy person to replace batteries
Takeaway
The Arc5 is the quintessential ball trimmer for men – intelligent, thickset, long-lasting, and clean-shaven. You only have to pay an ample sum for an electric razor, like Gucci is to shoes.
---
2.

Remington PG525 Body Groomer Kit

– Best Budget Buy
The Remington PG525 is an inexpensive package of head-to-toe trimming attachments. So, while it's not specifically for shaving balls, it comes with the territory.
The kit contains a bundle of nine attachments that feels like you extorted Remington, given its price. 
Then again, they aren't specific to shaving balls, but most come in handy.
Its foil head is a useful accessory that helps shave close to the skin without the threat of ballsy accidents. But it's more recommendable as a trimming rather than a shaving device.
The main attachments include a vertical body hair trimmer and nose, ear, and detail trimmer. 
But the effectiveness of its clipper comb, beard, and stubble combs is somewhat questionable.
Perhaps the most pressing issue with the Remington PG525 is its irreplaceable battery. Under normal use – being every other week - it should last for years to come. Only a few customers complained of faulty ones that lasted only weeks!
That said, it's waterproof and rust-free so you can wash it along with the attachments in a toilet sink or bowl after use. You have no excuse to stash away razors with bits of pubic hair ever again.
It's safe to say, the Remington groomer kit isn't the best head-to-toe option, but it sure would shave balls clean and fresh.
Pros
One of the best deals you can get for ball shavers

Head-to-toe grooming kit

Over 1-hour use per battery charge

Trusted name brand
Cons
Few complaints of a faulty battery

Flimsy design
Takeaway
If you're on a budget and fancy having a full body groomer kit, the PG525 is a trusted inexpensive option from Remington.
---
3.

The Trimmer By Meridian

 – Top Choice For Balls
The Trimmer by Meridian is my world's best below-the-belt trimmer. It's not only well-priced but just as functional as costly top-rate trimmers.
Its ceramic blade is a feature you'd only find fitted in the best shavers made especially for trimming balls.
You'd enjoy how it's soft on sensitive skin, so you can shave your balls and delicate areas like the back and chest.
You have three shaving options with the Trimmer: shave directly (without trim guards) or with two adjustable trim guards for a distinctive trim.
Meridian's sage-colored electric razor has a way it calms and soothes the mind. You know, the way seeing a 1950's architectural edifice appeases and stops you in admiration for a minute.
Looks aside, it's a functional scrotum shaver. Its battery lasts for close to ninety minutes, which is up to scratch.
Furthermore, it's waterproof. Not only for clean-ups but also making a wet shave under the shower an option. Yea, the photo of it covered in water on its product page isn't a gimmick.
Another good thing about the Trimmer is that Meridian makes blades and parts available for replacement without difficulty.
Pros
Sleek and calming design (Sage)

Good deal on the trimmer with a ball spray.

Safe-cutting ceramic blade

 

Reasonable battery life

Effortless maintenance
Cons
Takeaway
It's a couple of bucks more affordable than The Lawn Mower 3.0 (TLM 3.0), my next-rated designated trimmer for balls, yet they have almost similar features. What you'd miss is a charging dock and, undoubtedly, the LED light of TLM 3.0.
---
4.

Manscaped The Lawn Mower 3.0

– Trimmer Option For Balls
Manscaped is a startup dedicated to producing the best trimmer for balls, among other tools for the job. So much so that they got support for funding from the famed Shark Tank judges.
While their latest innovation, TLM 3.0, has received mixed attention, it's your closest bet to finding a top-notch balls trimmer (and for other delicate areas).
Here's why:
It uses SkinSafe technology, which substitutes traditional metal blades with balls-friendly ceramic blades.
You'd have confidence shaving, knowing you can cut close to the skin with little consequence to bear.
Furthermore, it has an adjustable guide comb for trimming different lengths. Plus, an automatic LED light acts as a headlamp to avoid filleting/crashing while shaving in a dimly lit room. Unsurprisingly, some folks would call it a gimmick.
The Lawn Mower 3.0 has a solid run-time of 90 minutes on a full charge. It charges with a portable charging dock that's convenient to use and fancy.
The only gripe with this ball trimmer is a few reviewers reported sustaining nicks and cuts despite its SkinSafe tech. The only explanation seems to be they got overconfident, and well, that happened.
But Manscaped makes maintenance a breeze. Besides being safe to wash under a shower, you can ship fresh new blades quarterly when you register with Manscaped. That's as easy as it gets.
All in all, the Lawn Mower 3.0 is a powerful blade with 7,000 rotations per minute (rpm). So, you should be careful, regardless of a promised safe cut.
Pros
User-friendly service

Innovative LED light for illumination

Rust-free ceramic blades

Ergonomic, streamlined body

Showerproof
Cons
Powerful enough to cut your balls despite SkinSafe tech if you're not careful (as you should)

Costly
Takeaway
Manscaped gives an intimate user experience like no other with the TLM3.0 when it comes to shaving balls. If you fancy a personalized user-centric service, then the Lawn Mower 3.0 is easily one of the best electric shavers for balls.
---
5. Philips OneBlade Face + Body Shaver – Portable Shaver
The Philips OneBlade is a revolutionary electric grooming tool, and rightfully so. For one, it has racked tens of thousands of sales online. 
The Face + Body version is designed to cut both facial hair and body hair of any length.
It has two blades, of which one is for the face, and the other has a skin guard you can use for trimming or shaving your family jewels and other delicate bodily parts you deem necessary.
What's truly special about the OneBlade is its frame can be grasped easily with a soft touch. Small enough you can handle it artistically like a pen (Ok, maybe I've got large hands) while trimming – Handling is a big plus when you're going under.
The blade really does it all - shaving, trimming and edging - all without requiring multiple attachments. Each replaceable blade lasts up to four months, more likely earlier if you use it frequently, say weekly.
Not to forget, OneBlade is perfect for guys with sensitive skin.
With a full battery charge, you get a remarkable 60 minutes of use. While that's okay, having to charge for 4 hours is what's frustrating. And OneBlade doesn't operate plugged in either.  
Pros
 

Affordable

Cuts remarkably well

Handling is on point

Safe for dry or wet shaving
Cons
Long battery charge for short operation           
Takeaway
If you veer towards handling clippers with a pen touch or prefer a trimmer that won't fill up your fist, you'd adore Philips OneBlade. It's also budget-friendly, so it's easy to see why it's such a top seller.
---
6.

Wahl Lithium Ion+ Stainless Steel Trimmer

– Long-Lasting Razor
Wahl Lithium Ion+ trims and shaves hair like ice-cream off a cone.
Super-efficient operation from this powerhouse is a gem among ball trimmers. It gallantly runs for 6 hours non-stop while charging in under an hour. For risky unplanned manscapes, you can manage a 3-minute juice to graze off the bush from just a 1-minute charge.
Its Stainless Steel frame is built like a silver fortress and designed with modern splendor. The Robert Downey smart light enshrined to its bust says it all – don't excuse the pun.
To make your shave as personalizable as you want, you get a dozen attachment heads. They range from 1/16 mm to about an inch.
But for all the beauty of the Lithium Ion+, unfortunately, it can't go in the shower. So wet shaves are off the tables with this trimmer – its only notable complaint. 
Although relatively heavy, this is the price you pay for the perks of a powerhouse and prolific battery capacity. If these are your cup of tea, it's well worth the money. Otherwise, you can still have a clean shave with other budget-friendly electric razors, like the Philips OneBlade or Remington PG525.
Pros
 

Long-lasting build

 

Efficient energy saver with reasonably fast charge

 

A dozen attachments to shave from stubble to beard

 

Face and groin shaver
Cons
Not a low or even mid-budget option

Only suitable for a dry shave
Takeaway
For shavers who cherish durability over functionality, Wahl Lithium Ion+ would attract them like ants to sugar.
---
7.

Philips Body Groomer Series 7000

– For Sensitive Skin
Philips Body Groomer Series 7000 is one of those products you wonder why they are worth a king's ransom.
And at the end of the day, I find it's reasonably justified for its level of functionality. First off, this Norelco Series has everything you need for all things shaving – pubes, beards, head, chest, you name it.
The best part is you won't feel dirty shaving different parts of your body. It has a sizeable number of changeable heads you make use of to cut at your desired length.
But it's a shame Philips quashed the adjustability feature of the previous Norelco series. You now have to switch attachments (23 to be precise) for the closest fit.
At first, using a clipper with so many heads can be a daunting task. Switching them out when it could be done automatically. But you'd get a hang of it with time if it's the trimmer you desire.
The Body Groomer Series 7000 has a versatile operation. You can use it plugged in or cordless. It's cool because you can quickly plug and use it for a quick shave on emergency days.
By the way, it takes about two hours for a full charge, enough juice to cut down bushes for up to five hours non-stop.
After all, it has so many benefits as well, which still makes it a highly sought-after body groomer on the market.  
Pros
Multi-tier use (corded and cordless)

Tons of attachments for a personalized trim

Ergonomic frame with rubber grip

Waterproof
Cons
Comes at a price, a hefty one.

No automatic head adjustments
Takeaway
Hands down, the Philips Norelco 7000 has one of the best build quality you can ever find in a trimmer. And it can work wirelessly or while plugged in— well worth its price. 
---
The Best Ball Shavers Buying Guide
Why Men Should Manscape (Below The Belt)
You can abstain from shaving your balls clean if you like, but trimming every now and then is a necessity for personal hygiene. This is true from a social point of view, but biologically, having a bush doesn't make you unhygienic or smell bad.
It's up to you if you want a jungle down there, but probably not, since we're both here.
For one, you get a rush of fresh air in your pants when you trim or shave. Your balls enjoy a certain relief and ease, especially after a few days.
Also, most millennial men like to shave before a date or sexual intercourse. Shaving breeds confidence down below that only comes from a beautified bush that shows your partner you take personal hygiene seriously. Oral sex is even more likely when you shave if that's your thing.
Trimming the pubes also helps to prevent skin abrasion and injury. Remarkably, it's a safer option than a clean shave if you have sex or hike regularly.
On a final note, shaving doesn't stimulate rapid hair growth at your base. If you've ever thought so, like I've argued with my friends as a teen, it's only a sensation of stubbles or a blunt razor cut.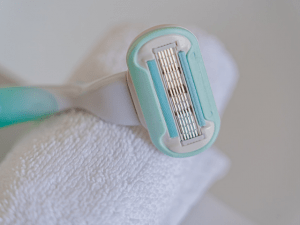 How To Find The Best Electric Shaver For Balls
Now, if you're ready to find your next trimmer for balls, here are things you should consider. You might save a few bucks or the headache that comes with problematic trimmers.
Blade Replacement
With trimmers for balls, you have to think long-term. If not, you could buy a pack of shaving sticks instead.
Before you buy a trimmer, you should check how fast the blades wear out and if replacements are readily available. It might take months or years, but it'd hurt if you have to throw out a fine clipper only because the blades were worn out.
Most name brands sell replacement parts or blades you can easily buy online.
Power
You need maximum power for a bare shave below the belt. Or better yet, for a swift trim without nicks, tugs, and pulls.
As horrifying as it may seem, a powerful ball trimmer can be much safer than a handy shaving stick.
Now that a ball trimmer is justified, don't make the mistake of getting a weak one out of fear for your jewels. It would tug on the hair rather than cut through and take way longer than it should.
The best body razor for shaving balls is powered by between 5,000 to 14,000 rpm motors. You can opt for products on the lower end of the spectrum if you have delicate skin.
Accessories
All trimmers don't have identical features. It's up to you to select one that fits your style of shaving and convenience.
For instance, it's only fair your clipper of choice has a waterproof feature if you'd be shaving wet or with shaving cream. And a cordless trimmer would conveniently reach the crevices of your groin for an easy shave.
Then again, corded ball trimmers typically last longer and are the most powerful. The choice is yours.
One final feature to check (cordless) is battery life. Would a single charge for just a quick trim or a longer battery life be befitting? Opting for longer battery life is assuring, but a backup corded trimmer could be lay-saving when you least expect it.
Tips For Shaving Balls Safely With An Electric Razor
While you may already know how to mow your lawn, you can learn a few things that ease the process. These procedures are not limited to use for shaving the balls with an electric trimmer or shaver. You can follow most of these steps with any tool you've got.
Location
Prepare your manscaping location with all the necessary tools and make sure it's spacious. You don't want to stop mid-way through mowing your lawn to get something you forgot.
The obvious location would be your bathroom. Here, you have access to water, soap, and space to shave conveniently while standing or sitting.  Standing is a more practical location
Ready The Tools
Yet another conspicuous, but important tip is to arrive at your preferred shaving spot with all the necessary tools. It's annoying when you have to stop halfway through only to find out you're out of aftershave or toilet paper.
It rarely happens, but there's no harm giving a head's up, right?
I'll list some basic items you should have in your manscape purse or wherever you keep them:
Trimmer

Trimmer attachments

Mini scissors (not the one in your pantry or kitchen)

Shaving cream (mild or women's)

Aftershave (Women's or non-alcoholic)

Hand towel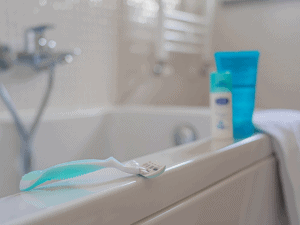 Disinfect What You Can
Prevention, no doubt, is better than cure. And you don't want to take any chances when it comes to issues below the belt.
Any cut in the groin, particularly around the testicles, would easily get infected.
Unsurprisingly, one in three people who trim their pubes suffer cuts, which is quite a number. Luckily, I've never fallen within this alarming statistic, but I still don't take any chances.
In less than five minutes, you can treat your best razor for black men and trimmers by dabbing alcohol over the contact points. Also, wash your hands and groin with soap before getting to the business of the day.
Wet The Pubes
If you've got something of a jungle down below, this is perfect. If not, it still is. Wet shaving (using shaving cream) moistens the pubic hair and skin around it. This way, you can shave without cutting yourself, just like it works with beards.
For folks who don't already use shaving cream, the razor would cut weirdly at first. Eliminate this thought with the knowledge that the cream makes things easier. If you want to have a clear sight of your area, opt for shaving oil or gel instead. You may also use the best hair removal cream for balls for smoother skin without fear of cuts.
Using the best shaving cream for black men followed by applying aloe vera soothes the balls after shaving. You won't have itchy or prickly balls when you put on pants. 
Shaving Technique: Pull the Skin
First things first, you have to use both hands while shaving your balls.
The wrinkled sack of skin can pave a smooth passage for the trimmer. Otherwise, things can quickly get messy.
Cup your penis and skin, pulling the area you want to shave tight. You can cut close to the skin or bare this way without your balls getting in the way. It takes some patience, but nothing's more precious at the time.
Shaving Technique 2: Shave Against The Grain
The grain is the direction in which your hair grows. When you shave against the grain, you will drastically reduce or stop ingrown hairs.
You may experience ingrown hair unconsciously. It manifests in the form of tiny bumps or darkening of the skin around the ingrown hair. Aside from discoloration and bumps, you may experience itchiness and pain in the area.
If you're particularly prone to ingrown hair, you can do these to treat the situation.
Tip: Shave in the counter-direction of the hair.
The Touch Up 
Once you've shaved to satisfaction, rinse yourself. Better yet, you can have a cold shower, gently washing up afterward – it closes open pores and returns ingrown hair to the surface.
Don't be tempted to apply your regular after-shave. You'd avoid unnecessary pain if you used post- baby oil or aloe vera instead. Better yet, you can use a female aftershave. Their soothing nature eradicates bumps and pimples without stinging the nuts.
Stop doing it wrong and learn the proper way of shaving your balls from this video:
Frequently Asked Questions (FAQs)
Is A Beard Trimmer Safe To Use On Balls?
No, it's not. Your favorite or
best corded beard trimmer
, though powerful, would be overwhelming for shaving below your waist.
Beard trimmers also have larger clippers that make it hard to maneuver around your genitals.
You are susceptible to clipper cuts, which you don't want to deal with around your pubes. Not only is it prone to infection, but it may hurt psychologically.
How Often Should Guys Shave Their Balls?
It's ideal to shave your balls every other week or once or month. It depends on what you like and how your body feels after shaving.
A clean-shaven groin emphasizes penis size smells fresh longer and is more breathable. But you'd have to take a few minutes of shaving weekly to maintain it. Likewise, a low trim is okay. You should also ask a significant other what they like just to be sure. 
Final Thoughts
Found the right trimmer to touch on your balls yet? We want no nicks and cuts.
Finding the best razor for balls isn't as daunting as it sounds. If you get confused, consider how often you want to shave and how much you're willing to spend on a trimmer.
Equipped with this information, you'd find a product that fits the bill among the bunch in our selective trimmer for balls review.
Our top pick remains the Panasonic Arc5 Electrical Razor. There are countless cheaper trimmers, and their value lies in the hands of the beholder - I'd say a modern dapper dude with an affinity towards classy and functional gadgets. 😉