If you're a barber or a professional hairstylist like me, you love seeing your clients looking sharp with crisp lines when they leave your salon.
Here's the deal:
To keep them returning to your barbershop for haircuts, you need the best hair clippers for lineups designed for outlines and lineups.
Keeping durability, design, and most importantly, the ability to be used as both corded and cordless in mind, from our review we have concluded that the Wahl Professional 5-Star Detailer is the best lineup clipper available.
But, this doesn't mean that it is the ideal choice for you. There are other viable options available in this review that you can choose from.
The Best Lineup Clippers Reviewed
1. Wahl Professional 5-Star Detailer – Best Overall
The Wahl Professional 5-Star Detailer is every professional barber's best friend for clean cuts and lines. This clipper caters to every expert's preferences; in fact, it is one of the best clippers for line ups that you can never miss in my arsenal. 
This 5-star detailer is quite popular among barbers, and it's perfect for everyday use in most busy salons and barbershops.
With its close-cut T-wide blade, this professional detailer can guarantee you a fine line trimming every time. It features a unique all-around design with the best line up trimmer that will always feel great in your hand. It weighs about 6.9 ounces, so you will never have to worry about fatigue when using this detailer.
The key feature of this detailer is a lithium-ion battery that guarantees me 100 minutes of run time when it's fully charged.
And when the charge runs out, you can recharge it using its recharging stand, which has an exceptional swivel-cord rotation feature. Therefore, you can use it either cordless or corded.
It's compact and weighs about 5.75 inches long, making it one of the best clippers available.
Pros
Close-cutting blade

Guarantees you 100 minutes of run time when fully charged

Can be used cordless or corded
Cons
Intended for professional barbers
Takeaway
If you're looking for a functional but reliable detailer with an adjustable T-wide blade and a lithium-ion battery, then you should go for the Wahl Professional 5-Star Detailer.
---
2. Oster Classic 76 Club Tattoo Trimmer – Best Classic Trimmer
If you love the classic shaving tools, then you should go for the Classic 76 Trimmer. Its exceptional design always takes me back. Plus, its eye-catching appearance places this Oster trimmer in its own class.
Personally, I love its housing which takes me back to my childhood when I used to visit the barbershop with my grandfather. Fortunately, its durability and reliability haven't changed over the years. Its exceptional shell can resist breakage even when this trimmer falls down.
This Oster Trimmer comes with a single-speed, powerful motor that can serve you for a very long time.
Just like the other best trimmers for lineups, this corded trimmer only works with 110V, and there is no cordless option in the market.
Its stylish box and classic design made it the best gift I've ever given my grandfather for Christmas. This trimmer comes with a cleaning brush, grease, and lubricating oil; therefore, servicing it is quite easy and fun.
Pros
An efficient maintenance kit

It has a 9 ft. power cord

Exceptional classic design that will always take you back to the 1970s

A 000 detachable blade
Cons
Takeaway
The Oster Classic 76 has an exceptional classic design from the 1970s that makes it stand out. Plus, its maintenance kits make the servicing task quite easy and fun.
---
3. Andis Slimline Pro T-Blade Trimmer – Best Budget Buy
Every trimmer produced by Andis comes with a lot of expectations, and the Andis Slimline Pro T-blade Trimmer is no exception. This T-blade trimmer is loved by most stylists, groomers, and barbers for its unwavering versatility and is considered one of the best hair clippers available.
The Andis Slimline Pro is an exceptional tool that was designed for light-duty touch-ups after a haircut.
This trimmer is quite efficient for making detailed touch-ups around your necklines.
The key feature that makes it one of the best lineup trimmers is its powerful rotary motor that can serve you for a very long time at a speed of about 6,000 strokes per minute. Another feature that I love is its lithium-ion battery that offers over 120 minutes of run time. But you have to recharge it for over 135 minutes.
Its cordless/corded design has always ensured that I served my clients even after the battery runs out. Another feature that I love is its lightweight and ergonomic design makes it the best lineups trimmers available.
Plus, the fact that it comes with a brush and blade oil means that servicing it is quite easy.
Pros
Comes with a maintenance kit

Can be used as a cordless or corded clipper

Lightweight

Charging this trimmer requires less time

Its blades are adjustable

durable
Cons
Not ideal for rigorous usage

Buzzes is a bit loud
Takeaway
The Andis T-blade Trimmer is lightweight for some touch-up finishes after a haircut. Plus, the fact that it can be used as corded and cordless is a bonus.
---
4. Andis Professional T-Outliner – Best All-Around Trimmer
If you're looking for a pro standard tool for fading, dry-shaving, and outlining, then you should try the Andis T-Outliner Trimmer. This barbershop quality clipper is an all-around tool that will serve you for years.
The Andis Professional T-Outliner comes with a carbon steel T-blade that can guarantee you close-cuts and zero-gap.
Another key thing that makes this trimmer special is the fact that it's noiseless. The T-outliner has magnetic motors that run silently without affecting this tool's power.
Despite being a corded tool, it is convenient and easy to use thanks to its 8-foot long cord and a hanger loop. Andis Professional T-Outliner can help keep the trimmer smooth and precise; it does come with blade oil. But it is the best option for lining the areas of crowning glory, mustache, and beards.
Pros
Guarantees perfect lines and zero-gapped cuts

Comes with an 8-foot long cord

Comes with a durable carbon steel T-blade
Cons
Not cordless

Doesn't come with any attachment
Takeaway
The Andis Professional T-Outliner Beard/Hair Trimmer has silent buzzes when working. So if you don't like the loud clippers, then you should go for this trimmer; after all, some of the best clippers for lineups are very silent.
---
5. Babylisspro Barberology MetalFX - Best Cordless Trimmer
The BaBylissPro Outlining Trimmer is one of the top-rated outliners available that guarantees durability and performance. In fact, most professionals use it for skin fades, hairlines, and cutting lineups.
One of its outstanding features is its motor. This trimmer has a brushless, high-torque motor that's engineered by Ferrari.
Another feature that I love about BaBylissPro Outlining Trimmer is the fact that you can still use it when the charge runs out. This trimmer has a lithium-ion battery that provides you with a runtime of about 120 minutes. When the charge runs out, you can always continue working while charging it thanks to its 10-foot cord.
This trimmer comes with an extremely sharp titanium T-blade that you can easily zero-gap with your adjustment tool. This feature makes it possible for you to cut the cleanest and sharpest haircuts.
This trimmer has sleek all-metal housing with an exceptional grip for control and comfort. Plus, the detent hook it comes with makes it easy to store this tool.
Pros
Durable

Easy to control

Cordless

Its battery guarantees you a runtime of about 120 minutes
Cons
Takeaway
The BaBylissPro Barberology MetalFX Outlining Trimmer is a high-quality tool that provides smooth and straightforward hair cutting. Whether you are detailing beards, shaving, or trimming the edge-ups, this trimmer is worth the investment.
Dapper Point: If you're looking for the ideal hair trimmer but are still a teenager, then you might want to check our other post created just for you. Proceed here to read -- 6 Best Electric Razors for Teenagers (& Shaving Kits).
---

Factors to Consider When Buying the Best Lineup Trimmer
Since there are lots of best trimmers for lineups in the market, choosing the right option for clean edges can be quite challenging.
To help you narrow your search for the best trimmer for line-up, I have created a list of factors to consider when purchasing the best clipper for the lineup for your barbershop, salon, or for personal grooming purposes:
Cordless Vs. Corded
One of the key factors to consider when buying the best clipper for a line-up is its cord system. Your choice will be determined by what works perfectly for you. If you need some freedom while moving around in your barbershop, or you're an on-the-go user, then you should go for a cordless lineup clipper.
If you don't want to deal with battery life issues and mobility isn't an issue for you, then a corded clipper will be perfect for you. Remember, both options (corded and cordless) are great, but it all depends on your preference.
Cordless outliners are lightweight and convenient, so you can easily move around without worrying about cable clutter. Unfortunately, they don't offer too much power as compared to corded clippers.
On the other hand, corded outliners have more power since they're operating directly from the mains. But they tend to be heavier, and the long cord will obstruct your movement while working. Plus, you need a power source near you every time you're using a corded clipper.
Fortunately, some brands have both cordless and corded options. Clippers with both options tend to be heavy thanks to the battery, and they become even heavier when you're using them while connected to the mains.
The main benefit of corded outliners is that you can work for an extended period without losing power. But the ones with both cordless and corded options can come in handy in case of a blackout.
Blade Quality
When looking to get a clean cut from the best clipper or trimmer, you should consider the blade's quality. The type and size of your blade will determine the preciseness of your trim; plus, the sharper the blade, the crispier the lines.
The material used for the blade matters a lot. With carbon steel being the most common, most exceptional option — It can hold the edge longer than other steel alloys. The carbon steel blade is one of the few options that can make super close cuts of about 0.5mm.
Another feature that you must consider is the self-sharpening feature. Some of the latest models come with it. Its self-sharpening capability can increase the lifespan of your trimmer or clipper.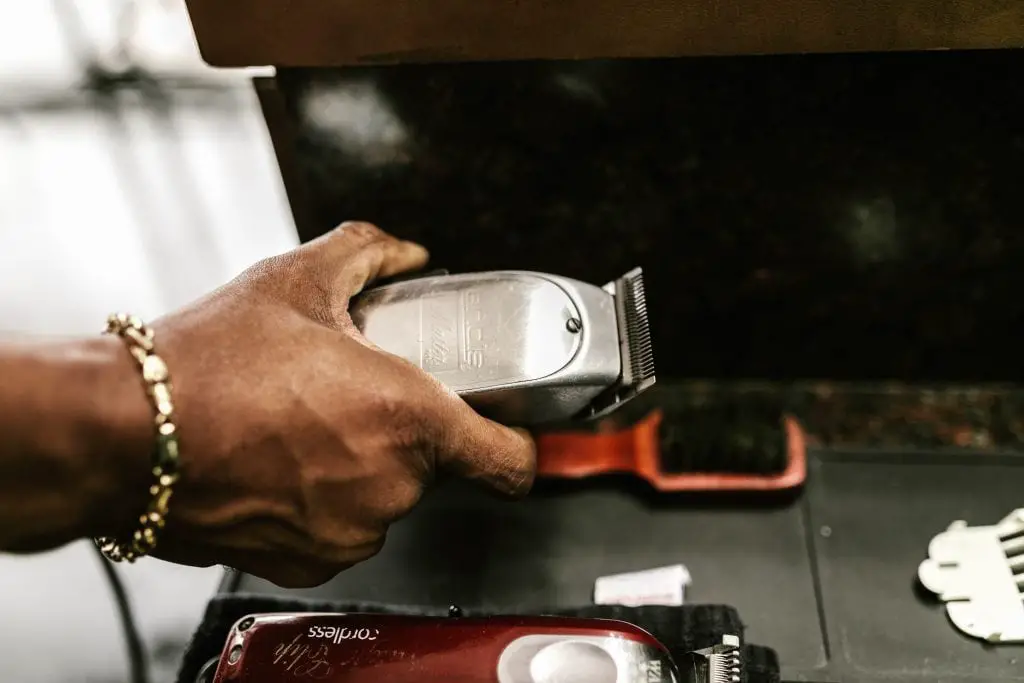 Design and Construction
Line up clippers come in a wide range of designs, so you should look for a design that guarantees you a comfortable grip. When considering aesthetics, you should look at its dimension, weight, and how it feels in your hands.
You should also look for a design that makes trimming more manageable and helps you improve your skills. The most suitable clipper from a reliable brand should have a durable chassis and withstand regular usage. Pick one with a shockproof shell as it will protect your clipper from damage in case it falls.
Motor Power
We can never overemphasize the importance of a powerful motor when trimming hair. The best outliner should have more than enough power for making some light trims.
Plus, the motor should be as silent as possible; after all, you don't want your tool to make too much noise when shaving.
The most common clippers come with electromagnetic motors, which guarantee consistent performance. Picking the right motor will make your trimming and grooming work easier and faster.
A powerful motor will offer an exceptional cut and even work perfectly with thick hairs. But clippers with powerful motors tend to be quite noisy, which can be a great trade-off for more trimming power.
Versatility
Another crucial factor you have to consider is the adaptability level of the trimmer's edge. The right option should do more than just clipping; it should be ideal for clipping behind the neck, sideburns, and ear beard.
Maintenance
Every barber works with their tools frequently; therefore, we all know that their functionality wears off with time. So you may need to have it serviced or repaired. Remember, the easier it is to service, the better its lifespan and functionality.
Fortunately, most products come with a reliable maintenance kit that includes oil lubricant and a blade brush. Something manufacturers also include that makes servicing their clippers easier is an easy-to-follow maintenance manual.
How Do You Do a Crispy Lineup?
If you have never done a crispy lineup after a haircut, then you don't know which tools you require for the job. But even with the right tools, if you don't know how to do a lineup correctly, you may end up messing it up.
But as aforementioned, you require the right tools for a crisp lineup or a haircut. So you should be ready to do a lineup as in the following video:
Remember, the technique used matters; plus, you may require a different clipper when dealing with an African American client.
Frequently Asked Questions
What are the best lineup clippers for black hair?
Afro-American hair is usually very curly, and it grows on flat-shaped follicles; therefore, you need a unique clipper for lineups. Some of the best options for black hair include Wahl Professional 5-Star Razor Edger and the Wahl Professional Series Detailer.
Do I need to replace my lineup trimmer ever?
Yes, most trimmers, including a beard trimmer, last for over seven years under proper personal usage and care. Like most tools, trimmers also wear out with time, So you should watch out for the wear and tear signs.
What are the best cordless clippers for lineups?
The best cordless lineup clipper is the Wahl Professional Cordless White Peanut Beard And Hair Clipper. This clipper is durable thanks to the commercial-grade materials used to make it. Therefore, you'll never have to worry about it breaking down when it falls.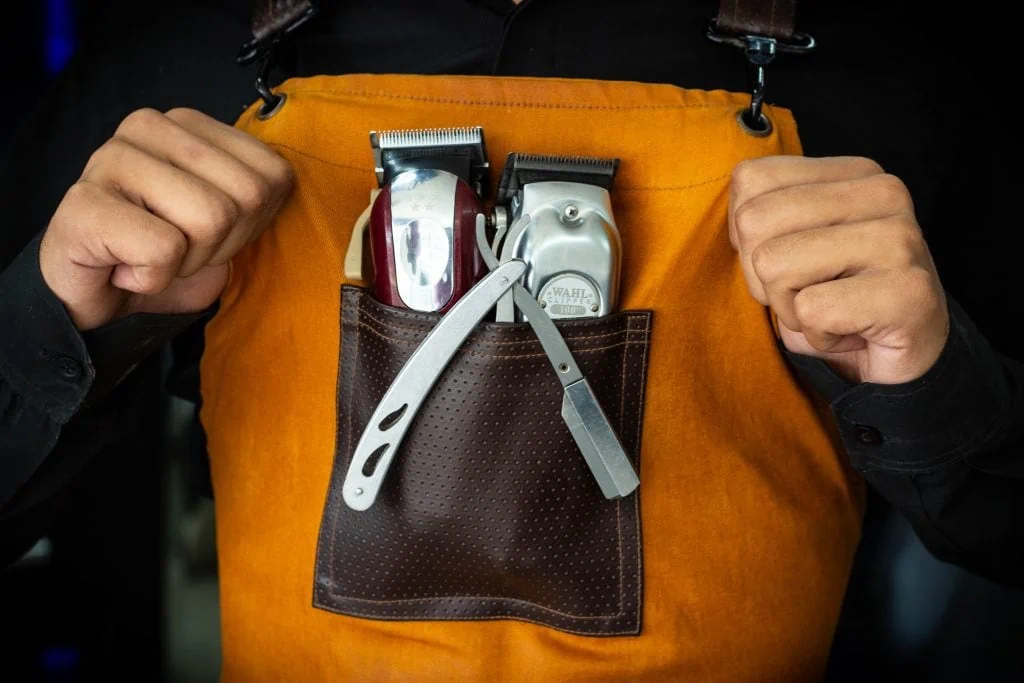 The

Bottomline

Is...
Based on my experience, I have concluded that the Wahl Professional 5-Star Detailer is the best clipper for lineups. This cordless clipper has 100 minutes of runtime, but you can use it when it's charging. With its weight of about 6.9 ounces, this compact unit feels perfect in your hand.
But then if budget is an issue, then you should go for Andis Slimline Pro T-Blade Trimmer. This accessible clipper can guarantee the sharpest performance while serving you for an extended period.