You'll not regret getting a cologne with base notes like amber, honey, oakmoss, and vetiver.
That's like the list of base notes in the entire line of Burberry fragrances.
So, are you a Burberry man?
If you haven't tried any, we'd like to take you through six top choices Thomas Burberry has for you.
We'll start with our favorite, which ranked as the best Burberry cologne on our list, the Burberry Touch Eau De Toilette. Ready? Read on!
Top Burberry Cologne For Men Reviews
1. Burberry Touch Eau De Toilette - Best Overall
It's long-lasting; therefore, you use a small amount without the need for reapplication later in the day.
It's subtle, with top notes of black pepper, violet leaf, and cedar that don't fill the air announcing your entry into the room. On top of that, it's a clean and elegant scent because it combines sweet and spicy notes.
Plus, it has heart notes of geranium and white thyme and base notes of vetiver and tonka bean that give it character when the top notes wear off.
You can wear it on many occasions and during different weather situations because of this diverse combination of ingredients. You could even call it a unisex perfume though the woody, peppery mix makes it masculine.
Pros
Long-lasting

For numerous occasions

Suits all ages

Clean scent

A little spray goes a long way
Cons
Spicy notes can be overwhelming.
Takeaway
It's the best Burberry cologne for men who love a Burberry fragrance in the aromatic family. It gives you a touch of class and sophistication but through simple, subtle aromas. The Burberry Touch Eau De Toilette for Men is for the office, casual events, and anywhere else you want to wear it.
---
2. Burberry Classic - Best Budget Option
It's one of the old Burberry products manufactured in the mid-90s.
The top notes are bergamot, a hint of mint, and lavender for an elegant, professional fragrance. 
They blend into three faint heart notes of moss, sandalwood, and geranium before letting amber and cedarwood bring the base notes popular in masculine perfumes.
You're likely to see men over 30 buying the Burberry Classic as it's classy and mature. It's the kind you wear to the office. But, summer's heat could make it overpowering.
Pros
Classic scent

Wears for hours

For formal settings
Cons
Takeaway
It's a subtle scent that won't demand attention when you wear it, but it'll still grab attention for its woody muskiness.
---
3. Burberry The Beat - Best Woody Option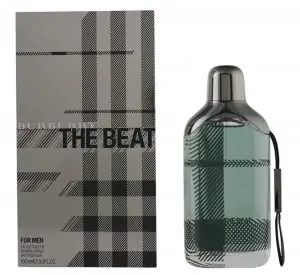 It's a simple formulation with one aroma for each of the three main notes.
The top note is black pepper, which introduces its fresh and sharp scent early.
Since that would make it overpowering, white thyme takes over as the middle note to tone down the peppery touch before the bourbon vetiver in the base note balances everything out.
Pros
Fesh, peppery smell

Outdoorsy perfume

For casual, everyday wear

Suited for any time of the year
Cons
Takeaway
Burberry The Beat is the best Burberry cologne for him when he loves simple, masculine fragrances.
---
4. Burberry Weekend EDT For Men - Best Citrus Choice
Like the cologne above, the Burberry Weekend Eau De Toilette for Men has a simple formulation with three Burberry scents for each note. Its top note is fresh lemon, which you smell right after you spray Burberry Weekend in the morning.
This fruity touch gives you a fresh, clean scent to prepare your nostrils for its toned-down, masculine, oakmoss heart note. Further, honey and amber base notes balance the fruity top note to make it a men's fragrance.
You can wear it on any occasion in spring or summer to enjoy the combination of fragrance notes and project your outgoing personality. As its name suggests, wear it on weekends for that casual, unforgettable Burberry touch.
Pros
Distinct combination

For an outgoing personality

Spring and summer collection

For older men
Cons
It lasts about two hours then becomes subtle.
Takeaway
Burberry Weekend Eau De Toilette for Men is the best Burberry perfume for men looking for a spring or summer cologne. It's for weekends too, and any casual occasion.
---
5. Burberry London EDT For Men - Best Aromatic Option
It starts with the blend of bergamot, cinnamon, and lavender announcing your arrival. As these top notes die down, it's time for mimosa flowers and rich leather to tease all the nostrils in the room.
Then, tobacco leaves and oakmoss give a woody touch that makes it masculine and distinct.
This combination makes it suitable for evenings because of its sensual appeal and probably for an older wearer.
But, no one's stopping you from wearing it in the day if it's appropriate for the occasion. Further, this deep aroma entices you to stock some for cold to cooler nights.
Pros
For cooler or cold nights 

Long-lasting

For evenings
Cons
Overpowering in hot weather
Takeaway
Burberry London Eau De Toilette for Men ranks as the best Burberry perfume for men because of its blend of rich leather, oakmoss, and tobacco leaves, all of which are masculine. It's a sophisticated, mature men's fragrance, and it's not overwhelming on you or others around you.
---
6. Burberry Brit EDT For Him - Best Outdoorsy Notes
Gray musk and tonka bean form the base notes, and that's what remains after the mandarin orange, nutmeg, ginger, and spicy cardamom wear out. You'll also catch a whiff of powdery rose and woody cedar. It's so rich!
It's a 2004 Burberry by Antoine Maisondieu, and it's meant for cooler months, especially on nights when you want to smell good without wearing the most prominent scent in the room.
Pros
Spritz two to three times only

Modern fragrance

Light but long-lasting
Cons
Takeaway
It's masculine, even though it starts with a spicy mandarin orange scent before the musk and cedar form a base.
---
So, how can you tell the best eau de cologne when there are so many labels from Tom Ford to Vilhelm Parfumerie? Here's:
How To Compare Designer Fragrances
Check The Notes
That's where you start even before you say you love Dior or Calvin Klein. As you noticed above, we talked about all the notes in each bottle by grouping them as top notes, heart, or base notes like vanilla.
The top ones, such as citrus, and pepper, are what you smell first. They make a statement and fade away within hours; thus, they are the strongest. Then comes the floral notes that strike a balance between the strong, first ones and the base.
The intensity of the base notes takes a while to register, but these stay with you the whole day.
The combination chosen during production makes sure the final scent is unique. Some mix so well to create something distinct and masculine.
You may come across bottles with one ingredient for each note or a combination of several oils and ingredients. For instance, Major Me from Paco Rabanne has patchouli, incense, and oud base.
You should also check the scent family. For example, the award-winning Tempo Eau de Parfum from Diptyque is in the woody family.
The ones we talked about above fall in the aromatic, citrus, and woody families. Other families are floral, water, and herbal. These families group the oils and ingredients, meaning if you want a water family, you're looking for a combination of the sea breeze, waterfall, and other fresh aromas of nature.
The Occasion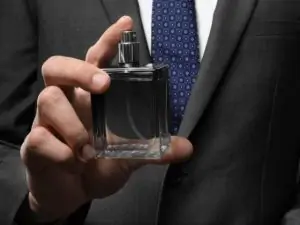 Who wants to smell like somebody else? Therefore, find a signature spray that reflects your personality. Further, the cologne you wear in the office, in winter, might be too warm for the hot months.
FAQs
What types of fragrances can I find in the Burberry collection?
There are over 80 choices, with some from the 80s when Thomas Burberry began manufacturing them. This brand makes both Eau de toilette and Eau de parfum. For instance, Mr. Burberry comes in both types.
Its Eau de parfum has patchouli, tarragon, and amber, while Mr. Burberry Eau de toilette combines grapefruit with vetiver and guaiac wood. I bet you'd say Mr. Burberry is the best Burberry perfume for him if you find its cologne type appealing.
You may consider getting several fragrances as there's always something different in the bottle. For instance, Burberry Brit Rhythm brings basil verbena, while Burberry Brit has ginger with a touch of cedar.
Read Also: Why Is Perfume Called Eau de Toilette?
How much can you expect to spend on Burberry cologne?
You'll spend between $60 and $300 depending on the size of the perfume bottle and the scent. The ones we talked about earlier are under $100.
What sets Burberry apart from any other fragrance?
Different Concentrations
Eau de parfum has between 10 and 15% of the raw material. On the other hand, Eau de toilette has about 8 to 10% of natural oils.
Watch this video for more detailed guide to perfume types:
Variety
This brand has products for all genders; hence, it's easy to find a signature scent based on the notes that suit your occasion and personality. And whether you are looking for one of the best colognes for black men or men of any color.
What's the best Burberry cologne to buy?
Our best overall in this review is the Burberry Touch, and we have explained why in a few sentences below.
Which Burberry cologne smells the best?
The best cologne depends on factors like the occasion, the weather, and the wearer. The Burberry London might be the best Burberry perfume for cooler nights for its spicy aroma, and the Burberry Weekend starts with a citrus aroma for those casual evenings.
When you wear them on hot days, the top notes might overpower every other ingredient. Now you know the best Burberry cologne for him and how to tell these fragrances apart.
Let's conclude with:
The Verdict
Burberry Touch Eau De Toilette for Men starts all peppery with a woody hint of cedar before it tones the spice down so you can enjoy its tonka bean base note. It's an elegant perfume with a masculine personality. And that is exactly why this is my favorite!
Alternatively, get Burberry Classic to spritz the rich sandalwood and moss combination on your pulse points. It's more affordable than our first pick, and it's suited for the older man too.
You know you can even buy all six options as each has a twist that's both alluring and memorable. Oh! And they are all masculine. Isn't that what you want?