Black men are susceptible to razor bumps more than you imagine.
And fortunately...
Aftershaves will help you calm the occasional flare-ups, soothe razor burns, and even treat ingrown hairs that cause razor bumps. But you probably know or think this already.
Why else would you be here?
Without further delay, I'll show you our exhaustive list of the best aftershave for black men - It doesn't matter if you have oily, not too oily, or sensitive skin.
In a rush? Our pick for the best aftershave for black skin is the all-natural Bee Bald Heal Post Shave Balm with honey and bee pollen. It calms, moisturizes, and heals the scalp and face of razor burns and bumps. 
Best Aftershave For Black Skin Reviewed
Our top picks for the best aftershave for black men in 2023 are:
Product
Details

1. Bee Bald Calming Healing Balm

Super Calming

Treats Bumps
Skin Smoothening
Dirt Cheap!
Mild/Fruity Scent
Moisturizing

Check Price On Amazon

2. Nivea Men Sensitive Balm

Pack Of Three

No Irritation
Softens Skin
Award-Winning
Soothing

Check Price On Amazon

3. Proraso Refreshing And Toning

No Nicks & Bumps

Minty Scent
Very Moisturizing
Lasting Fragrance
Soothing

Check Price On Amazon

4. Brickell Men's Instant Relief

Plant Based

All Skin Types
No Breakouts
Cruelty-Free
Mainly Organic

Check Price On Amazon

5. Clubman Pinaud

Staves Off Burns

Cooling Effect
Manly Scent
Against Infection
Contains Alcohol

Check Price On Amazon
1.

Bee Bald Calming Post-Shave Healing Balm

- Best Overall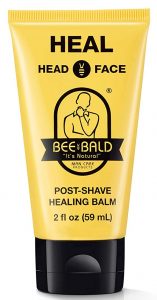 Bee Bald is a company with a natural inclination for honey and bald guys as their name implies. But their post-shave healing balm is not only for hairless folks.
The Bee Bald Aftershave uses aqua, aloe, and glycerin as its top ingredients for an immediate calming effect.
The list of ingredients further includes protectants and moisturizers like panthenol, ascorbyl glucoside, and Avena sativa (oats).
These properties alone tackle bumps, redness, and other shaving-related irritations.
Bee Bald HEAL is a colorless gel with mild scents of fruit and honey. Sure, it would leave you feeling fresh but not overpowering that someone next to you chokes.
Pros
It treats bumps and redness on the skin effectively.

Contains natural ingredients for smooth and moisturized skin

Dirt cheap

Mild fruity honey fragrance
Cons
Flimsy tube 

Its scent isn't for everyone
Takeaway
It's a simple aftershave lotion that works for most skin types and is very affordable. At its price, it's a worthy contender of the best aftershave for black skin, despite having more "sophisticated" competitors.
---
2.

Nivea Men Sensitive Balm

- Best Budget Aftershave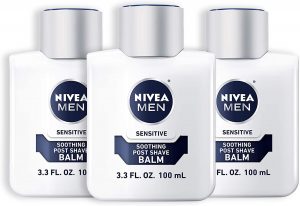 The Nivea Men Sensitive Post Shave Balm is one of the most economical aftershaves for black men. Or anyone really.
For a pack of 3, you could get a year's worth of use for less than a premium Netflix subscription. But it's not only affordable. It works. So you don't have to fear you'd throw them out.
A rub of Nivea Post-Shave Balm soothes the skin in a similar way the Proraso Sensitive Balm does.
It contains a blend of chamomile and witch hazel which tighten the skin, reduce inflammation, and prevent razor bumps.
However, since it contains witch hazel, it might not be a good fit for sensitive skin, as it says. But if you prefer a light scent, it is a great choice.
Pros
Prevents irritation such as burns, cuts, dryness, itch, and tightness

Great value for a pack of 3

Moisturizes the scalp and skin

Improves skin soft and smooth over time

Award-winning formula
Cons
No manufacture or expiry date 

Not the best for dry skin or extra-sensitive skin
Takeaway
Nivea Sensitive Post Shave Balm is excellent for fighting shaving irritation. But it's not so great with extra-sensitive skin.
---
3.

Proraso Toning Aftershave

 

- Best for Sensitive Skin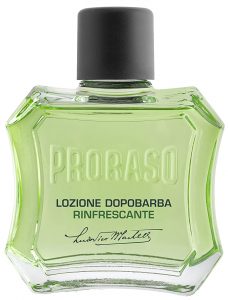 Don't let the empty bottle fool you! Proraso's Refreshing and Toning Aftershave is a creamy white lotion.
As expected from a formula concocted for sensitive skin, it's no surprise its top ingredients lean towards a softer and improved appearance of the skin.
The product contains sweet almond oil and oat kernel extract, which also prevent inflammation or razor burns.
To balance up the ratio, Proraso Sensitive Skin contains properties that fight bacteria against nicks and cuts.
Finally, its minty scent won't give you up from ten blocks or even ten feet away. It stays.
Pros
Highly moisturizing aftershave 

Soothing and lasting fragrance won't interfere with your cologne

Treats and prevents razor burn and irritation
Cons
Unofficial changes in the formula.

Relatively expensive
Takeaway
If you do not shave all the time and you need to soften and evenly tone your skin, then you can never go wrong with this product.
---
4.

Brickell Men's Instant Relief

- Best for Oily Skin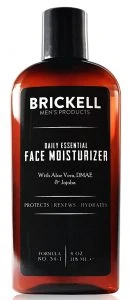 Brickell Men's Instant Relief Aftershave is one of the best products on the market with its lineup of natural ingredients.
It's a satisfying aftershave for black men with arguably any skin type. Instant Relief immediately calms your face after shaving without making you want to scream like common aftershaves.
The Brickells' Men's Instant Relief also contains a few natural emulsifiers to keep your face hydrated and feeling fresh.
More importantly, plant-based ingredients like peppermint leaf oil, lavender, and sugar cane help repair and prevent skin inflammation and infections.
The only thing is, with so many fine ingredients, you'd think it also smells nice, but it doesn't.
Pros
Keeps the skin oil-free.

It does not clog pores or cause breakouts

It contains mainly organic ingredients 

It's a vegan, gluten and cruelty-free product
Cons
Pricy

Has a plastic container, which is cheaply for its price
Takeaway
If you'd stop at nothing to get the best aftershave for your special skin, your moment of relief could come with Brickell's Instant Relief.
---
5.

Clubman Pinaud

- Old School Barbershop Aftershave
The Clubman Pinaud is all things you shouldn't look for in an aftershave. Its key ingredients contain alcohol, so I won't recommend it if you have any aftershave issues.
However, combined with other skincare ingredients, its SD alcohol, and benzyl alcohol stave off burns, rashes, and ingrown hairs.
It will also give you that instant tingle if it's something you cherish.
Classic old-school men swear by it. Besides, it leaves you cool and refreshed. Also, the manly scent of the Clubman Pinaud is a turn-on for most.
All in all, the Clubman Piraud is a relatively affordable six-ounce bottle of aftershave. But I'll recommend using it alongside a moisturizer.
Pros
It works superbly against infections.

Strong manly scents of citrus and vanilla. 

It prevents skin irritation.
Cons
Strong smell

Contains alcohol
Takeaway
Suppose you have no issues with an alcohol aftershave and detest the flowery smell of most in vogue. In that case, Clubman Piraud is a masculine alternative you'd enjoy. Use it with a moisturizer if you're in doubt.
---
6.

Lather and Wood Sandalwood Balm

- Deluxe Choice
The guys at Lather and Wood Shaving Co. aren't joking when they claim it will "be the best aftershave you've ever used."
This aftershave balm is a premium-level product and only appreciated by those who know what they seek. At 2-ounce per bottle, it's more expensive than aftershaves that are thrice as large.
But it's in a league of its own. First off, this sandalwood aftershave uses a simple but rare spray cap for convenient application. Just be sure not to get in your eyes!
Mainly, it's a non-drying formula with natural oils like coconut and jojoba oils that won't sting when applying.
Also, organic ingredients like aloe leaf juice, glycerin, and white willow bark work well against irritation and inflammation.
It's safe to say that with Lather and Wood Sandalwood aftershave, razor burns, ingrown hair, and shave-related irritations got nothing on you.
Overall, if you're aware of its many benefits, you know you get what you're paying for.
Pros
Calms skin without aftershave burn

Deals with bumps, nicks, and burns

60-day money-back guarantee

Convenient spray cap
Cons
Heads up, it doesn't smell like your typical sandalwood product

Expensive for such a small bottle
Takeaway
If you want a long-lasting product, this product is just perfect. It makes the skin smooth and healthy and also clears burns.
---
7.

Bump Patrol Maximum Strength

 - Best For Razor Bumps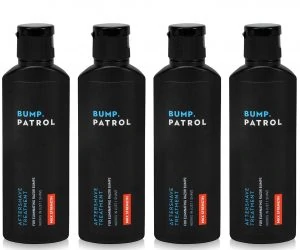 If you are one of the many bros with a stubborn or extreme case of razor bumps, you might want to stop here. With Bump Patrol, you could see improvements as soon as 48 hours.
For Bump Patrol Maximum Strength to work its wonders on harsh bumps, it contains two alcoholic ingredients.
Regardless, they mix well with some of the best ingredients for tackling irritations, such as witch hazel, chamomile, and willow bark extract.
It doesn't have a strong odor for all its potency. But it does give off a minty, somewhat medicinal scent for a few minutes.
All in all, Bump Patrol Max works effectively and is a good bargain. A pack of four is about a hundred percent cheaper when you compare it with the cost of one.
Pros
It gets rid of burns, bumps, and irritation rapidly

Great for all skin types

Suitable for both male and female use
Cons
Not ideal if you're allergic to aspirin

Few cases of damaged packages

Alcohol-based
Takeaway
If you've tried all else and can't get rid of your razor bumps, you might find your holy grail in Bump Patrol Maximum Strength aftershave.
---
8.

Jack Black Cooling Gel

- Best Fragrance-Free Aftershave
Jack Black Post Shave Cooling Gel has an instant calming and fresh effect of the best aftershaves.
Unlike any other aftershave for black men in this review, it's in gel form and has no fragrance - well, to a large extent.
The Jack Black aftershave also works remarkably for razor burns and skin irritations while also giving a moisturizing effect. And it contains no trace of alcohol.
The gripe with this formula is that it's no match for razor bumps. Also, it's a lot to pay for, compared to other aloe-based aftershaves. , without this, it's not so much.
Pros
Instant cooling effect

Deals with razor burns 

Great for delicate skin

It softens and moisturizes the skin
Cons
Not for razor bumps

Comparably expensive aftershave
Takeaway
Jack Black Post Shave is a top-of-the-line, no-alcohol, fragrance-free, soothing aftershave gel.
---
Why Do You Need An Aftershave?
It's easy to feel overwhelmed and give in to pressure to use an aftershave without needing one. If you're in that boat, here's a reminder of why you need one. 
Aftershaves Fight Off Bacteria After Shaves
After you shave, it's almost likely your skin would get tiny nicks that can easily be infected.
Fortunately, all aftershaves contain antibacterial ingredients that help prevent infections.
If you're familiar with the sting you get after the barber "treats" your hair, that's an aftershave at work.
However, that tingly feeling is a telling sign you have an alcohol-based aftershave, which can dehydrate your skin or scalp over time.
On the other hand, natural-based aftershaves have both moisturizing and anti-bacterial qualities. 
Soothes Razor Burns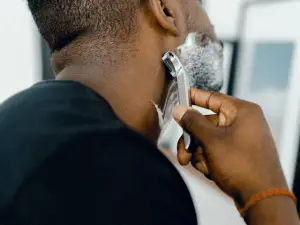 Aftershaves close the pores on your skin, which in turn reduce razor burns and bumps. 
Reduces Ingrown Hair
Since you have curly black hair, you're prone to have ingrown hairs - a situation where your hair curls and grows back into the skin, causing inflammation.
More than half of African American men suffer razor bumps as a result of this even after using the best razor for black men.
While improving your shaving technique is a must, aftershaves reduce the effects of ingrown hairs. This means less itching and swelling. 
Good Skincare
Besides using aftershaves for treatment after shaving, you can use them as part of your skincare routine.
Aftershaves with ingredients like aloe vera, witch hazel, shea butter, or glycerin moisturize and treat skin conditions like acne.
In this video, Dr. Simi teaches how to stop ingrown hairs and razors bumps from shaving:
How To Choose An Aftershave
1. Not All Alcohol-Based Aftershaves Dry Your Skin
If you like the strong scent and sting of alcohol-based aftershaves, go for one with SD-alcohol instead. Most products with this type of alcohol usually combine well with moisturizers and astringents in the formula.
And you'd still enjoy irritation-free skin.
However, you should stay away from products with ethyl and isopropyl alcohol. 
2. It Doesn't Have To Say "Aftershave"
Typically, most facial moisturizers could double as an aftershave. Consequently, if you're recommended a product that's not labeled "aftershave," take your time to look at its ingredients. 
3. Avoid Artificial Fragrances
This should ring loudly in your ears if you have sensitive skin in particular. Aftershaves (and shaving cream) with artificial fragrances can trigger allergies or irritation. If you're in doubt, check the ingredient label before purchase.
Aftershaves with any of these ingredients are a green light:
For A Natural Scent
Green tea 

Cedarwood 

Anise

Oatmeal

Lavender oil (and relaxation)

Eucalyptus oil (and increased blood flow)
Moisturizing Ingredients
Shea butter

Aloe vera 

Glycerin

Vitamin E
Astringents And Soothing Effect 
Witch hazel

Willow bark

Chamomile
FAQs About the Best Aftershave for Black Men
What Aftershave Do Black Barbers Use?
Clubman Pinaud has been the go-to aftershave black barbers use for decades. Its strong masculine smell would leave you smelling like a barbershop. 
What Is The Best Aftershave? 
The best aftershave for black men is the Bee Bald Heal Post Shave Balm. It deals with all shaving-related irritation, and ingrown hairs, and soothes razor burns without "burning." If it's not the best for you, then you are covered by a 60-day money-back guarantee.
Conclusion
Will you be fine without an aftershave? For sure. But you won't be here if you didn't need one either.
The best aftershaves for black men not only treat cuts and burns but moisturize your skin after shaving.
If you have trouble picking one from the many we've listed, our top pick, Bee Bald Heal Post Shave Balm, is not only effective for both scalp and face but highly affordable.