Growing a beard is sometimes a bittersweet experience because of the time and care needed to see it lengthen from a stubble look to a full beard.
Oh, and the itchy stage is the worst.
But later…
Once it grows into a full beard, you'll forget the process and ask how to straighten black beard hair so you can flaunt your mane.
We went pre-shopping for you, did some research, and found seven beard straighteners you should prioritize. The Xikezan Beard Straightener is one of them, as the best beard straightener for black men.
Product
Details

1. Xikezan Beard Straightener

Best Grooming Kit

Fast,Safe Heating
Anti-Scald Bristles
Extra Long Bristles
Dry, Thick, Coarse Hair
Easy To Carry

Check Current Price

2. Grow Alpha Beard Straightener

30-Sec Heat Up

With Oil & Balm
3 Heat Settings
Suitable For Full Beard
Long Bristles

Check Current Price

3. Raffin Beard Straightener

Faster Grooming

15-Sec Heat Up
Non-Slip Handle
110-240 V Power
30 Min. Auto Shut Off

Check Current Price

4. Arkam Deluxe

Great For All Beard Types

Single Stroke Tech

Ceramic Plates
Free Comb
Long Lasting Results
May Overheat

Check Current Price

5. Dolirox Beard Straightener

360° Rotating Cord

Up To 410°F Heat
Anti-Scald Design
3 Heat Settings
Beard Balm Included

Check Current Price

6. Aberlite Pocket Straightener

Any Hair/Beard Type

5 Heat Settings
Lightweight
Anti-Static Feature
Any Length
On The Pricey Side

Check Current Price

7. Cayzor Beard Straightener For Men

Straightener/Styler

Heat Resistant Coat
Ergonomic Design
LCD Display
5 Heat Settings
Ceramic

Check Current Price
Best African American Beard Straightener - 7 Top Picks
1. Xikezan Beard Straightener - Best Overall
The first question on your mind is why it ranks at the top of our list, so we'll tell you why.
African American men have hair prone to dryness, so they need a straightener suited to that situation. Well, the Xikezan Beard Straightener suits you if you have dry, frizzy, coarse, or thick hair.
On top of that, it's a grooming package that'll give you a beard straightener, beard balm, beard oil, and a comb.
What's in the oil, you ask? You'll treat your beard with moisturizing ingredients like argan oil, grapeseed oil, sweet almond oil, and jojoba. So, goodbye to an itchy, dry, brittle mane.
Additionally, you'll massage it with vitamin E to protect the beard and the skin from UV rays.
It's one of a kind, heating up to 428°F in 2 minutes and distributing the heat evenly with each stroke.
Its bristles are durable, and they have an anti-scald design to protect your fingers as you work. Also, it'll not get too hot to be unsafe for you or damage your beard.
Pros
Fast, safe heating and heat distribution

Anti-scald bristles

Extra-long bristles

Beard kit inclusive of beard oil and balm

For dry, thick, and coarse hair
Cons
Has an unpleasant smell when heating
Takeaway
The Xikezan Beard Straightener is small enough to carry with you wherever you go. Plus, it suits dry, thick, and coarse hair, a problem for most African American men. It's a grooming kit inclusive of a beard oil infused with essential oils to prevent dandruff and sun damage.
---
2. Grow Alpha Beard Straightener - Best 3-Piece Set
We felt that since there's more to beard grooming than just straightening it, why not give you two choices of straightener kits? Therefore, here's a second grooming package inclusive of an oil and balm.
First, let's look at the straightener in this kit. The Grow Alpha Beard Straightener heats up in 30 seconds, distributing the heat such that the long bristles can reach the root of your beard hair.
It has low, medium, and hot temperature settings. Why? It targets all members of the beard gang, from those with thin hair to thick manes.
The oil and balm contain organic, unscented ingredients, a combination suited to sensitive skin.
Pros
Fast heat distribution

Three temperature settings

Inclusive of beard oil and balm

Fast heating
Cons
May suit a full beard more
Takeaway
The Grow Alpha is affordable, and it tames a wild beard within a few minutes as it has fast heat distribution. You have three temperature settings, and you'll also have beard oil to moisturize your hair and balm to style it.
---
3. Raffin Beard Straightener - Best Portable Design
The Raffin Beard Straightener gives you the freedom to straighten your beard anywhere as it's in a travel-friendly size. It heats up in about 15 seconds, which lets you straighten your beard in about two minutes.
You also have several temperature modes, between 150° and 410° F, to suit different styling needs.
When you discontinue use for about 30 minutes, it shuts down automatically; therefore, it's safe.
On the same note, it's also safe on your beard for its even heat distribution that prevents heat damage.
Pros
Non-slip handle

Even heat distribution

Affordable

Portable size

Universal 110V - 240V power

Heats up in 15 seconds

Faster beard grooming

Auto shut off in 30 minutes
Cons
The high setting is too hot.
Takeaway
The Raffin's extra-long cord makes styling easy as you can maneuver your beard as much as possible. It heats up in about 15 seconds, and you have several temperature modes to suit a short or long beard.
---
4. Arkam Deluxe - Best For All Beard Types
Arkam Deluxe introduces something we haven't come across in this black men's beard straightener review, the single stroke technology. What does this mean?
Well, it wants you to halve the time taken to groom your beard, such that you make a single stroke, thanks to its heat gauge.
Also, the straightener's design contributes to this single stroke efficiency through its durable ceramic plates.
You'll also get a comb to groom your beard the rest of the day.
Pros
Easy to use

Single stroke technology to save time

Durable ceramic plates

Additional brush in the package

It gives long-lasting results
Cons
Takeaway
Arkam Deluxe lets you spend the least time grooming your beard with its single-stroke technology, plus its bristles and ceramic plates engineered to give you long-lasting results. Also, you get a comb to maintain your beard during the day.
---
5. Dolirox Beard Straightener - Best For Coarse Hair
We had to have it on our list of the best African American beard straighteners, for it caters to brothers with coarse hair. On top of that, you'll also get a beard balm to help you style your mane by trapping moisture to soften it.
The Dolirox Beard Straightener has three temperature modes to give you maximum control over the grooming process.
Additionally, it distributes heat evenly to prevent uneven results.
You'll also notice that it heats up fast, to about 410° F, in a minute. It's corded, but it's not cumbersome as it's a 360° rotating cord that you can move around as much as necessary.
Pros
Anti-scald design

Portable

A 360° rotating electric cord

Meant for coarse hair

Beard balm inclusive

It heats up fast

Three temperature modes

Budget-friendly
Cons
Too big to use on a short beard
Takeaway
Dolirox has three temperature modes to suit coarse hair. It heats up well in a minute, and it also comes with a beard balm to soften your beard.
---
6. Aberlite Pocket Straightener - Best For Head & Beard Hair
If you're looking for a combo for your beard and your head hair, the Aberlite Pocket Beard & Hair Straightener works on both. You can use it on any hair type, an excellent feature for the American American community because we all know how versatile our curls and coils are.
Also, it doesn't matter whether your beard is short, medium, or long, as you can use this appliance at any length.
Also, it's a lightweight straightener, the best feature for our full-bearded brothers who may take longer to groom it all.
Its lightweight design also makes it portable. It'll take you about two minutes to glide this straightener over your beard as it has an anti-static feature.
Further, the Aberlite Pocket heats up fast, and you have five heat settings at your disposal.
Pros
Lightweight

Suitable for head and beard hair

You can use it on all hair types

Five heat settings

It heats up fast
Cons
It's pricier than other models.
Takeaway
The Aberlite Pocket Beard & Hair Straightener heats up fast, and it gives you five heat settings. It's lightweight, so you can use it for long, even though you only need about two minutes to soften that beard.
---
7. Cayzor Beard Straightener For Men - Best Budget Option
We've just mentioned a beard straightener that also works for your hair, and we're onto another 2-in-1. This time around, you're getting a straightener and styler.
Another benefit to highlight is that it works on curly, wavy, or even a thin beard over 2 inches long. What's your beard type? Plus, its comb has narrower teeth to ensure it brushes thoroughly.
The Cayzor Beard Straightener For Men is durable as it's ceramic, and it also has a heat-resistant silicone coat. As you set it to any of the five temperature settings, it shows your pick on the LCD.
The handle is worth noting as it's an ergonomic design with a sunken power button. Stylish, right? On top of that, it's affordable, so you can also gift it to your friends and family.
Pros
Durable, its ceramic

Suitable for a variety of beard types

Ergonomic handle with a sunken power button

Five temperature settings

Automatic shutdown

It heats up fast

LCD temperature display

Affordable
Cons
For a beard that's over 2 inches long
Takeaway
Cayzor has an LCD temperature display, and it's also safe as it shuts off automatically after 30 minutes. It straightens wavy, curly, and even thin beard hair.
---
Popular Questions About Beard Straighteners
How Can A Black Man Straighten His Beard?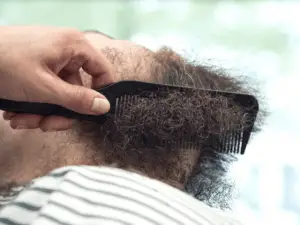 There are several answers to how to straighten black beard hair. Let's look at a few of them.
Brushing
Well, you do this every day so that the moisturizing ingredients in your beard oil and beard products reach the root and the skin. Brushing also removes food particles that may have fallen into your beard.
But...
Does brushing straighten a thick mane fully? That's when you go to plan B, below...
Using a Chemical Relaxer
Its results are permanent, but you have to repeat the process in about three months. Some of the issues you may deal with afterward are dandruff, frizz, thinning, split ends, and hair loss. Why? You'll be treating your hair with chemicals all this while.
Besides, you'll visit your beard stylist often for this professional treatment.
Therefore, instead of such an arduous process, use:
A Beard Straightening Brush
You can straighten your beard any time for the duration you want. Plus, beard straighteners have temperature settings to control the heat level; hence, you don't have to make your curly hair straight.
It's also safe for your hair follicles and skin as the anti-scald feature prevents the bristles from getting too hot, and the brush barely reaches your skin. If you have an afro or other hairstyle that needs straightening, some beard straighteners can do both.
Lastly, it's fast, so you complete the process in less than five minutes.
Watch this guide on how to use a beard straightening brush:
Which Beard Straightener Is Best?
The Xikezan Beard Straightener meets the expectations of African American men. We'll discuss these features in our conclusion below.
Are Beard Straighteners Bad For Your Beard?
No, when you use a beard straightener at a lower temperature setting -- and only when necessary -- you'll not damage your hair. Use it as part of beard care for black men and grooming routine without forgetting to moisturize your beard often to prevent breakage and dryness.
The Verdict
The Xikezan Beard Straightener suits our hair type as it straightens coarse and thick hair, and it has several temperature settings. It comes in a beard kit inclusive of beard oil and balm. This beard straightener isn't expensive.
But if you want to spend even less, the Cayzor Beard Straightener For Men is budget-friendly. It's also for our hair type, but you should have a beard that's over 2 inches long. What's most striking about it is the appealing design with sunken buttons and an LCD temperature display.