A man can do anything to avoid the mess that comes with trimming a beard at home.
Do you agree?
At times, I let the stubble turn into a full beard to trim it as close as possible and avoid getting a trim for another few weeks.
But that trick doesn't work for men whose beard grows full every few days. If you're one of them, you need a vacuum trimmer.
I've rounded up the top designs to make it easier for you to pick the best vacuum beard trimmer, such as the Remington VPG6530 that we'll talk about shortly.
Vacuum Beard Trimmer Reviews: 6 Top Picks
1. Remington VPG6530 - Best Overall
Since we're talking about vacuum trimmers, the Remington VPG6530 scooped our best overall title for its commendable vacuum power. It promises two times the vacuum power of other models you'll read about in this review.
It has a dual gear that runs the blades and the vacuum at high speed to give you a mess-free trim. On top of that, you can detach the vacuum to pour out hair and rinse it. The blades give you a clean, smooth shave as they are self-sharpening; therefore, you'll not pull your skin.
You can try as many creative beard styles as possible, for it comes with 13 length settings.
You get nine adjustable and four fixed guards. Its cordless run time is an hour, so how much work can you do in that time? You'll complete everything and still have a few minutes left to use it again before recharging.
The Remington VPG6530 is an award-winning trimmer that won the 1994 Red Dot Award for its design.
This trimmer comes with a full-size trimmer, a nose & ear trimmer, a foil shaver, and a detail trimmer. That's a complete package to take care of all your facial hair and at an affordable price.
Pros
Easy to clean the removable vacuum

High power suction

Easy to use the four fixed lengths

Adjustable length settings

An hour's cordless power

Inclusive of other facial hair trimmers 
Cons
Less control over length settings
Takeaway
The Remington VPG6530 sucks up much of the hair as it has double the suction power of the other vacuum trimmers. Its build is excellent, plus it has good battery life. It's not too loud either.
---
2. Remington Hc6550 - Best Extra Large Vacuum
The Remington Hc6550 Cordless Haircut Kit is for complete beard and hair trimming as it's inclusive of scissors, guard combs, and blade oil.
More so, it gives you an hour's run time when you're traveling or using it away from a direct power source. You can also use it corded, another feature that makes it one of the best beard trimmers with a vacuum.
Unlike other models, this one has an extra-large vacuum to eliminate the mess that comes with shaving.
It's a good option if you have a beard that grows fast before your next trim.
The Remington Hc6550 Cordless trimmer is easy to clean as it comes with a brush to clear away trimmed hair before you rinse the blades. Once it's dry, you can store it in the provided pouch. Who doesn't want such an organized way of storing away grooming tools?
Pros
Affordable

Storage pouch inclusive

For corded or cordless use

Easy to clean

Cordless power for an hour

Large vacuum space

A kit inclusive of accessories like combs and scissors
Cons
Charges for four hours

Blades aren't self-sharpening
Takeaway
The Remington Hc6550 Cordless Haircut Kit is the best vacuum beard trimmer for its complete trimming package. You can use it corded or cordless, offering an hour's run time when used without direct power. It's also affordable, easy to clean, and has a large vacuum to collect hair.
---
3. Remington MB6850 - Best Budget Option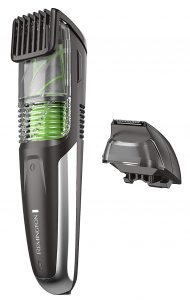 Here's another Remington model, proof that you can get several excellent choices from this brand. The Remington MB6850 Vacuum Stubble and Beard Trimmer is the most affordable model in this review, so it's what you should pick when you're on a tight budget.
It's a precision trimmer, one that you can trim even your neckline and add all the detail you'd like on your cheek line.
It's easy to maintain as you can remove the blades and wash them. You get 11 length settings with guard combs ranging from 2 to 18mm to vary your beard length as your style dictates.
The Remington MB6850 gives you 90 minutes of run time, within which you can do a lot to style your beard.
Pros
For corded and cordless use

90 minutes run time

11 adjustable length settings

Charging indicator

Easy to clean vacuum as it pops out
Cons
The guard comb bends easily; you can shave too close.

It's loud
Takeaway
The MB6850 Trimmer has corded and cordless power for ease of use. It runs for about 90 minutes when cordless, enough time to trim even a long beard. Its vacuum detaches easily; you'll have no difficulty cleaning it.
---
4. Wahl 9870-100 Trimmer Kit - Best Trimmer Kit
Onto another trimmer kit if you'd like to handle all your facial hair at once. With the Wahl 9870-100 Trimmer Kit, you'll capture almost all of the trimmed hair in its vacuum to enjoy a more hygienic shave.
Further, the blades are detachable for easier cleaning. This kit contains a beard trimmer, a nose or ear attachment, and guard combs.
These combs give you diverse trimming lengths, from stubble to longer beard lengths.
On top of that, Wahl is a famous brand with countless grooming products; therefore, exceptional engineering.
This kit has a cordless design, another reason to get it if you're always on the move. It charges for about 90 minutes to give you a run time of the same duration.
Pros
Over an hour's run time

Fast charging time

Worldwide voltage

12 guard combs

Beard kit with a nose/ear trimmer

It's cordless 

Powerful suction
Cons
It's portable but bulky

Spills hair when the vacuum fills up

It's not waterproof
Takeaway
The Wahl 9870-100 has an effective suction to collect almost all shaved hair. It's a lightweight cordless design with 12 guard combs, and it offers over an hour's run time. Additionally, it's a kit, so you get a nose trimmer too.
---
5. Philips Norelco Series 7200 - Best For Adjustable Length
The Philips Norelco Series 7200 is a high-quality trimmer that sucks up to 90% of the beard you've trimmed. The blades are self-sharpening to prevent a dull shave that can irritate your skin.
It has 20 length settings between 0.5mm and 10mm that you can set using a zoom wheel for a clean trim. On top of that, the Philips Norelco Series 7200 is an excellent travel accessory as it gives about 80 minutes of cordless run time when you charge it for an hour.
Its stainless steel blades make it durable; therefore, it's an investment that'll serve you for a long time.
The Norelco 7200 is more expensive than other trimmers we've looked at, but its high price gives you double sharpened blades plus a foil shaver; therefore, it's value for money.
Our review talks about the silver design, but the black one is cheaper if you'd like to save some money.
Pros
Stainless steel blades

Adjustable length settings

Powerful suction

Self-sharpening blades

Durable blades
Cons
It's expensive

Some parts aren't durable
Takeaway
The Philips Norelco Series 7200 has self-sharpening blades, adjustable length settings, and a powerful motor. These three factors will give you a clean shave that suits your beard style. Plus, it's a vacuum trimmer, so no more messy countertops.
---
6. Philips Norelco Series 7300 - Best For Turbo Power

If you're not sure of the Philips Norelco model above, here's another option to compare.
One of the differences between the Philips Norelco Series 7300 vacuum beard trimmer and the one above is in the number of adjustable length settings, as this one comes with 18.
Therefore, you can vary your trimming length from 1 to 18mm, a perfect range for you to try different beard styles.
It has a turbo power boost button that increases your trimming and fan speed for a more accurate shave.
Additionally, the Philips Norelco Vacuum Beard Trimmer Series 7300 has a display screen to alert you about battery status and your trimming length. It's a portable trimmer, giving you 75 minutes of run time to groom your beard.
As with other models from this brand, it has a high price.
Pros
Fast charging time, charges for an hour

Adjustable length settings

Washable

Digital display
Cons
Takeaway
The Trimmer has 18 adjustable length settings and a display to show you the length you've selected. This display also shows the battery status, and you can use the turbo power boost button to increase the trimming or fan speed.
---
Now you have six potential trimmers that'll leave you with a clean countertop after every shave.
To help you compare them further:
What Makes Vacuum Beard Trimmers Different?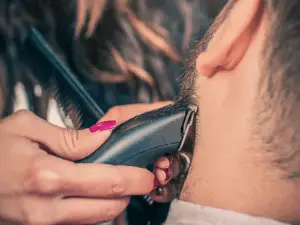 For starters, they eliminate the mess. Unlike electric shavers, this trimmer has a vacuum that sucks all trimmed hair as you glide it over your beard. Thus, you don't have to clean up a messy bathroom sink after your morning grooming routine like you do when using a trimmer for long beards.
Ease Of Use
The vacuum compartment shouldn't give you a hard time. You should be able to remove the hair and fix the vacuum back within minutes.
Plus, go for a trimmer that's easy to maintain. Some require blade oiling after every shave, and there are others with stainless steel blades that you can wash with running water.
It should also be easy for you to fix the guard combs and adjust the trimming length. Hence, a vacuum trimmer with a display screen lets you keep a tab of your adjustments for different beard styles for black men.
Quality Motors
High-powered motors have good shaving speed. Since this trimmer has one motor for the shaving process and another to suck up trimmed hair, both motors should be efficient.
If it doesn't have speed, you may pull and irritate your skin, and the vacuum won't have the power to suck all trimmed hair.
Therefore, watch out for these few features when shopping.
Frequently Asked Questions About Vacuum Trimmers
How Do You Maintain A Vacuum Beard Trimmer?
Since it's a vacuum trimmer, the first step after disconnecting it from a power source is to empty the vacuum. Pour out all the trimmed hair, and brush off any hair stuck on your blades or trimmer.
Next...
Remove the comb and the blades. 

Clean the compartment you had attached the blades with a piece of dry cotton fabric or a brush. If you have stainless steel blades, you can rinse them under running water. If not, use the blade oil provided. 

Let them dry before fixing them back on the trimmer and run it for a few seconds to lubricate the motor.

Rinse the vacuum and guard combs under running water. The guard combs are plastic, so it's safe to rinse them in water.
Watch this video on how to simply clean your beard trimmer:
What Is The Best Vacuum Trimmer Recommended?
The best vacuum beard trimmers are the Remington VPG6530 and the Remington MB6850 Vacuum Stubble and Beard Trimmer. 
Verdict
We crowned the Remington VPG6530 best overall because it stands out for aesthetic value and functionality. Its powerful motor gives speed to the blades and vacuum for a close cut and a clean process. Plus, it has an award-winning design.
Though Remington trimmers are all affordable, you can halve the cost of your vacuum trimmer by getting a Remington MB6850 Vacuum Stubble and Beard Trimmer.
It's not a shabby design even though it's budget-friendly as it has 11 length settings and a 90-minute cordless run time. What's more, you can use it powered on or cordless.