Shaping up the hairline has got to be the most complex part of getting a haircut.
However...
The best shape-up clippers make it one level easier.
Shape-up clippers are easier to handle than regular ones. And they have a unique blade that allows you to put extra detail even in difficult angles like the back of your ear.
But even better, shape-up trimmers guarantee you'd line sharper edges without leaving marks or burns on your hairline.
So we compiled a list of some of the best hair clippers for shape-ups — a six-clipper list to be precise.
Our top pick from the pool was the Andis T-Outliner. It's a string trimmer with a T-blade and adjustment system suited for detail work and carving hair.
Review of The 6 Best Shape Up Clippers 
1.

Andis T-Outliner

- Top Pick
The Andis T-Outliner beard trimmer is a hot cake among professionals and DIY barbers like us. It's not hard to see why.
This is the best shape-up trimmer that has a contoured ergonomic housing fitted with a carbon steel T-blade. It handles so well it fits like a brush.
The T-blade design trims the face and hairline easily. Also, it works perfectly in tricky positions like lining up the back of the ear and neckline with ease.
What makes the T-Outliner so unique is that it can also be zero gapped for pinpoint accuracy despite having a T-blade.
However, this clipper heats up, but only under heavy use or while cutting down a full hair. So I'd advise you to slide in a ceramic cutter for this and other shape-up clippers if it'd be an issue.
The T-Outliner is also convenient for a corded clipper. Its eight-foot-long cable covers a reasonable length for you to shave comfortably from a wall socket or extension. And it also has a hanger loop for storage.
If a cabled model is too much work for you, Andis also has a cordless version of the clipper. Except it costs more than double its price. Well, it's up to you at the end of the day. 
Pros
Best value for your money

Easy to handle

T-blade design reaches difficult spots easily

Blades can be zero gapped

Extra-long power cable with hanger loop
Cons
Not suitable for heavy cutting 

Gets hot

Super-expensive cordless model
Takeaway
If you're looking for the best shape-up trimmer, the Andis T-Outliner more than lives up to this name. It's also an excellent clipper for fading and dry shaving haircuts.
---
2.

Wahl Peanut Clipper

- Most Handy Shape Up Trimmer
If there's a contest for the "handiest clippers," Wahl Peanut would be the undisputed champion.
Don't let its miniature size deceive you. Its powerful rotary motor not only adjusts speeds but is just as powerful as a regular clipper.
Why else would you get four attachment combs in the Peanut package?
The combs are 1 / 8", 1 / 4", 3 / 8", and 1 / 2" cutting guides. You also get a clipper blade oil, cleaning brush, and red blade guard.
The classic Peanut trimmer is only a little larger than the average palm. So it requires artistic handling that lets you shape with improved accuracy and technique. With its size, you won't even need a T-blade for the perfect shape up.
Wahl Professional Peanut has a practical seven-foot-long cord. But you can opt for its AA battery-powered version for only a few bucks extra. Do take note, there might be a drop in motor power.
Despite the prowess of the Wahl Peanut for shape-ups, it's hard to shake off the fact that it's recommended for shaving dogs too 🙂
Pros
Adjustable speed for cutting down hair and trimming

Lightweight 

Only the size of a palm

Complete trimming and maintenance accessories
Cons
Can be flimsy in larger hands

Requires extra maintenance
Takeaway
Wahl peanut is a compact adjustable speed clipper, perfect for lining up and grooming beards.
---
3.

Philips Norelco MG7750

 

- Clipper with Full-Body Kit
The Philips Norelco MG7750 is a popular all-in-one trimmer for all body parts and not just shape-ups.
What makes it one of the best clippers for shape-ups is the streamlined design of its housing. The spindly stainless steel frame handles pretty well.
The main selling point of the Series 7000, though, is its twenty-three (23) attachment heads.
Aside from over a dozen guide combs for trimming head and facial hair to precise lengths, you can work with 5 different blades.
Specifically, it has a regular steel clipper blade, foil shaver, nose, and ear trimmer, and more importantly, a dedicated blade for shape-ups. It's not as big as you'd expect, but it works.
The Norelco MG7750 is an overall convenient clipper. Its battery lasts up to five hours on a single charge and can also be used while charging. You can also rinse the blades under running water after each session. 
Pros
Self-sharpening blades

Popular choice

Affordable

5-hour battery life

Abundant attachment kit for full-body grooming

Separate blades for shape ups
Cons
May not be as powerful as a regular clipper
Takeaway
The Philips Norelco MG7750 is the perfect clipper for doing a little bit of everything. You can edge your hairline, trim your hair, or do full-body grooming.
---
4.

Oster Fast Feed

 - Most Powerful Shape-Up Clipper
Compared to any other clipper on this list, the Oster Fast Feed could be twice as powerful. Even so, its pivot motor engine achieves this with a "Whisper Quiet" operation.
With increased power, the Fast Feed is excellent for cutting down hair of any volume and definitely for carving and detail work. It works on both dry and wet hair!
But I should mention that while it's quiet, its vibration could make one's hand numb after extended use.
Other than that, it's a lightweight clipper that's easy to hold and use. It has four guide comb attachments, and I'm particularly addicted to the one for blending. Also, the Fast Feed has a generous eight feet long cord.
Overall, it's a superb clipper with a quiet operation but gets hot after heavy use. For a fix, switch out the blade with a ceramic one, and get an even quieter operation!
Pros
Good back for your back

Quiet running (relatively)

Lightweight 

Trimming and maintenance kit

Cuts wet and dry hair 
Cons
Not suitable for beard grooming

Gets hot under heavy use
Takeaway
If you want a high-performance clipper that's also great with shape-ups, look into the Oster Fast Feed.
---
5.

Wahl Elite Pro Clipper

- Affordable Pivot Motor Trimmer
Wahl is not just a notable brand, but a functional one too. So this won't be the last of their model you'd find our shape-up clippers review.
The Wahl Elite Pro clipper is similar to the Oster Fast Feed in a way but also different in many ways. Clearly, they are both pivot motors, so you can tell it's a powerful yet quiet clipper.
Also, you can adjust the blades to a zero-gap when you want to shape up using its taper lever.
Unlike the portable best shape-up trimmers in this review, the Elite Pro is sizable. It would handle remarkably well if you have large hands.
Also, it has many accessories, including ten boldly-numbered guide combs, a drawstring pouch for the combs, blade oil, cleaning brush, a cape, scissors, cord wrap, and styling comb. In fact, you also get a durable poly briefcase for storage.
Even better, if you're using the Wahl Pro for home haircuts only, you are privileged to a limited lifetime warranty. 
Pros
Noise-free

Self-sharpening steel blades

Boatload of accessories

Solid grip for larger hands

Limited lifetime warranty for non-professional users
Cons
Can be too big for people in smaller hands
Takeaway
The Wahl Elite Pro is a mid-budget clipper with virtually all the accessories you need for barbering. I'll strongly recommend it to a first-time clipper shopper.
---
6.

Wahl 5-Star Edger

- Best Clipper for Shape-Ups Only
The 5-Star Edger is the last shape-up clipper from Wahl in this review, but right up there among the best shape-up clippers.
The 5-Star razor has a slim, pencil-like design that seems tailored for a hairstylist. The clipper is about six inches long - longer than the T-Outliner - but combined with its narrow width, it makes an easy-to-handle clipper.
This 5-star razor uses a fitting T-blade, which caps off its prowess as a shape-up clipper. Also, it comes with three guards for smooth blending.
But it's not your best option if you want to cut down thick hair or get a close shave.
The accessories you'd find in the 5-Star package include 3 blade attachments, a blade guard, and cleaning oil and brush. Plus, its cord is eight-foot-long, so shortness won't be a bother.
Many say it's heavy, but weighing only half a pound, I beg to differ. Even if you were a barber edging a dozen heads a day, the clipper wouldn't weigh you down.
Pros
Perfect frame and design for shape ups

Classic retro look

Balanced weight 

Complete shaving and cleaning accessories
Cons
Not suitable for close shaves

Gets hot but only when under heavy use (cutting down)
Takeaway
If you're looking for a cheaper, perhaps more handy alternative to Andis T-Outliner, the 5-Star Razor has got you covered.
---
How to Shop for the Best Shape Up Trimmer
Motor
The motor is the engine of the clipper. It determines how fast the clipper cuts and how noisy it is at work.
Clearly, no one wants to outline their hairline with a noisy and shaky clipper. At the same time, you want a motor that wouldn't blow up after a few months.
For longevity, a magnetic motor is most preferable. However, a pivot motor is the best for dedicated shape-up clippers. It's twice sharper than a magnetic motor and runs slower.
Slower is good here because the clipper won't heat up fast as you take time to carve a work of art out of your hair. 
Blade Material
Stainless steel blades are the most affordable, popular, and longer-lasting shape-up clipper blades, without a doubt. But they heat up fast, especially if the clipper motor is slow.
On the other hand, ceramic blades stay cool and sharp for longer, cut smoother, and are even cheaper (but you'd have to buy the blades separately). But they are not as durable as steel or titanium blades - one drop and blade might break. 
Blade Style
If you are a perfectionist who spends a lot of time on edges, then you want to have a dedicated T-blade trimmer. The sleek design of these clippers works superbly for trimming the back of the ear, where it's hard with regular clippers.
What's more, these hair trimmers usually have a zero (straight) gap to make edging easy, even for beginners. It allows you to line up hair with a clean and sharp outline without going over it multiple times. 
Handling 
While shopping, be certain the clipper is a portable one you can handle while edging. There's no point in having a shape-up clipper that's just as big as a regular one.
Fortunately, most of the models in our review fit the hand like a glove. Some are so small they are only recommended for pros, but I believe they only need some getting used to.
Corded or Cordless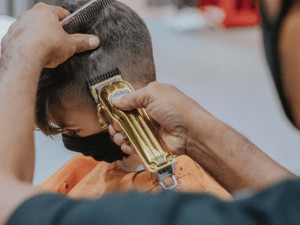 As with shopping for regular hair clippers, you have to decide either to go corded or cordless.
Generally, corded clippers are inexpensive, but you have to deal with a wire cable getting in the way. On the other hand, quality cordless clippers can cost more than double the price of the same wired model.
The choice is yours. It's either you pay for convenience and deal with charging or cut costs with a corded shape-up clipper. 
Price 
What's your budget?
Setting aside how much you'd spend before you shopping makes things easier. Like with most products, you tend to get what you pay for. But you don't have to break the bank either.
It costs anywhere from $35 to $60 for a decent shape-up clipper, but up to $150 for top-of-the-line models (mostly cordless). Whatever your budget is, stick to it. 
Accessories
Unless you've got a limitless budget, you'll also be cutting down hair or shaving facial hair with a shape-up clipper.
But if you already have a main clipper, you sure can have one just for shape-ups.
That said, you don't want to spend more money or time finding the accessories for your clipper. If this strikes you, consider a shape-up clipper with at least guide combs, cleaning oil, and a cleaning brush.
Watch this pro barber teaching how to give a lineup. Do you recognize the shape-up clipper he's using?
FAQs on The Best Clippers for Shape-Ups
What do Barbers Use for Shape-ups?
Most barbers use a hair trimmer or edger to carve smooth and sharp shape-ups. However, quite a number of stylists are at odds regarding clipper vs trimmer use. Your equipment of choice should be based on what you're comfortable with and skilled at using. You also need to consider if you'll need a separate set of clippers for fades. 
How Frequently Should I Change my Shape-up Clipper Blades?
Ideally, you should change your clipper blades once every six months under normal use. But if you're a professional or your shape-up clipper sees a lot of use, sharpening clipper blades regularly and changing the blades quarterly should keep it fully functional. 
What's the Best Material for Shape-up Clipper Blades?
The best material for shape-up clipper blades is stainless steel. They are long-lasting and even longer when they are self-sharpening. Nonetheless, they run too hot on some clippers. Make use of a ceramic cutter in between the blades or swap them out with ceramic blades in this case.
Takeaway
Finding the best shape-up clipper isn't rocket science. Hopefully, it's now even as simple as ABC with the clipper models we've listed.
It's now up to you to find a unit that meets your demands and for an affordable price. 
If you're still in doubt, you can go for our favorite shape-up clipper, Andis T-Outliner. It's a first-class shape-up clipper that's also okay for cutting hair and doesn't break the bank.
A portable and compact alternative is the Wahl Peanut Clipper. The Peanut clipper handles so well it almost feels like you're writing out details on your hair.