Trimming a beard requires skill, patience, and the right appliance.
Wouldn't you agree?
If the blade cuts too deep, it can move you from a full beard to mutton chops in seconds. If it's too blunt, it'll be one of the most painful beard trimming sessions.
So, we've combed through reviews to find the best beard trimmer for a black man to make the trimming process enjoyable.
After looking at the features of the top trimmers, we ranked the Wahl Groomsman Trimmer as the best overall.
Why?
Read on.
8 Best Trimmers For Black Facial Hair Reviewed
1. Wahl Groomsman Trimmer - Best Overall
The Wahl Groomsman Trimmer won our hearts for many reasons. First, it's affordable, so getting your beard trimmed at home isn't going to wreck your budget.
Further, once you get it, your search for a hair or nose trimmer is over as this kit contains such devices too.
This trimming kit has 13 trimming lengths suitable for different beard styles.
Instead of one stubble guard like other models, you'll get 4 to personalize your style as much as possible.
On top of that, this trimmer has stainless steel blades to serve you for years without rusting. It gives you an hour's runtime within which you can trim a full beard and clean up your mustache.
Since we are talking about the best beard trimmer for black men, note that this one suits all hair types as the blades are self-sharpening.
Pros
Four stubble guards to vary your length as you like

Affordable trimmer

Trimming kit inclusive of a nose trimmer

Corded/cordless use

60 minutes runtime
Cons
Takeaway
Wahl is known for its trimmers; therefore, you're getting a trimming kit with exceptional engineering. It's affordable, plus it comes with 13 guards for different beard styles, including a stubble look.
---
2. Philips Norelco Trimmer & Shaver - Best For Wet & Dry Shaving
The Philips Norelco Trimmer & Shaver cut any length since you can use it to groom your face and body hair. Thus, even if you're rocking a full beard, you'll love using a blade with a speed of 200 times per second.
Plus, it's for both dry and wet shaving; therefore, you can use it even in the shower.
You can use this cordless trimmer anywhere, making it a good travel accessory.
Further, the dual-sided blade makes trimming above your lip so easy you'll wonder how you were doing it in the past.
What's more, the trimmer's blades follow the contour of your face intelligently to cut as close as possible.
Pros
Easy to use

Lightweight design

Dual-sided blade

Full-body hair shaving and trimming

Excellent shaving performance

Suitable for both dry and wet shaving
Cons
You'll charge it for four hours.
Takeaway
The dual-sided blade of the Philips Norelco Trimmer & Shaver lets you shave your mustache better as you can trim above the upper lip. Also, it serves both wet and dry shaving.
---
3. Philips Norelco Multigroom - Best Budget Option
Here's another model from Philips with a lower price than the one above. It's also a multipurpose trimmer to trim your beard plus nose hair. Its self-sharpening blades will take the least energy as they stay sharp until you trim your beard all around.
To attain the length your beard style dictates, it comes with three trimming guards plus a stubble guard.
You also get a cleaning brush plus a pouch to carry the whole trimming set when you travel.
Pros
Budget-friendly

Steel blades for easy maintenance

Inclusive of nose and hair trimmers

Water-resistant blades, easy to clean

A specific guard for a stubble look

One-hour runtime

Lightweight
Cons
Takeaway
This Philips Norelco Multigroom model is affordable, so goodbye to using scissors on your beard. Its self-sharpening blades make the process simple. What's more, it has a stubble guard for the popular stubble look.
---
4. Remington Haircut & Beard Trimmer - Best Compact Size
It fits in your hand to give you control over how close you can get to the skin. Also, a compact size trimmer fits in your overnight bag.
This Remington trimmer is a self-grooming kit meaning it cuts your hair and your beard.
Plus, it's a cordless appliance that gives you a 40-minutes runtime to groom your beard anywhere, anytime.
However, if you run out of power, you can plug it in and continue. The curved, wide blade gives you maximum coverage; you'll complete the process within minutes.
It's also waterproof, which makes cleaning it so easy because you can submerge it in water. This trimmer has nine guide combs to vary the length of each chop until you attain the beard length you had in mind.
Pros
An extra-wide blade, 57% wider than others

Washable trimmer

Compact size

Nine guide combs

Hair clipper/beard trimmer

40 minutes runtime

Corded/cordless functionality
Cons
The battery isn't long-lasting.
Takeaway
This Remington trimmer takes care of both your hair and your beard. Additionally, you'll trim a large section at once as this blade is extra wide.
---
5. Remington PG6025 - Best Lightweight Design
If you didn't quite like the compact size Remington trimmer above, here's another model from the same brand. It's a full-size trimmer, but it weighs one pound only; hence, you can cut those intricate beard styles without straining your wrist.
It's a close shave kit, perfect if you're looking for a smooth beard shave.
However, if you wish to have some facial hair, it has stubble combs.
Pros
Lightweight

Adjustable length combs

Textured body for a firm grip

Affordable

Washable attachments

Self-sharpening blades

65 minutes runtime
Cons
Unexplained battery failure 
Takeaway
With a runtime of 65 minutes, you can style your beard in so many ways. If you're only looking for a stubble look, there's a separate guard that styles your beard like that.
---
6. Andis Slimline Trimmer - Best Slim Design
Its sleek, lightweight design gives you a modern trimmer that you wouldn't mind using in front of your peers. The battery runs for two hours, and you'll only charge it for a little over two hours.
This Andis trimmer has speed, giving you about 7,200 strokes per minute; thus, it'll take you a short time to complete the trim.
Another feature worth mentioning is the quality of the T-cutting blade.
It lets you outline your beard with precision because you can zero-gap it to lower the teeth gaps.
This slim trimmer fits in your hand easily for you to twist and turn it as much as needed. Lastly, it has a universal plug for easy charging when you travel anywhere worldwide.
Pros
Zero-gap setting

Quality T-blade

Fast and powerful trimmer

Two hours runtime

Charges fast
Cons
Takeaway
It's always rewarding to get value for money, and this Andis trimmer gives you a 2-hour runtime to cut or style your beard. Further, for a clean shave, you can zero-gap its blade.
---
7. Hatteker Cordless Trimmer - Best Cordless Runtime
It suits all beard lengths from goatee to stubble because it has a set of guide combs between 3 and 24mm. Its lithium battery cuts your hair for about 2.5 hours before it runs out.
Additionally, the Hatteker Cordless Trimmer charges within 2 hours only, and you'll see the charging state through its LCD.
It's time to say goodbye to those painful episodes where a trimmer pulls your beard as these blades are self-sharpening to stay sharp longer.
Last but not least, you're getting a waterproof trimmer; thus, it's easier to rinse, and it's more hygienic.
Pros
Waterproof, easy to clean

Cordless for use anywhere, anytime

LCD to show you the battery capacity

Close cutting feature

Guide combs to vary the trimming length
Cons
Full-size trimmer, not a compact size
Takeaway
The Hatteker Trimmer suits a black man as it cuts even coarse hair, such as 4C hair type. Furthermore, the guide combs will help you cut your beard to a length that suits your beard style.
---
8. Andis Professional T-Outliner - Best T-Blade Clippers
The Andis Professional T-Outliner is a complete package that lets you trim, outline, and fade your beard. With a close-cutting T-blade, you'll fade your hair as much as possible without causing nasty bumps or irritating your skin.
These carbon steel blades are durable and long-lasting. Additionally, you also get blade oil to help you maintain them.
This trimmer has an 8-foot cord for you to move closer to a window for natural light or stand in front of your bathroom mirror.
Lastly, its contoured housing makes it non-slip to trim your beard steadily without mismatched lengths.
Pros
Hang loop for easy storage

An 8-foot heavy-duty cord

Non-slip contoured housing

Quality, durable blades
Cons
High price

The clipper's body heats up
Takeaway
This beard trimmer from Andis may be more expensive than other designs, but it has long-lasting carbon steel blades, and it can fade and close-cut your beard.
---
With so many top brands in the market, how can you tell the best features apart?
Here are:
Tips For The Best Beard Trimmer For Black Hair
As we mentioned in the introduction, skill is necessary when trimming your beard. You'll become more skillful with every trimming session. To make each session productive, you need a good trimmer. Here's how to tell trimmers apart.
Easy Maintenance
The maintenance cost adds to the overall cost of the trimmer. For that reason, get a blade you can wash in water. I'm talking about waterproof trimmers like the compact size Remington trimmer in the section above.
After using it, hold it under running water, brush off any strands in it, and it's clean. Also, some trimming kits are inclusive of blade oil, such as the Andis Professional T-Outliner.
Wet Or Dry Trimming?
If you trim your beard in the shower, your blade should be suited to that environment. For instance, the Philips Norelco Trimmer & Shaver fits wet and dry shaving.
Multipurpose Trimmer
Some trimmers, such as the Remington trimmer, take care of the beard and head hair. Others, like the Wahl Groomsman Trimmer, have a separate clipper for ear and nose hair. 
Corded Or Cordless?
A cordless trimmer suits you if you travel often. It could also be the best option for wet shaving so you can groom your beard in the shower without a cord spiraling across the bathroom. But, it's more efficient to get one with both a corded and cordless connection in case you run out of battery power while styling your beard.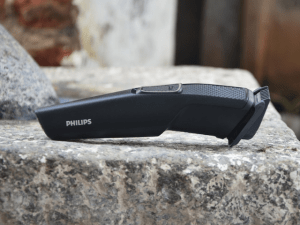 Also, look for:
Extra Features
In our review above, we have self-trimming kits with extras like stubble guards. Such features aren't a priority when choosing a trimmer; however, they enhance the shaving process because they guide you. Other extra features are an LCD charging display and a hang loop for corded trimmers. Best vacuum beard trimmers are also helpful for an easy clean process. 
Quality Blades
If you get ones made of steel, they'll last longer as they won't rust. Also, get a trimmer with self-sharpening blades as dull blades make the process tedious and painful.
Before we conclude, here are:
FAQs About The Best Clippers For Black Facial Hair
Which Beard Trimmer Is Best For Black Men?
The Wahl Groomsman is the best beard trimmer for black men because it comes with 13 attachments, four of them being stubble guards. Since black men love styling a beard in so many ways, these attachments vary the length according to the trim you want. 
How Do You Cut Facial Hair With Clippers?
Here's a simple process that'll take you about 20 minutes after you've washed and dried your beard.
Brush your beard against the direction it grows to define its length, and straighten tangles.

Trim the whole beard to align its length all-round. For this, use a guard with the longest setting for better control over the hair length you trim. 

Cut against the hair growth, leaving more length on the sides and shorter hair on the chin. The chin area starts from one edge of your mouth to the other. 

Trim the mustache to about the length of the hair on your cheeks.

Change to a shorter blade if you'd like to trim the beard a bit more.

Brush the mustache down towards your upper lip to see its length. 

Remove the guard and trim the hair that's over your upper lip.

Define the neckline; trim all hair under your Adam's apple. Therefore, mark the upper tip of your Adam's apple, then shave vertically and outward from the bottom of the beard to that mark. As you make these vertical strokes, curve toward your ears.

Trim the cheek line aligning it in a straight line from your ear hole to the lower edge of your mustache.

Clean up the neckline and cheek line by tapering with a closed guard.

Massage your beard with oil to keep it moistened. This is an essential part of black man beard grooming and their beard care.
Get the best look with the best trimming length guide here:
Are Beard Trimmers Effective For African American Beard Hair?
Yes, they are. Trimmers are easy to use, and they have guide combs to achieve the length of your beard style. Additionally, they cut all hair types, and you can use a small or full-size trimmer depending on your beard's length. The best trimmers for long beards are also available in the market for more options.
The Verdict
You'll have a worthwhile trimming experience with the Wahl Groomsman Trimmer. It has 13 trimming lengths to suit various beard styles black men love.
On top of that, it comes with durable stainless steel blades. You can use it corded or cordless; it affords you an hour's runtime when cordless.
Though the Wahl Trimmer is affordable, you can reduce the cost further by getting the budget-friendly Philips Norelco Multigroom Trimmer. Like the Wahl model, it has a nose trimmer and stubble guards.