A simple high fade, an eyebrow-raising mohawk fade, a bald fade…
Which one now?
Which of these is your favorite fade hairstyle?
Luckily, you can get as wild as you want when you have hair clippers at home. If you're wondering whether barbers use the same clippers as you would at home, they do.
Hence…
We looked at all the hair clippers in the market and reviewed the top ones to give you a manageable number. On our list, we ranked the Skey Hair Clipper as the best clippers for fades.
See its features below, and you'll agree with us.
7 Best Hair Clippers For Fades
1. Skey Hair Clipper - Best Overall
Styling your hair shouldn't be a dull experience because Skey has a complete professional kit.
Why get one?
It has essentials for the process, such as a pair of scissors to trim the upper section of your hair and a comb to guide you as you mark where the fade starts. It comes with eight guide combs for different fade lengths.
Once you've trimmed, blended, and loved your fade, you clean and store away your kit in a storage bag that doubles up as your travel bag.
The Skey hair clipper is waterproof like the Remington hair clipper we'll discuss later, so you can wash it or use it in the shower. Nonetheless, don't submerge it in water for a long time.
It's an affordably priced kit; hence, you have no other reason not to get one.
Finally, you need to know how much power you have left whenever you're using a cordless hair clipper. Wouldn't you agree? For that reason, this clipper has an LED display. However, you'll probably not look at it as this clipper runs for three hours. That's one of the most extended runtimes in this review.
Pros
Easy to clean and it's waterproof

The battery lasts for three hours

Smart LED display

Eight guide combs

Rustproof adjustable blades

Two rotating speeds

Recharge alerts

Low operating noise
Cons
Cordless, you have to charge it before you travel.
Takeaway
This Skey hair clipper suits different fade hairstyles as it has eight guide combs. On top of that, it has a three-hour runtime, and it gives you a recharge alert when its battery is low. Alternatively, you can check the battery level on its LED display.
---
2. Wahl Elite Pro - Best Professional Hair Clipper
If there's a feature you cannot ignore in the Wahl Elite Pro, it's the self-sharpening blades. These blades promise to cut your hair 40% faster than other models because they stay sharp longer.
On top of that, its motor has 15% more power for a smooth glide as it cuts your hair.
The guide combs also stay in place throughout to help you trim according to your preferred fade hairstyle.
The downside of this advanced hair clipper is its weight. However, you'll cut and trim before your hand tires since it works faster than other models.
Pros
Powerful motor for neat trimming

Adjustable blades

Lubricating blade oil

Self-sharpening blades

Sturdy design

Corded, so you don't have to rush the trimming process.
Cons
Heavier than other models
Takeaway
What makes this Wahl Elite Pro hair clipper better than other models is that it works without snagging, and the blades sharpen as you go.
---
3. Remington Self-Haircut Kit - Best Compact Size
Fades are all about cutting your hair close to the scalp. Some men prefer a tapered look instead of a skin fade. Such versatile styles are only possible when your hair clipper has various lengths.
The Remington Self-Haircut Kit meets that need with nine length-adjusting combs numbered from 1.5 mm to 12mm. It's also inclusive of a cleaning brush to make the whole process professional.
Plus, you can cut your hair even on vacation as it's cordless.
Want to know how long its lithium power lasts? You have 40 minutes, which is enough to cut or fade your hair in your hotel room or camping tent. If it runs out of cordless power, don't worry. Just plug it as it's also corded.
It's so tiny that it fits in your palm, no wonder we ranked it as the best compact-sized hair clipper. Compared to the Wahl Color Pro Cordless Rechargeable below, Remington is half its size.
Lastly, it's washable, so add easy maintenance to the features you'll love about this clipper.
Pros
Removable blades for easy cleaning

Washable port

Stainless steel blades for durability

Cordless hair clipper for mobility
Cons
Works for 40 minutes only when cordless
Takeaway
This compact size hair clipper will have you wearing different fade hairstyles because it's easy to operate and it has nine-length adjusting combs for better control over how close to bald you can cut your hair.
---
4. Wahl Color Pro Cordless Clipper - Best Budget Option
Even before we focus on how cheap the Wahl Color Pro Cordless Clipper Rechargeable is, I'd like to point out that its color-coded guide combs make the hair trimming process intriguing.
Now, let's go back to its price.
We're talking about getting a professional quality hair clipper at almost half the price of other models in the market.
Wouldn't you love that?
What's more, it has an hour-long cordless runtime, unlike the Remington model above that serves you for 40 minutes. Plus, you can connect it to 220v or dual voltage; consequently, you can use it even outside the US.
The downside is you can't submerge it in water. However, you can detach the blades, rinse and dry them.
Pros
Worldwide voltage to use on any electric port

Lightweight for easy handling

Color-coded combs matched with the color key on the clipper
Cons
Takeaway
Getting your first DIY fade will cause mixed emotions when you don't know the best blades to use. Thus, the color-coded guide combs of this Wahl Hair Clipper show you the length to cut in inches or millimeters.
---
5. BestBomg - Best Design Option
What's not to love about the BestBomg Clipper? It has elaborate, unique graffiti that makes it look personalized. Its powerful motor handles all hair types, and you have adjustable trimming lengths for a tapered hairstyle.
Even when you have to cut your hair early in the morning, you won't wake up your household or neighbors.
It's a low noise appliance at 65 DB only, which is about the same sound level as the hushed conversations in a restaurant.
Its cordless runtime is four hours, the longest time among all the models in this review.
Lastly, you can use it with or without a cord. Therefore, it's an accessory to carry with you when you travel. 
Pros
Powerful motor

Long runtime of four hours

Low noise, suitable for cutting a baby's hair

Unique graffiti design

Adjustable taper lever
Cons
Takeaway
No more snagging because this hair clipper has self-sharpening blades and a heavy-duty motor. It'll serve you for up to four hours before recharge. Additionally, its graffiti design makes it unique.
---
6. Hatteker Hair Clipper - Best Multipurpose Kit
The Hatteker Hair Clipper is one of the affordable clippers in our review, and it's a multipurpose kit. In addition to a hair and beard trimmer, you also get a body groomer and a trimmer for nose and ear hair.
All your hair issues sorted, right?
Moreover, its hair trimmer is extra wide to cover a significant portion at once.
You'll also take 90 minutes only to charge the battery, unlike other models that take four to five hours.
Pros
A multipurpose kit

Extra-wide hair trimmer

Short charging time

Affordable price

Non-corrosive blades

Washable body and attachments
Cons
Four hair trimmer guide combs between 3mm and 12mm only.
Takeaway
With a Hatteker Grooming Kit, you not only get a fade haircut but also trim your beard, armpits, and nose hair. It's a complete package, and it's affordable.
---
7. Surker Men's Clipper - Best Lightweight Hair Clipper
It may take some time to blend your fades if it's your first few times cutting hair at home. For that reason, a hair clipper that's lightweight, such as this adjustable-blade model from Surker, is perfect.
You can change guide combs as it comes with six of them in sizes ranging from 1.5mm to 13mm.
Additionally, it has a three-hour battery, enough time to get the fade you've been admiring on social media.
Pros
Long battery life

Sharp, uniform length cut

Suitable for thick hair

Lightweight, 12.35 ounces only
Cons
Takeaway
When it's your first time styling a fade hairstyle, you must be patient and cautious. For precision, a lightweight hair clipper is an excellent choice.
---
Which of these best clippers for fades did you like? Well, if you haven't made a decision yet, I'll help you differentiate the seven hair clippers above.
How To Choose The Best Fade Clippers
From the many features we discussed in the review above, here are the ones that tell you you're getting a good hair clipper.
The Runtime
For cordless hair clippers, if you can get at least an hour's runtime, you'll have enough time to fade the back of your head. If you're already a seasoned DIY person, 40 minutes is sufficient for a full fade haircut.
Guide Combs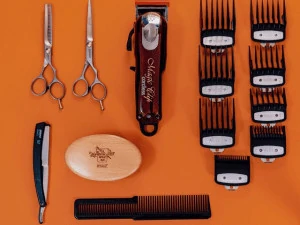 Also called guards, they guide the blade so that the cut or trim conforms to your preferred length. For shorter hair, you need a lower hair length. That being so, a hair clipper with at least four guide combs, from 1.5mm to 12mm, gives you a variety of hair lengths.
A good fade would use a 2mm or 3mm guide comb as this would give you a tapered look that isn't too close to the scalp. Some hair clippers show the lengths of guide combs in inches instead of millimeters.
Looking at the hair clippers in our review, the Wahl Color Pro Cordless Rechargeable has an elaborate color key on the clipper that corresponds to the color-coded guide combs.
Also:
Maintenance
Easy maintenance hair clippers have durable materials like stainless steel so that they don't rust. Additionally, a waterproof clipper is easier to maintain because you can wash it fast under running water.
From the seven clippers in our review, I can highlight waterproof ones like Hatteker, Remington, and Skey.
Choose:
Cordless And Corded Power For Flexibility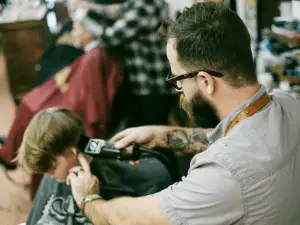 Best cordless clippers help you cut your hair when you travel, and corded clippers help you when you can't charge your battery. Therefore, get a clipper with both. Remember any such clippers in our review? I know you haven't forgotten the graffiti-patterned BestBomg.
Have you cut your hair before, or you'll start once you get a clipper?
Here's to you...
A Simple High-Fade DIY
When using hair clippers instead of a pair of scissors, your DIY will have a professional feel, not like you used sheep shears. While at it, you can style your haircut into a taper or fade. Today, let's focus on a high-fade.
First, set up mirrors so you can see the back of your head to make the DIY process easier. Alternatively, have someone assist you in cutting hair at the back.
Then you follow these steps:
Step 1
Dampen your hair so that it's easier to cut.
Step 2
Using a comb, trace a rectangle from your crown to the hairline. On the sides of your head, the rectangle should correspond to the outer tip of your eyebrows. You won't cut the hair in this section. The trace line is your fade line.
Step 3
Choose the guide comb size for the fade. Start with a longer length and cut your hair evenly at the back and on the sides. That way, you can see whether to go shorter or remain with the tapered look.
Work against the growth of hair. Thus, you'll work from the nape going up in vertical strokes towards the fade line on the sectioned area. 
Step 4
Switch to a shorter guide comb with a smaller millimeter size to fade your hair. Clean up the fade by working on small sections at a time. Pull the top of your earlobes down to fade the area above the ears. 
Step 5
Trim your hair vertically at the fade line, but with a bit of sideways motion. Flicker the clipper so that only the lower part of the blade touches the hair as the rest cuts higher. It'll make the fade line look natural.
Step 6
Insert a dark or light comb (the color should contrast your hair color) into the sectioned hair above the fade line, at a 45-degree angle.
Comb toward the top of your head. Run the clipper over the comb to cut about an inch of the hair above the comb's teeth.
Go around the fade line, maintaining the same angle and cutting distance. You can trim the top of the high-fade or keep the length as it is.
Step 7
Remove the guide combs and trim the nape or the sideburns if necessary.
That's it. Do you have a mental picture of that DIY process now? 😉  If you want a demonstration to follow, watch this video:
Let's conclude this review with:
Popular Questions About The Best Fading Clippers
Can I Do A Fade With Any Clipper?
Yes, as long as you can vary the length as you cut from the nape toward the top of your head because a fade has two hair lengths. The length at the back and the sides of your head depends on the fade hairstyle you want.  For example, some have hair faded thin near the ears and longer around the crown. Other hairstyles have an even fade from the crown to the nape and above the ears.
What Clippers Do Barbers Use For Fades?
They use clippers with a variety of guards or guide combs depending on the fade a client wants. Check the seven hair clippers we've discussed above for ideas.
What Size Clippers Do You Use For A Fade?
You can use clippers with guards between 2mm and 3mm for a tapered look. Guards with a lower length (i.e. 1.5mm) will give you almost a skin fade.
How Do I Clean My Corded Taper Clipper?
First, unplug your clipper and remove guide combs or other attachments. 

Brush the blades to remove hair.

Oil the clipper blades and the adjuster lever if your clipper has one. Clipper blade sharpening is also important every once in a while.
Now you know the best barber clippers to maintain a fade, you have the basic steps for a DIY fade, and you know how to clean your corded clipper.
Final Thoughts
The Skey Hair Clipper is our frontrunner for the best hair clippers for fades title. We're talking about three hours runtime, a professional kit that includes a pair of scissors, an LED display to alert you when it's time to recharge it, and eight guide combs.
But, if the price of hair clippers makes you shy away from getting one, the Wahl Color Pro Cordless Hair Clipper is the ultimate budget option. With its color-coded guide combs, your DIY fades just get better. Plus, it gives you an hour's runtime to fade your hair when you travel.