If you love your hair short and manageable, you have to visit your barber every other week, more so if your hair grows fast.
Or...
When your schedule is tight, you either forgot the morning hair trim or get hair clippers. Yes, there are so many designs in the market, either corded or cordless.
With a cordless trimmer, there's no need to unplug other accessories in your bathroom. Plus, it's travel-friendly.
So, let's look at the best cordless hair clippers, starting with Surker Men's Hair Clippers as the best overall.
Reviews Of 9 Best Cordless Clippers
1. Surker Men's Hair Clippers - Best Overall
We know the first question you have is why the Surker Men's Hair Clippers ranked as the best cordless hair trimmer. We also wanted to list this trimmer as the best haircut kit because it deserves both titles, but we can only give a product one title at a time.
It's the best wireless hair clippers for DIY hair trimming as you get a kit inclusive of a trimmer, eight color-coded guide combs with a trimming length between 1.5mm and 19mm, a protection cap, a cleaning brush, and a hairdressing cape.
Plus, the clipper features a length adjustment lever on the side to vary your trimming length.
Most importantly, you'll not spend a year's savings to get one.
This Surker Clippers cuts professionally, thanks to its heavy-duty motor. As you glide it through your hair, it flashes on the LCD when the battery reaches less than 10%. Lastly, you get an excellent five-hour run time after only charging it for about three hours.
Pros
Suitable for dry/wet use

Five hours run time

Self-sharpening blades

It's a kit inclusive of a hairdressing cape

Guard combs with a good length range - from 0.5mm to 19mm

Washable blades
Cons
The lever may loosen after regular use.
Takeaway
The Surker Men's Hair Clippers have a sharp, precise cut of uniform length without knicks and pulling. Its battery serves you for up to five hours, which can last you several trimming rounds when traveling. Plus, you can remove the blades and wash them, so it's easy to maintain them.
---
2. Wahl Color Pro 9649 - Best For The Family
Wahl is famous for its unique designs and affordable prices. That's why we have several of this brand's rechargeable hair clippers in this review.
We're talking about trimming your hair at home, but how will you know what length to cut? It'll be a nightmare without guide combs.
The Wahl Color Pro Cordless Hair Clipper & Trimmer 9649 has color-coded guards; therefore, you'll not confuse them and cut your hair too close.
For every guard, there is a corresponding color key on the hair trimmer.
It's easy to clean this trimmer as the blades are detachable. Further, it gives you an hour's run time to trim your hair before a recharge. That run time isn't as long as other portable clippers in this review, but you can manage to work on any hairstyle within an hour.
Pros
Two clipper color options- white and blue

Suitable for your head and beard

Corded/cordless

Detachable blades for easy cleaning
Cons
An hour's run time only

It's not waterproof
Takeaway
The Wahl 9649 is different from other models as it has color-coded combs and a color key on the trimmer. Hence, it's easy for you to pick the appropriate trimming length. It's affordable, and you get an hour's run time.
---
3. Wahl Cordless Combo Kit - Best For Quick Charge
What do you do when you need a quick haircut and no time to charge your clippers for up to five hours? At such times, you're in luck when your clippers allow quick charge like the Wahl Lithium-Ion Cordless Combo Kit.
Within 10 minutes of charging, you can trim your hair. At full charge, these clippers serve you for about two hours. Its price is double the usual price range of affordable Wahl trimmers, but you'll enjoy different features like the one we've highlighted above.
This Cordless Combo Kit has a trimmer as a bonus add-on and ten guards to trim different hair lengths.
Another outstanding feature is the precision ability of the blades and their self-sharpening ability to prevent pulling.
Pros
Precision cutting

Self-sharpening blades

Quick charge feature

Two hours run time

Ten guard combs
Cons
The battery isn't long-lasting.
Takeaway
The Wahl Lithium-Ion Cordless Combo Kit's main feature is its quick charge option to serve you when you have no time for 3 to 5 hours of charging. It has self-sharpening, durable blades and ten guard combs for adjustable clipping lengths.
---
4. Audoc Professional Cordless Kit - Best Budget Option
We ranked the Audoc Professional Cordless Clippers Kit as the best cordless hair trimmer for its affordable price as it's the lowest in this review. Beyond looking at the price, you'll also consider it for your grooming needs for its self-sharpening blades.
We all know what can happen with blunt blades, from pulling your hair to razor bumps.
On top of that, it has precision cutting blades; therefore, you glide over your hair or beard once.
If you'd prefer a hair trim in the shower, you can take the Audoc Kit in as it's for dry and wet hair trimming. Once charged, it serves you for about four hours.
It has an elegant design; it comes in a silver color with a distinct.
You can use the kit for your beard because it comes with a taper lever and six guard combs. These guard combs have different lengths from 3 to 25mm to give you a variety of trims up to half an inch long.
Lastly, you can trim your boy's hair without a fuss as it's not loud.
Pros
Self-sharpening blades

Low noise

Durable stainless steel blades

Six guard combs

Adjustable taper lever

Precision cutting

Three hours run time

It's a hair trimming kit; you can groom your beard too.
Cons
Takeaway
The Audoc Professional Cordless Clippers Kit may be the right trimmer for use at home for it works on wet and dry hair, and you can trim your head or beard. Plus, it has self-sharpening blades; thus, no need for tedious sharpening work.
---
5. Andis 73000 Envy - Best Lightweight Option
Before we even talk about how lightweight the Andis 73000 Envy Cordless Clipper is, let's highlight that it has adjustable blades to vary your fades and tapers.
There is a lever on the side of the clipper to adjust the blade length as you trim.
It weighs only 9.9 ounces, a weight that you can hold for long as you need to trim the back of your head. Though the 73000 Envy works both corded and cordless, we're focussing on its cordless power in this review.
Hence, we can confirm you'll have about two hours of power. You'll use it several times before a recharge as its powerful motor cuts about 5,500 strokes per minute.
Last but not least, this portable clipper comes with 11 attachments.
Pros
Lightweight design

Adjustable blades for fades and tapers

11 guide combs

Two hours run time
Cons
Fewer cutting strokes per minute than other Andis models

Fragile guide combs
Takeaway
The Andis 73000 Envy is lightweight for easy maneuverability as you trim your faded or tapered hairstyle. Plus, it has a blade adjusting lever to vary your trimming length.
---
6. Hatteker Hair Cutting Kit - Best Waterproof Design
We've mentioned a few products that trim all facial hair. The Hatteker Hair Cutting Kit is a unique 3 in 1 kit containing a hair clipper, a detail trimmer, and a beard trimmer.
In addition to the trimmers, you also get six guide combs to vary your trimming length and a base to attach the clipper.
Unlike other designs in this review, this one will charge in 90 minutes and gives you up to two and a half hours of run time.
Its blades are durable, made of ceramic titanium. Further, they are self-sharpening; thus, they won't pull your skin. There's an LCD screen to display the charging status as you go about the trimming process.
Most importantly, the Hatteker Kit is a waterproof model to rinse in water without damaging the blades.
Pros
Waterproof

A 3 in 1 kit

Self-sharpening blades

A turnable blade

LCD charging display

Six guide combs

A cleaning brush

A charger with a USB port

Fast charging time

Two hours run time
Cons
Six guides only, limited clipping length
Takeaway
The kit has a waterproof trimmer that you can rinse in water. Its blade is self-sharpening, and you'll have sufficient power and speed from the motor. Further, you get a kit containing a beard trimmer and a detail trimmer for your mustache and sideburns.
---
7. Remington Hc6550 - Best Cordless Vacuum Trimmer
Instead of one benefit only - the cordless run time, the Remington Hc6550 also makes haircutting a tidy process as it's a vacuum hair clipper.
As you glide the clipper through your hair, another motor sucks the clippings into a vacuum.
Its blades, coated with titanium, will serve you for a long time. Plus, you can use the Hc6550 to trim thick hair without snagging or pulling. Its kit is complete for a DIY as it has barber scissors, blade oil, and guard combs. 
Pros
Inclusive of accessories like blade oil, scissors, and a travel pouch

Long-lasting titanium coated blades

An hour's run time

A large vacuum bin

Easy to rinse blades

11 guide comb
Cons
Only an hour's run time

Charges for four hours
Takeaway
A Remington Hc6550 hair clipper eliminates the messy grooming routine as it has a large, detachable vacuum bin. The battery lasts about an hour, within which the durable titanium-coated blades give you a neat trim.
---
8. Suprent Hair Clippers - Best Corded & Cordless Design
A cordless hair clipper is a necessity when traveling. However, it's even better when you have one that works when corded or cordless. We found these Suprent Hair Clippers for you as they use both power methods.
They have an ultra-speed motor that provides two hours of run time on a full charge.
This clipper's blades are durable, rigid, and self-sharpening, three features that'll let you use them for a long time.
Pros
Long battery life

Excellent clipper power

Sharp blades

LCD screen
Cons
Takeaway
After 3.5 hours of charging, your Suprent Hair Clippers will be ready to use for about two hours. They have self-sharpening blades to prevent skin irritation and six guide combs to vary the cutting length.
---
9. Amuliss Professional Hair Clippers - Best Creative Design
We had to have this one on the list for anyone who likes grooming accessories with unique designs. The Amuliss Professional Hair Clippers come in two colors - golden and silver.
We're talking about the golden-colored clipper in this review. It's affordable, with a battery run time of 3 hours to serve you for days if you trim your hair occasionally.
When it's time to charge it, you can connect it to any USB interface; thus, no need for a direct power socket.
It's compact for an excellent grip as you reach the back of your head, and it's also a low-noise accessory. It makes close-cutting possible using a T-blade. There's no trimming limit because you can create so many styles on your hair, from fine lines to contours.
These are the best cordless trimmers for barbers whether you want to trim your head, beard, or body hair.
What's more, you can rinse the blade in water.
Pros
Unique trimmer design

Easy to use

Washable blade

3 in 1 trimmer benefits

LCD screen displays charge level

Charges in two hours

Three hours run time

Ergonomic design

Lightweight

USB quick charge
Cons
Unsatisfactory battery life
Takeaway
The Amuliss Professional Hair Clippers cuts smoothly and closely without irritating your scalp as its powerful motor gives it speed. It trims facial or body hair for about three hours before you recharge it.
---
Which one stood out for you?
Haven't made a decision yet? Cool! Let's turn to the most common questions thrown about cordless clippers and trimmers now.
FAQs About The Best Cordless Clippers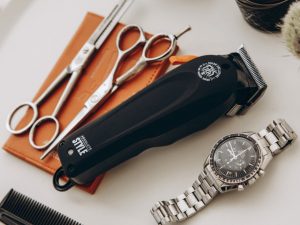 How Long Do Cordless Clippers Last?
Based on our review of the best cordless clippers, they last between an hour and three hours after a full charge. Therefore, you'll use them severally without recharging unless you're trimming both your hair and beard every round.
Plus, the number of times you trim your hair per week determines how long each full charge lasts.
Which Is Better -- Corded Or Cordless Hair Clippers?
Each type has advantages but the cordless design is the best option when traveling as you don't need a power outlet. On top of that, you can use it in any room in your home, not necessarily just in the bathroom like with best corded beard trimmers.
Cordless designs are also compact for easy storage in your traveling bag. An even better deal is getting hair clippers that work corded or cordless, like the Wahl Color Pro Cordless Hair Clipper & Trimmer 9649 we mentioned earlier.
Watch this video of Wahl and Andis clippers:
Are Cordless Clippers More Expensive Than Corded Ones?
No, since there are affordable cordless clippers -- even up to half the price of a corded design. The guiding factor is more of the brand and features and not the price. Even as you worry about the price, consider the maintenance accessories provided. When your clipper comes with a cleaning brush and blade oil, you have most cleaning products needed.
The Verdict
Surker Men's Hair Clippers are the best because you'll have a DIY kit with guide combs, a hairdressing cape, and a cleaning brush. With its self-sharpening washable blades, you'll have a smooth trimming session with a short clipper maintenance process afterward.
These clippers aren't expensive, but you can slash the price further by getting the budget-friendly Audoc Professional Cordless Clippers Kit.
They have three hours of run time, two hours lower than Surker Men's Hair Clippers above, but you'll still have self-sharpening, durable blades and a variety of guide combs. Plus, it's a low-noise hair clipper.