As your teen kid starts to hit puberty, they will grow those extra hairs on their face or body. So, you need to ensure teaching them the right way of getting rid of their unwanted hair.
But then...
Out of the many different products online, how do you choose the best shaver for a teenager who's practically a beginner?
Allow us to provide you with relevant information to help you make a confident choice. Here are some of our top-rated products, starting with the Braun Electric Razor Series 7 790cc as our best overall.
Product
Details

1. Braun Electric Razor Series 7 790cc

Unmatched Features

Sonic Technology
Built-In Activelift™
Pivoting Head
Ergonomic
3-In-1 Dock
Rubber Grip

Check Price On Amazon

2. Panasonic Arc 5 Electric Razor

Smooth Glide

14K CPM Motor
Sonic Cleaning Mode
30° Angle Foils
Ergonomic Design
Needs Shaving Cream

Check Price On Amazon

3. Remington F5-5800 Electric Razor

Simple Operation

Pivot & Flex
3-Blade Shaver
Corded/Cordless
Close Shave
Quite Loud

Check Price On Amazon

4. Andis 17150 Foil Shaver

Hypoallergenic

Titanium Foil Razor
Removes Stubbles
Corded/Cordless
80 Minute Run Time
Stationary Head

Check Price On Amazon

5. Philips Norelco Shaver S9000 Prestige

Nanotech Blades

Powerful
3 Rotary Heads
Wet And Dry Shave
Smart Sensor
Head May Come Off

Check Price On Amazon

6. Philips Norelco OneBlade

Avoids Irritation

Okay For Body Hair
Small Size/Large Handle
Fast Acting Blades
45 Minute Run Time
8 Hours To Charge

Check Price On Amazon
6 Of The Best Electric Razors For Teenager Reviews
1. Braun Electric Razor Series 7 790cc – Best Overall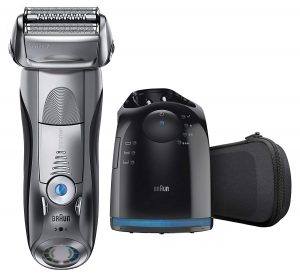 Braun Electric Razor Series 7 790cc topped our list as the best electric razor for teenager skin due to its innovative sonic technology.
The razor even has a built-in middle trimmer, more known as Braun's patented Activelift.
Its 10,000 micro-vibrations capture more stray and ingrown hairs with every stroke. Series 7 790cc has a unique foil shaver design and a flexible pivoting head, moving back and forth to conform to your facial contour.
Likewise, the package includes a cleaning brush for the shaver's head and a charging dock that cleans and dries the razor. Moreover, you can customize this waterproof electric razor to meet various hair and skin types.
Pros
ActiveLift trimmer cuts flat-lying and ingrown hair

Pivoting head adapts to neck and facial contour

Option to personalize usage according to various skin and hair types

Cleaning, drying and charging dock in one

Ergonomic design with a rubber grip at the back and on its sides
Cons
Noisy vibrations

The LCD screen is at the base of the shaver
Takeaway
The electric shaver's pivoting head maximizes its flexibility in terms of flexibility and ease of use. With an accurately clean shave and a convenient cleaning station, it's no wonder that it took the top spot as our best shaver for a teenager.
---
2. Panasonic Arc 5 Electric Razor – Best Value
If you think that you're saving a chunk of your hard-earned cash when you settle for cartridge razors, that's where you're wrong! Panasonic Arc5 Electric Razor can prove to you that using disposable razors could be more costly in the long run.
One of the reasons we find Panasonic Arc5 the best electric razor for teens is how it makes the new experience as pain-free as possible.
The truth is, it's not as gentle as the Arc 4 model. But all you need is a shaving cream to maximize the entire experience and achieve a clean shave.
The ES-LV65-S is the second generation of Panasonic Arc5 that doesn't come with a cleaning station. However, it has an impressive linear motor that runs at 14,000 CPM with five angled blades in ultra-thin foils.
Pros
Ergonomic design with chrome-plated construction

Stainless steel blades and a sonic cleaning mode

Generating 14,000 cuts per minute

30-degree angle foils glide smoothly with less control

Lightweight enough for extended periods of use
Cons
Bulky handle

Chrome plating is too reflective

Too large shaving head

Foil and blade replacements are expensive
Takeaway
Each of Panasonic Arc 5's blades comes with individual cutting elements, reducing time in completing a close shave. It's also waterproof; you can use it for both wet and dry shaving. The shaver also features a battery-level indicator and a built-in sensor for detecting beard density.
---
3. Remington F5-5800 Electric Razor – Best Budget-Friendly
Remington F5-5800 offers exceptional performance at a reasonable price. Many users find it the best electric shaver for a teenager boy or girl due to its simple operation. The shaver has oscillating razor blades behind a protective foil to prevent instances of sideburn or any irritation.
It's a three-blade electric shaver consisting of one slit blade and two flexible foils.
The foils are responsible for a close shave, while the trimmer takes charge of pre-cutting longer hairs. Best of all, it's not only an efficient beard trimmer, but you can also use it for grooming your pubic hair.
Pros
Flexible shaving head with pivot and flex innovation

Corded and cordless usage

Waterproof and easy to clean

Smooth, close shave with no difficulties

60-minute use on a full battery charge

Affordable than most brands
Cons
Foils require replacement frequently

Quite loud when in use
Takeaway
We find F5-5800 deserving of being the best electric razor for teenager skin due to its precision trimmer for dry and wet shaving. For an overall budget pick that's full-packed with unique features, what else can you possibly need? Not to mention, this safety razor is rechargeable.
---
4. Andis 17150 Foil Shaver – Best Safety Razor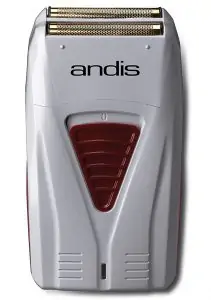 If you fear having a sideburn but desire to have a close shave, then you should give Andis 17150 Foil Shaver a try. It's the best electric shaver for teenage skin since it features two titanium foil razor heads with sharp blades underneath.
The foil acts as a skin guard, protecting your skin from a sideburn and a cut.
It even helps you avoid nasty razor bumps. The titanium material works best for tweens with acne-prone skin since it is hypoallergenic. You can even use it for shaving your beard, head, and neck.
Pros
80-minute run time

Perfect for finishing fades and removing stubble

Irritation free due to its hypoallergenic titanium foil

Cordless and corded options

Suitable for shaving the beard and entire face
Cons
Loud operation

Stationary shaving head
Takeaway
Even with its lightweight design, this great Andis clippers don't fail to deliver outstanding performance. Thanks to the hypoallergenic titanium foil shaver that minimizes the risk of skin irritation. You'll also love its reliable battery life, providing an 80-minute run time that's perfect when you're on the go.
---
5. Philips Norelco Shaver S9000 Prestige – Best Ergonomics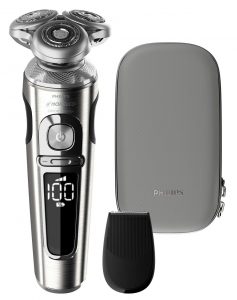 The S9000 Prestige from Philips Norelco is another excellent addition to their growing list of top-grade shavers. More and more consumers don't just call it the best razor for teens for nothing.
It would be best if you didn't let its lightweight design deceive you. Because, despite that, it's so powerful in providing the closest shave possible. This Philips Norelco shaver features three rotary heads that can move in eight different directions.
The nanotech blades are extra sharp, and the device even comes with a built-in sensor that adjusts to hair density accordingly.
It can flawlessly shave body hair even in hard-to-reach areas. This Philips Norelco electric shaver means serious business for a clean shave at home.
Pros
Suitable for dry and wet shaving

Lightweight and sturdy construction

150,000 cuts per minute

Smart sensor adapting to different hair density

Easy-to-use multi-direction contour technology
Cons
Shaving head comes off sometimes

Shaving head replacements are rare
Takeaway
This Philips Norelco model not only takes pride in its stunning elegant appearance. As you would expect from Norelco shavers, the S9000 will never disappoint with its precision blades and beard-adapting sensors.
---
6. Philips Norelco OneBlade – Best For Sensitive Skin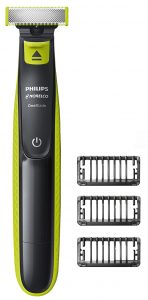 We all understand how entering the puberty stage can be awkward for our kids. But in dealing with those unwanted hair growths, we can help relieve them of any discomfort. Fortunately, it is what Philips Norelco OneBlade Hybrid Electric Trimmer And Shaver do best.
It's a comprehensive grooming tool, making it another Gillette competitor. That fact is hardly surprising since this trimmer not only grooms a beard, but you can also use it for shaving body hair. Hence, many users refer to Philips Norelco as the best electric razor for teenager skin.
Additionally, this Norelco model approximately has the same small size as the wet shaving head from Gillette but with a large handle. It can taper sideburns, and even use it as a beard trimmer and for shaving your pubic hair.
Pros
Fast-acting blades with 200 cuts per second

Water-resistant blades

Easily removable and replaceable shaving head

Trimmer and shaver in one with three comb attachments

Conveniently follows the facial contour

Safety razor that avoids skin irritation
Cons
Only 45-minute run time after eight-hour charging

No battery charging indicator

Blades require replacement once every four months
Takeaway
There's a significant reason why Norelco OneBlade is our best electric shaver for any teenager boy or girl with sensitive skin. Unlike most razors, it doesn't shave too close to the skin, preventing irritation and a razor bump. Regardless, it's still perfect for eliminating visible stubble.
---
What To Look For In A Teen Electric Shaver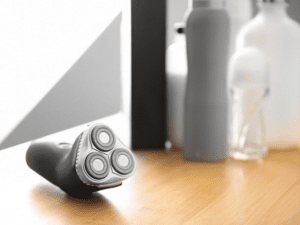 Electric shavers offer more convenience in hair removal than using manual razors. But to make that happen, you need to consider several factors to make the right choice.
Here are some of them:
Choosing The Razor Type
Electric shavers for adolescents offer more convenience in hair removal than using manual razors. But to make that happen, you need to consider several factors to make the right choice. Take a closer look at these two razor types:
Rotary Shaver vs. Foil Razors
One of the fundamental choices you have to make when shopping for a shaver is choosing between a rotary shaver and a foil razor.
For that purpose, let's see how they differ from one another:
A foil shaver has pulsating blades swinging from the left to the right. You can barely see these fast-moving blades as they are under a metal-like foil with tiny holes. This foil protects your skin from being in contact directly with the sharp blades to help you avoid a razor burn.
You can do electric shaving nowadays with either a corded or cordless device. These corded razors provide you with the security that you'll never run out of power while in use. They won't require you to replace batteries, and they're always ready to use when necessary.
Alternatively, a rotary shaver features three rounded heads that move in a circular motion when you shave. It has a unique design that conveniently conforms to your facial contours. Such a shaver is excellent for cutting long facial hairs and can do wonders for coarse beards. It also operates quietly and is a lot more effortless to clean than a foil razor.
Corded vs. Cordless
Electric shavers nowadays offer you both a corded option and a cordless one.
These corded razors provide you with the security that you'll never run out of power while in use. Battery replacement is likewise unnecessary, and they're always ready to use when necessary.
The cordless versions, however, are perfect for individuals constantly on the move. You can conveniently grab and place them on your luggage when you're on a trip, and it's ideal for bathrooms with no electric sockets. Such razors are excellent for a clutter-free shaving experience since users don't have to maneuver their way around cords.
A cordless razor can also be a battery-operated or rechargeable device.
If I had to choose, I'd go for the latter since it could be costly to replace batteries every so often.
Some rechargeable units are suitable for some quick electric shaving on a single charge. They typically have battery indicators to let you know when it's time to recharge.
Wet vs. Dry Electric Shavers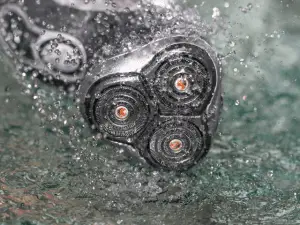 In choosing the best razor for a teenager, you need to decide if you prefer a wet or dry shave.
Researching models that work best for wet shaving would help you make a choice. However, several versatile devices are now available. Such a device can work as a wet and dry shaver.
Having a wet shave can work best for you to save time and do it while showering. It will soften your body and facial hair, making it easier to shave off. If you're someone with sensitive skin, you can try doing it with shaving gel or cream.
A dry shave can also have advantages, like cleaning your device after use will be much easier. Dry shaving razors often come with various settings, although you can't use them with water or shaving cream.
With all these varying features in mind, it's best to choose an electric shaver you can use in wet and dry conditions.
So you can maximize the results, whether you have limited time and shave without water or opt to use shaving cream in the shower.
Dapper Point: If you're beyond your teenage years, then proceed here for our list of products more suitable for your age group -- 5 Best Lineup Clippers for Lines & Clean Cuts 2022.
Frequently Asked Questions
What's The Best Electric Shaver For A Teenager?
This article provided an overview of some top-grade products you can see on the market today. We find the Braun Electric Razor Series 7 790cc to be the most deserving of being on the top spot on our list.
It is the best shaver for teenagers' skin' providing the most comfortable and close shave effortlessly. Further, Braun's Pulsonic Technology and robust motor ensure a remarkable shaving experience.
It even exceeded consumers' expectations, considering Braun Series 7 790cc a formidable competitor to Gilette razors. While for those with sensitive skin, Philips Norelco OneBlade is our top recommendation, a well-designed trimmer, and shaver in one.
Should A Teenager Use An Electric Razor?
As your teenage kid gets older, they will start growing their hair faster. When it's already time for them to begin shaving, you should help them prepare for this milestone.
Maybe it will start with a stray fuzz, a few sideburns, or a subtle mustache. But either way, you have to involve them in taking the first steps to learn how to groom themselves. The first shaving tip your kid needs to know is picking the best electric shaver for a teenage boy.
Help him pick out a safety razor that will work well on his face. An electric shaver is a suitable choice since it can help your teen achieve a clean shave without irritation, cuts, and nicks. You probably worry about damaging your teen's sensitive skin if you resort to electric shaving.
It could be a cut that won't stop bleeding or a razor burn after an arduous shave. But there's an electric razor designed for this purpose, like Philips Norelco Shaver. It might have a razor design similar to a trimmer, but it's among the best razors for tweens and famous for its clean shave.
Advise them that the best time to shave is right after a warm shower and always apply shaving cream to protect the skin from razor burn. Instruct your kid not to push the razor too hard, not to rush, and never to go against the hair when shaving it. Gentle strokes on the chin and jaw will do.
When Should Teenagers Start Shaving?
Boys would typically grow their facial hair from 14 onward, while some would start having them at 12. Unlike boys, tween girls begin shaving their legs or underarms even before their teen years.
Your teens should start shaving when you start noticing enough hair growth. There will be darker hairs forming around the chin and upper lip. You can opt for electric or straight razors, but not a disposable razor, as it would be too impractical to do so.
Electric razors like Philips Norelco are generally less irritating to sensitive skin than manual razors. Remember that your teenager would undoubtedly consider their first shave as their rite of passage before it starts becoming a tedious chore for them.
Would the best electric razor for elderly men be suitable for teenagers, too? You better find that out. 🙂 
Ensure that you guide them accordingly and choose the best shaving kit for a teenager as much as possible. Some young individuals even attempt to start shaving as soon as body and facial hair become visible. When they start doing so, always go for the safest option available.
Now, here are some tips for every teenager who's starting with shaving:
Final Thoughts
In conclusion, we find Braun Electric Razor Series 7 790cc worthy of being the best electric shaver for any teenager. It's comfortable to use for beginners and offers the highest efficiency in shaving soft and coarse hair alike.
Alternatively, the Panasonic Arc5 Electric Razor offers the best value in providing ultimate performance with its great motor delivering a slick, clean cut. Not to mention how its foil shaver design guarantees a more precise shaving experience.
True enough, the first shave can be overwhelming for these teens. Nevertheless, if you provide them with valuable shaving tips, the entire experience could be less stressful and can even be exciting!