For some people, shaving could be as basic as grabbing a shaving cream and trimming hair off.
But...
The fact is much more complicated than that. Shaving is an intimate grooming activity, so we should go with a trusted brand we're comfortable with, like Panasonic, for instance.
However, out of their several top-grade models, how do you know which is the best Panasonic shaver suitable for your needs? Let's look at some of their well-known razors and discover why Panasonic Arc 5 is our best overall.
2023 Panasonic Men's Shaver Review
1. Panasonic Arc 5 Electric Razor ES-LV65-S – Best Overall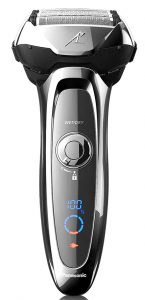 Most men turn to Arc5 Electric Razor as among the best Panasonic shavers for a comfortably close shave. It takes pride in bearing the brand's technology for achieving a smooth shave in less time.
You can even use this high-performing device as a bald head shaver.
This lightweight razor features five pivoting, nanotech blades in a unique foil design. These are very sharp blades capable of cutting hair effortlessly. It has an impressive motor speed that can effortlessly do 14,000 cuts per minute, even on the coarsest hair.
Both its foil and blade cartridges are individually replaceable, so you'd have the option to buy only when necessary. In addition, it even comes with a convenient travel lock mechanism to prevent using it by accident.
Pros
Foil shaver with a pop-out trimmer head

Five unique foil blades capable of cutting hair 14,000 times per minute

Clears stubble comfortably with a close shave

Sleek, lightweight, and waterproof design with automatic cleaning system

Flexible pivoting head conveniently reaches hard-to-reach facial contours

Built-in shaving sensor detects beard density
Cons
Not suitable for longer hair

Pretty costly replacement blades and foils
Takeaway
Panasonic Arc 5 existing users won't even wonder how it topped the ranks. The versatility of this wet and dry shaver is genuinely remarkable for delivering a clean shave even with thick and curly hairs. Its flexible pivoting head is exceptional for contouring, and it has a robust motor too.
---
2. Panasonic Arc 4 Electric Razor ES-LA63AA – Best Value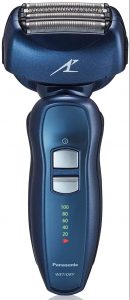 The Arc 4 Electric Razor, ES-LA63AA model, is another best Panasonic men's shaver offering excellent value. Unlike Arc 5, this razor only has four stainless steel nanotech blades. These blades have a 30-degree cutting edge, sharp enough to make a clean cut from the base.
It features standard cutting foils, a finishing foil for cutting close to the skin, and a slit foil for longer hairs.
You'd likewise appreciate its waterproof design, allowing a quick, dry shave or in the shower. Although, optimal results might be more achievable when used with shaving foam.
Even with its affordable price compared to our best overall product, you should not estimate Arc 4. It also utilizes a powerful motor capable of cutting 14,000 cycles per minute. The device comes with a charging adapter, a cleaning brush, and a travel pouch.
Pros
30-degree sharp cutting edge perfect for both dry and wet shaving

Sonic cleaning mode

Four nanotech stainless steel blades cut clean from the follicle's base

Lithium-ion rechargeable batteries; fully charging in an hour allows 45-minute usage

Built-in LCD and universal voltage

The pop-up trimmer feature prevents sideburns
Cons
No cleaning station

Slight noise when in use
Takeaway
There is no doubt why Arc 4 Electric Razor is among the best Panasonic shavers for being an all-around performer at a reasonable cost. The foil razor can do wonders for individuals with medium to coarse facial hair and is suitable for wet and dry shaving.
---
3. Panasonic Arc 3 ES8103S – Best For Sensitive Skin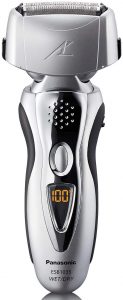 The Arc 3 ES8103S has unmatched performance as one of the best Panasonic shavers for sensitive skin. It might seem to have similar features as the others, like sharp blades and a linear motor. But even with its three-blade shaving system, it gives a smooth, clean-cut.
It is a foil razor with a waterproof, pivoting design that glides over facial contours, getting most hair on the skin's surface. This feature makes the entire experience more comfortable and promises to deliver efficient results with no razor burn. Suitable for shaving head or beard.
This best Panasonic men's shaver takes pride in its built-in precision trimmer that makes detailing and edging easier, with no fear of razor bumps.
It conveniently has turbo mode where the sonic cleaning vibrations come from, so you can shake hair off under running water.
Pros
The linear motor offers 13,000 cuts/minute

Hypoallergenic, stainless steel blades with sonic cleaning feature

30-degree angled blades for more precise cutting

Adjustable pivoting heads to glide through facial contours with ease

Foil head design prevents skin irritation like razor bumps and even ingrown hair

Suitable to use for wet and dry shaving
Cons
The absence of automated cleaning and charging systems

No ultra-thin coil for easy removal of fine hair
Takeaway
Now you can get as close as you can to the hairs not just on your face but on your neck too, thanks to this Arc 3 Panasonic Men's Shaver. The even better part is you can do it without the slightest discomfort. Its nanotech blades are hypoallergenic, so they're safe for the most delicate skin.
---
4. Panasonic ES-LV9Q Shaver – Best In Versatility
You might think, what's so extraordinary about this razor if you can use almost every best Panasonic men's shaver wet and dry? Well, this is where the ES-LV9Q Wet And Dry Shaver's versatility will surprise you.
It has the speed of a 14,000 CPM linear motor and the precision of a five-blade cutting system, each with three different foils.
Nevertheless, what most users rave about it is the convenient charging stand.
One of the many things that make this the best Panasonic electric shaver is its multi-flex 5D head. This noteworthy feature allows you the freedom to move it forward, backward, to the left, to the right, up, down, and even slide or twist it.
You can use this flexible head in gliding through even the toughest facial contour and with no hair tugging at all. It also takes pride in its slick appearance, but it could be heavier than most of the best Panasonic men's shaver we know.
Pros
Ideal beard trimmer with a five-blade system that can cut 70,000 cycles per minute

Pivoting head adapting to various facial contours

Shaving sensor allows the unit to deliver more power when necessary

Recognizes beard density and offers a close and flawless shave

Suspension mechanism enhancing head movement in five directions

Convenient cleaning station
Cons
Not suitable for sensitive skin

Quite pricey
Takeaway
We find ES-LV9Q's reliability in delivering consistent power without compromising performance very impressive. You can count on its precision even during low battery levels. The shaving sensor detects beard density, increasing force on heavy hair but is irrelevant for daily shaving.
---
5. Panasonic Hybrid Wet Dry Shaver – Best Budget Buy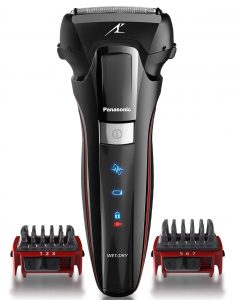 For a versatile grooming device at a reasonable price, there's no wonder how the Hybrid Wet Dry Shaver is the best Panasonic razor for many. What else can you look for in a razor blade? It practically works as a shaver and a trimmer in one.
It has a three-blade system, somewhat curved with two thin foil cutters and a central slit trimmer. The razor's body features a sleek, rubberized design to offer a more secure grip.
Its blades are so sharp; it might be unnecessary to have a second pass.
In addition, the Hybrid comes with an automatic shaving sensor that detects hair density. This specific feature allows the razor to provide the most appropriate power, which depends if the hair is thick or thin.
Pros
High-quality Panasonic electric razor at an affordable price

Shave sensor technology and a digital display

100% waterproof for easy maintenance and some wet shaving

This foil shaver has three sharp blades to remove every hair in one pass

50-minute battery life on a single charge with user-friendly features

Includes two comb attachments, cleaning brush, charger, blade oil, and foil cap
Cons
Just an ordinary battery level indicator; it only shows you need to recharge with no percentage level

No travel pouch included
Takeaway
This Hybrid Panasonic Men's Shaver has a 13,000 CPM linear motor drive, shave sensor, three-blade cutting system, and pop-up trimmer. What could be better than that? Not to mention it also includes two comb attachments and even allows wet and dry shaving.
---
Tips Before Buying A Panasonic Men's Shaver
You can save a significant amount of time and effort in getting a close shave in no time. But for this to happen, you need to ensure picking a suitable device. Here are some things you should consider before purchasing the best Panasonic shaver:
Brand
When choosing a razor, a brand plays a vital role since it's only practical to select a device that's reliable and trusted by many.
But of course, as crucial as this consideration is, you don't make a choice merely on this factor alone.
In addition to selecting a shaver from Panasonic, you can also consider other big players like Andis clippers and Wahl clippers for more options.
Check Features And Product Specifications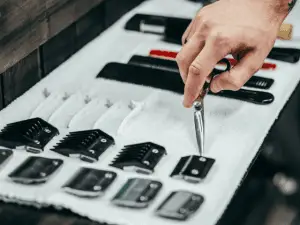 Since your choice will depend mostly on your needs and personal preference, you should be aware of the device's features. For one, you need to look for a design that has a grip that offers convenient usability.
The razor blade should be perfect to use as a head shaver and a beard trimmer.
It should work exceptionally in removing any facial hair, even stubborn ingrown hair you have there.
Beginners would most likely find The First Shaving Series so easy to use for their tapered grips and rounded end caps. Next, the best razor should allow a wet or dry shave option. You should be able to rinse it clean after each use, and that's to avoid bacteria from building up.
Technically, a foil shaver proves to be a safe option for beginners due to its metal foil that covers the blades. It prevents any instances of a razor burn, but of course, it's still best to use shaving cream.
Alternatively, a rotary shaver features three rounded rotating blades, perfect for a quick shave. They also work best for broader coverage but may not offer control when using them around sideburns and beards.
Lastly, many shavers are rechargeable, but I suggest using the corded ones unless you travel a lot and won't access the standard charging method.
Check Your Hair Type
Before you concern yourself with the price, you must first identify the hair type you will shave. Whether you have short or long hair, it will significantly influence your choice of a shaver.
A single shaving head is suitable for thinner hair, while a double foil shaver does well for coarser hair. However, those with immensely fuzzy hair would need a robust device with more than one shaving head.
Know Your Shaver's Cleaning Process
Maintaining your grooming hygiene does not end with having a close shave. You would certainly not want to use an unclean shaver, so you need to clean it every after use to keep it working optimally. Doing so will prevent it from rusting or having bacterial buildup.
Some advanced models have self-cleaning systems or cleaning brushes for removing hair from your tool. You may also use a blade cleaning spray to sanitize and lubricate the blades. The self-cleaning models come with a charging base that cleans the device automatically.
These are essential things you can't miss checking out before you purchase your shaver. Do you go for manual cleaning, or do you prefer one with a self-cleaning feature?
Convenient Charging
Just like self-cleaning systems are accessible nowadays, many shaving units also come with a charging stand. You need to look for a shaver with this feature because it would be a buzzkill if it didn't have one. It typically has USB inputs allowing you to charge it anywhere you are.
Nevertheless, battery-operated models are still available today. Such units are also robust for having built-in lithium-ion batteries. But it's best to see which among them promises to hold a long charge.
Micro-Vibration Variety
Different razors on the market nowadays would claim to have a variety of micro-vibrations. But the Panasonic shaver is one with several vibrating blades underneath. The truth is, the more vibrations there are, the faster the shaver will work too.
It would mean saving a lot of your precious time since the motor vibrates to lift and hold hair strands for a slick shave. Hence, this also means capturing more hair in one pass. Having more micro-vibrations will allow your shaver the efficiency to capture even those flat, lying hair strands.
Frequently Asked Questions
What Is The Best Rated Men's Electric Shaver?
We have a pretty long list of innovative razors that can deliver a clean shave. You will never run out of options when looking for one.
We find Panasonic Arc 5 worthy of being the best overall for its clean shave due to its flexible pivoting head. It has adjustable motor speed conforming well to your facial hair density, allowing you a conveniently quick shave in just a few minutes. This Panasonic electric razor is one of the most formidable competitors of Philips Norelco in terms of popularity and performance.
Are Panasonic Shavers Any Good?
Yes! It is no secret how Panasonic has been a reputable Japanese brand over the years due to its exceptional performance and high-end features. They even matched the popularity of Philips Norelco, also a well-known rotary shaver.
Through the years, more and more users have looked up to every newly-developed model of Panasonic electric razor. It effortlessly became a reliable brand for its groundbreaking innovation in wet and dry electric shavers.
You can even hold the brand responsible for the standard that you would expect from electric shavers nowadays. As of writing, every Panasonic electric shaver continues to develop its technologies, enhancing its features.
Hence, it'll be almost impossible not to find one well suited to your various needs. Panasonic can meet all your wet dry shaving needs, whether it's a beard trimmer, a head shaver, or a unique blade design like Philips Norelco Shaver.
What Is The Best Panasonic Shaver For Sensitive Skin?
The Arc 3 ES8103S Electric Shaver remains our top choice as the best Panasonic men's shaver for those with sensitive skin. It's capable of delivering a close-to-perfection shave with no irritation. The device has five various length settings, allowing a shave close to the skin or not.
The razor blade can likewise cut close to the skin without inducing razor burn, razor bumps, or ingrown hair. With this model, you can already ditch the blades that caused you sore skin, making it an ideal bald head shaver. Oh, and don't forget to grab a good shaving cream too.
How Often Should I Replace The Coils And Blades For My Panasonic Shaver?
Replacing your coils and blades should be part of your daily maintenance as these parts are subject to wear and tear with frequent use.
Hence, a suitable replacement when necessary will get rid of a dull blade incapable of a close shave. It will help you avoid missed hairs and skin irritation due to ingrown hairs.
Most experts say that the best time to replace foil and blades is every twelve months, while the inner blades once every two years. You might have to change more often than that if you have thick, coarse hair too.
Other factors that may affect how often you need to change these parts include your shaving frequency, foil, and blade quality. Additionally, if you experience tugging or pulling hairs or when the shaver gets too hot are also telltale signs.
Final Thoughts
The right choice of your favorite Panasonic shaver can be your saving grace. Opting for what's suitable for you will no longer make beard grooming a stressful chore.
We understand that the vast selection out there can otherwise become overwhelming. So, in conclusion, we chose Panasonic Arc5 Electric Razor as our best overall due to its performance in providing a nearly-perfect shave.
The Panasonic Arc 4 Electric Razor; our runner-up, offers the best value with its four-blade design and dual motor system. It delivers a smooth, comfortable shave at an affordable price. You can also take a look at the other top-rated products bearing the hallmarks of superior quality razors.