I don't mean to scare you or anything, but folliculitis can cause extensive inflammation and scars. If your case is mild, treat it right away.
Don't worry.
There are specific shampoos formulated to relieve your scalp, treat irritation and remove dead skin cells.
Which ones are they, you ask? I have a list of the best shampoos below.
On it, I ranked CLn Shampoo as the best shampoo for folliculitis. I'll take you through this list and look at what makes CLn different. Wouldn't you love such details? 
Read on. 😉
Product
Details

1. CLn Shampoo

No Antibiotics!

For Itchy Scalp
Unscented
Derma Tested
Clarifying
Hydrating

Check Current Price

2. Ovante Shampoo

Soothing

Treats Dandruff
Lemongrass scent
Volumizing
Moisturizing

Check Current Price

3. Nizoral Antidandruff Shampoo

Aids Hair Growth

Clears Dandruff
Reduces Hair Loss
Volumizing
Relieves Itching

Check Current Price

4. Maple Holistics Tea Tree Oil Shampoo

Pure Tea Tree Oil

Anti Dandruff
Soothes & Heals
Antifungal
Antibacterial

Check Current Price

5. Selsun Blue Shampoo

Softens Hair

Treats Dandruff
Relieves Itching
Stops Inflammation
Moisturizing

Check Current Price
The Best Shampoo For Folliculitis In Scalp: Review
At some point, you realized there was more to that itchy scalp than just irritation. What you did after that may have worsened or tamed folliculitis.
But, since you're here looking for a solution, I know you've discovered that your hair follicles need treatment as soon as possible.
Let's get you that solution right away from the list of folliculitis shampoos below.
First on my list:
1. CLn Shampoo - Best Overall
I know your first question is why I ranked CLn Shampoo as the best shampoo for folliculitis in the scalp. Well, this shampoo treats folliculitis, dermatitis, and dandruff, some of the common scalp conditions.
It's dermatologically approved; hence, you're not on a trial and error mission when you start using it.
I also noted that this shampoo doesn't have triclosan, an antibacterial chemical that may disrupt hormones and cause resistance to antibiotics eventually.
Additionally, CLn is a clarifying shampoo, so it removes dead skin cells and residue as you massage it into your hair and scalp. Hence, you'll not only treat folliculitis but also remove the flakes it leaves behind after the inflammation subsides.
When you look at this shampoo's formulation, you'll note a few magical ingredients. For example, sodium hypochlorite is a disinfectant; it deals with inflammations caused by folliculitis.
As this ingredient works on your scalp, it'll clean your hair follicles without stripping off the oils; therefore, you won't have dry scalp.
Other superb ingredients in there are glycerin (a humectant that hydrates your scalp and hair) and salicylic acid to exfoliate the dead skin cells.
Lastly, this shampoo suits normal to oily hair.
Pros
Unscented

Formulated for an itchy scalp

Dermatologically tested

Treats folliculitis

For many hair types

No antibiotics
Cons
Takeaway
When dealing with dandruff and folliculitis, it feels better to know that dermatologists have approved the shampoo you're using. This one's tested and approved, and its formulation takes care of folliculitis and a flaky scalp.
---
2. Ovante Shampoo - Best Simple Formulation
Ovante Shampoo is different from CLn in that it's specifically for treating folliculitis, which means you can use it for a long time if the problem persists. It doesn't have rich lather; consequently, your scalp absorbs it faster, and as it penetrates, your scalp stops itching.
Ovante also works on flakes on your scalp and hair to leave you with a clean scalp so that your hair follicles can breathe. Its lemongrass scent gives it a lovely smell that doesn't linger on your hair.
Further, its formulation soothes your scalp, and you'll see a considerable increase in hair volume as you continue to use it.
Finally, I love its simple formulation because that's what all of us are looking for when our scalps have inflammations.
Pros
Clears dandruff

Treats folliculitis

Soothes your scalp

Tea tree oil moisturizes your hair
Cons
May not work on severe folliculitis
Takeaway
Ovante Shampoo takes care of most hair and scalp problems, from folliculitis to an itchy scalp and ringworms. When you have one of these problems, you know there might also be flakes of dead skin covering your scalp. Luckily, this shampoo also clears dandruff.
---
3. Nizoral Antidandruff Shampoo - Best Seller
We're still looking at the top shampoos with an active ingredient to treat folliculitis, and Nizoral Shampoo is on this list too. It's formulated with 1% ketoconazole to relieve your itchy scalp and remove the flaky residue on it.
These two situations are troublesome and embarrassing that you can't even enjoy hanging out with friends lest they ask you why you keep scratching your head.
As this formulation cleans your scalp, it stops the excessive shedding of dead skin cells, so dandruff clears up.
Next, your natural hair growth restarts, giving you length and volume altogether. 
Pros
An active ingredient to treat folliculitis

Formulated for various scalp conditions

Relieves an itchy scalp

Treats dandruff

Aids hair growth 
Cons
Has sodium Laureth sulfate
Takeaway
The active ingredient in it reduces hair loss considerably by preventing further destruction of your hair follicles. As it does so, you won't experience a build-up on your scalp or feel like you suddenly have too much grease on your hair.
---
4. Maple Holistics Tea Tree Oil - Best Cleansing Shampoo
Tea tree oil is quite common in shampoos, and when a product has pure tea tree oil, it stands out. Maple Holistics infused it pure to give you an antibacterial shampoo that treats a dry, itchy scalp.
Tea tree oil also prevents hair loss and thinning, and once these two issues are under control, you'll see your hair grow stronger and longer.
Furthermore, tea tree oil nourishes your scalp and hair such that it's hydrated until your next shampoo day. Nonetheless, tea tree oil doesn't work alone in this shampoo as it has lavender to stimulate growth and rosemary to boost blood circulation on the scalp.
To conclude the features you get in this product, it's an affordable clarifying shampoo, almost as cheap as the Selsun Blue Shampoo below.
Pros
Antidandruff formulation

Prevents head lice

Treats hair loss and thinning

Soothes your scalp

Antifungal and antibacterial formulation

Affordable

Many natural ingredients
Cons
A strong smell

May dry your hair after consistent use
Takeaway
When a shampoo has plenty of natural ingredients like lavender and fewer harmful chemicals like sulfates, it's bound to work. Since you're facing problems like scalp irritation and dryness, this Maple Holistics has many herbs and oils to soothe and heal your scalp.
---
5. Selsun Blue Shampoo - Best Budget Option
When you have mild folliculitis, it goes away after a few days. But, the flakes caused by inflammations on the hair follicles remain. Selsun Blue is an affordable medicated shampoo for folliculitis infused with selenium sulfide to treat dandruff.
As it does so, it also controls itchiness and softens your tresses. It's gentle on your scalp for you to shampoo every day if you're very active outdoors.
Finally, as Selsun Blue Shampoo works on your scalp, it also infuses moisturizers to hydrate your hair shafts. Further, it has vitamins B and E to remove toxins that may prevent hair growth.
Pros
Treats dandruff

An active ingredient

Softens your hair

Relieves itchiness
Cons
Not for severe folliculitis
Takeaway
If the scalp inflammation is improving, and the only problems you're facing now are an itchy scalp and dandruff, you can use Selsun Blue Shampoo. Your hair won't feel dry because this shampoo moisturizes your scalp while clearing dandruff.
---
6. Honeyskin Shampoo - Best Organic Option
When your scalp hurts and red marks are all over, using a shampoo with organic ingredients is the best you can do to relieve the condition.
Honeyskin Shampoo has a combination of the top herbs used in hair care: it has tea tree oil to moisturize your scalp and hair and apple stem cells extract to stimulate hair growth. Its range of herbs and oils is the reason I had to add it to this list.
Interestingly, instead of washing your hair and leaving it dry and brittle, this product comes in a set of shampoo and a conditioner.
The conditioner is also organic, infused with aloe vera to soothe your scalp. Both of these items in the set have manuka honey as a humectant to retain hair moisture. 
Pros
Enriched with organic ingredients

Soothes your scalp

Relieves a dry scalp and hair

Stimulates hair growth
Cons
An 8 oz. bottle is a bit too small to last until your scalp heals.
Takeaway
I love the rich combination of organic ingredients, such as tea tree oil and natural manuka honey. On top of that, Honeyskin is generous in infusing herbs, even in its conditioner.
Consequently, when you have this set, you shampoo and condition your hair with the best herbs and oils.
---
7. Puriya Scalp Clarifying Shampoo - Best For Itchy Scalp
You have probably come across literature talking about the long-term effect of preservatives called parabens. Well, Puriya Shampoo doesn't have such harmful ingredients. It's also sulfate-free; it won't irritate your already inflamed scalp.
Another feature that stood out for me is its rich formula infused with various herbs like tea tree, rosemary, arnica, and sage. These are all good on the scalp; some are antibacterial while others soothe your scalp.
This shampoo is mild on your scalp because it has a balanced PH. That being so, you can shampoo your hair daily if necessary.
As you fight scalp inflammation, it also removes the flakes to let your scalp breathe normally. Additionally, the rosemary scent will leave a delightful smell on your hair. It's also worth noting that this shampoo relieves itchiness with regular use.
Further, this formulation has ingredients to fight folliculitis, so you're not just trying things out.
Pros
Plant-based formulation

Lovely scent

Sulfate-free

Antibacterial formulation

Clarifies hair and scalp

Hydrating formulation
Cons
The price is a bit too high.
Takeaway
Flakes and itchiness can be embarrassing in public. Puriya's formulation not only takes care of an itchy scalp but also treats a flaky scalp.
---
8. Wow Apple Cider Vinegar - Best For Build-up Removal
To take care of the infection on your scalp, you need a shampoo that removes the build-up and infuses antioxidants to heal your scalp.
Wow Apple Cider Vinegar destroys the bacteria, then clears all the residue on your scalp. As you massage it on your scalp, leave it on for four to six minutes so that the apple cider vinegar can work on the scalp.
When you rinse it off, what remains is a healthy scalp that produces enough sebum to stay hydrated.
Since bacteria inhabit your scalp when the PH level falls, this shampoo balances the PH level using apple cider vinegar, meaning infections will reduce.
Once the infections are under control, you'll notice a considerable increase in hair volume and hydration as the rich almond oil in this formulation will give you soft-nourished hair.
I'll let you in on a haircare secret: almond oil contains vitamin B-7 (biotin), which softens and strengthens your hair. Moreover, almond oil protects your hair from UV damage.
Pros
Has almond oil to strengthen your hair and soften it

Apple cider vinegar prevents bacteria growth

Hydrates your scalp

Prevents hair breakage

Stops hair loss

Clarifies your hair and scalp

Reduces dandruff

Heals your scalp
Cons
Takeaway
Wow Apple Cider Vinegar Shampoo works wonders because of its clarifying power. Once it clears out inflammation, it removes flakes and lets the scalp function normally.
---
Now you know eight shampoos that can treat the scalp and hair problems you are facing. With so many options, how do you choose one? Let's narrow this list down with some tips below.
How To Choose The Best Shampoo For Scalp Folliculitis
An inflamed scalp can wreck all your hairstyling plans because anything you use on your hair might exacerbate the condition. Additionally, this problem will control almost everything you do on your hair; you can't pass a comb through painful blisters.
If the problem persists, it can cause permanent scarring and eventually form keloids or cause hair loss. Before it gets to that, let's find a shampoo that can soothe your scalp and let it heal.
Here's what to look for in your shampoo bottle:
No Irritants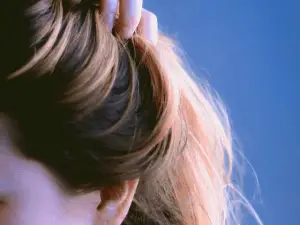 Your scalp is already suffering, and the hair follicles are red and itchy. Therefore, if you add another irritant by using the wrong shampoo, your scalp will take time to heal. Some of the scalp irritants that masquerade as helpers are sulfates like sodium lauryl sulfate & sodium Laureth sulfate.
So, here you are, with an inflamed scalp, and then you massage it with shampoo that has irritating cleansing power. That's what the two chemicals above do. They are surfactants, the cleansers in shampoos. Their task is breaking the barrier that holds oils and dirt to your hair.
These chemical agents also give you that rich lather that you love in your bottle of shampoo. But, they are irritants that hurt your scalp in the long run.
Get Shampoo With Antibacterial Ingredients
To start the healing process, the ingredients in your bottle should heal your scalp. Some common antibacterial ingredients are tea tree oil and coconut oil. That being the case, most of the shampoos we've discussed above have tea tree oil that also helps as a hair moisturizer for black men.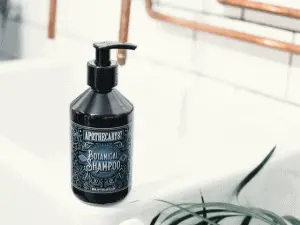 Choose A Clarifying Shampoo
Product build-up on your scalp will boost bacteria growth. For this reason, a clarifying shampoo removes residue to leave your scalp clean and healthy. It'll also allow new sebum to cover your scalp and prevent dryness. 
Nevertheless, ensure the clarifying shampoo has a conditioner to moisturize your scalp and hair shafts, or it will strip off the good oils and cause dryness.
As I conclude this section, I'd like to point out that as you treat folliculitis, don't be tempted to overwash your hair as it could irritate the scalp more.
FAQs About The Best Folliculitis Shampoo
What Causes Folliculitis?
 You suffer from folliculitis when:
Bacteria found in public hot tubs or a public pool reach your hair follicles. These bacteria include Pseudomonas aeruginosa and Staphylococcus aureus.

Ingrown hairs irritate your follicles. If you've seen all those articles and reports warning you against the wrong shaving tools and techniques, well, this is one of the repercussions.

You have blocked hair follicles. Your follicles may block after taking some types of medication, using heavy moisturizers, or wearing tight sports gear or other clothing.

Tight headgear rubs against your hair follicles aggressively.
Can I Just Use Shampoo For Folliculitis Without Seeing A Doctor?
No. Visit a doctor first because some causes of folliculitis need more than just over-the-counter shampoos. After a physical examination, a doctor can tell whether you need tests, more so when you're suffering from a bacterial infection.
Additionally, if the inflammation is severe and painful, and you have red marks on your scalp, you need medical attention even as you use shampoo. From this video, you'll learn some of the causes of folliculitis and its treatment:
On the same note, avoid public pools, wear loose headgear and shave with care to prevent a new infection. Also, clean your hair tools, headscarves, and pillowcases with an antibacterial soap.
Does A Folliculitis Shampoo Ease The Itchiness & Burning Sensation?
Yes, it does. The formulation may have herbs and oils like peppermint, lavender, apple cider vinegar, and rosemary to treat your scalp or soothe it. There are also active ingredients like ketoconazole that relieve itchiness.
Since we've discussed almost ten shampoos, which is the best shampoo for folliculitis on the scalp?
The Verdict
Maybe, just maybe, the shampoo you've been using is worsening that itch on your scalp. You can switch to something else like CLn Shampoo.
It's approved to treat folliculitis, plus its formulation has a disinfectant called sodium hypochlorite. On top of that, this shampoo is unscented, and it doesn't have parabens.
Its formulation treats severe folliculitis, unlike Selsun Blue Shampoo. Both shampoos have hydration power to protect your hair and scalp, but Selsun Blue Shampoo is cheaper than CLn.
Nonetheless, it has an active ingredient too called selenium sulfide to treat dandruff and an itchy scalp. If you're on a budget, try this shampoo.
I hope you find a solution before the inflammations get out of hand.