Growing a beard is not always a straightforward task for everyone. Hereditary traits and some other elements can also play a role, so several men find having a stylish stubble pretty challenging.
Who knows?...
Maybe you or someone you know is one of these men. If yes, don't give up just yet. Looking for the best products to help grow a beard need not be troublesome.
Please read on and find out what makes Alpha Beard Growth Vitamins stand out as our best overall. Learn more from our buying guide and have that badass beard once and for all.
2023 Review Of The Best Beard Growing Products
1. Alpha Beard Growth Vitamins – Best Overall
Facial hair, like beards, needs adequate nutrients to grow. So, when looking for the best beard growth products online or in local stores, you'd often ascertain Alpha Beard Growth Vitamins among its expanding list.
Specific dietary considerations significantly influence hormonal levels that could affect facial hair growth.
Thus, opting for beard growth supplements like Alpha makes a practical choice since it contains active ingredients necessary for growing hair faster, like biotin and aloe.
Moreover, the Alpha brand features MSM oil and ginseng among its unique formulation to aid in long-term cellular energy crucial for hair follicles while growing. The exceptional combination of all its ingredients work together in growing hair and nourishing it to the tips.
Pros
Promotes faster hair growth

Strengthen and nourish hair strands

Pills come with no strong odor

Maintain supple skin underneath the beard to support better hair growth

Enhances hair elasticity
Cons
Limited to a month's supply only

Requiring two capsules per intake daily
Takeaway
Alpha's suitable blend of vitamins helps enhance hair strength and minimize dryness. So, as your beard hair grows, you'll appreciate how it has more volume, is silkier, and is free of tangles, allowing you easier management.
---
2. Bossman Fortify Beard Conditioner – Best Value
This beard conditioner from Bossman is another recommendation we have for those who seek the best products to help grow a beard. It has a unique combination of nourishing ingredients, such as mango butter and betaine.
Beet extract is an excellent source of betaine, a natural moisturizer that can effectively soften even the fuzziest hair.
As a result, it works well in strengthening and hydrating your beard hair, so you no longer have to worry about beard itch or dandruff.
Furthermore, this conditioner comes in numerous scents allowing you versatile application on many different occasions. To use, apply an ample amount of the conditioner on your wet stubble and rinse well. It also offers you the option of using it as a leave-in conditioner.
Pros
Formulated with natural ingredients

Moisturizes facial hair effectively

An ideal treatment for dry beards

Strengthens and repairs hair follicles

Easy to use
Cons
Too dense and heavy formula

Works only for existing beard and not for growing new hair
Takeaway
The Bossman Beard Conditioner ranks second in our list of best beard-growing products with reliable performance. It offers exceptional value by supplementing the hair's nourishment needs, reinforcing the follicles from the source, so your beard will look have a fuller appearance.
---
3. Wild Willie's Serum – Best Cost-Effective Option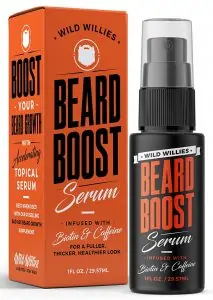 This serum is a budget-friendly option on our list of best facial hair growth products that help enhance existing hair and increase its thickness.
It is an efficient alternative for those who prefer not to take pills yet still allow them to have a fuller-looking beard.
Wild Willie's Serum has nutrient-enriched ingredients, such as caffeine and concentrated biotin, to stimulate hair follicles. Furthermore, it's well-known for producing visible results a week after the initial use.
By its capability of fully absorbing deep into your skin, you can expect the serum to work quicker on your stubble than most competitors. You can even count on it to work for whatever personal style you're sporting, making it a must-have item in every man's hair grooming arsenal.
Pros
Encourages thicker and fuller hair

Provides hair a more well-groomed look

All-natural ingredients

Safe for daily use

Light and non-irritating fragrance
Cons
A detailed application is necessary

No other size options
Takeaway
All these top beard growth products may not change your genetic capabilities. But, this serum from Wild Willie's has an impressive amount of biotin that can improve your hair's health and boost keratin production. Its formula penetrates deep into the roots for a well-nourished beard.
---
4. Ranger Grooming Co. Beard Oil – Best Beard Growth Oil
If you're a beginner looking for beard-growth products, you should consider this Pure Organic Beard Oil from Ranger Grooming Co. It's the best of its kind due to its all-organic and fragrance-free formulation, making it ideal even for those with sensitive skin or allergic to scents.
I'm sure you'll appreciate how this oil has a remarkable quality that's neither too thick nor too runny, which is why the product is easy to use.
While it may only have two natural ingredients, namely Jojoba and Argan oils, but it can assuredly give your beard a long-lasting polished look.
However, opting for this beard-growth product can cost you a few bucks more than its other competitors, which is worthwhile if you'll consider its lasting effect. So, if you want to put your facial fuzz worries at bay finally, then Ranger Grooming's Beard Oil is worth the try.
Pros
Unscented and vegan-friendly

Formulated with two organic ingredients only, argan and jojoba oils

Penetrates the skin faster

Eliminates beard-growing issues like dandruff and itching

It gives the beard a healthy sheen
Cons
Shorter shelf life

Too expensive for a small container
Takeaway
Not having too many ingredients is how this beard oil from Ranger Grooming Co. got my attention. It enables quicker and deeper skin penetration, making your beard more effortless to maintain. The oil is also conveniently well-suited for various skin types.
---
5. Beard Oil by Mountaineer Brand – Best For Long Beards
The Mountaineer Brand's Beard Oil made it on our list as one of the top-ranking facial hair growth products for those sporting a long beard.
It does not contain exotic oils in the same way that Ranger Grooming Co. has argan and jojoba oils in its formulation. But even better than that, this beard oil features a unique combination of castor, grapeseed, and almond oils.
The mixture of these exceptional oils creates the perfect balance resulting in a lightweight, fast-absorbing oil that makes it easy to groom a thick, long beard.
Additionally, I'm sure you'd also like its non-greasy feel, especially when using it after showering as part of your grooming regimen. Consistent use of the Mountaineer Brand Oil will leave your beard feeling naturally soft and give you the confidence of having no dry, itchy skin.
 Pros
All-natural ingredients

Treats coarse hair and turn it into soft, smooth strands

Wide range of scents available to suit different preferences

The dark blue bottle is UV-resistant

Affordable price

Fast-absorbing, easy to use, lightweight formula
Cons
No dropper included

The application can be messy sometimes
Takeaway
Those with long, unruly stubbles will likely find Beard Oil by Mountaineer Brand an excellent deal. This exceptional product will not only make your beard look good but would make it feel good as well. Additionally, it allows you the chance to use high-quality oil at a reasonable cost.
---
6. Honest Amish – Best Beard Growth Conditioner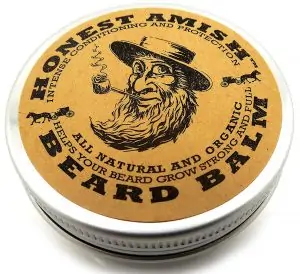 Honest Amish takes pride in offering you not just any conditioner but a leave-in formulation to bring every user experience more convenient. It won't take you so much effort to see how this product is clearly among the best beard growth products you can find today.
Primarily, this conditioner features all-natural ingredients for taming your unkempt mane.
Aside from having organic ingredients, it's also cruelty-free with no synthetic fragrances. It even has the versatility to nourish your beard and work as a light hold styling aid at the same time.
Furthermore, this beard balm and leave-in conditioner from Honest Amish can help soften and repair damaged hair strands prone to breakage and dryness. You'd have a long-lasting sheen and vibrantly-looking beard if you plan to use this balm with a grooming oil you currently use.
Pros
Restores the hair's natural oil to make it softer

Conditions the skin

Versatile enough to use for styling the hair

It gives the beard a fuller look and a long-lasting shine

The leave-in formula offers a convenient application

Reduces breakage, irritation, and itching
Cons
Strong citrus scent

Not for individuals allergic to nuts

Not recommended for use as an independent styling balm
Takeaway
Beard growing doesn't have to be more demanding than it already is if you're not genetically blessed to have one. This balm can help you grow thicker hair without clogging your pores. It cares not only for your mane but also for your skin, making the product worthy of your attention.
---
7. Pure Research Drops – Best Liquid Biotin
While you might notice most biotin supplement advertisements are specifically for women, a biotin-containing formula can work just as well for men. For this reason, many users, regardless of gender, refer to Pure Research Drops as one of the best products to help grow a beard.
Aside from collagen, biotin is also among the active ingredients of this product that comes in a liquid form. It's something worth exploring if you need reliable support for your beard growth.
Not only does Pure Research improve your hair's health, but it also boosts its protein.
In addition, you'll have more confidence using a product with all-organic ingredients, certified for meeting the standards of GMP protocol. The biotin and collagen liquid drop is a highly concentrated solution, ensuring better absorption than taking pills.
Pros
Promote health restoration for your hair

Addresses the patchy beard problem

A potent, vegan-friendly formulation you can consume orally or mix with water

Supports beard growth

It offers a 60-day guarantee
Cons
Takeaway
If you have any concerns or find the product ineffective, this brand is the only manufacturer offering a money-back guarantee good for 60 days. Besides, I find it a top-quality biotin supplement in its liquid form for delivering enhanced absorption with noticeable effects.
---
8. Wilder's Beard Growth Vitamins – Best For Hair Volume
Biotin. Collagen. Keratin. These are vital contributors supporting every beard growth goal. The Wilder's Beard Growth Vitamins have all three of them, which explains why our list of best beard-growing products can never be without it.
This highly demanding product targets beard growth and improving its health to give it more volume and sheen.
It conveniently works not only for your beard but also for growing sideburns and goatees.
Therefore, when your genes fail you, this supplement from Wilder's will provide the necessary nutrition essential for facial hair growth. So whether you dream of having a long stubble or adding more volume to your facial hair, this vitamin does its job and does it well.
Pros
Rich with nutrient-dense ingredients such as collagen, biotin, and keratin

No artificial fragrances and allergen-free

Promotes facial hair growth

Improves patchy or thin beard hair

Strengthens the hair with long-lasting results
Cons
Promotes growth to existing hair only, not new hair follicles

Not fast acting
Takeaway
Wilder's offers so much help in achieving your goals of growing your facial hair successfully. Thus, you need not worry about patchiness or having a bushy beard any longer. This nutritional supplement can meet essential requirements for achieving a naturally thick mane.
---
The Common Challenges In Growing A Beard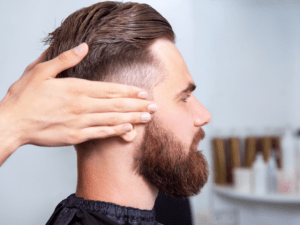 As previously mentioned a couple of times in this article, several factors affect beard growth. Some of them are myths, while others are well-known facts. A few of these considerations are the following:
Genetics
Of the many different problems when growing a stubble, your genes remain the top contributor to why it's more challenging for other individuals. Your hair follicles' sensitivity to testosterone, causing abundant hair growth, depends on the kind of genes you have.
Ethnicity can also play a role in hair growth; Asian people are least likely to grow a full beard, while Caucasians have no trouble having one. It could be why some people can't grow full beards, or for others, it may just take a lot more time.
Beard Dandruff And Itching
A dry season, stress, microbes, or merely lack of proper beard maintenance are possible causes for developing dandruff. It's a common skin problem around the beard area, just like how it also happens to your scalp.
Dandruff is rather repulsive with its scaly rash or flakes, leaving you with irritated skin underneath.
You can get rid of it by eliminating dry skin with either grapeseed or eucalyptus oil. Both of these work well in providing relief.
Alopecia Areata
Some men have this autoimmune disease that targets hair follicles, preventing their growth. This medical condition is noticeable with either a complete or patchy hair loss in the beard area. It is unfortunately incurable, which experts refer to as a permanent condition.
If you feel like this condition affects you, it's best to consult a dermatologist for a proper evaluation and treatment plan. There are several types of research nowadays that can help individuals regrow their hair if they have this disease.
Dapper Point: Patchy beard is an ailment that causes parts of your beard to appear like blotches on your face. Some have little hair on them while some don't have any at all. Know the tips for prevention and care of your beard by reading our post -- How To Fix A Patchy Beard: 6 Fool-Proof Tips & Hints To Do.
Acne
Men having sensitive skin are more susceptible to acne that affects the hair follicles. It's a skin problem caused by the overproduction of sebum or failure to shed dead skin properly. Ingrown hairs can also set off this annoying skin inflammation.
With a wide variety of acne treatments existing today, it shouldn't leave you room for worry if you have this problem. Several essential oils contain anti-inflammatory properties that can treat acne. Some of these oils include grapeseed, tea tree, or jojoba.
Dry Skin
Dryness in the beard area happens with the loss of your skin's natural oils, dust, changes in temperature, or humidity. Facial cleansers with harsh substances can also cause your skin to become overly dry.
When this happens, you can naturally moisturize your skin by using castor oil that works best for your beard and the skin underneath.
Peppermint can relieve itchiness caused by dry skin, shea butter works ideally as a natural moisturizer too, and coconut oil can lock the moisture in.
Ingrown Hairs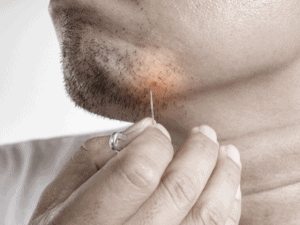 Individuals with curly hair are prone to acquiring ingrown hairs, resulting in another problem of having painful bumps. Hair that grows sideways then curl back against the skin after shaving or waxing can also cause this problem.
Having ingrown hair is rarely a cause of concern unless it causes infection, but it could be uncomfortable and itchy at times. You can prevent this by not shaving too close to your skin and just allowing your facial hair to grow. Using leave-in conditioners can also help moisturize the hair.
Frequently Asked Questions
Are there any possible side effects in using products to make your beard grow?
No. While all these best beard products for black men provide benefits that outweigh possible adverse reactions, it's only wise to observe the necessary precautions when using them. Examine the ingredients well, and know your skin type, and sensitivities to the different formulas before deciding to purchase.
When facing difficulty in growing full stubble, you will likely encounter many beard growth treatments. Many of them are well-known for yielding optimal results, yet we have to face the fact that some formulas have varying side effects. Here are several of them:
Some beard growth solutions contain Minoxidil, a medication well-known for the treatment of hair loss. Many FDA-approved brands manufacture them, but you still need to be cautious of their side effects, like skin irritation, headache, dizziness, and chest pain.

Beard oils aid in stimulating hair growth, but every product has a unique formulation. Hence, adverse effects, including allergic reactions, are inevitable. It helps to become carefully selective and see what formulation your choice of beard oil product has.

Be cautious of scented products when buying oils. If you notice fragrance oil in the ingredients list, you are likely purchasing a product that isn't purely natural. Consider options having no smell to be safe, especially if you're someone allergic to fragrances.
Is there a DIY facial hair growth recipe I can make at home?
Before employing other methods, it would serve your best interest to achieve denser hair with healthier strands the natural way. Ensure a proper diet because a well-balanced one can do wonders for your beard growth.
Ensuring a lifestyle that promotes more relaxation and reduced stress, plus regular grooming maintenance, will also help. While discussing these natural options, you may also try some DIY recipes for creating homemade beard oils.
A castor oil beard mask contains a natural disinfectant to treat dandruff. Coconut oil stimulates hair growth, and when you combine it with honey, it treats fuzzy hair, making it softer and smoother. A mixture of lime oil and sweet orange oils can also be refreshing to your mane.
Here's a short video you can watch on an easy way of creating your homemade beard balm with only a few simple ingredients:
Conclusion
Instead of fretting about those problematic genes that make beard growth a struggle, you can consider these alternatives in our beard growth products review.
We highly recommend Alpha Beard Growth Vitamins as the best beard growth product meeting our standards for reliable performance. Relatively, the Bossman Fortify Intense Beard Conditioner offers the best value for helping you create a clean base. By doing so, you can grow a fuller-looking beard with ease.
Be patient because beard-growing is a process, but with the proper nutrients, you're on your way to full, lustrous stubble in no time.