Have you used an Oster clipper before?
We'll tell you why you need one ASAP!
First...
This brand dates back to the 1920s, and its range of grooming products includes multipurpose hair clippers and pet groomers. Whether you're looking to buy your first Oster hair clippers or you want to replace the one you're using now, we have a list for you.
We'll start with the one that stood out as the best Oster clipper, the Oster Fast Feed. Read on!
Best Oster Hair Clippers Reviews: 8 Top Picks
1. Oster Fast Feed - Best Overall
It stood out as the best Oster clipper for its sleek, sharp blade that cuts close and precisely. It's so thorough that your DIY will look professional.
What's more, having sharp blades doesn't mean it's as loud as other brands, so you'll enjoy a quieter shave thanks to a pivot motor.
The adjustable blade with a level on the side of the plastic housing changes the clipper blades as you like, from 000 to 1. Therefore, you can get a good fade.
Further, the Oster Fast Feed has long-lasting blades made of steel and an eight-foot power cord for you to work a distance from the power outlet.
The package includes a guide comb to show you different lengths you can trim.
This corded clipper is lightweight, another reason we ranked it at the top.
It's affordable, exactly what you'd like to hear when working with a tight budget. You'll also get lubricating oil to keep the blade sharp and running.
Pros
Lightweight as it weighs about 1 pound

Affordable

Adjustable blades

Quiet motor

Wet and dry shaving

Sleek, modern housing
Cons
Takeaway
The Oster Fast Feed is one of the best Oster hair clippers because it's affordable, has a high-quality quiet motor, and cuts close.
---
2. Oster mXpro - Best All-Purpose Clipper
The Oster mXpro is as affordable as Wahl clippers. Despite saving money, you'll not compromise on quality as it has high-speed adjustable blades that move from 000 to 1.
Its motor cuts up to 7,000 strokes per minute, which means you'll finish the job within a short time.
You'll also note its contoured housing that fits comfortably in your hand despite how long you intend to use it. Further, you can use it on wet or dry hair and still get commendable results.
These professional clippers come with four guide combs ranging from 1/8" to 1/2" to give you several cutting lengths. For this reason, a beginner can use them at home.
They are multipurpose; therefore, you can use them for many trimming needs.
Pros
Affordable

High-speed cutting

For beginners
Cons
Takeaway
You don't have to spend a lot to enjoy the benefits of Oster clippers. If the average price of Oster clippers made you shy away, the Oster mXpro is more affordable. Plus, it has a high-speed motor and quality blades.
---
3. Oster Classic 76 - Best Hair Clippers For Barbers
The Oster Classic 76 is one of the best Oster clippers, loved by barbers for its powerful universal motor that cuts at a single speed. It has a heavy-duty motor that cuts any hair type, from thin to thick hair. Plus, its range of detachable blades from 000 to 1 cut dry and wet hair.
The housing of this Oster Classic combines industrial polymer and metal. That's why it's sturdy and durable. Further, this housing is non-slip, so it stays in your hand throughout.
Most Oster clippers come with an eight-foot cord, but this one affords you one more foot. Thus, you can work from a spacious barbershop if you want it for professional work or in your living room as a DIY.
This Oster professional has a hanging loop to get it out of your way if you're a barber.
Pros
Nine-foot cord

Universal motor

Detachable blades

Durable blades

An easy grip
Cons
Takeaway
These professional barber clippers have detachable blades to vary your trimming length for the style you hope to achieve. They also come with clipper oil to lubricate the teeth to stay sharp always.
---
4. Oster Model 10 - Best Heavy-duty Clipper
As we go on with our clipper review, we're coming across new features that we'd all love to have in a trimmer. For instance, this Oster Model 10 heavy-duty hair clipper comes with a 10-foot cord. That's one more foot longer than the Oster Classic 76 we've talked about above.
You'll also get durable housing that's break-resistant if you're using it for professional barber services.
The clipper blade is easy to clean as you can detach it. Further, you get a blade guard to vary your cutting lengths for different styles, a cleaning brush, and blade oil.
But the most striking feature of the Oster Model 10 is its heavy-duty universal motor that keeps the clipper running for hours.
Pros
Ten-foot cord

Powerful motor

Blade guard

Detachable blades

For professional use

Break-resistant housing
Cons
Takeaway
The Oster Model 10 comes with a ten-foot cord suitable for a professional barber service. On top of that, this hair trimmer has a powerful universal motor to cut through any hair density. No more pulling when your hair grows too long.
---
5. Oster Professional - Best Cordless Clipper
If you're looking through this review for cordless clippers, here's one with a powerful rotary motor. It uses a Lithium-Ion battery, making it travel-friendly.
Using Oster Professional brings a modern touch to your work as there's no cord running across the room. It also affords you a quick trim from any area of your home, even outdoors.
You'll get a dual charging dock to charge two batteries at once. A large household can do with such features. Plus, it takes about 45 minutes to charge the battery for a two-hour runtime.
This Oster Octane is a lightweight hair clipper weighing about 1.2 pounds only. You can also detach the blades for faster cleaning.
The housing is a striking clear-coat finish that'll not have oil smudges every time you use it.
Pros
Cordless power

Two hours runtime

Charges in 45 minutes

Lightweight

Charging dock inclusive

Rotary motor
Cons
Takeaway
This Oster Octane is one of the best Oster clippers for those seeking cordless power without compromising on motor power. Its carbon fiber housing has a non-slip grip.
---
6. Oster A5 - Best Oster Dog Clippers
Oster hair clippers are so diverse that there's a specific trimmer for pets.
The Oster A5 has a universal motor that powers the device at 3,000 to 4,000 strokes per minute. That's powerful and fast such that the blade sweeps through the pet hair of different animals, from dogs to cats and horses.
The Oster A5 has a versatile blade system that gives you a variety depending on the type of pet hair and its density.
Trimming pet hair may take more time as the pet may move about unexpectedly. Therefore, Oster made this lightweight trimmer so you can cut pet hair without tiring.
The package has clipper maintenance items like clipper grease, blade oil, and a cleaning brush.
Pros
Two-speed motor

Lightweight

Fast trimming

Detachable blade system

Suitable for different animals
Cons
Takeaway
The Oster A5 has a shatter-proof housing with a rugged surface for an easy grip as you work on your pet's hair. It has two motor speeds to suit different pet hair densities. On top of that, it's lightweight.
---
7. Oster Titan Clipper - Best Wet & Dry Clipper
It's the best Oster clipper if you're looking for a long power cord as it comes with a 12-foot cord.
This Oster clipper has durable housing as it's break-resistant, meaning you're about to purchase something that'll serve you for years. That's what you'd need when using it in a barbershop.
The motor is also powerful to work on wet and dry hair without pulling or having the blade caught in your tresses.
You'll also get blades to clean separately to remove any hair stuck on the teeth or in the housing.
The Oster Titan Clipper is heavy, but they are professional clippers with a motor that serves any hair type. 
Pros
12-foot power cord

Break-resistant housing

Powerful, double-speed motor

Durable housing
Cons
Takeaway
The Oster Titan Clipper motor's double speed suits different hair densities. That makes it a professional tool a barber can use on many clients. It comes with a long cord and cleaning accessories like clipper grease.
---
8. Oster Ac T-finisher Trimmer - Best Beard Trimmer Option
Sometimes, you want to do more than trim your hair. That's when you invest in a tool that gives you a professional trim along the edge of your beard or mustache. Oster has such a product, the Oster Ac T-finisher.
It's a T outliner, meaning you'll have an excellent accessory for detailing your beard, mustache, sideburns, and neckline.
Further, it's long-lasting as the housing doesn't break.
The Oster Ac T-finisher comes with cleaning accessories like a brush and lubricating oil, and we all know grooming tools last longer when we take care of them.
Plus, it's lightweight, so it won't burden you when you spend more time getting the perfect outline.
Pros
Lightweight

T outliner

Quiet pivot motor

Durable, break-resistant housing
Cons
Takeaway
If you'd like to detail your sideburns or beard, the Oster Ac T-finisher Trimmer has a T outliner. Its quiet motor makes the process livable for your household.
---
After learning about these options, which one do you think are the best Oster hair clippers? What features led you to that conclusion?
How The Oster Brand Started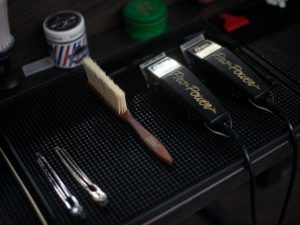 This brief history will show you why this brand stands out.
You see, though the John Oster Manufacturing Company started in 1924, Oster had been in the clippers business earlier.
He, Mr. John Oster, started as a partner at Andis Clipper Company in 1918 but left to form John Oster Manufacturing Company in 1924 with three business partners. You can learn about the best Andis hair clippers here.
They didn't start with clippers; instead, they were tool and die makers. However, they also experimented with hand clippers and accessories used by this grooming tool.
Fortunately, their work paid off when they made an electric clipper for women in 1928. It led to more engineering and success, like a 1933 patent for making detachable blades. Another first for the brand was creating a dispenser for hot lather so that barbers could do away with the traditional shaving brush process.
In the 1940s, the brand diversified into kitchen appliances by acquiring Stevens Electric Co. That's how it ended up with the Osterizer blender and a host of other household appliances like hand mixers and hand dryers. In the 50s, they were also making a massage pillow and ice crusher.
But, John retired in the 50s, and his sons took over before Sunbeam Corporation acquired the brand in the 60s.
About 11 years later, it became Oster Corporation, and it's now Oster under Newell Brands. They bought it from Jarden Corporation.
When you get your hair clipper, know you're enjoying engineering dating back almost 100 years.
Before we sum up our Oster clipper review, let's look at some questions about this brand.
Frequently Asked Questions
Are Oster Fast Feed clippers good?
Yes, they are because they have sharp blades that make grooming easy. These blades are detachable to afford you a choice of different trimming lengths. Also, their motor isn't loud, and they are lightweight.
They serve both home and professional use. Lastly, they are easy to maintain as you get the cleaning accessories when you buy a clipper.
Watch this Oster Fast Feed review:
What are the best Oster clippers?
Above, we gave you numerous options ranging from single to double-speed trimmers compared to clippers. You also have motor options, some quieter than others. What's more, there are corded and cordless designs. After reviewing them, we found the Oster Fast Feed worth trying out. We'll explain more in the section below.
What is the Oster 76 good for?
It's famous for many reasons, such as its single-speed motor that supplies enough power to cut through any hair density. Plus, they have adjustable blades and a nine-foot cord.
What makes the Oster clippers stand out?
They are durable, with break-resistant housing to suit the home or professional hair-cutting environments. The wide range of clippers also means it's easy to find replacement parts, from blades to cords. For example, the Oster detachable Blade 0A fits in Model 10, Classic 76, and Oster Outlaw models.
This brand's motor is durable and fast as it invests in motor engineering. Thus, the motors don't overheat, and you can cut any hair type.
What's more, you work with detachable blades to vary your trimming length. These clippers cater to various grooming needs, from home styling to barbering and pet grooming. You also have the option of corded or cordless power.
The Verdict
The Oster Fast Feed blades trim with the precision needed in a hair clipper. That's why we ranked it best overall. You can vary the trimming length from 000 to 1 inch, the kind of variety needed when you have many fade styles to try. Also, these blades are long-lasting, so once you get your tool, there's no going back to the store.
Nevertheless, if its price isn't in your budget range, choose the more affordable Oster mXpro, whose price is within the budget range of Wahl professional clippers. They have adjustable blades to vary trimming length, and their housing is durable.