Shaving unwanted facial hair doesn't have to be pricey. For some of us, high-quality devices, especially with innovative features, come at quite a cost.
So...
If you're one of those who think it's impossible to find the best electric shaver under $50, then please read on.
We'll give you a comprehensive overview of today's top-rated products to give you a broad range of choices. Let's see how Philips Norelco Shaver 2500 stood out as our overall pick.
Best Electric Razor Under $50 Review
1. Philips Norelco Shaver 2500 S131182 – Best Overall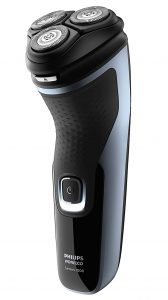 Philips Norelco is a reputable name for its exceptional performance, whether dry and wet shaving or removing ingrown hair. So, we start this list with their Norelco Electric Shaver 2500 S131182.
Not only is this model the best men's electric razor under $50, but it can also provide you with a convenient and precise close shave. The Norelco 2500 is among the line of rotary electric shavers, an upgrade of the Phillips Norelco 3100, with twenty-seven self-sharpening blades and a powerful motor.
It allows you the option to use it corded or cordless, although it's only a dry shaving device, so you cannot use it with shaving cream or gel.
Further, the shaver also has an integrated pop-up trimmer, ideal for mustaches and sideburns while avoiding razor bumps.
Pros
Rotary shaver with a pop-up trimmer

Flexible shaving head moving in four different directions

Corded or cordless shaving options

45-minute cordless runtime after an hour of charging

Efficient self-sharpening blades
Cons
Suitable only for dry shaving

More than just one pass is necessary for coarse beards
Takeaway
Despite being suitable only for a dry shave, Philips Norelco Electric Shaver 2500 tops our rank for its remarkable features. It has shaving heads that move flexibly in four directions, adjusting conveniently to your facial contours.
---
2. Remington PF7400 F4 Comfort Series – Best Value
The PF7400 F4 Comfort Series from Remington is more than just a regular foil shaver. It features pre-trimming technology that cuts longer facial hair, allowing the foils to get closer to the skin. Such a brilliant innovation is why many users call it the best electric razor under $50.
This integrated design reduces irritation and razor bumps due to hair pulling and improves your shaving experience. Furthermore, this foil razor offers a cordless shaving operation, making it suitable both for wet and dry shaving.
It helps you achieve a clean shave on your face with the device's pulsating cutters beneath dual foils.
These flexing foils protect your skin and conveniently conform to your facial contour. Thus, you can use it as a head shaver or for a comfortable shave around your jawline, neck, nose, and chin.
Pros
High-quality electric shaver at a reasonable price

Suitable for a dry and wet shave

Conveniently adapts to your facial contour

One of the cordless shavers offering a 40-minute run time

Ideal as a beard trimmer and for an excellent sideburn

Easily washable
Cons
Not suitable for a close shave
Takeaway
The PF7400 F4 Comfort Series' advanced feature of pre-trimming longer hair is what we like the most about this electric razor. It offers the flexibility of a pivoting shaving head that keeps close contact with the skin. Further, the shaver also delivers a 40-minute cordless operation.
---
3. Philips Norelco Shaver 2300 – Best Budget-Friendly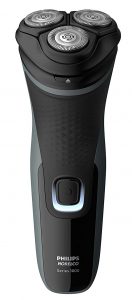 Philips Norelco remains one of the undisputable top-of-the-line brands today. They never fail to amaze us with their high-end features, and now they have even come up with the best electric razor under 50 dollars.
The Philips Norelco Shaver 2300 is a rechargeable electric razor with three rotating motor shaving heads. It offers the convenience of corded and cordless operations. It's no surprise that this device is such a hit, given that Philips Norelco even patented its blades.
They call it the ComfortCut, allowing you to use the shaving blades comfortably as they glide smoothly on your skin.
The ComfortCut, according to them, is a technology that will enable you to shave with ease. You can do so on your body hair or your beard without the risk of cutting.
Pros
Rotating heads moving in four directions

Affordable price

Fully rechargeable battery

Suitable for corded and cordless operation

Built-in pop-up trimmer for longer hairs

27 self-sharpening blades

One-touch open feature and easily washable
Cons
Only 40-minute shaving time after 8 hours of charging

Slight limitations in close shaving a coarse beard
Takeaway
The Philips Norelco 2300 is your best choice if you'd like to consider trying a budget-friendly rotary shaver. It has self-sharpening blades and a handy pop-up trimmer for shaving your beard clean.
---
4. OneBlade Hybrid – Best For Delicate Skin
Having your way to a clean-shaven beard is now made easier even for your sensitive skin, thanks to Philips Norelco OneBlade Hybrid. It is an electric trimmer and shaver that does its job well in just a single pass. Such a feature ensures that your skin is less prone to irritation.
This blade's innovative, high-performance design works at a speed of 200 CPM.
The truth is, it will not give you a close shave as the other razors. But at least you won't have to worry about tugging or pulling your skin, which makes it safe for even the most sensitive skin.
Furthermore, OneBlade features a detachable comb that comes in handy as a beard trimmer for longer hairs. It is straightforward to use, allowing you to get right down to business without the need for any shaving foam or lotion.
Pros
No razor bumps, hair tugging, and ingrown hair

Unique design as a beard trimmer and shaver in one

NiMH battery offers a 45-minute run time

Rapid-moving cutter works two hundred times per second

Body and facial hair trimmer
Cons
Not suitable for a close shave

No charging stand

Too long charging time of 8 hours
Takeaway
Philips Norelco OneBlade offers you so much versatility. You can use it as a high-performing beard trimmer or use it for shaving that stubble off. Even the shaving head has small green teeth working as a comb to protect your skin from the device's sharp blades.
---
5. Philips Hp6306/50 – Best For Wet And Dry Shaving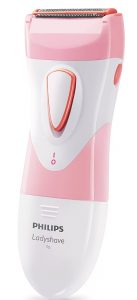 Any woman needs to shave their legs clean without causing skin irritation. Thankfully, that's one of the many great things about Philips Hp6306/50 Satinshave Wet And Dry Electric Shaver. It features an ergonomic design you can use in comfort when shaving around the bikini area.
This all-around single foil shaver of the Hp6306/50 Satinshave utilizes a lithium-ion battery that's easily rechargeable and provides an hour of cordless use. It also has a hypoallergenic foil with a practical protective cap when the shaver's not in use.
Best of all, you can use the device for wet and dry shaving.
Like Panasonic Electric Shaver ES2207P, this device gives every woman a pleasurable shaving experience. It has a sleek appearance, is perfectly reliable in catching stray hairs, and would easily fit any bag.
Pros
Ergonomic construction with anti-slip grip

Floating nickel foil design for convenient use at any angle

Rounded-tip blade for skin protection

Suitable for wet and dry shaving

Handy trimmer comb for delicate areas
Cons
Takeaway
This time-saving device offers a cordless operation, allowing you to shave conveniently anytime, anywhere. Such a handy feature makes this shaver a perfect travel buddy, especially if you need a quick shave while on the go.
---
6. Wahl Groomsman Model 7063 – Best For Traveling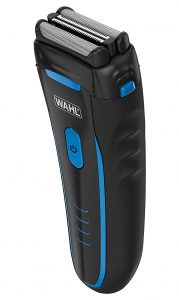 Who says you need to use a manual razor for styling your beard when you're on a tight budget? You can now make that happen with the Wahl Groomsman Electric Shaver. The shaver's handle features a rubberized non-slip surface providing an effortless grip when you're showering.
It's a waterproof electric razor featuring a three-cut system, detailed trimmer, and flexible foils.
Those who are new to shaving appreciate the combination of a broad rotary shaving head and precision foils. It will help keep your skin safe from razor bumps and nicks while shaving.
Pros
Sturdy, waterproof construction

Simple operation

90-minute cordless operation, perfect for traveling

Lithium-ion battery with rapid charging time

Secure travel lock
Cons
No integrated pop-up trimmer

Pricier than the others on the list
Takeaway
Groomsman is another affordable wet shaver offering you the advantage of a travel-friendly design. It has a lithium-ion battery with a 90-minute cordless shaving time, convenient to use when you're on the go. This shaver also includes a LED display and a cleaning brush.
---
7. Braun Electric Razor For Men, M90 – Best Foil Shaver
Of course, we cannot end the list without the crowd favorite, the Braun Electric Shaver. This M90 model is a widely known, best-selling Braun electric shaver for its innovative, practical features.
It allows a clean shave even and especially for those working on a tight budget.
Like Wahl Groomsman, this device is also ideal for traveling since it's battery-operated, so there's no need to keep plugging it. The brilliant SmartFoil technology makes it the best of its kind. It helps you to cut hair that grows in any direction and even has a precision trimmer.
Pros
A mobile shaver with a compact design, perfect for traveling

SmartFoil innovation with a precision trimmer

Broad floating foil provides more skin coverage

Clean shave in a single pass

Protective twist cap and travel lock in one
Cons
Washable device but not suitable for wet shaving

No cleaning station

No LCD for battery life indication
Takeaway
This Braun Electric Shaver features a protective cap that works as its travel lock to keep you from accidentally turning it on. It's an excellent safety razor for sideburn trimming and has a broad floating foil for awkward hair growth.
---
Factors When Buying An Electric Shaver Under $50
I understand that it can be daunting to choose between so many electric razor product models nowadays. Each shaver type seems to have advanced features and eye-catching designs.
Thus, it can be overwhelming when you're purchasing an electric razor or using an electric razor for the first time. You can also have the same confusion even when you're only trying to replace a worn-out razor.
Hence…
Here are several factors you need to consider before investing in a new electric razor. Hopefully, these tips can make an otherwise stressful decision-making process a lot easier for you:
Rotary Razor Or Foil Shaver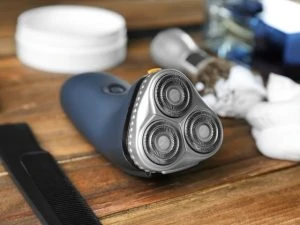 You'll probably notice that the cutting blade of foil razors is inside a slim, arched metal. Such foil electric razors glide across your facial contour when shaving, moving in a back and forth motion. Individuals with sensitive skin who prefer shorter beards may find foil razors more suitable.
Contrarily, rotary electric razors have three spinning blades that are much capable of providing a closer shave. They can cut longer hair faster, no matter how coarse and dense it is. Moreover, rotary electric shavers are ideal for individuals who don't shave daily.
Dry Shave Or Wet Shave
Wet-dry electric shavers are prevalent nowadays. People looking for the best men's electric razor under $50 would often prefer to have this advanced feature.
It's perfect for busy individuals who would rarely have the luxury of time to shave. Such a device is easier to maintain; you only need to rinse it under running water. You can freely use it with shaving foam too.
Wet shaving makes an excellent choice for preventing skin irritation and razor burn since you can use it with shaving cream or in the shower. On the other hand, dry shaving is the best way to go if you opt for time efficiency and convenience.
Plug-Ins, Battery-Operated Or Rechargeable Electric Shavers
If you sport an active lifestyle and travel frequently, a rechargeable shaver is ideal for you. It gives you the freedom to groom yourself when it's convenient for you, allowing you to shave anytime and anywhere.
Battery-operated razors are just as good when you're on the go. But it may not be a practical choice since if you shave more often, that would also mean a frequent need for battery replacements.
Resorting to a plug-in shaver can be quite a hassle because it comes with a cord. Nevertheless, if you intend to do a lot of shaving, it could be more choice for you. At least you'd never have to worry about running out of power while in the middle of shaving.
Some Other Factors You Shouldn't Miss
Aside from these three significant factors worth considering, it would help to look for other essential things. When buying an electric shaver, find a device that's easy to clean and allows you to shave with confidence.
It should offer you precise control in cutting any beard length and density and can save a lot of your precious time. The best electric razor under $50 should be more than just a budget-friendly device, like a cartridge razor. It should also offer safety even for the most sensitive skin.
Lastly, never settle for inexpensive shavers that have dull blades. Going for a disposable razor is impractical, too, since you would have to replace it often. Having a disposable razor with cheap quality blades is like allowing your hard-earned savings to go down the drain.
It may seem costly to go for self-sharpening blade features at first. But such features can help you save from spending a lot on purchasing blade replacements in the long run.
If you still want to do sharpening of blades, follow this video:
Frequently Asked Questions
Can you really find good electric shavers under $50?
Yes, you can find a wide range of decent budget-friendly electric shavers nowadays. You may even pick the best shaver under $50 that's suitable for you from our list of today's high-grade products. So, don't settle for a cartridge razor because it's not cost-effective.
Philips Norelco, Remington, Wahl, and Braun shavers have affordable models. These are all reputable brands over the years, and each has the best electric razor under 50.
Take Philips Norelco 2500 in our top list; for instance, it features an outstanding performance with exceptional innovations. You only need to identify your needs better, so you can decide which features are essential for your shaver to have.
Electric shavers have different costs depending on the features and their materials. Despite this, the actual shaving performance is essentially the same regardless of whether the shaver is expensive or not.
How to choose the best electric shavers under $50?
If you're still using a manual razor for removing your unwanted hair, then it's about time that you get an upgrade. Having quite a tight budget shouldn't even stop you from this worthwhile investment.
In any case, if you need the best electric razor under 50, you can see a lot of that on our list. Whether you require corded or cordless shavers, rotary electric shavers, or foil electric razors, we got them all covered for you.
You'll see that there's no need to compromise quality performance at the expense of a reasonable price because you can have them both ways.
First, do remember that choosing the style of shaving head that best matches your needs is crucial. Whether it's a pivoting, flexible, or floating shaving head, your choice should be suitable for removing any hair type.
The best men's electric shaver under $50 is the one that can provide you with a superior shaving experience. It should be safe to use even for sensitive skin and help you prevent any razor burn.
The suitable device can remove nasty facial hair effortlessly; an automatic shutdown feature is good to have as well. It can help you avoid overcharging your device.
Lastly…
Go for an ergonomic design and always check the materials and build. All of these would determine convenience, comfort, and durability. Although each electric shaver is unique, the same basic principles apply.
Choosing a high-quality shaver, using it correctly, and caring for it properly ensures you a comfortable shave. Remember to be patient and determined while your skin gets used to a new shaving technique.
Are these under $50 shavers good for everyone?
So let's say you already found the best electric razor under 50. But you still wonder if it's good enough for you. Everyone's list of essentials always starts with a trustworthy electric razor. These razors are versatile and can handle a lot of tasks at once.
A high-end model with the most advanced innovation would mostly be the first choice, but not all budgets allow for that. Well, you should stop right there if you're already thinking of buying a manual razor.
Here's the best news:
Today's modern technology offers many low-cost alternatives that can also get the job done. You can find so many durable, high-performing, long-lasting, and reliable razors today. I'm sure with the wide range of selections that you can find one that suits you best.
We all trust several well-known names through the years here in our list; there's Philips Norelco, Wahl, Remington, and Braun 6 Series shavers. And mind you, we still have a lot more out there! Despite their affordable prices, they come with notable features too.
They offer a wet and dry electric shaver, a beard trimmer, and a foil or rotary shaver. Now there's no reason to keep sporting that unkempt hair. Thanks to these reliable brands, you can groom your beard or any body hair you have at any time without worrying about the cost.
Remember that a razor's value is dependent on your needs. These affordable shavers are already good enough for a quick, clean shave. But if you want to see more features or accessories included, then, of course, those shavers would come at a higher cost.
Final Thoughts
Now that you have a better idea of choosing the best electric shaver under $50, you can make your selection confidently. When you require a close shave, you must purchase a razor. But an electric trimmer is well suited for you if you prefer to groom and shape your beard in various styles.
In summary, we pick Philips Norelco Electric Shaver 2500 as our best overall. We find it deserving of the top spot for delivering a convenient operation and a comfortable shaving experience.
Relatively, the Remington PF7400 F4 Comfort Series offers quality performance at a reasonable price. It also has an impressive 50-minute run time and is even waterproof.