Have you experienced being so reluctant to go to work for fear of embarrassment due to scalp smell?
Well, you are not alone.
Many people have the same concern. Probably you're here for a solution, but you have no idea how to look for the best shampoo for smelly hair. Hence, we understand the value of choosing the right product for problems like this.
So, we came up with an overview of today's top-rated products to help you with this hair issue. Please keep reading and discover why Biolage Cooling Mint Scalp Sync Shampoo is our best overall.
This Year's Smellyd Scalp Shampoo – Reviewed
1. Biolage Cooling Mint ScalpSync Shampoo – Best Overall
Matrix came up with an innovative way of treating a smelly scalp. Thus, many Biolage Cooling Mint ScalpSync Shampoo's existing users consider it the best shampoo for smelly hair syndrome.
It's conveniently rich in antibacterial formulation with loads of calming effects.
This hair product effortlessly ranks as our best overall because of its performance in combating scalp fungus without any hair damage. By removing sweat and other scalp impurities, it leaves your hair feeling and smelling fresh all day.
It gently cleanses hair and scalp, removing excess debris and sebum without stripping their natural moisture. The shampoo even has citric acid that targets unsightly dandruff flakes and prevents them from coming back.
Pros
Highly effective in keeping dandruff at bay

Fights fungus to eliminate smelly scalp

Minimizes hair loss due to shedding

Leaves hair feeling and smelling clean with a cooling sensation

Gently cleans and removes excess oil, sweat, and other impurities

Richly formulated with a mint complex and kola nut
Cons
Does not make the hair shiny

Content is mostly chemical-based
Takeaway
Soothing and protecting the scalp is what Biolage does best. You will never get that unhygienic feeling due to an unpleasant odor coming from your scalp when using it. The shampoo will even provide you with a refreshing after-feel, thanks to its cooling mint content.
---
2. Tea Tree Special Shampoo – Best Value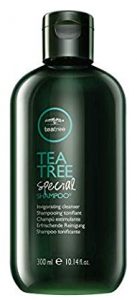 People searching for an antimicrobial solution for their dandruff and stinky scalp find relief in Tea Tree Special Shampoo. They consider it the best shampoo for smelly scalp due to its legendary performance; now, they're no longer prone to scalp infections.
It even has anti-inflammatory properties clearing your scalp of extra sebum, product buildup, and sweat.
Not to mention the peppermint oil, among its other contents, that eases itchiness with a tingling sensation as you massage it into the roots.
You will receive this shampoo in a salon-quality container, with its contents a thick gel-like seafoam shade.
However, those looking for a formula with fewer irritants can have a milder alternative than this shampoo, one with no sulfate content.
Pros
Rich in lavender, peppermint oil, and tea tree oil

Lightweight, refreshing formula that cleanses from roots to ends

Safe to use for color-treated hair

Relieves scalp itchiness and excessive scaling

Relaxing peppermint scent

Reduces dandruff
Cons
Does not generate adequate lather

Not suitable for daily use

Several irritants or harsh formulas in its contents
Takeaway
For something revolutionary in ultimate hair hygiene, it's hardly surprising how the Tea Tree Special Shampoo ends up second in our rank. As the best shampoo for smelly scalp syndrome, more and more users trust it to restore their hair's health. It reduces dandruff and leaves your hair smelling fresh.
---
3. Honeydew Lemon Sage Shampoo – Best For Oily Hair
A greasy hair due to excessive oil secretion is one of the top causes of scalp odor. People experiencing this often find comfort in using Honeydew Lemon Sage Shampoo, as it also targets dandruff at the same time.
You can use this shampoo with confidence even if you're sensitive to certain irritants, thanks to its natural ingredients.
So while you address your hair problems like oiliness, you shouldn't have to worry that this shampoo also strips away your hair's natural moisture.
This hair product gently deals with dandruff, itchiness, and residue buildup, eliminating oily roots and cleansing the pores. Now healthy, bouncing tresses are within your reach, with their fresh herbal scent.
Pros
Minimizes excess sebum secretion

Sulfate-free, non-toxic

Prevents greasy hair due to excess sebum secretion

Hydrates the scalp and reduces dandruff

Enhances the hair's natural body and shine

Refreshing herbal aroma
Cons
Takeaway
Anyone who needs the best shampoo for stinky scalp will find Honeydew Lemon Sage Shampoo a reliable choice for oily hair. It takes advantage of all the exceptional benefits of essential oils such as rosemary, tea tree, and sage.
---
4. Refreshing Scalp + Teatree By OGX – Best For Dry Scalp
Tea tree oil's naturally powerful anti-fungal properties combined with invigorating peppermint make Refreshing Scalp + Teatree Mint Shampoo By OGX a crowd favorite. It's the most affordable choice for users with a troublesome frizzy and itchy scalp.
Nonetheless, the formulation won't irritate since it does not contain paraben and sulfates.
The shampoo's active ingredients work together in restoring balance to your scalp.
Instead of worrying about product buildup, all this shampoo leaves you with is the irresistible scent of iced vanilla and peppermint. It foams up quickly, turning its gel-like texture into a rich lather, yet the shampoo is still easy to wash off.
Pros
Sulfate-free and irritation-free with only mild surfactants

Strengthens and moisturizes the hair

Deeply cleanses the scalp and exfoliates excess dry skin

Long-lasting sweet and minty fragrance with a cooling sensation

Revitalizes hair and restores natural balance

Strengthens hair strands
Cons
Container is quite bulky, not suitable for travel

Too expensive
Takeaway
What could likely go wrong when you have Melaleuca as an active ingredient in this Shampoo By OGX? Melaleuca or commonly known as tea tree oil, not only combats seborrheic dermatitis. Melaleuca, in addition to peppermint, provides relief to those with dry hair while stimulating hair growth.
---
5. Maple Holistics – Best All-Natural Shampoo
Keeping your hair from being unbearably gross from too much grease is now made easy, thanks to Maple Holistics Degrease Shampoo. People with oily scalp often encounter smelly hair syndrome.
This shampoo helps restore the scalp's natural pH balance and therefore reduces that unpleasant odor as well. It effectively eliminates excess sebum before becoming a breeding ground for bacteria that causes a foul smell.
A growing number of users rave about this best shampoo for stinky hair not only because of its exceptional performance.
It does the job with no harmful side effects since it has an all-natural formulation.
Pros
Safe for everyday use due to its all-natural content

Balances oil production in the scalp and restores pH balance

Lemon essence gives the hair a fresher, herbal, and earthy scent

Produces a rich lather

Delivers excellent results at an affordable price

Rosemary content stimulates cell renewal, and basil content strengthens fine hair
Cons
Not helpful for dandruff problems

Too expensive for daily use
Takeaway
Due to its name, Degrease, most people think the shampoo only works best for excessively oily scalp. But the truth is, the shampoo also eliminates sweat without stripping hair moisture. It also helps prevent dry hair, scalp irritation, and dandruff.
---
6. Paul Mitchell Shampoo Three – Best Clarifying Shampoo

Hearing the name alone already gave me an impression of how much the product would probably cost. However, Paul Mitchell Shampoo Three's existing users do not refer to it as the best shampoo for scalp odor for nothing.
It's undeniably costlier than most brands, but with prestige also comes an exceptional reputation.
This clarifying shampoo is a must-have product for you if your hair and scalp require some serious cleaning. It seems like a thick gel with a subtle green shade and smells clean.
Contrary to the belief of several consumers, Paul Mitchell is not merely a clarifying shampoo well-known for harsh contents that can strip away natural oil. This hair product is a gentler version, one you can use daily for all hair types. It even works so well if you have lighter hair.
Pros
Deeply cleanses hair and scalp while reducing oil production

Suitable for any hair in general

Rich in organic almond oil and hyaluronic acid

Effectively gets rid of mineral and chlorine, perfect for an after-swim

Revitalizing lemon scent
Cons
Fresh scent does not last once you style your hair

Too expensive
Takeaway
Paul Mitchell is the best shampoo for smelly hair syndrome for a growing number of users. It's hardly surprising at all since it can deliver incomparable salon-like results. The shampoo can remove product buildup and wash away impurities effortlessly.
---
7. WOW Apple Cider Shampoo – Best For Hair Loss Control
There is no doubt about the hair health benefit that apple cider vinegar can provide. As such, WOW is a brand that many refer to as the best shampoo for smelly hair. It's is among hair products restoring the hair's lost luster due to a heap of styling products and pollution exposure.
The WOW Apple Cider Vinegar Shampoo is a go-to hair product for people suffering from scalp oiliness, yet their hair ends seem dry.
The brand unsurprisingly gets its well-deserved attention considering how excellent their hair product works as a clarifying shampoo.
It avoids product buildup while making your hair less sensitive to breakage.
Pros
Deep cleanses your hair while restoring your scalp's pH level

Effectively exfoliates the scalp and relieves itchiness

Supports hair growth while adding more volume to existing hair

Controls growth of bacteria to prevent hair problems

Reduces frizz and dandruff

Mild and refreshing smell of Himalayan apples
Cons
Some users dislike the scent

Does not produce rich lather

Not suitable for dry hair
Takeaway
WOW Apple Cider Vinegar Shampoo does a pretty good job repairing damaged hair and keeping the follicles healthier. However, it's best not to give it a try if you have dry hair. You can also rely on this shampoo to prevent hair loss and control hair frizz.
---
Why Does My Scalp Smell After A Day?
The anxiety is inevitable once you realize that your problem is more than just having a bad hair day. The common impression you'd mostly get is how some would quickly blame it on poor hygiene. If you believe likewise, you'd be surprised how many individuals lather up daily and still have this problem.
Let's take a closer look at some of the most common causes of having a smelly scalp:
Hair Sweat
One of the most common causes of a stinky scalp is sweat buildup, especially for those with an active lifestyle. It can get even worse if you have hyperhidrosis or excessive sweating problem.
When this happens, your scalp starts becoming a ground for bacteria; hence, the stench. Some individuals resort to using dry shampoo instead of showering post-workout. It is a practice that you should avoid.
Seborrheic Dermatitis
An unpleasant odor could potentially be because of a bacterial infection due to excessive oil production. This condition is what experts call Seborrheic Dermatitis, which significantly influences scalp smell.
This skin problem can cause stubborn dandruff and even scaly red patches. If you notice a wet dog smell on your hair, you should consult a dermatologist because you might already have this condition.
Smelly Hair Syndrome
If you have the first two conditions we mentioned in this section, then that reeking odor from your head and scalp isn't surprising at all. This syndrome is typically due to the overproduction of oil and sweat. You can tell this syndrome exists by a horrific odor emanating from your head.
It is a strong odor that can even transfer to pillowcases and towels.
The worst part is you can even smell the reeking scent even after showering, which can be frustrating and uncomfortable. Excessive secretion of oil and sweat allows the hair to pick up odors faster than other hair types.
Most experts would recommend using a medicated shampoo to treat smelly hair syndrome. But some would try resorting to homemade treatments instead, like using aloe vera, baking soda, and lemon extract. However, it's still best to see a dermatologist before trying anything else.
Stressful Events And Hormonal Imbalances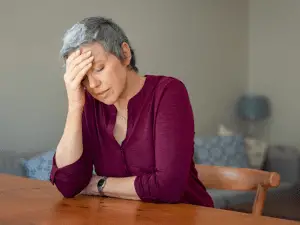 As many of us already know, unfortunate events leading to anxiety and stress could cause hormonal dysfunction. Such an imbalance within the hormones also affects the immune system and results in excessive oil production and scalp irritation.
In cases where the scalp irritation could also be because of a fungal infection, a medical professional would know how to best deal with it. Dandruff is also a fungal infection that can cause an unpleasant smell since the scalp becomes a breeding ground for bacteria. 
The treatment would either be orally or an anti-fungal medicated shampoo that you might use for an extended period, depending on the need.
Not Washing Your Hair Properly Or Overwashing It
The oil production in our scalp is not our enemy. It's a natural way of maintaining the hair's much-needed moisture. Although having too much of it causes the problem, especially if you're one to skip your hair wash days.
Depending on the individual, you can try washing your hair alternately so that you can avoid leaving it with a smell. Some individuals would have their wash days every three days.
It all depends on your hair type and lifestyle, of course. Best of all, use the right shampoo and ensure that you never shower your hair with hot water.
By contrast, not washing your hair as often as necessary would keep you from washing out excess oils and eventually block the follicles. Sebum, sweat, and product buildup will give your hair an unpleasant smell.
Less productive sebaceous glands is also a problem since it leads to dry scalp. When you have this condition and overwash your hair, it will do you more damage than good. It will strip off your hair's natural oils and could cause dandruff as much as an oily scalp could.
But that's not all...
Knowing when and how often to wash your hair is just the beginning. There's also a better way to dry it after a shower. For that, here's a short video you can watch:
Frequently Asked Questions
What Shampoo Is Good For Smelly Scalp?
There's a long list of quality products you can find, but we recommend Biolage Cooling Mint ScalpSync Shampoo as our best overall. What any dry shampoo can't do to relieve too much oiliness between washes, ScalpSync can do for you effortlessly.
How Do You Get Rid Of Smelly Scalp?
Choosing the right product depending on your hair type and lifestyle is the first step to addressing a smelly scalp. Make it a habit to check the ingredients on the label and stay away from harsh cleansers, often disguised as surfactants.
The next step would be to establish a regular hair care routine; do not under wash or overwash your hair. Using the right hair care products, cleanse, detangle, and nourish your tresses.
You should, at all costs, avoid washing your hair with hot water to prevent disturbing your hair's natural oil balance. Trying out homemade remedies can also be helpful, such as lemon juice, essential oils, baking soda, coconut oil, and apple cider vinegar.
Using a dandruff shampoo is also a practical move at the very onset of symptoms. Lastly, ensure that you follow a strict, nutritious diet and manage stress by practicing yoga and meditation. Exercising or a short walk in the park, even reading a good book, can also help.
What Does Smelly Scalp Smell Like?
Typically, our hair would mostly smell like the fragrance of any hair product we use. But once you run your fingers through your hair and you notice a repulsive smell, then you should pay more attention to it.
This odor could smell like an old sponge, sour milk, mildew, dirty socks, an old shoe, rotten eggs, or a garment that hasn't dried well. All we know is that it is downright embarrassing and could severely affect anyone's confidence.
Final Thoughts
Thanks to the availability of all these top-rated products, you no longer have to dwell in humiliation for having stinky hair. Maybe washing your hair often will do the trick. Nevertheless, you can try any of these excellent products to make your hair smell clean.
In summary, we find Biolage Cooling Mint ScalpSync Shampoo worthy of being the best overall. Rich in antibacterial agents, it reduces excessive oiliness and leaves your hair with a minty scent.
Alternatively, the Tea Tree Special is among easily accessible drugstore shampoos offering unmatched value in rebalancing stressed scalps and giving a long-lasting clean scent.