When you shave too close with the wrong razor, you'll irritate your skin.
For that reason…
You have to choose a razor with sharp razor blades so that it glides over your beard fast without pulling hair or causing razor bumps.
Razor bumps are the worst. They affect black males more than Caucasians or Asians.
So we've listed the top nine razors in the market to make your search easy. We also noted that the Schick Hydro Skin Comfort fits the title of the best razor for black men. We'll tell you why below.
Product
Details

1. Schick Hydro Skin Comfort

Derma Approved

Unique Design
Everyday Use
Great Close Shave
Precise For Tight Spots
Sensitive Skin-Safe
5 Cartridges

Check Current Price

2. Dorco Pace 6 Sport System

Close/Smooth Shave

Wet-Shave Suitable
Easy To Clean
Non-Slip Handle
6 Blades/Cartridge
9 Cartridges

Check Current Price

3. BIC Comfort 3 Hybrid

Economical

Thick Rubber Guard
Aloe Vera Strip
Pivoting Head
3-Blade Cartridge
12 Cartridges

Check Current Price

4. Gillette SkinGuard

Precise Trim

MInimal Skin Contact
Smooth Shave
No Clogging
Moisturizing
Doesn't Shave Close

Check Current Price

5. BIC Flex4 Sensitive Hybrid

Very Affordable

Has Aloe Extracts
Moisturizing
No Skin Irritation
Textured Grip
4 Cartridges

Check Current Price

6. Shaving Revolution Double Edge Blade

Elegant Design

Firm Grip
Smooth Shave
Long Handle
Precise Shaving
No Irritation

Check Current Price

7. Vikings Blade The Chieftain

Better Grip

Smooth Shave
Quick Blade Change
Great For Newbies
On The Pricey Side

Check Current Price

8. Gillette Sensor3

Adjusts To Face Contours

Firm Grip
Durable Handle
Ergonomic
Dull On Grown Beard

Check Current Price

9. BIC Flex5 Hybrid

Lubricating Strips

Precise Trim
No Skin Irritation
Sensitive Skin-Safe
6 Cartridges

Check Current Price
9 Best Razors For Black Men - Reviewed
1. Schick Hydro Skin Comfort - Best Overall
What's most outstanding about the Schick Hydro Skin Comfort is its unique design consisting of seven gel pools with aloe and vitamin E. These two lubricants hydrate your skin to reduce friction between the razor and your skin to prevent irritation.
This razor has dermatological approval; thus, it delivers on its claims to suit men with sensitive skin.
On top of that, this razor's handle is shock absorbent. Therefore, it optimizes the pressure exerted on the skin such that it's just enough to get the work done. Additionally, it has a precision trimmer whose purpose is to shave under your nose and other demanding spots.
Pros
Suitable for everyday shaving

Can give you an excellent close shave

A shock-absorbent handle to control your hand's pressure on the skin.

Precision trimmer for tight spots

Skin protection through gel pools of aloe on the blades

Five cartridges set

Engineered for sensitive skin

Long-lasting razor
Cons
May not shave too close because of the skin guard.
Takeaway
We ranked the Schick Hydro Skin Comfort as the best overall because many black men have sensitive skin that needs extra care when shaving.
For that reason, this razor prevents irritation because it has a handle that controls the pressure you exert on your skin. Its five blades are sharp, durable, and don't irritate the skin.
---
2. Dorco Pace 6 Sport System - Best For Cartridge Variety
The Dorco Pace 6 Sport System comes with nine cartridges and one handle, which will serve you for a long time as this razor is durable. You'll also note that each cartridge has a set of six blades positioned appropriately for a close and smooth shave.
These blades sit on a non-slip handle, so you'll have control over the speed and pressure you put as the razor glides.
What does that mean? No razor irritation.
On the same note, the blade contains a lubricating gel made of natural extracts like aloe vera and olive oil. This gel reduces the risk of skin irritation by soothing and moisturizing your skin.
Lastly, the cartridge is easy to clean as it has an open flow design that lets you remove the dirt inside.
Pros
Close blades so you can shave smoothly

Lower skin irritation

Sharp, durable blades

Nine cartridges 

Unique design to reduce blade clogging

Suitable for wet shaving

Non-slip handle
Cons
Too laborious on a long beard
Takeaway
The Dorco Pace 6 Sport System is lightweight, and it comes with one handle and nine cartridges to serve you for months. It gives you a close shave that leaves your skin smooth and moistened, lubricated by a mixture of aloe and olive oil.
---
3. BIC Comfort 3 Hybrid - Best Disposable Razor
We feel the BIC Comfort 3 Hybrid fits the rank of the best disposable razor because it comes with 12 cartridges, which makes it economical.
These will last you for months, depending on how many times you shave and your razor maintenance routine.
Expect a close shave as each cartridge has three blades. Also, BIC Comfort 3 Hybrid has a strong handle and a pivoting head for control of the speed and depth of each razor glide. It's also a compact-size razor; therefore, you can pack it easily for travel or in your gym bag.
Pros
A triple-blade razor to shave as close as possible

12 cartridges

Thick rubber guard to align the razor movement

Lubricating strip with aloe vera

Pivoting head to align the shaving angle

Non-slip handle

Affordable
Cons
Takeaway
Expect a close, comfortable shave as this razor has a pivoting head that aligns the three blades' angle. Further, there's a lubricating strip containing aloe and vitamin E to prevent razor irritation as the razor glides over your skin.
---
4. Gillette SkinGuard - Best For Sensitive Skin
Gilette SkinGuard is the best razor for black males with sensitive skin because there's minimal contact between the blade and the skin.
The drawback is that you can't use this razor for a close shave.
However, it prevents issues like irritation and razor bumps, something no one wants to experience in the name of getting a close shave.
It has five blades to get the work done as fast as possible.
What's more, the Gillette SkinGuard has a precision trimmer to take care of beard hair on hard-to-reach areas, such as above your upper lip. Lastly, this razor lubricates your skin before and after the blade glides over your skin.
Pros
For sensitive skin

No nicks or irritation as it doesn't shave too close

Smooth shaving

No clogging

Lubricates before and after the shave
Cons
Takeaway
The Gillette SkinGuard razor's design prevents irritation and cuts, making it suitable for black men with sensitive skin. Even though it doesn't shave close, you'll have a smooth shave. Plus, your skin will remain soft and moistened.
---
5. BIC Flex4 Sensitive Hybrid - Best Budget Option
This razor lets you look good for less as it comes with four cartridges but at a very pocket-friendly price.
On top of that, the BIC Flex4 Sensitive Hybrid has long-lasting blades; therefore, the four cartridges will last a long time.
These blades are flexible, so they follow the contours of your face, thereby doing a perfect job.
Additionally, they contain aloe extracts to keep the skin moist and prevent razor irritation.
Pros
An affordable disposable razor

Four cartridges

Long-lasting blades

Plastic guard bar to prevent skin irritation

A handle with a textured grip
Cons
Takeaway
The pack of four cartridges covers you for about four months, not forgetting that this pack comes at a pocket-friendly price. The blades give you a smooth shave that's not too close. Therefore, you won't experience razor nicks.
---
6. Shaving Revolution - Best Double Edge Razor
This Shaving Revolution Double Edge Blade safety razor is sturdy; hence, it's durable. It'll give you the precise shave you've always wanted without irritating your skin.
Its most striking feature is its long handle that gives you a firm grip as you maneuver the contours of your face.
It's an elegant razor with an eye-catching knurling pattern that not only gives you a firm grip but also adds to its beauty.
Pros
Smooth shave

A long handle with an excellent grip

Heavy for enough pressure as it glides

An elegant design
Cons
A higher price than other razors
Takeaway
Wet your face sufficiently, smoothen your beard with shaving cream, then let the Shaving Revolution Double Edge Blade do the rest. It proves that you only need one blade to shave your beard.
---
7. Vikings Blade The Chieftain - Best Heavy Duty Razor
If you didn't like the double edge safety razor above, the Chieftain is another option.
This one is about 20% heavier than ordinary safety razors, so we ranked it as the best heavy-duty option. Its engineering ensures a smooth and close shave without the annoying nicks.
Additionally, it's a sturdy design with an extra sleek coating; you'll love adding this to your grooming shelve.
Even though it uses a blade, the replacement process takes about five seconds only; it comes in a three-piece construction that you twist to open and tighten.
 It's for use by both first-time and seasoned wet shavers, so don't worry if it's your first time using one.
Pros
Heavier, for a better grip

It takes about five seconds to change the blade

Close shave without irritation

Suitable for beginners
Cons
Takeaway
Vikings Blade The Chieftain is heavier than other blades to give you control over the shave, and it cuts smoothly.
---
8. Gillette Sensor3 - Best For Skin Sensing Blades
Have you heard about razors that adjust their angle to your face's contours? The Gilette Sensor3 does that so that it shaves as close as possible.
Additionally, its skin guard has fins that stretch your skin taut so that the blade glides over a smooth surface.
Its rubber handle gives you a firm grip to prevent slips that may cause razor nicks.
What's even more interesting is ComfortGel technology, a Gillette innovation that activates the lubrication through water and creates a long gel-like layer on which the blade glides.
Pros
Sharp blades

Thick, durable handle

Ergonomically shaped handle for a non-slip grip

Budget-friendly
Cons
Too dull on a grown beard
Takeaway
The Gillette Sensor3 razor gives you about ten shaves per razor. It's disposable, and it's budget-friendly. It has unique engineering that lets water activate the lubricating strip and turns it into a gel-like platform for the razor to glide without hurting your skin.
---
9. BIC Flex5 Hybrid - Best Blade-Style
Earlier, we talked about the BIC Flex4 Sensitive Hybrid, which suits sensitive skin. Well, the BIC Flex5 Hybrid adds you one more blade, so you have five blades.
Is that important? Yes, it is.
The five blades let you go a bit deeper with each cut because as the first blade glides, it lifts the beard hair, and the next one repeats the process, thereby cutting closer. 
With these blades positioned strategically, they won't pull your hair or irritate your skin. 
Pros
Six cartridges

Precision trimming blade

Lubricating strip

Five blades per cartridge
Cons
The blades may irritate sensitive skin when close shaving.
Takeaway
BIC Flex5 Hybrid gives you five blades per cartridge for a close shave. They come with six cartridges to last you several months.
---
Once you get the best razor for shaving a black man's head, here are a few tips:
Shaving Tips For Black Men
Prep Your Skin
Soften the beard to straighten it for the razor to cut as close as possible without painful nicks. For example, you can have a steamy shower and apply a smooth layer of shaving cream.
Always Use A Sharp Blade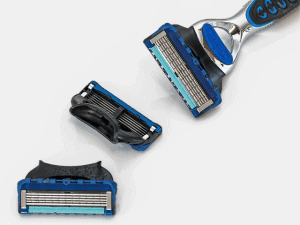 Reuse a blade because it is still sharp, not because you've only used it a couple of times. Why? A dull razor will drag rather than cut your beard.
Use Enough Pressure
Blades are sharp, and some razors, such as the Vikings Blade The Chieftain, are heavier, so they have enough pressure already to cut close. When you exert more pressure on such blades, you risk getting razor cuts.
Have A Post-Shave Routine
The shaving routine ends after you use after-shave and moisturize your skin. Use a moisturizer with hydrating ingredients suitable for men as their skin is prone to acne and blemishes. Also, wear sunscreen.
Lastly:
For Sensitive Skin, Shave Less Often
If you suffer from razor irritation, shave less often. Give your skin time to heal; therefore, don't shave daily. Additionally, use a razor with a single blade to avoid repeated shaving that takes the razor too close to the skin.
Here's a guide for prepping the skin and effective shaving for black men:
Popular Questions About The Best Razor For Black Skin
What Is The Best Razor For A Black Man?
The Schick Hydro Skin Comfort is the best shaver for black men because it has a gel pool with aloe to lubricate the skin for the razor to glide over it. Each cartridge has five blades to cut close and smooth so that you don't have to shave every day if you have sensitive skin.
What Direction Should A Black Man Shave?
Shave in the direction the hair grows because when you shave against the grain, there's a higher chance of getting ingrown hairs and razor bumps. The hair acquires a new angle, which makes it curl downward and prick your skin.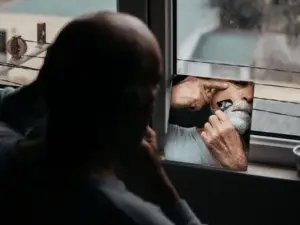 Why Do Black Males Get Razor Bumps?
Razor bumps affect more black males because they have curly beard hair. Their cases account for about 85% of the total cases of razor bumps.
As we've discussed above, when you shave using the wrong method, you'll cut the hair shaft at an angle that gives it a sharp edge.
Hence, as it grows, it may re-curl downward and prick the skin, causing a bump. Also, the razor might have cut the hair so much that the remaining hair shaft curls almost horizontally instead of penetrating the skin vertically.
You can prevent these bumps by using a sharp razor like the best butterfly safety razor, shaving in the direction of hair growth, and applying a smooth layer of shaving cream. Additionally, reduce the number of times you shave per week.
The Verdict
The Schick Hydro Skin Comfort comes with five cartridges, and it's not expensive to get more cartridges so that you'll never shave with dull blades. On top of that, it has a skin guard with aloe and vitamin E, both lubricants with wound healing properties.
If you'd like to spend less, the BIC Flex4 Sensitive Hybrid is the best budget option. It has a pivoting head to adjust the shave pressure and angle to the contours of your face. It also contains a lubricant in its plastic guard. Therefore, fewer chances of skin irritation.