Who says you can't rock that bald look with confidence? Of course, you can! You can sport that hairless look anytime; just don't neglect to give it your tender loving care, alright?
But then...
Finding the best shampoo for bald heads may not be as easy as it seems, not with the vast options you can find online.
So, to take the guesswork out of the most suitable shampoo for you, we collated some of the top-rated products you can find today. Let's see why Sachajuan Scalp Shampoo earned its place as the best overall.
Top 5 Best Shampoo For Bald Head Reviews
1. Sachajuan Scalp Shampoo – Best Overall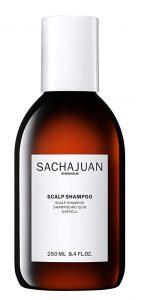 More and more users bet on Sachajuan as the best shampoo for bald heads. I find it hardly surprising due to its unique formulation of anti-fungal properties combined with salicylic acid. These are potent ingredients in eliminating dandruff, all while delicately cleansing your scalp.
It comes in a small bottle with a convenient flip-top cap that you can use with just a mere squeeze. Sachajuan Scalp Shampoo's formulation appears as a translucent liquid with a minty scent that won't cause a stinging sensation to your eyes.
This scalp shampoo not only contains salicylic acid that gently releases dry skin to strengthen your hair follicle.
Sachajuan even includes climbazole that works wonders for fungal treatment. It also has ginger and rosemary extracts for soothing irritation and promoting hair growth.
Pros
Contains gentle active ingredients

Cleanses while nourishing the scalp

Safe and gentle for daily use and color-treated hair

Combats fungus-causing dandruff while soothing scalp irritation and treating scalp acne

Improves blood circulation in the scalp

Effective hair growth shampoo that keeps the scalp inflammation free
Cons
Takeaway
Sachajuan topped the rank as the best overall for being a non-toxic, paraben-free cleanser. And even despite its gentle formulation that's safe for daily use, it thoroughly cleans and keeps you from irritations. It also has excellent texture and is very light-scented.
---
2. Nizoral Anti-Dandruff Shampoo – Best Value
Several individuals would say that using Nizoral Anti-dandruff Shampoo can be so life-changing. These are people with an overly flaky, itchy scalp, and some even complain of redness. Anyone suffering from dandruff considers it the best shampoo for a shaved head.
You never even have to worry about using this shampoo on graying or color-treated hair.
Unlike other products, Nizoral is gentle and contains no artificial fragrances. As a result, it is ideal for people who are allergic to scents.
One might have to thank Ketoconazole for its tremendous potency. It works wonders even when the formulation contains only one percent of it. In addition to treating dandruff, it also treats its causes, such as seborrheic dermatitis and scalp psoriasis.
Pros
Includes one percent Ketoconazole; a potent anti-fungal agent

Reduces scalp yeast

Effectively relieves too much scalp itching

Promotes hair follicle growth

Creates healthy setting for hair strands to grow stronger
Cons
Slightly causes hair tangles for users not entirely bald
Takeaway
There's no wonder how you will often notice Nizoral as part of top-grade products. It offers exceptional value as the best shampoo for bald heads in distress due to dandruff and itchy scalp. It's also an excellent hair loss treatment, putting an end to your endless head-scratching.
---
3. Bee Bald CLEAN Cleanser – Best Exfoliating Shampoo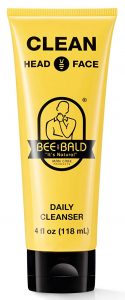 Another foolproof way of gently exfoliating your way to a clean and healthy scalp is through Bee Bald CLEAN Daily Cleanser. Thus, many users will agree that this is the best shampoo for bald head exfoliation.
You should make no mistake in underestimating its mild formulation.
Despite being so gentle, it can still effectively cleanse oil, dirt, and dead skin buildup.
There's no wonder about that since this cleanser is rich in aloe vera extract and jojoba oil.
It also contains salicylic acid; you can even use it on your face. Additionally, this cleanser helps improve the appearance of razor bumps and ingrown hairs. It heals any blemishes and irritations by restoring the skin's healthy balance.
Pros
Perfect for daily washing

Non-irritating, gentle exfoliation

Refreshing, honey-like scent

Thoroughly cleanses without drying the scalp

Soothes and heals irritations while hydrating the skin

Rich in jojoba beads, bee pollen, honey, licorice root, and aloe vera
Cons
Relatively small easy-squeeze container

Not specifically a hair loss shampoo
Takeaway
Bee Bald will never leave your skin dry; in fact, it nourishes your scalp's skin to prevent flaking and itching. You can rely on its mild exfoliation while thoroughly cleansing your shaved head. Hence, it earned its spot as the most gentle formulation on our list.
---
4. C3 Head Hydrate – Best For Sensitive Skin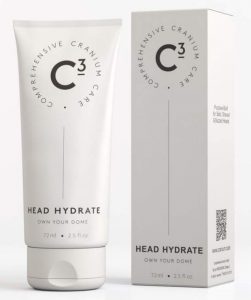 It may be worth your while to try C3 Head Hydrate if you want to keep your scalp free of free radicals. It has natural ingredients acting as a skin moisturizer without irritation. Hence, this shampoo is what we recommend as the best one for those with sensitive skin.
C3 comes as a foaming wash suitable for the head, face, and neck area.
It is so mild in hydrating the skin, and they even ensured having a fragrance-free variant available. This unique formula works best in soothing and restoring the skin's balance.
Aside from the refreshing feeling, you'll see how it differs from the usual shampoos you know once you use it. This cleanser treats oily scalp, scaly, and itchy heads. It's perfectly hypoallergenic and non-comedogenic, so it would never clog your pores.
Pros
Mild foam cleanser with an all-vegan formulation

Safe for daily use

Soothes razor burns and calms the skin

Fragrance-free, with no parabens, sulfates, or phthalates

Restores the skin's pH balance
Cons
Does not produce lather

Does not contain SPF

Expensive
Takeaway
Besides its ultra-mild formulation, I like the anti-inflammatory properties of C3 Head Hydrate. It has a unique design to care for bald and shaved heads. While the cleansing foam doesn't promise to grow your hair, it can heal and nourish your scalp in the healthiest way possible.
---
5. Brickell Men's Shampoo – Best Organic Shampoo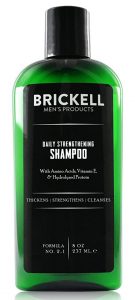 I can assure you that Brickell is not a part of the best shampoo for shaved head list for nothing. Of all its exceptional features, I like how it keeps you from suffering from dry scalp.
Its potent combination of mint and tea tree oil is very reliable in reducing flakes.
Brickell Men's Shampoo is also an ultimate performer in providing relief for inflammation and itchy scalp. It gives a cooling sensation that could help improve blood circulation. Likewise, you can also use this as a thickening shampoo that enhances thinning hair and prevents hair loss.
Of course, you could expect that and more from a hair care product rich in silk protein amino acids, tea tree oil, and aloe. Not to mention that it also contains vitamin E, peppermint, pro-vitamin B5, and hydrolyzed protein.
Pros
Top-grade shampoo for bald heads with organic ingredients

Reduces flaking and soothes scalp irritation

Holy grail for thinning hair and promotes scalp stimulation

Relaxing mint scent

Suitable for all hair types
Cons
Quite costly

Not ideal for hair regrowth of bald spots
Takeaway
Having tea tree oil as one of Brickell's main components, it's hardly surprising how much wonder it does with its anti-fungal properties. However, this product may not be suitable for you if you're aiming to regrow those bald spots. But it stimulates the scalp and minimizes hair loss.
---
How To Care For Your Bald Head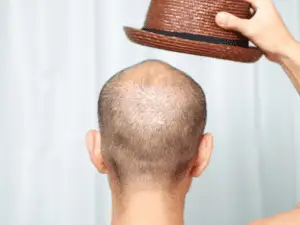 Understanding how to give your bald head the best possible head care is crucial. It's especially true whether you decide to go hairless intentionally or due to male pattern baldness or androgenic alopecia. You would need to establish a specific care routine that will keep your scalp healthy.
Some even believe that having no hair would mean no maintenance necessary; that is far from true. You still need to find the best shampoo for bald heads to ensure it's oil-free and clean.
Here are some essential skincare methods to help you maintain your scalp in excellent condition:
Don't Neglect The Conditioner!
If you think that shampooing your shaved head is enough, then that's where you're wrong! You might be unaware that as bald as you could be now, your head still got those unnoticeable tiny hairs needing a moisturizer.
Thus, aside from using shampoo when showering, ensure that you also use a decent moisturizing conditioner. A reliable conditioner will keep those tiny hairs well-nourished and prevent dryness. You can likewise reduce instances of flaking and, even worse, a peeling scalp.
But if you prefer resorting to natural ingredients in your shampoo, you can try one that has coconut oil extracts. It is rich in anti-aging and moisturizing properties that quickly absorb the skin and treat scalp irritations.
Exfoliate Your Scalp
Aside from moisturizing your scalp's skin, it would help if you could eliminate dead skin cells through gentle exfoliation. Doing so can even remove excess sebum that may lead to clogged pores. You can try out Bee Bald CLEAN Daily Cleanser, which works best for this purpose.
Remember that your scalp is prone to drying out, just like any part of your skin. For this reason, you need to check for any dead skin that might be on top of new skin growth. Once you remove the dead skin at the sight of it, you will least likely suffer from scalp acne or breakouts.
It will also serve your scalp's best interest if you use shaving cream when it's time for a clean shave. For those with bald heads, shaving is typically a part of their regular maintenance.
Give Your Scalp A Relaxing Massage
You can encourage healthy hair growth and improve blood circulation by having a scalp massage. You may try using a lightweight oil, but don't leave it on your head for too long, so it doesn't clog the pores.
Taking it to a professional would not be necessary since you can use your fingertips to do so. Start by applying your preferred pressure while moving your fingers around in a circular motion. It's not only good for your scalp's overall health but can also be relaxing and alleviate stress.
If this is something you haven't tried yet, here's a short instructional video you can watch:
Protect Your Scalp From Sun Damage
Without the hair, your scalp is more exposed and unprotected. During the cold season, it's easy to grab a beanie on your way out. But when the sun is up and scorching hot, you need to do a lot more than that.
Invest in a reliable sunscreen brand and ensure that you apply a good amount on your scalp before heading out.
A 20 SPF sunscreen would be fine and putting a hat on could help too. If you are consistent in doing this, you could save yourself from a nasty scalp sunburn. Not to mention that UV rays do so much damage to your skin.
Frequently Asked Questions
Should You Use Shampoo On A Bald Head?
Yes. Your scalp also deserves a skincare routine the same way you would do it for your face. The absence of hair would leave the skin's pores open and more exposed. Your shaved head has so much exposure to all sorts of pollutants, causing some health problems.
So, it's only practical to cleanse it with shampoo to get rid of accumulated dirt and oil build-up. You only need to make sure you invest in a reputable hair care product. Make the right choice of the best shampoo for shaved head since your scalp deserves no less.
Maybe you find it unnecessary to use shampoo since you're already hairless. But the truth is, using shampoo will control the over-productive sebaceous gland on your scalp. If you find your scalp too greasy, you may try using a dry shampoo to minimize it.
Why Is Shampoo Important For Bald Head?
Contrary to the belief of many, shampoo benefits not only the hair but also the scalp. Using the best shampoo for a bald head helps take off gunk buildup and could even foster a healthy scalp in the long run—especially when paired with a quality bald head moisturizer as well.
You only need a dab of shampoo to do its job in removing dirt and excess oils from your scalp. The right choice of shampoo will work efficiently in cleaning the grime away without leaving your scalp dry. It will keep your scalp well-moisturized to keep you from flakes and itching.
Nevertheless, do not over-shampoo your bald head too.
Depending on your preference and lifestyle, you can try doing it at least once or twice a week. If you opt for a shampoo as an androgenic alopecia treatment, you can try looking for one with saw palmetto in its formulation.
Saw palmetto works so well as a thickening shampoo. It's pretty easy to find a hair loss shampoo containing saw palmetto nowadays. Many users find it suitable for those with thinning hair, often caused by a shrinking hair follicle.
Furthermore, individuals consider biotin formulation as an effective thickening shampoo. It's ideal for those with thin hair, strengthening strands and making them resistant to shedding.
And lastly, let's not forget how some experts claim that caffeine shampoos have the same effect on encouraging hair regrowth.
Although, there's no adequate evidence yet to support the claim of how caffeine shampoos are clinically capable of being a long-term hair loss treatment.
Why Do You Need Shampoo For Bald Head And Not Soap?
Soaps have distinct pH levels that are suitable to use as a body wash. However, it may have a formulation that can be too strong to use on the scalp. Your scalp's skin is different from our body's skin, so using one might cause a dry scalp and some itching.
Moreover, a bar of soap makes a good body wash but may not address excessive oil production on your scalp. It won't help you avoid scalp problems like greasiness and dandruff. Alternatively, shampoos contain cleansing, moisturizing, and skin-relieving properties lacking in a soap.
Shampoos containing argan oil can do wonders for relieving dry, itchy scalp since it is rich in antioxidants. A formulation with argan oil can also provide UV protection and keep your scalp safe from free radical damage.
Final Thoughts
Aside from all these exceptional hair care products we reviewed, there are still a lot more out there. But now that you know how essential it is to choose the best shampoo for a balding head, you will be more meticulous in making that decision.
In a nutshell, we find Sachajuan Scalp Shampoo deserving of being the best overall for protecting the scalp from environmental aggressors. It offers salon-grade results as it effectively combats flaking, excess oil, and dryness. It's a well-known competitor of pura d'or shampoo.
Nizoral alternatively offers the best value in ensuring that you no longer suffer from unsightly dandruff. It helps you say goodbye to inflammation and redness at an affordable price.