Combing dry, brittle 4c hair should be on the list of the most painful experiences on Earth.
It's excruciating!
You know what? It's avoidable too.
Massage your hair with a leave-in conditioner to moisten it until your next wash day, and you'll eliminate tangles and knots.
Our list below has the top leave-in conditioners for type 4 hair. We ranked the tgin Green Tea Leave-in Conditioner first because its formulation makes it the best leave-in conditioner for 4c hair.
Best Leave-in Conditioners For 4c Hair: 8 Picks
1. tgin Green Tea Leave-In Conditioner - Best Overall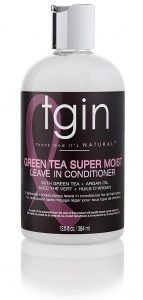 It fits the title of the best leave-in conditioner for 4c natural hair because of its range of ingredients. First, 4c hair grows slowly, so nourishing it with green tea extract will stimulate growth and inhibit hair loss.
Second, tgin Green Tea Leave-in Conditioner has emollients like cupuacu butter to seal in moisture for healthy hair. Third, you'll be protecting your scalp from inflammations using sunflower oil.
There are so many other nourishing and moisturizers in it, such as rosemary extract.
Now, do you agree it's the best for 4c hair?
It's a lightweight leave-in that'll not cause product buildup, and it'll be easy to wash out.
Pros
Boosts hair growth

Prevents hair loss

Treats your scalp

Affordable

Reduces frizz
Cons
It may dry out textured hair.
Takeaway
tgin Green Tea Leave-in Conditioner softens your hair so the curls can spring to life. Its range of ingredients has both nourishing and strengthening benefits.
---
2. OKAY Black Jamaican Castor Oil - Best Budget Option
Its formulation fights hair loss, breakage, tangles, and dryness using ingredients like shea butter and argan oil. Aren't all of these the reasons 4c hair is unmanageable?
This leave-in has vitamin E and omega oils too to boost blood circulation and encourage hair growth.
Plus, OKAY Black Jamaican Castor Oil leave-in does all this for less, so you can enjoy your natural hair journey without overspending.
Pros
Boosts growth

Replenishes natural oils

Fights breakage and tangles
Cons
Takeaway
OKAY Black Jamaican Castor Oil is a few dollars cheaper than other leave-in conditioners in this review. Though it's affordable, it doesn't compromise quality, so you get nourishing and moisturizing properties from rich ingredients like shea butter, argan, and castor oils.
---
3. Mielle Organics Leave-In - Best Natural Formulation
Mielle Organics Pomegranate Honey Leave-in Conditioner wants you to moisturize your curly hair with a lightweight conditioner so that you don't weigh your shafts down that they lose their shine.
Plus, it'll prevent frizz as you detangle your tresses when styling.
To do so, Mielle Organics Pomegranate Honey Leave-in Conditioner has many natural ingredients like babassu oil so that your hair retains moisture, more so if it's high porosity hair.
Pros
Formulated for 4c hair

A range of natural extracts and oils

Adds shine and moisture

Prevents frizz

Defines curls
Cons
Takeaway
Mielle Organics Pomegranate Honey Leave-in Conditioner is the best leave-in conditioner for 4c hair for its range of fruit extracts. It also has honey and babassu oil, all to moisturize and strengthen your 4c hair.
---
4. Aunt Jackie's Quench Moisture - Best For Coily Hair
You must have heard about Auntie Jackie's in natural hair forums. This particular product rejuvenates dry tresses without creating product buildup or stressing the hair shafts with too much weight.
It's suitable for all curly and coily hair, so even if you're unsure of your hair type, you can use it on 4a to 4c hair.
You'll love the slip and moisture it leaves in your hair, making it manageable.
Even more rewarding is knowing that you'll be treating your hair with a range of moisturizing natural ingredients like aloe leaf juice, wheat protein, and argan oil.
Aunt Jackie's Quench Moisture also contains shea butter and olive oil, which we all love on our textured hair. It's affordable too, which is a relief as you still need to invest in a shampoo for 4c hair.
Pros
Natural ingredients

Suitable for coily, curly, and wavy hair

Intensive moisture

Treats dryness
Cons
It may leave white flakes.
Takeaway
Aunt Jackie's Quench Moisture isn't greasy, and it has a pleasant scent. It won't weigh your tresses down, plus it's affordable.
---
5. Oyin Handmade Hair Dew - Best Smoothing Lotion
To have healthy-looking 4c hair, moisten it often. That's what Oyin Handmade Hair Dew does as it refreshes your hair and gives it a new layer of protection. This lotion keeps your hair soft and manageable, two things people with curly hair struggle with daily.
It's no wonder the name suggests its hair dew.
Further, as it moisturizes your hair, it prevents frizz, and your hair stays shiny, even days after shampooing.
Oh! The smell is pleasant, with a hint of marshmallows. Its consistency is similar to hand lotions, so you'll have an easy time massaging it into your scalp without using too much leave-in or causing white flakes.
Pros
Lotion consistency

Pleasant vanilla smell

Instant hydration

Stops hair breakage

Nourishing ingredients like castor oil

Smoothing lotion
Cons
Takeaway
The Oyin Handmade Hair Dew hydrates and softens your hair with a small amount. Plus, it's a lotion, so you'll not worry about leaving white flakes on your hair.
---
6. Miss Jessie's Leave-in - Best Detangling Conditioner
Braiding or parting 4c hair is painful when it's dry and brittle. Therefore, Miss Jessie's Leave-in Condish detangles and softens it for the comb to pass through without breaking your hair. The outcome is a nourishing barrier between your hair and stylers that may cause moisture loss.
A small amount of this leave-in defines your curls and holds the style all day long.
On top of that, Miss Jessie's Leave-in Condish is a lightweight conditioner that won't be too heavy on your hair regardless of its porosity.
It's the product you want in your cabinet if frizz causes the most drama to your hair. Plus, there's a natural shine after massaging your hair, the kind of shine that makes heads turn. 
Pros
Lightweight formulation

Fights frizz

For curly or wavy hair

Softens and defines curls

Protection from styling products

Hydrating ingredients like soybean
Cons
Takeaway
When you know the benefits Miss Jessie's Leave-in Condish brings to the table, you'll not worry about its price. This nourishing leave-in conditioner detangles frizz and softens your tresses. It has hydrating ingredients like aloe to moisten your hair from its roots to the tips.
---
7. Taliah Waajid Shea-Coco Condition - Best Simple Formula
Unlike other products, this leave-in conditioner moistens without causing shrinkage to the already challenged 4c hair. With such intense moisture in your hair, there'll be no place for dry flakes on your scalp.
Taliah Waajid Shea-Coco Condition moistens your hair for about three days, which is convenient as you'll have less to worry about in the morning. After applying it, you can run a comb through without pulling some strands as it eliminates frizz.
Your hair won't feel heavy or sticky either, and the nourishing ingredients therein enhance growth.
To mention a few ingredients, it contains coconut oil and shea butter.
Pros
Daily leave-in conditioner

No shrinkage

It makes your hair manageable

Prevents frizz and breakage
Cons
Takeaway
The Taliah Waajid Shea-Coco Condition is a daily leave-in that adds more moisture than you'll get in other brands, as it contains coconut oil and shea butter. As it does so, it doesn't cause shrinkage, which our 4c hair endures with most hair products.
---
8. Camille Rose Moisture Milk - Best Softening Leave-in

It's the best leave-in conditioner for 4c natural hair that's brittle as it softens it using ingredients like slippery elm bark, rosehip oil, and rice milk.
Camille Rose Curl Love Moisture Milk also has macadamia seed oil to seal your hair shafts and prevent breakage.
In addition to moisture, it also benefits your 4c curl with vitamins like A and D for growth.
Pros
For use on wet and dry hair

Boosts growth

For low porosity hair
Cons
May leave grease residue.
Takeaway
You can avoid buildup by using a small amount of Camille Rose Curl Love Moisture Milk to moisturize your hair after shampooing it.
---
Have you used any of these conditioners yet?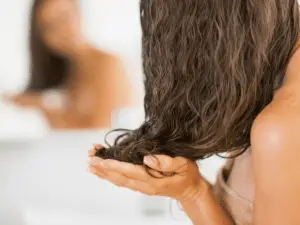 Let's discuss some...
Frequently Asked Questions (FAQs)
Is Leave-In Conditioner Good For 4C Hair?
Yes, as it prevents brittleness, softens your hair, smoothens it, and enhances growth. That's why you need it after washing with the best shampoo for 4C hair.
Here are some cheap leave-in conditioners for natural 4 type hair:
Can You Put Leave-In Conditioner On 4C Hair Everyday?
Yes, if your hair is dry and needs replenishing. However, over-moisturizing can also cause hygral fatigue, which weakens your shafts.
How Often Should You Use Leave-In Conditioner 4C Hair?
Use it after washing your hair, as that's when the nourishing ingredients can penetrate your hair shafts.
What Are The Best Moisturizing Leave-In Conditioners For Dry Brittle 4C Natural Hair?
We've discussed eight options above, all offering moisturizing and nourishing properties to dry hair. All options listed here contain natural ingredients like shea butter, argan, babassu, and olive oils. However, you can still combine them with one of the best moisturizers for 4C hair for extra care.
Why Is A Leave-In Conditioner Important For 4C Hair?
A leave-in conditioner:
Nourishes Hair
Your hair needs nutrients to grow, and a leave-in provides a range of nourishing oils like coconut and olive.
Strengthens Hair
Styling and combing dry hair weaken it. Washing it with harsh shampoos also damages it. Thus, using a leave-in conditioner strengthens hair shafts and repairs damage caused by styling products.
It fills any gaps on the hair surface, and that's how the strand smoothens for the comb to glide through without causing tangles and knots. Filling up these spaces also makes the hair reflect light leaving you with a natural shine.
As we conclude our discussion on the best leave-in conditioners for 4c hair:
The Verdict
tgin Green Tea Leave-in Conditioner is the best leave-in conditioner 4c hair needs because it contains emollients, anti-inflammatory properties, and it's lightweight. Such a formulation takes care of problems prone to 4c hair. 
The OKAY Black Jamaican Castor Oil is the best budget option because it's cheaper than the tgin Green Tea Super Moist Leave-in Conditioner. If you wish to save some Dollars, go for it, and treat your hair with replenishing oils like argan and castor oil.