If you're in your mid-30s to 40s, you've probably spotted a few gray hair strands popping. Have they taken over your hairline already?
We know how they can catch you off guard; one day you're thinking about the best styles for African Americans in their 30s, and the next day you have to worry about gray.
Hence...
We went looking for reviews of various brands to get you the best hair dye for black men. In this article, we look at the ones we found, starting with the Black Hair Shampoo. It's our top pick, and we'll tell you why.
Product
Details

1. Black Hair Shampoo Dye

Softens Hair

Cost-Effective
Easy To Apply
Quick Results
Lasts For Months
Pack Of 10 Sachets

Check Current Price

2. Bigen EZ Color For Men

Natural-Look Effect

No Ammonia
Contains Aloe Vera
Strengthens Hair
No Sink Stain

Check Current Price

3. Cherioll Black Hair Shampoo

Has Herbal Extracts

Rich Scent
Moisturizing
Anti-Dandruff
Shampoo Dye

Check Current Price

4. Simple Color

Excellent Results

Easy Apply
W/ Coloring Kit
No Irritation
No Strong Smell

Check Current Price

5. Just For Men Easy Comb-In Color

Pre-Mixed

No Mess Process
Easy To Apply
Easy Clean Up
W/ Comb Applicator

Check Current Price

6. Softsheen-Carson

Soothing Effect

Contains Honey
6 Weeks Effect
Easy To Apply
Not For Full Gray Hair

Check Current Price
6 Best Hair Dyes For Black Men
1. Black Hair Shampoo Dye - Best Overall
Every few months, you may need to dye your hair again to darken gray hair. Sometimes, you notice those gray strands a day before a big event that you need to attend looking sharp. When that happens, you rummage through cabinets and shelves, looking for hair dye.
This Black Hair Shampoo dye will take care of that problem for several months as it comes in a pack of 10 sachets, of 25ml each. If you have long hair, you may use three packets to reach all around your head, but that leaves you with enough sachets for two more applications.
The active ingredients in it are vitamin E, an antioxidant, and collagen to strengthen your hair shafts.
The application process is so easy you'll think you're applying pomade to your hair. Once you massage it on your hair and leave it for the prescribed minutes, then rinse it off, it won't leave dye residue in your hair. Each application lasts about two months, that's two months without gray hair.
The smell can be off-putting, though you may not experience this when using it in an airy bathroom.
You can also eliminate its unpleasant smell by using another shampoo to rinse out dye residue.
Pros
Cost-effective pack

Easy to apply at home

Quick results

Softens your hair
Cons
The gloves tear apart

An unpleasant smell
Takeaway
The gloves stashed into the pack may tear apart as you massage the shampoo dye, but that's just a minor problem that you can fix by getting disposable surgical gloves. What you'll love most about this dye is its easy application process because it's just like shampoo.
---
2. Bigen EZ Color For Men - Best For Hair & Beard
This hair dye stays on your hair for quite a while, and how fast it fades depends more on how fast your hair grows. One feature that makes Bigen EZ Color hair color unique is the no-stain factor. After applying it to your hair, it won't leave nasty marks along the hairline or stain your shower afterward.
As you prep yourself, cover the surface you are using with old newspapers as this dye is permanent. Interestingly, it's hard to tell you have dyed your hair because it leaves a natural-looking hairline and hair color.
It's the kind of product you use once, it makes you look so good, and it turns you into a loyal customer.
You can dye your hair in the morning in just 10 minutes and leave for work with a healthy, black sheen.
Pros
No stains on your skin or sink

The hair looks natural

No ammonia

Aloe extract to moisturize your hair

Olive oil to soften and strengthen your hair

For multiple applications
Cons
You may experience a slight irritation where there's no hair.
Takeaway
Bigen EZ has an easy application process that takes about 20 minutes; you can apply it in the morning just before leaving for work. It might irritate parts with no hair; therefore, have someone help you reach the back of your head.
But, it's so effective that you'll not mind even setting up mirrors such that you can see the back of your head as you apply it.
---
3. Cherioll Black Hair Shampoo - Best For Damaged Hair
If you're going through a season of unexplained hair damage plus gray hair, you need a hair dye that handles the color problem without breaking your hair further. Cherioll has the solution for black men facing such problems. 
It's one of the few hair dyes infused with numerous herbal extracts. I'm talking about massaging your hair with ginger, mint, and black sesame. These are not only effective, but they also have a rich scent.
The downside of using this dye is that you have to use it consistently for three months to reap the benefits.
However, what's three months when there's so much to accrue, especially for damaged, gray hair?
Pros
For damaged hair

Has herbal extracts

Locks hair moisture

Moisturizes damaged hair

Anti-dandruff
Cons
Takeaway
This product may be a shampoo dye, but it's one you have to use for three months to turn your gray hair black. But, since it's for damaged hair, it's a good duration as a hair dye with quick results may also have ingredients that cause more hair damage. Cherioll is looking out for you.
---
4. Simple Color - Best For Wide Color Range
Scalp irritation is a common side effect of hair dyes, and if you've experienced it, you're always keen to read reviews before using a product.
Well, Simple Color doesn't cause scalp or skin irritation, even on a sensitive scalp. The color depth you get varies based on how well you follow instructions and your application process, so you better be keen about it. 😉
When you cover from the root to the tip of your hair, all-round your head, the results are excellent.
Pros
Easy application process

No strong smell

Excellent results

No skin or scalp irritation

No hair damage

Good hair coloring kit

Natural-looking results
Cons
Must follow the prescribed duration
Takeaway
Simple Color has various dye colors from Jet Black to Chocolate Cherry, Intense Espresso, and Medium Blonde.
---
5. Just For Men Easy Comb-In Color - Best Budget Option
Mixing hair dyes before applying it is messy and tasking. Just For Men Easy Comb-In Color eliminates that tedious process with a hair dye that you comb into the hair.
It comes with a comb applicator that you attach to the dye tube, and you can focus on the specific sections with gray hair.
It's a durable hair dye as it stays for about eight weeks.
Pros
Focus on gray hairs

Pre-mixed dye

No messy mixing process

Easy application and clean up afterward
Cons
Takeaway
After washing your hair a few times, the dye may come off. Therefore, it may not suit you if gray hair is dominant. But you sure will love using it for a quick black sheen because its application process is as simple as brushing your teeth.
---
6. Softsheen-Carson - Best For Hair Moisture
Softsheen-Carson covers all gray strands to give you a natural black sheen that is soft and moisturized. It doesn't have harmful ingredients like ammonia and peroxide that can cause hair damage.
Instead, its formulation contains herbs like aloe vera to soothe and condition your scalp. It also has honey, which is a natural humectant that locks hair moisture on your hair shafts.
In just five minutes, your hair can move from gray to black, and the results stay on for up to six weeks.
Pros
Even coloring

Easy to apply using an applicator nozzle

Softens and moisturizes your hair
Cons
Not for a full head of gray hair
Takeaway
Softsheen-Carson has over a century of experience, so its hair dye formulation is not a trial and error.
---
In conclusion, the best hair dye for African American men is not necessarily black, as there are people who prefer to dye gray hair blonde. When you know the best hair brands with products suitable for our textured hair, you can then ask for the hair color you want.
Types Of Hair Dyes In The Market
Without looking at hair color and instead focussing on the classes of hair dyes, we can say there are two types:
Permanent Dyes
These are more common because they are long-lasting, and they have a superior power to lighten or darken the hair. Permanent dyes have about a 6% concentration of hydrogen peroxide to lighten your hair strands.
If you're covering gray hair with a permanent dye, the gray hair you see a few days later doesn't mean the shampoo has bleached the strands back. On the contrary, that's just new growth.
Semi-Permanent Dyes
You're safer using these dyes as they don't have ingredients like ammonia, so they are more gentle. The hydrogen peroxide concentration in them is about 2% or lower.
When you dye gray hairs with them, the result lasts for about 15 shampoos because these dyes do not penetrate beyond the hair cuticle like permanent dyes.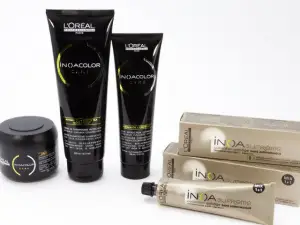 A Simple Application Process To Dye Your Hair At Home
Since we're discussing dyes you can easily use at home, let's go over the application process. Remember, every product comes with its application instructions. However, this is a simple guide you can use if none is available.
Test Your Skin
Do an allergy test on the skin behind your ear, about 48 hours before application, if you're using the product for the first time.

Do a strand test to know how long it'll take you to see the results. To do that, pick a strand of dry hair, dye it generously, set a timer.
Preparations
Always wear a pair of gloves before mixing dyes. You can buy a pair of gloves instead of using the standard ones in the dye box.

Mix the hair dye if it's not pre-mixed, and apply a stain barrier around the hairline, over your ear lobes, behind the ears, and on the nape. You can use petroleum jelly.

Part your hair in four ways to have manageable tufts. Your hair should be dry and unshampooed unless the product says otherwise. 
Application
Start applying dye on the roots working from the front to the back.

Work on the rest of the hair once you've covered all the hair roots.

Leave the hair dye on for the prescribed time, then rinse your hair. Next, apply the best shampoo for black men, rinse, and condition your hair.
Watch how Bigen hair dye is being applied:
Frequently Asked Questions
What Is The Best Hair Dye For African American Hair?
Factors that make one product the best hair dye for black men's hair include the ease of the application process, how fast you can see the results, and the cost factor. This also applies in choosing options for black men beard dye. Based on this, I can say the best hair color for black men with gray hair is either Softsheen-Carson or Black Hair Shampoo.
How Often Should Black Men Dye Their Hair?
Give your hair a few weeks or months before reapplication. Each product varies, so before using it, check the duration it's going to last on your hair so that you know whether it's too short. For instance, Softsheen-Carson lasts about six weeks, and the Black Hair Shampoo will cover your gray hair for about two months. Also, dye runs out when you wash your hair often.
Is Hair Dye Bad For African American Hair?
No, it's not! You can dye African hair. Hair shaft damage occurs in all hair types, not only African hair, and it happens when a person dyes the hair too frequently or incorrectly. Therefore, follow the instructions and use a dye with safe ingredients.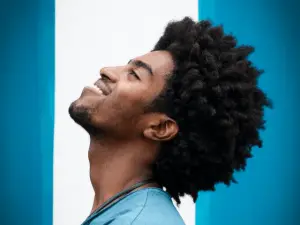 What Color Should Black Men Dye Their Hair?
The hair color you choose is up to you as you don't have to dye it black all the time. There are so many celebrities of African American heritage who've tried different hair colors.
Kanye West is one of them. He's shown us how to flaunt rainbow-colored hair plus bleach blond hair.
Chris Brown is another celebrity you can check online for motivation as he's experimented with blonde, turquoise, and blue, not forgetting bubblegum pink. However, a few factors may influence your decision when looking for hair dye.
These include your profession, office etiquette, the hairstyle you have now, your skin's undertone, and your fashion style.
After looking at the six hair dyes above, we can say:
The Verdict
Black Hair Shampoo carries the day as the best hair color for black men because it's easy to apply, and it takes care of the gray hair problem for about two months.
It's more effective than the Just For Men Easy Comb-In Color as it stays on your hair longer. It's also plenty as there are ten sachets in the pack.
Nevertheless, if you'd like a cheaper dye, the Just For Men Easy Comb-In Color is a good option because it has a pack of 1 and 3. It comes with an applicator that resembles a toothbrush; it takes about five minutes to apply.