We ditched soaps for shampoos a long time ago. Those soap bars would strip oils from our hair, and the scalp would itch incessantly. Not to mention dandruff, hair breakage, split ends...
Oh boy!
I know it's challenging to find a shampoo for African hair when every brand claims to have the perfect formulation for kinky, curly hair.
How is your search for one coming along?
I've done some of the work for you, and Brickell Men's Shampoo stood out as the best shampoo for black men. I'll tell you why in the next section.
Product
Details

1. Brickell Men's Shampoo

Exclusively Men's

Treats 'N Heals Scalp
Moisturizing
Strengthens Hair
Relieves Irritation
No Residue

Check Price On Amazon

2. Just For Men Shampoo

All Hair Colors

Quick-Acting
Easy Rinse
Darkens Hair
Contains Hemp Oil

Check Price On Amazon

3. SheaMoisture Shampoo

Rich In Castor Oil

Paraben-Free
No Irritation
Deep Cleansing
Natural Shine

Check Price On Amazon

4. Okay Shampoo

All Hair Types

With Antioxidants
Prevents Damage
Moisturizing
Castor Oil Infused

Check Price On Amazon

5. Sebastian Dark Oil Shampoo

Heals Scalp

Lightweight
Pleasant Scent
Non-Greasy
Lightweight

Check Price On Amazon

6. Carol's Daughter Almond Milk Shampoo

Almond Milk Infused

Locks-In Moisture
Sulfate-Free
Set Of 2
Can Cause Tangles

Check Price On Amazon

7. Cantu Shea Butter Shampoo

Simple Formulation

Affordable
Mild Scent
Lathers Well
May Cause Tangles

Check Price On Amazon
7 Top Shampoos Black Men Love – Reviewed
Before I settled for Brickell Men's Shampoo, I looked at the formulations of other top brands. This in-depth process took me to research articles about harmful ingredients in shampoos and the power of essential oils in hair care. You'll find more about those two areas below.
First, I want to tell you the pros and cons of the best shampoo for black men's hair.
Let's go get started...
1. Brickell Men's Shampoo – Best Overall
Brickell Men's Shampoo is the best shampoo for black men's hair issues because the brand decided to focus on men. They must have studied men's needs. From their research, they infused amino acids plus vitamin E to strengthen your hair and cleanse residue.
In the conditioner, they added aloe and avocado oil to moisturize and restore your hair's natural shine.
Therefore, since you get the two, the hair shampoo and conditioner, as a set, it's a perfect combination for healthy black hair.
Lastly, if you have an afro or locs, this formulation has hydrolyzed protein to thicken and strengthen your hair.
Pros
Thickens your hair

Has peppermint and tea tree to relieve irritation

Stimulates hair growth

Minimizes hair loss

Moisturizes your hair
Cons
Takeaway
Everything in this bottle of shampoo or conditioner works toward treating your scalp, healing it, and restoring the natural moisture your hair needs. Brickell also knows you're cautious about harmful ingredients, so they've avoided parabens, silicones, sulfates, and so many more.
---
2. Just For Men Shampoo – Best For Grey Hair
Just For Men Grey Reducing Shampoo is the best for men with grey hair. It's for all hair colors, from light brown to black, and its formulation also controls grey hairs.
After continued use, you can then alternate with another shampoo, as this one will have restored your hair shade completely.
Not to forget, it contains hemp oil, one of the most common conditioners for hair moisture retention.
Pros
Restores hair color

Works within seconds

Your hair darkens the more it stays on.

Rinses out easily

Contains hemp oil
Cons
May stain the shower slightly.
Takeaway
Believe me when I say grey hair can disappear in minutes. With regular use, Just For Men Shampoo restores the original color. It also deep cleanses and moisturizes with hemp oil.
---
3. SheaMoisture Shampoo – Best For Hair Restoration
African hair needs some extra love because of its texture, so SheaMoisture heard our cries and formulated shampoo rich in castor oil for hair restoration. It's for almost all hair types, whether you have damaged kinky hair or a dyed wavy afro.
It's a paraben-free formulation that's also sulfate-free to prevent scalp irritation.
What it does, when you massage it into your scalp, it cleanses the oils and removes residue using apple cider vinegar. It doesn't leave you with a dry scalp because it has shea butter to soothe and moisturize it.
Furthermore, its scent is pleasant, and the bottle will last for a long time as it lathers well.
Pros
Deep cleansing ability

Moisturizes your scalp

Removes residue

Restores damaged hair
Cons
Dries the scalp from overuse
Takeaway
Peppermint scent to keep odor away, apple cider vinegar for a deep cleanse, and shea butter for a natural shine. These are some of the highlights of shampooing using SheaMoisture.
---
4. Okay Shampoo – Best For Hair Growth
It's another of the castor oil-infused shampoos in the market, and as its name states, it's Okay to use it on all hair types and textures.
Okay Shampoo's formulation of oils also restores your hair if you've experienced hair loss. If you have an afro, it'll feel fuller after using this shampoo for a while as it boosts hair thickness.
Moreover, the antioxidants in it include vitamin E and argan oil.
They enhance the healthy growth of your hair shafts and elasticity.
Pros
Boosts hair growth

For all hair textures

Good hair oils like coconut and argan
Cons
Takeaway
This Okay Shampoo not only repairs broken hair but also promotes hair growth. While the tresses grow, regular shampooing provides the moisture your hair needs to prevent damage and a dry scalp.
---
5. Sebastian Dark Oil Shampoo – Best For Scalp Health
An unhealthy scalp causes irritation, build-up, and dandruff. Sebastian Dark Oil Shampoo has salicylic acid to restore your scalp's PH level for the healing process to start. Additionally, it's infused with jojoba and argan to cleanse and boost hair strength.
Not to mention, this lightweight shampoo has a pleasant scent that's not too strong.
It rinses out easily. Further, if you use heat while styling your hair, it'll still have the natural sheen without feeling greasy.
Pros
Lightweight

Infused with an active ingredient

Non-greasy

Heals your scalp
Cons
Has sodium lauryl sulfate & sodium Laureth sulfate
Takeaway
Men don't like overpowering fragrances in skincare products, so this shampoo has a mild scent. It's infused with an active ingredient to counter scalp irritation and strengthen hair shafts.
---
6. Carol's Daughter Shampoo – Best For Damaged Hair
I added this shampoo to my list because Carol's Daughter is a famous brand in hair care, so I found one of their top products for you to sample.
It's infused with almond milk to treat damaged hair, and you'll get a set of two products – shampoo and conditioner, to wash and preserve hair moisture at once.
If you have an afro, it'll not split or break after shampooing with this product.
Another plus for me, it's a black-owned brand founded to offer hair care solutions to people with textured hair like ours.
Pros
Treats damaged hair

Sulfate-free

A set of 2 products (shampoo plus conditioner)

Minimizes hair breakage
Cons
Strong scent

May cause hair tangles
Takeaway
This set from Carol's Daughter is so gentle that you can shampoo your hair every day if you must.
---
7. Cantu Shea Butter Shampoo – Best Budget Option
When I'm trying new products, I like to stay within a tight budget such that after testing what I've bought, I can go back to the store and get more of it.
Cantu understands those of us with such tactics, and it has an affordable shampoo for black men.
This simple formulation has shea butter for that natural, healthy sheen. It's sulfate-free to prevent scalp irritation.
Consequently, you can use it every other week.
And last but not least, it has a mild floral scent that isn't overpowering.
Pros
For frizzy and dry hair

Moisturizes your hair

Lathers well

Budget-friendly
Cons
May cause tangles on some hair types
Takeaway
Cantu Shea Butter Shampoo is budget-friendly. Hence, you'll have money for a conditioner and other products to complete my hair care routine.
---
Thus far…
We know there are plenty of good shampoos. To find the best shampoo and conditioner for black men, let's look at common ingredients and their effects.
What Should You Look For In A Shampoo?
Shampoo removes dirt, oils, and excess sebum from your hair and scalp creating an environment for new sebum coverage for a healthy scalp. Once it cleanses your hair shafts, your hair can absorb moisture to prevent dryness.
To distinguish one brand from the other, to find a shampoo that suits your hair needs:
Lookout For Harmful Ingredients
You may not know the purpose of all the ingredients on your shampoo bottle, but there are some that I must highlight because they'll harm your scalp and hair.
For instance:
Sulfates
We can say sulfates are the most harmful ingredients you can have in your bottle of shampoo. These are surfactants added to your shampoo for their cleansing and foaming power. The most common sulfates are sodium Laureth sulfate and sodium lauryl sulfate.
With time, they irritate your scalp more so when they are in high concentration. Other side effects of these sulfates are dry hair, thin hair, eye irritation, and hair breakage as they strip natural oils from your hair. They may also exacerbate skin conditions like eczema.
Parabens
Your shampoo needs a preservative to prevent microbial activity inside, but if the preservatives are parabens, you might be exposing yourself to some health problems.
As your skin absorbs them, they cause inflammatory reactions and irritation.
Some studies found traces of parabens in breast tumors.
Formaldehydes
These preservatives prevent contamination of bacteria and other microbes, but they are potential allergens. At worst, you'll experience eye irritation and respiratory congestion. 
Some researchers have also concluded that they might be carcinogenic. Hence, steer clear of shampoos with them.
Phthalates
It seems I'm getting more technical with each ingredient I mention, but I'll only highlight each briefly. Plus, I know you'd prefer to know the contents in your bottle now, not after they've irritated your scalp. 😉
If you see phthalates listed on your bottle, know you're more likely to suffer from glucose intolerance when you use it.
Phthalates are fragrances that mix with dust and food, increasing the chances of inhalation and ingestion.
Benzophenone
These prevent UV damage to your hair and skin. Nonetheless, too much of it may cause toxicity and hormonal conditions. Some of the common ones are oxybenzone and sulisobenzone.
A few other ingredients with adverse effects include alcohols, emulsifiers like ethanolamines, and hexachlorophene.
Check For Active Ingredients
Active ingredients in shampoos treat conditions like bald dandruff condition and folliculitis. Anti-dandruff agents in shampoos include zinc pyrithone and selenium sulfide. There are also anti-dandruff shampoos with salicylic acid.
Other active ingredients, such as yarrow, sulfur amino acids, and helichrysum, repair hair shafts and soothe your scalp. Some of my favorites are Phytoextracts like lemon balm, chamomile, and fennel to boost hair hydration.
Get Shampoo That Promotes Hair Growth
Overall, a good shampoo has a rich lather to cover your scalp and hair generously; thereby, cleansing it satisfactorily. You'll use less shampoo if it has rich foam. Plus, it'll rinse out to avoid build-up. The shampoo you buy shouldn't break your hair or induce hair loss.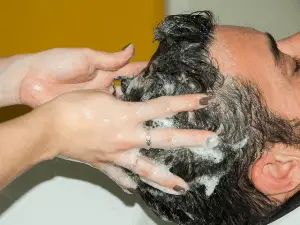 Further, read shampoo reviews to find one that is gentle on your hands and has a pleasant, mild scent.
Now, let's look at some of your burning questions:
Frequently Asked Questions About Shampoo For Black Men
Does Any Type Of Shampoo Work Well For Black Men's Hair?
No, not everything in the market will work for you. The best shampoo has a formulation that is safe for textured hair. Remember, African hair needs moisture because its structure prevents the oils on the root from reaching the tip. So we're out here walking with our dry hair and wondering why it's breaking.
The most you can do is choose a shampoo and the best hair moisturizer for black men that repairs hair breakage. It should also clear unwanted oils so that when you moisturize your hair, the moisture reaches the hair shafts to strengthen them.
I'm A Black Guy. Do I Have To Shampoo My Hair Every Day?
No. I'd say wash it at least once a week or every other week, though it depends on how active you are and your hairstyle.
Hear me out...
If you have dreadlocks, washing them every day means repeating the wetting and hair drying processes, bearing in mind that wet hair is more likely to break than dry hair. Additionally, regular use of a dryer at high heat may damage your hair.
On the other hand, if you have short hair, about a centimeter long, it dries while you're still in the shower; thus, so you can wash it regularly.
If you're active at work or the gym, the sweat and oil mixture will prompt you to wash your hair as often as possible. Here's a simple wash routine for you:
What Is A Good Hair Care Routine After Shampooing?
After shampooing, moisturize your hair with a deep conditioner. Next, massage the scalp and hair for a few minutes to detangle your hair and make it shine.
Afterward, seal in the moisture with a few drops of natural oils like coconut and castor oil. You're now ready to style your hair or wear a durag if you're about to go to bed.
For dreadlocks, you may retwist the new growth after conditioning and applying a locs gel. If yours is an afro, pick it or brush it with a wide-toothed comb.
What should you take home from this discussion about shampoos for men?
The Verdict
In conclusion, Brickell Men's Shampoo is a good option for your hair. I found its formulation sufficient to take care of most hair problems black men face, such as a dry scalp and dandruff.
It's a safe formulation without most of the harmful ingredients we discussed earlier, so you're looking at a product without sulfates, parabens, and phthalates.
The only downside is the price. Hence, Cantu Shea Butter Shampoo is a cheaper alternative. It does the same work: it moisturizes, and it doesn't have sulfates.
Will you look at the two I've mentioned or pick something else from the list?