Maybe you think about getting a protective box braids hairstyle, tucking away your curls to keep them well hydrated. But you're clueless about how to begin your search for the best brand of hair for box braids.
Well...
There is no doubt that this page is what you need if that's the case! Learn more about the top-rated box braids this 2021 and find out how X-pression Synthetic Hair Braid is our best overall.
Let's go over several features that will help you make practical choices for a remarkable user experience.
2023 Best Hair For Box Braids Review
1. X-pression Synthetic Hair Braids – Best Overall
Who can resist the powerful combination of softer hair strands and a time-saving pre-stretched design? All these and more make X-pression Synthetic Hair Braids our best overall. The amount of hair it has in every pack is remarkable, saving you time and money on salon visits.
You can cut and style it whichever way you want to until you achieve the result you desire.
The freedom and versatility it offers make it the best brand of hair for box braids for several users.
It features pre-stretched braiding hair that's easy to manage and very lightweight too. This braid box likewise has a natural appearance that you'll love how it blends so well with your existing hair.
Pros
Holds the braid in for longer than other brands

Soft, lightweight, and with no shedding

Easy to style and manage pre-stretched design

Blends well with existing hair for a natural look

Safe to use with hot water

Best for box braids, cornrows, and Senegalese twists
Cons
Quite pricey

It may not be suitable for sensitive skin due to its synthetic fibers
Takeaway
Users who wonder what's the best hair to use for box braids find X-pression a real heaven-sent. No wonder we had no second thoughts about rating it as our best overall. For braided hair that is durable, tangle-free, and natural-looking, it's undoubtedly deserving of the top spot.
---
2. Befunny Braiding Hair – Best Value
If you're thinking of sporting that ombré look in style, Befunny is the best hair to get for box braids. Each strand measures 24 inches approximately, and you will receive it in eight packs. That amount of hair is perfect for providing adequate coverage to an entire head.
The braid has a darker shade from the top and goes lighter towards the bottom.
It features low-temperature synthetic fiber with a pre-stretched design that makes it easier to manage.
This braided hair extension offers so much value by giving you the freedom to style your hair whichever way you want it. You can lock, twist, and turn this hair as you please.
Pros
Heat-resistant synthetic fiber

Outstanding quality for an affordable price

Features a natural shine

Lightweight, pre-stretched, and easy installation

Subtle ombré look

No shedding and tangle-free
Cons
Takeaway
Befunny undoubtedly provides the best value for a natural-looking braid that's also easy to use. The hair's natural sheen is what gives it a natural look, even if it's synthetic fiber. You can style easily, whether you prefer to twist, turn, or lock your curly hair.
---
3. Firstcyh Hair Braids – Best Convenient Application
What is the best hair for box braids? You, like many others looking for a similar product, could have this question. Maybe you have a long list of what an excellent box braid is.
Firstcyh is among the many names you'll encounter in your search for the best type of hair for box braids. The brand manufactures hair braids that help women tuck away the tips of their hair. It keeps their curly hair healthy and minimizes damage.
A growing number of users love this hair braid since it keeps the unruly tangles at bay. It allows them to manage their curly hair more conveniently.
The braid is also simple to use; you only need to crochet it into your existing hair.
Pros
100% heat-resistant Kanekalon fibers

Pre-looped design for making crochet hair conveniently

An eye-catching combination of natural black and auburn brown shade

Natural-looking, smooth texture and odorless

Lightweight and does not shed
Cons
Pretty expensive

Slightly tangles after several uses
Takeaway
The pre-looped design makes achieving a crochet braid a lot easier. We love how it looks like natural hair, bouncy and soft too. The hair braid is so lightweight with untangled tips. It's among the most suitable options for any newbie with a box braids hairstyle.
---
4. Rosdina Braiding Hair – Best Tangle-Free Extension Hair
Rosdina Pre-Stretched Braiding Hair is a famous name among those looking for the best hair for box braids. Why not? This braid here comes tangle-free and offers a smooth finish.
Thus…
You will have a no-headache experience when installing the braid into your hair.
All you need to do is dip the braid's ends in hot water and wear it like a queen! You can style this braid hair in any way you want. Its pre-stretched design will allow you to save your time and your hard-earned cash.
This braid is even itch-free and sweat-resistant, so you do not have to worry even if you have delicate skin. It also features a Yaki texture that gives the braid a natural look. 
Pros
Irritation-free and sweat-resistant fibers

Comfortable to wear all-day

Odorless and easy to maintain

Natural appearance with two-toned shade

Low-temperature silk fibroin for convenient and versatile styling

Smooth and tangle-free
Cons
Not suitable for dyeing

Not recommended for perming at high temperatures
Takeaway
Rosdina Braid Hair is hassle-free to maintain, and you can style it easily as well. No matter how long you wear it throughout the day, this box braid hair will never give you any discomfort. Its yaki texture resembles African-American hair, giving it a natural appearance.
---
5. Rasta Fri Braids – Best Hair Texture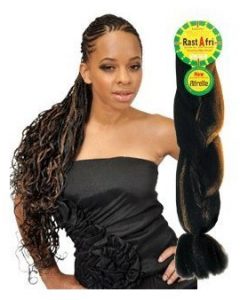 The best hair for box braids among women with tight curls should be one that can save them preparation time. It is for this very reason why Rasta Fri Braids alter their perception of the whole braiding process.
The product makes stressful hairstyling a lot easier for them.
This box braid comes with no tangles and has a pre-stretched design that saves a significant deal of your time during installation. You no longer have to spend hours trying so hard to stretch it or keep the tips from tapering.
Having a box braids style with a softer, smoother hair texture is godsent for every hair braider. Similar products might come more affordable. But the cheaper models can either damage the hair or cause an itchy scalp sometimes, making it least cost-effective in the long run.
Pros
Excellent hair texture

Wide range of color availability

Allows you to be more creative in hairstyling

Pre-stretched with tapered ends

Hassle-free installation

Flame-retardant, tangle-free Kanakalon fiber
Cons
Takeaway
In addition to its wide variety of colors, Rasta Fri is popular among women because it's easy to use. Not to mention, the hair is worth raving about for its smooth texture that looks like natural hair. Its tapered ends mean no tangles, saving you a lot of time styling the braid extensions.
---
6. Besteffie Braiding Hair – Best Ombre Braid
Who says you can't fashionably have a protective hairstyle? Of course, you can! It is one of the reasons why more and more trendsetters refer to Besteffie Braiding Hair as the best braiding hair for box braids.
It's hundred percent Kanekalon hair but with a lot more flair than other hair brands. You can count on the hair strands to be durable and heat-resistant. Besteffie can hold up the braid so well and is comfortable to twist or manage.
It features an ombré style that's available in several tones.
This braid boasts a soft texture that closely replicates human hair. You can use it handily for various hairstyles.
Pros
Jumbo box braids

Lightweight and heat-resistant Kanekalon synthetic fibers

It doesn't shed

Conveniently odorless

Easily manageable and suitable even for everyday use
Cons
The color bleeds sometimes

Not hundred percent tangle-free
Takeaway
For anyone looking for the best hair to buy for box braids, you will find the Besteffie an exceptional deal. It comes in a chic, ombré design you can wear whatever the occasion is. The braid extensions look natural, blending discreetly with the rest of your hair.
---
7. Sensationnel 3X Ruwa Braid – Best Water-Repellent Braid
Besides our best overall product, the Sensationnel Pre-Stretched Braid is also a crowd favorite. It has the best hair to do box braids with curls, waves, ponytails, and cornrows.
You may do any of these, even using a hot water setting, without worrying about damaging the strands.
Meanwhile, it's also safe to wash this hair daily since it features an advanced hydrophobic coating. Not to mention that this braided hair is moisture-repellant and dries quickly.
Maintaining a hairstyle won't be so hard if you're using Sensationnel. This braided hair conveniently allows you to style it with steam or hot water. It makes detangling less tedious whenever you're working on a braid.
Pros
Top-quality fiber that's soft and lightweight

It offers versatility to style your hair in many different ways

Suitable for styling with steam or hot water

Easy detangling

Various color options
Cons
Takeaway
Most of the feedback you will get among existing Sensationnel users is how it never gave them an unnatural feel. They have this lightweight and soft hair extension to thank; now, they can manage their locks with so much convenience.
---
What Type Of Hair Is Best For Box Braids?
It's only appropriate for busy individuals requiring a low-maintenance hairstyle to opt for a box braid. But if you're a first-timer, maybe you have no idea what the best type of hair for box braids is. Here are some of the commonly used hair for box braids:
Kanekalon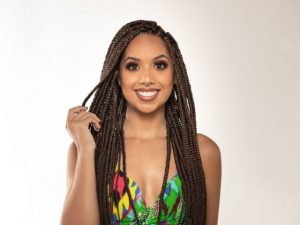 Most hair experts recommend using the Kanekalon braid. Kanekalon is one type of synthetic braiding hair that mirrors the natural kink of African hair. It is the type most suitable to use for box braids.
Unlike the standard synthetic, Kanekalon uses a polymer. It's relative to the protein in human hair, explaining the natural look. Hence, its fibers lack the flimsy feeling you'll get from a standard synthetic. Everything about its feel, appearance, and movement mimics natural hair.
Regular Synthetic Hair
Regular synthetic braiding hair lacks the quality that Kanekalon has. Class-A fibers have plastic material and may appear to have a matte or shiny look. It feels soft but not heat-resistant.
Class-B synthetic fibers have a fine texture and feel soft, but they have a distinct sheen that gives them an unnatural appearance. You can only use them a few times, and they are not heat-resistant as well.
Human Hair
There are people with high sensitivity to synthetic fibers. They should opt for natural human hair instead. Human hair may not offer the convenience and the fuss-free experience that synthetic braiding hair can give.
But you have the freedom to style natural hair whichever way you want to without worrying about damage. Not all synthetic hair can withstand hot treatment or hot water. However, natural human hair is more expensive. So, if you're working on a tight budget, go for synthetic hair.
Frequently Asked Questions
How Many Packs Of Hair Do You Need For Box Braids?
There are about twenty to thirty hair strands in a single pack on average. Some would need at least eight to ten packs of Kanekalon box braids, while others would only need fewer packs. Those with waist-length hair typically use between twelve and thirteen packs.
It's pretty understandable not to know how many packs of hair are necessary for box braids. It is especially true when you are a newbie at using box braids. The truth is, there isn't a one-size-fits-all answer to this confusion.
How many packs of hair you need will vary from one person to another. Several considerable factors when identifying how much hair you will need are the following:
Hair texture

Density

Length

Head size
If you prefer medium-sized braids, six to seven packs will suffice. Meanwhile, only four to six packs of box braids are necessary if you use X-Pressions hair.
Do You Need a Certain Type Of Hair For Box Braids?
You should use Kanekalon hair if you prefer to have a more natural-looking box braid. Most box braids available today use Kanekalon for their affordability and capability to withstand heat. Furthermore, this type of braid hair does not unravel quickly and is convenient to wear for longer.
Do not consider going for synthetic hair extensions if you're prone to allergies. The downside of synthetic fibers is that you may have an adverse reaction to their components that make them feel and look natural.
But if you have sensitive skin, human hair is more fitting to use. Although, of course, you could expect natural human hair to be a lot more costly. If you like styling your hair often, using human hair might be more suitable for you. You can dye or restyle it whenever you want.
How Long Should You Keep Box Braids In Your Hair?
While it is okay to leave your braided hairstyle in for a month, some prefer to keep it in for four to six weeks although this is dependent on a user's personal preference. You need to check your braid once in a while to see how your hair is holding up. Individuals with thick hair could keep their braid in longer.
Just ensure that it doesn't stay on your hair longer than six weeks. Remember that there's so much tension in all that tugging of hair with those box braids.
Extensive use of your box braids can cause scalp irritation and might lead to severe hair loss. It's only proper to give your hair a much-needed break sometimes. You should also wash your braided hair at least twice a week to prevent scalp itching or buildup.
Here's a short video you can watch on how you can wash your braided hairstyle:
Final Thoughts
In summary, X-pression Synthetic Hair Braids topped the list as best overall for providing the most natural feel and appearance. It holds the braid longer and allows easy management.
The Befunny Braiding Hair can't be far behind in offering the best value with its exceptional performance at an affordable price.
We know that there are so many box braid products out there. Nonetheless, looking for the best brand of hair for box braids can be overwhelming, especially for newbies in braiding hair.
Hopefully, our selection of the top products and all their features will give you more confidence in making your choice. Now you can be a hairstylist to yourself at home, skip the costly salon visit, and flaunt that gorgeous braid in no time.