Did you notice that first gray strand today, or you've been dyeing your beard for a while?
How does it feel?
That first one can shock you when you don't know whether to fix it or flaunt it. If you fix it, there'll be more gray hair to fix the following morning; if you flaunt it, you've agreed to all manner of perceptions about your age and wisdom.
Do you know how and why human hair turns gray? I'll tell you later.
But first, let's find out why Just For Men Mustache & Beard is the best beard dye for black men and some other great options if you don't feel like it is the best one for you.
Product
Details

1. Just For Men Mustache & Beard

Immediate Results

Ammonia-Free
Health-Rich Formulation
Various Shades
5-Minute Application
For Coarse Hair

Check Current Price

2. Just For Me Control GX

No-Mess Beard Wash

Conditioning
No Mixing Needed
Better Shade Control
Not Overnight Dyeing

Check Current Price

3. The Henna Guys

Vegan

No Harmful Ingredients
Easy-Rinse
5-Shade Variants
Doesn't Stain

Check Current Price

4. Godefroy Professional Kit

Most Number Of Applications

Odorless

20 Applications
Various Shades
Pre-Mixed
Complete Kit

Check Current Price

5. Bigen Ez Color For Men

Soothing Effect

Moisturizing
Doesn't Stain
Permanent Dye
Has Chemicals

Check Current Price

6. Cremo No Mix No Mess

Shake & Brush

No-Mix Dye Foam
Beard & Hair
No Mess Application
Cost-Effective

Check Current Price

7. Grizzly Mountain Beard Dye

Herbal Ingredients

No Irritants
Sensitive Skin-Safe
Needs Mixing
Unpleasant Smell

Check Current Price
7 Best Beard Dyes For Black Men Reviewed
1. Just For Men Mustache & Beard - Best Overall
It scooped the best overall position because its formulation suits coarse hair, and that's what almost all of our African American brothers and fathers have for a beard.
The application process takes a shorter time than henna dyes because it's ready to rinse out in just five minutes.
It's a formulation infused with coconut oil for vitamin E and K, aloe extract for vitamin A, C, and E, and biotin for Vitamin B.
These ingredients combined, we're talking about hair thickness, better skin health, and hair strength. Who hates that?
If you're a little more adventurous, Just For Men has color options like medium brown and medium-dark brown. Despite all the goodness packed in this box, it'll only last three applications; hence, make each application count.
Pros
A rich formulation for hair and skin health

Formulated for coarse hair

Various shade options

Immediate results

Ammonia free
Cons
Takeaway
It takes only five minutes for the mixture to leave you with a fresh, soft, dark beard. This Just For Men product is specifically for the beard, and it's enough for several applications. So much to gain.
---
2. Just For Men Control GX - Best Budget Option
In this review, the simplest solution to gray hair is also the cheapest. With Control GX from Just For Men, you have a beard wash that dyes your gray hair instantly.
It's liquid; therefore, no messy mixtures or creams that take about 30 minutes to prepare. As you wash your beard, it also conditions, leaving you with a soft, darker mane.
But, you'll have to use this beard wash a few times to see a remarkable change.
Since it's budget-friendly, you can buy a pack until your beard color changes — in about four weeks maximum.
Pros
No mixing

Conditions your beard

Better control over the beard shade you get
Cons
Not for overnight beard dyeing
Takeaway
It might take you about four weeks to see your gray hair turn black, but wouldn't you prefer a dye that gives you such control than to wake up with a beard that's too black to look natural?
---
3. The Henna Guys - Best Color Range
Since The Henna Guys doesn't have color developers (chemicals to speed it up), it takes about four hours to dye your beard. Nonetheless, this is a good thing because that way, you're sure there are no harmful chemicals put in there to speed things up.
It's available in jet black, natural red, orange-red, dark brown, and auburn shades, so you can experiment as often as you like.
Lastly, it's not very cheap as you use about 2/3 of one pack to cover a full beard. However, the results are exceptional.
Pros
Vegan

Natural ingredients

Rinses out easily

No pillow stains
Cons
Sheds slightly in the shower
Takeaway
Henna is the best natural black beard dye, and millions have used it for generations. Hence, you can trust The Henna Guys to dye your beard naturally.
---
4. Godefroy Professional Kit - Best For Many Applications
Godefroy Tint Kit is a cream dye you can use on your beard, mustache, or sideburns. If you've had to search your kitchen cabinets for mixing bowls in the past, this one comes in a complete kit inclusive of two applicator brushes and two mixing bowls.
It's also cost-effective as you get 20 color capsules for 20 applications. For that reason, you can buy this kit to touch up gray hairs in between regular sessions with your beard stylist.
If the smell of henna bugs you, this one is odorless, and the shades are black, dark, and light brown.
Pros
A complete application kit

Various shades

20 color applications

Lasts for weeks

Less wastage as the cream is pre-mixed
Cons
Not preferable for a full beard
Takeaway
Who wants to keep going to the store to get beard dye? The Godefroy Tint Kit takes care of the problem for up to 20 applications.
---
5. Bigen EZ - Best Multipurpose Option
It'll take you less than an hour to dye your beard jet black using Bigen EZ, plus it'll give you a natural-looking dye color. The color doesn't fade after a few showers because it's a permanent dye.
Though it has artificial ingredients, it has a low concentration of peroxide and no ammonia.
Finally, the dye is pre-mixed into a cream; hence, no messy process like when you have to mix henna with water.
Pros
No mess

Infused with olive oil to moisturize your beard

Aloe extracts soothe your beard

Natural-looking dark beard

No sink stains

No stains on skin
Cons
Mild irritation on bare areas

Has color developers (chemicals)
Takeaway
Bigen EZ is not as messy as other dyes, so it's a good solution when dyeing your gray hair at home.
---
6. Cremo - Best Simple Application
So far, this black men's beard dye review has henna, creams, and mixtures. Now, let's turn to a no-mix beard dye foam. Interesting, right? Cremo is a hair and beard color dye with shades like black, light brown, and deep black. It lasts up to six weeks on your beard, so it's cost-effective.
We can call it a plug-and-play: fix the applicator brush on the canister, shake it, brush your beard.
In about five minutes, your beard looks darker or lighter, depending on the shade you chose. You don't even need gloves.
Pros
Simple application process

No mess or mixtures

Works on beard and hair
Cons
May cause skin irritation
Takeaway
A patch test 48 hours before can prevent skin irritation when using this product.
---
7. Grizzly Mountain - Best Organic Option
The beard is sensitive, and if you use harsh ingredients, you can burn your face or have thin hair patches. Grizzly Mountain's combination of organic ingredients like neem and false daisy means you can use it on sensitive skin.
The color options are black and light brown. You'll only use a few tablespoons to cover your whole beard, so one packet can last several applications.
The downside of this beard dye is that it's not pre-mixed.
Therefore, you mix it, then give it about half an hour before you can apply it. But, when you compare the benefits of using such a good, safe herbal mixture and the pre-mixing duration, the benefits outweigh the waiting time.
Pros
Herbal ingredients

Chemical-free

No irritation
Cons
Mixing can be messy

The smell is unpleasant
Takeaway
Grizzly Mountain's combination of natural ingredients makes it safe for sensitive skin. If it's your first time dyeing your beard, organic ingredients are more reliable than using chemicals you haven't tried on your face before.
---
Now we know the products in the market that work for black men beard styles.
Let's turn to:
How To Find The Best Black Men Beard Dye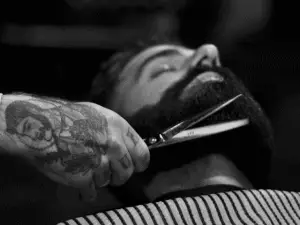 Read The Ingredients
We want you to have a nice, fresh beard, but adding corrosive and toxic chemicals into your body is not part of the process. Therefore, read the ingredients list.
Even if it says 100% natural, look out for irritants such as:
Hydrogen Peroxide
It's a skin irritant when in high concentration, especially on bare skin. Further, it can damage the cuticle, the outer layer of your hair strand, and lead to breakage. It can also make your hair shafts age prematurely during the oxidation process and cause hair loss. 
Ammonia 
It's corrosive, so it makes the cuticle permeable for the dye to reach the cortex (inner layer). As it does so, it may irritate your skin or cause burns. Plus, inhaling this chemical can cause respiratory problems.
PPD
Para-phenylenediamine, abbreviated as PPD, is probably one of the toxins you'd get in black men's beard dye as it makes the beard darker.  Studies concluded that it's safe as long as you're not sensitive to it and its concentration is within the prescribed limit.
One of the problems associated with it is contact dermatitis, and since you have to dye your beard often, you risk becoming allergic to PPD. 
Go For Natural Products
To avoid harmful chemicals, opt for natural dyes like henna. In its natural state, not as black henna, its allergic potential is lower. However, as black henna, it has PPD, which reduces the application time and increases color intensity.
So, what causes gray hair in the first place?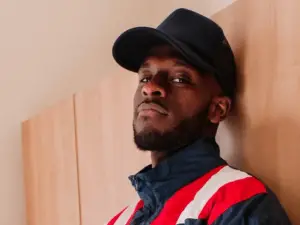 Why Hair Turns Gray
When gray hair shows up before you turn 30, and you're African American, you're suffering from premature graying of hair (PGH). It's not a get-me-to-the-ER kind of health problem, but it sure causes some self-esteem issues.
It's not that the strand was initially black, and then it turned gray. What happens is, the hair strand comes out of the hair follicle as gray.
As you age, the hair follicles lose the ability to produce dark strands like before. Therefore, as the hair follicles regenerate hair strands, they won't be as dark as the previous strands.
Aside from graying as you age, some illnesses also cause gray hair. They include vitamin B12 deficiency, tuberous sclerosis, and alopecia areata.
So, now that gray hair is growing on your face, how can you dye it fast?
How To Dye Your Beard At Home: Easy Steps
Beard dyes are different, as we discussed in the review above. Some are easy to apply without pre-mixing, and others beard dyes take about 30 minutes to pre-mix. Let's talk about the ones you have to pre-mix.
To use them:
Perform a skin allergy test about 48 hours before application on your beard. To do so, wash the inside of your elbow, dry it, mix a bit of the dye and apply it. Examine the test area frequently, for the next 48 hours, for swelling, redness, or other reaction.

Cover your sink with old t-shirts or old newspapers to prevent stains.

Wear your gloves.

Mix the color developer and the color base in a mixing bowl as indicated on the package. Let it set.

Apply the mixture using the applicator brush. Start with the grayest area.

Let it sit for the time indicated. If you time it wrongly, you'll either end up with a darker color than you wanted or get a skin reaction.

Rinse it out with running water, then use a beard wash. 
I hope this review has looked into your concerns about black men's beard dye. If not, there are more answers below.
Frequently Asked Questions 
Should Guys Dye Their Beards?
The gray beard of many African American celebrities, such as Morgan Freeman, Denzel Washington, and Idris Elba, looks stylish. On the other hand, Jidenna seems to love his ginger-colored beard, while Kanye West has platinum blond or sherbet-colored hair with a black beard. So you see, it's a choice. You look elegant whether you dye it or not.
Is A Beard Dye The Same As A Hair Dye?
Yes, they have almost similar ingredients. They have colorants, bleaches, and oxidizing agents. For some brands discussed in this black men's beard dye review, such as Bigen EZ, you can use the best hair dye for black men as a beard dye.
For other brands, such as Just For Men, the hair dye is different from the beard and mustache dye. Your facial skin is more sensitive than your scalp, so you might want to stick to beard dyes. 
Can A Beard Dye Affect The Growth Of My Beard?
Beard dyeing is a cosmetic process; therefore, your beard continues to grow. Your beard even thickens when you dye it a shade darker. However, if there are harmful ingredients in the dye, such as skin irritants, it may cause hair loss or burn your skin.
The Verdict
To wrap it up, have we found a favorite beard dye? Yes, the Just For Men Mustache & Beard dye deserves a chance. We can say it's the best dye for an African American beard because it's for coarse hair. You can dye your beard black or medium brown in just five minutes.
That's almost impossible with the Just For Men Control GX, as this one changes the color of your beard gradually. Nonetheless, it gives you more control over how dark your beard gets. Moreover, it's a beard wash, so there are no messy mixtures, and it's more affordable.