Are you having a hard time using basic and usual razors? Do you want to upgrade to the classic and vintage razors that you often see?
I feel you.
Those razors are called straight or cut-throat razors, they are foldable blades attached to handles that provide a smooth touch to your skin after shaving.
Our best beginner straight razor is the Equinox Professional Steel Straight Edge Razor. Take time to read and find out why!
The Top 5 Straight Razors For Beginners Reviewed
1.

Equinox Professional Straight Razor

– Best Overall
The Equinox Professional has multiple qualities that make it stand out among our other picks for straight razors for beginners.
The package includes one stainless steel razor with black matte oxidation and see-through holes as a signature equinox design and a box of 100 individually wrapped Derby Premium single edge blades.
Its blades are made of quality stainless steel making it rust-proof and assuring its durability. Each blade offers beyond 200 shaves and its sharp edges can be used up to three times.
The razor itself is built with an easy-to-open blade guard allowing you to change your blades with ease and safety.
It provides the right holding angle for convenience; just rest your ring finger on its back handle loop, your index and middle fingers on top of the razor, and your thumb close to the blade compartment.
After use, make sure you gently squeeze its protection cap to tighten and secure its grip before closing the razor so that your blade will not fall out.
Pros
Budget-friendly

Offers numerous blades out of the box

Lightweight

Features an operative design

Replacement of blades is simple
Cons
Rusting may occur if not cleaned and dried well
Takeaway
If you're looking for long-lasting, high quality, affordable, and easy to accommodate straight razor, the Equinox Professional Steel Straight Edge Razor is the right one for you.
---
2.

Utopia Care Professional Barber Razor

– Best Budget Buy
The Utopia Care Razor is a budget-friendly item with the ability to support various shaves and accompany 100 premium sharp edges.
It is mainly composed of chrome-finished brass as a part of its traditional straight edge style. With this, you can easily produce smooth and clean shaves.
This product claims to be rust-proof and durable, promising you its longevity along with quality.
It makes use of a flippable sharp edge cover that can help you shave with convenience. Just begin with gentle strokes and work your way out with ample pressure.
Always make sure that the blades are securely locked within the razor's safety walls and its cap is properly placed.
After a while, its walls may loosen due to frequent usage. This can easily be fixed by gently pushing its walls when placing the blade and locking the cap.
Since this product needs frequent sharpening and cleaning, a beginner like you may also find it difficult to use strops and whetstones. It's something you need to be ready for.
Pros
Deters rust

Comes with numerous sustainable blades

Features flippable blade cover

Achieves close and smooth shaves

Steady motion and constant pressure within each stroke
Cons
Safety must be monitored every time

It is difficult to change the blades

Blades need sharpening
Takeaway
This product is the best affordable straight razor as it is simply stylish yet functional. Its features allow you to shave with ease and comfort while its materials assure you the product's durability.
---
3.

Dovo Straight Razor Carbon

– Best Cut-Safe
If you need to put resources into an excellent razor, watch out for the Dovo Straight Razor Carbon!
This product is constructed with an adjusted tip razor, a half-hollow ground edge, and an ebony-colored wooden handle making it lightweight and easier to clean.
It is a good product to learn the right way of shaving with. With enough practice, you'll accomplish clean shaves and smooth finishes with this razor.
Its sharp edge was made for those with delicate skin. It helps avoid straining your skin and its weight is ideal for gliding with a low chance of cutting yourself.
This item requires honing from time to time in order to maintain its quality sharp edge. You may find this task tough but it is way better than having to continuously replace and dispose of blades after a few shaves.
Its exquisite and classy construction is ideal for both beginners and experts.
Pros
Stylish yet functional

High quality

Lightweight

Easy to clean and maintain

Good for sensitive skin
Cons
Expensive

May not be shave ready

Strop and whetstone are factors for maintenance
Takeaway
If you want to invest in a high-quality straight razor, the Dovo Straight Razor Carbon is the best choice for you. It features the ability to achieve the closest cut possible.
---
4.

Feather Black SS Folding Handle Razor

– Best Quality
This product, the Feather Black SS Folding Handle Razor, is a straight razor in a shavette-type handle.
This item excels in durability with its rust-proof, and chemical and heat resistant features we'll be tackling below.
Keep in mind that regardless of its construction, this product should still be given the same amount of effort in maintenance and cleaning.
The rounded head blade is made of stainless steel. It is perfect for starters as it provides smooth shaves.
Its handle is made of resin allowing it to resist extreme heat and harmful chemicals. It also offers you excellent control over the blade so it will be easier to apply pressure.
The blades can easily be replaced once it dulls, you won't have to worry about stropping or using a whetstone.
Pros
Swapping of blades is made easy

The blades are resistant to rust

It is resistant to chemicals and heat

Contains design with a proper finish
Cons
The replacement blades are not budget-friendly
Takeaway
The Feather Black SS Folding Handle Razor is the best starter straight razor for those who require assistance to achieve tender, suave, and close-cut shaves.
Feather Black SS Folding Handle Razor
---
5.

Professional B&G Straight Edge Razors

– Best Unisex
The Professional B&G Straight Edge Shaving Razors is a premium-looking razor. Expensive in the eyes, yet budget-friendly.
Its ergonomic design is ideal for beginners to master shaving using a rounded edge blade. It is convenient to adjust your pressure depending on the area you're shaving.
Its blade is made with 440-grade stainless steel. It comes with an easy-grip handle for maneuvering, steady motion, and constant pressure.
This item is perfectly weighed for starters to easily grasp and control it with precision. This helps in preventing accidental cuts and scratches.
If you value your razor's style greatly, it is suggested that you take extra care of this item and maintain it regularly.
Pros
Expertly weighed

Good control over the blades

Sharp blades

Long-lasting performance

Affordable

Easy to use
Cons
Takeaway
This is a simple straight razor good for starters. It is easily controlled and maneuvered with precision.
---
What Kind Of Razor Should A Beginner Use?
Straight razors and safety razors are popular in the market nowadays. One of them known as the usual, and the other viewed as an exquisite choice.
Their differences lie in their blades. Safety models have disposable blades ready to be replaced the moment they dull. On the other hand, straight ones use single blades and single edge blades that require honing when the dullness is noticed. 
As a beginner, safety models would be an ideal choice, not all of us know how to use sharpening tools. However, some starters tend to seek that smooth and durable quality found in straight razors.
Even though safety razors are the obvious models for beginners, it is not bad to test your potential and study how to operate straight razors. 
How Do I Choose A Straight Razor?
Choosing a straight razor should not depend on its look or price, there's more to it than that.
Comfort and convenience are your best friends. With these two factors, you can assure yourself of stress-free learning as a beginner. No matter how favorable a razor is, if it is neither comfortable nor convenient, our advice is to leave it.
Upon deciding, think of its essential components such as durability and quality.
At the end of the day, remind yourself that the best straight razor for a beginner has balance within its features. Pick a model that provides for your every need. 
What To Look For When Buying A Straight Razor?
Finding a straight razor that suits you best is somewhat a challenge. This is why we compiled various factors that may help you decide on choosing the best straight razor kit for beginners.
Blade
Temper
You must consider if the blade is sharp enough. After all, that is the most significant factor in buying a blade.
A blade's temper defines how long it will take before it dulls out.
Blades with a hard temper retain their sharpness for long periods of time, but they are harder to hone. On the other hand, blades with a soft temper dull quicker but take less effort to sharpen.
Conditioning
Straight razors make use of a single blade you'll be sharpening and cleaning from time to time. This rids you the task of buying and replacing them.
However, peening and unpeening the razor is still necessary for maintenance. If you have no idea how to do this, you can check out this youtube video below:
Construction
The width of the blade is something to ponder on too. This factor affects its weight and how easy it will be to glide across your skin. It is ideal for beginners to choose a narrow blade, somewhere ⅝ inches as it tends to be easier to maneuver and control.
Blades also come in different shapes, there are hollow, ground, and a combination of both.
Most blades in the market are hollow-constructed, these are often expensive since they are known for their sharpness.
But, a blade with a mixture of hollow and ground construction would give you a sharper and more flexible edge.
A ground or flat wedge blade is made for those with sensitive skin, it is safer and more gentle to the skin to avoid any irritations and small cuts. 
Handle
Razor handles are commonly made of wood, plastic, bone, or horn. One of these materials may be excellent and comfortable to some, but not to others. So make sure to test them out and choose which one interests you most.
The handles don't give much of an effect to the razor's quality and performance, they are made for style and appearance.
Nose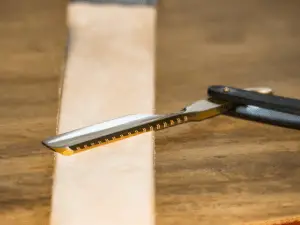 The nose is what the tip of the razor is called. Its sharpness and accuracy affect the overall performance of the best razor for black males.
The sharper the nose is, the cleaner the results would be, but this also increases your chances of cutting yourself. 
Rounded
This type of razor noses is popular among beginners, they offer a lower risk of injury. However, these lack precision and are tougher to maneuver around certain areas. 
French
French noses are rounded on the top but they have sharp corners that allow you to easily access hard-to-reach areas.
Hook-shaped
These noses have concave-curved tips for more flexible shaving. Using it requires much skill and experience.
Square Or Angular
Square or angular noses are often used for precise shaving of smaller areas.
Price
Because of their accuracy, style, and reputation, straight razors are much more costly compared to other razors in the market. But they are undeniably worth the price as they last longer and do the job better.
Are Straight Razors Hard To Use?
It takes quite some time and a lot of attempts to master the process of straight razors.
Most packages already come with guides and there are also a lot online, just make sure to take your time and put effort into your learning process.
How Long Does A Straight Razor Last?
The longevity of a straight razor depends on various factors.
Its durability depends greatly on its construction, most blades last for a year or more if well maintained.
The other parts of the razor last depending on the materials they're made of, as long as you store them properly, there is not much to worry about.
The Bottom Line
The Equinox Professional Steel Straight Edge Razor is our pick for the best beginner straight razor and the Utopia Care Professional Straight Edge Razor is an alternative if you're searching for a budget-friendly product.
The best straight razor for a beginner should be jammed with high-quality characteristics that may complement what your skin is searching for, and that is what our overall pick has.
You just have to keep this product well maintained and clean it thoroughly to avoid any rust from building up. Its features will surely let you achieve that perfect "smooth and tender" touch after shaving.