Yes, disposable safety razors are from the last century, but since they do a good job, we can still use them, right?
But…
If we mention all the benefits of a disposable razor or straight razor blade, you'll take a few hours to read this article. Since we want you to get facts fast, we'll only tell you three merits of a disposable blade.
One, it's sharp. Two, it's affordable. Three, there are so many brands.
That's why we want to list the best safety razor blades for beginner level, starting with the Astra Platinum Blades. Read on!
Reviews Of The Best Safety Razor Blades For Beginners
1. Astra Platinum Blades - Best Safety Razor Blade Overall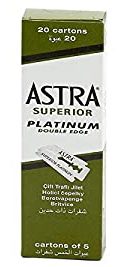 They are the best safety razor blades a beginner can use on any skin type, from sensitive to normal skin. Consequently, you'll shave without fear if you don't know your skin type.
These blades combine two qualities: smoothness and sharpness.
That'll give you a closer shave without razor burns. When you shave close, you minimize the need to trim your beard a couple of days later. It also gives your skin time to heal from the process as your face gets used to safety razors.
Further, they are thick, so they won't break or snap as you shave. That can be disastrous!
Pros
Perforated box for safety

Smooth, sharp single blade

Packed in sets of five astra blades
Cons
It's thick; it can be an aggressive blade.
Takeaway
Astra Platinum Blades come in a box with a perforated opening where you pull out one double edge safety razor blade at a time to avoid cuts. They are smooth, thick blades that shave all skin types without causing inflammation.
---
2. Shark Blades - Best Budget Option
It's a famous brand that comes in an affordable bundle of 100 pieces packaged in sets of five blades. Since you're a beginner, you may not know how often you can shave, so having such a bundle means you won't run out of blades unexpectedly.
These blades are gentle as you wet shave to leave you with smooth skin.
They have a chrome finish that makes them sleek and a polymer coating to make them long-lasting.
Pros
Reasonable price

A 100- double edge blade bundle

Close-shaving blades

Long-lasting
Cons
Takeaway
Shark Blades are the best safety razor blades a beginner can get at a budget price. Though these blades are sharp, they don't cause razor bumps or rashes, even if it's your first time using a safety razor.
---
3. Razor Blades Club - Best Sampler Kit
We thought of ranking the Razor Blades Club as the best double edge razor blades for beginners, but they are a bit too adventurous for someone without experience in wet shaving.
This pack contains two blades of 15 brands, giving you 30 safety blades. You'll have a set from Astra, two from Bic Chrome Platinum, and a few other brands like Gillette and Merkur. Do you see why we think it's an adventurous pack?
Therefore, these are the best safety razor blades for beginners who want to experiment.
Plus, this kit is more affordable than buying sets of 100 blades before you find a brand you like.
Pros
Sampler pack

15 different brands

Affordable multi-pack
Cons
Lack of consistency whenever you shave
Takeaway
Razor Blades Club wants you to try 15 different brands so you can settle for what your skin loves.
---
4. Derby Extra - Best Stainless Steel Blades

As a beginner, you want a razor that's safe to unwrap and fit into your shaver in your first attempt. That's why the 100 Derby blade pieces in the Derby Extra pack have wax paper wrappers to keep the sharp edges at a safe distance from your fingers.
These blades fit in any safety razor; therefore, no concern about having 100 blades you may never use.
They are stainless steel blades with a mixture of durable materials like tungsten, platinum, and chromium-ceramic, so the edges are sturdy.
Further, they have a polymer coating to make them comfortable on your skin.
Pros
A pack of 100 durable Derby blades

Made of stainless steel

Blades compatible with all safety shavers

Affordable

Polymer coating for durability
Cons
Takeaway
The Derby Extra pack can serve you for months if you shave a few times a month. Plus, since you're only starting your shaving routine with a safety razor, you need an accessory that's safe as you install it and safe on your skin.
---
5. Personna De Blade - Best Famous Brand
The Personna brand is over a century old in this field, which means you're getting blades tried over the years by different clients. They come in chrome steel, which is durable.
It's an affordable pack as you get 100 pieces.
Plus, there's no blade cleanup needed afterward as they're disposable. That's what every beginner wants to hear. On top of that, they are flexible for shaving maneuvers.
Even though they are sharp, you'll learn the angle to use the first few times you use them.
Sharpness also protects your skin from an aggressive razor shave or tugging. How? You sweep your face with the double edge razor blade once, and it catches all unwanted facial hair.
Pros
Affordable

Economical

Clean shave

Compatible with shavers

Made of steel

A pack of 100 pieces
Cons
Not suited for coarse hair
Takeaway
The Personna De blade comes in a pack of 100 steel pieces to help you use the same quality for months until you learn how to shave. Further, as a beginner, you want to work with sharp shaving blades that don't cause tugging or cuts.
---
6. Feather Blade - Best For Sensitive Skin
To be a beginner and have sensitive skin sounds like the worst combination. But, fortunately, Feather Blades are for these two situations.
They have a platinum coat that keeps them sharp despite the texture of your hair. Plus, it makes them non-irritant.
The one we're reviewing has 50 safety razors, but you can opt for a pack of ten, which is better if you want to try the Feather double edge blade and other brands before settling for one.
On the other hand, if it's your second time getting a set because you like them, you can go for a pack with 200 pieces. The only downside is the wax on the wrapper. It makes unwrapping a bit unsafe as a sharp edge may catch your finger.
This wax may also stick on the blade and make the cleanup messy.
Pros
A pack of 50 pieces

Platinum coated to prevent corrosion

For sensitive skin

Suitable for thick hair
Cons
Too much wax on wrappings
Takeaway
A Feather Double Edge Razor Blade is sharp, suitable for people with sensitive skin, and comes in a pack of 50. It glides over thick stubble without pulling your skin.
---
7. Wilkinson Sword Classic - Best Long-lasting Blades
These blades have a PTFE coating that creates a shiny, sturdy surface; thus, they stay sharp throughout your shave.
Like the Personna brand, Wilkinson is a seasoned company that began production in the 60s.
Its ceramic blades won't break in the middle of your shave.
They come in a pack of five, which is convenient instead of having hundreds of pieces when you don't know if you like the brand yet.
Pros
Renown brand

PTFE coating

Clean, smooth shave
Cons
Pricey for a pack of five blades
Takeaway
Wilkinson Blades don't compromise on quality as the brand has been manufacturing grooming products since the 60s. Its blades are sharp and come in small packs.
---
8. Merkur Double Edge Safety Razor - Best Razor Packs
We've mentioned many options that give you up to 100 blades, but we haven't come across one with sets of pieces in appealing packets. If you're looking for a grooming gift, this one has three sets of 10 blades each, packaged in small, attractive packs.
Each blade in the packet is inside a wax-paper wrapper for sanitary and safety reasons; thus, anyone in your household can pick one razor blade at a time without the risk of cuts or poor hygiene.
These are durable steel blades with a Teflon coating that makes them shine.
They stay sharp throughout your shave, leaving you with a shaven mustache or beard.
Pros
A three-pack with ten blades each

Individually wrapped

Affordable
Cons
Takeaway
The Merkur Double Edge Safety Razor comes in three sets, giving you ten individual blades wrapped in wax paper. They are detailing blades for a close shave of your mustache or beard.
---
Since it's your first time:
Do You Know How To Shave With A Safety Razor?
As a beginner, you'll have some concerns, such as how close is too close to the skin. You'll also wonder whether you need a shaving brush, cream, or other accessories. Relax! Let's go through the simple process together.
When wet shaving...
Splash warm water on your beard to soften it.

Mix your safety razor shaving cream and apply it with a brush to build lather that'll create a barrier between the blade and your skin.

Hold

the blade at a 30 to 35-degree angle to the area you want to shave. It gives the razor blade a comfortable slant as it glides or use one of the best slant razor. 

Shave in the direction your hair grows to avoid irritating your skin. That means, with the grain of the hair. Plus, apply minimal pressure to the razor head and make short strokes on the beard. The weight of the razor is enough to exert pressure.

Flip the cartridge razor if one edge clogs, and rinse it. That's the benefit of using one with double edges, as it hastens the process. You may have to pass the razor twice in your first attempts, but you'll get it in no time.

Rinse the beard with cold water to remove the shaving soap.

Apply aftershave and moisturize the skin. If the area is itchy, you can cool it down with ice cubes or an itch cream.
Now, a quick question, here... Do you know how to sharpen your razor blades? Our guide will help you learn that skill step-by-step!
Watch this video for the process of wet shaving using a safety razor:
Do you have any questions so far?
Here are some:
Frequently Asked Questions
Which Safety Razor Is Best For Beginners?
Many safety razors are suitable for first-time users. You can match the blade with the razor, such as a Merkur razor set, or use two different accessories. If you use a different blade, then make sure it's compatible with the razor.
Some famous brands are Edwin Jagger, Gillette Heritage, Rockwell Razor, King C. Gillette, Muhle, Weishi, and Vikings Blade. When selecting a brand, look at the ease of cleaning the grooming tool, durability, and sturdiness. 
You also want a comfortable handle length so that your razor isn't too heavy in your hand. Adjustable razors are also helpful when shaving under the nose or jawline because you can adjust the blade gap and readjust it again when shaving other areas.
Also, a plastic razor is more affordable than a metallic one.
Which Safety Razor Blade Is The Best?
We ranked the Astra Platinum Blades as the best de razor blades for beginners. For answers, read our verdict below.
How Long Will A Safety Razor Blade Last?
Its longevity depends on many factors. For instance, hair texture and density affect how sharp the blade remains after several shaves. Hence, if you have a thick beard, you'll change the razor blade often.
The blade's quality also dictates how long it lasts. That's why you should look at the coating material. A de razor blade or one coated with platinum or chromium will last longer as these materials harden it.
Lastly, regular shaving will demand a new, sharper blade every so often. But, we can't also overlook the effect of poor use, maintenance, and storage on this accessory. 
As we conclude:
The Verdict
A blade isn't just a blade. Therefore, we ranked the Astra Platinum Blades as the best safety razor blades for beginner level for several reasons.
For instance, these Astra blades are sharp and smooth, which every beginner expects to make the shaving process safe and efficient. Plus, they are thick to survive the shaving pressure and regular maintenance.
Nonetheless, if you want to save two or three dollars, we found a budget-friendly option for you. We're talking about the famous Shark Blades, a bundle of 100 pieces like the Astra Platinum, but cheaper.