Some people love modern shaving methods, and others love the feel of a safety razor blade gliding over their face like a traditional straight razor.
If...
You belong to the latter group, do you prefer a multi-blade razor or a single blade razor? Today, we're talking about ones with one edge.
We'll furnish you with a list of the best single edge razor blades so you can enjoy a close and smooth shave without ingrown hair, a razor burn, or skin irritation.
We'll start with the best overall, the Derby Professional. Read more about it below.
Reviews Of 7 Best Single Edge Blades
1. Derby Professional - Best Overall
It's one of the best single edge razor blades for shaving, as you can fit a Derby razor blade in any straight razor in the market. Therefore, you don't have to invest in a new razor because you're moving from one brand of single edge blades to another.
Also, the Derby Professional comes in a pack of 100 long-lasting blades made of a combination of chromium, tungsten, and platinum. These Derby blades are sturdy to endure shaving a full beard without breaking.
Plus, their polymer coating gives you a smooth shave that doesn't cut or irritate your face.
Pros
For sensitive skin

Professional quality

Long-lasting

It fits in any safety razor

Affordable pack of 100 blades

Ergonomic
Cons
Too many blades if you're only testing different brands
Takeaway
The Derby Professional is the best single blade razor for it's a pack of 100 blades with a polymer coating that lets it glide over your skin without irritating it.
---
2. Sharp Hi-chromium Half Blades - Best Budget Option
You get 100 Sharp half blades to fit in any safety razor. It's safer than inserting a de blade with two sharp edges.
The Teflon coating makes them durable, and they offer a smooth shave.
Pros
Affordable

Coated with PTFE

Suits different straight razors

Individually wrapped blades

100 blades
Cons
A coarse beard may need repeated passes.
Takeaway
Sharp Hi-chromium Half Blades have a Teflon coating that makes them last longer. They shave smooth and close, and you can attach them to any straight razor.
---
3. Bates - Best Heavy Duty Blades
If the two designs we talked about above look too thin for your coarse beard, Bates single razor blades can give you heavy-duty service. You'll get a pack of 50 blades, which means if the other designs would last up to six shaves, these will serve you longer.
Each blade has a shelling paper wrapping for safety and hygiene purposes; therefore, your household can share the pack of 50.
These blades aren't for shaving only, as you can use them to remove paint on surfaces.
Pros
Heavy-duty design

Multipurpose blades

Shelling paper wrapping
Cons
It may feel dull at some shaving angles.
Takeaway
Bates heavy-duty blades will serve several purposes, from shaving coarse hair to removing stickers and paint. They come individually wrapped for ease of handling, and they are durable.
---
4. RexBeti Industrial Razor - Best Multipurpose Blades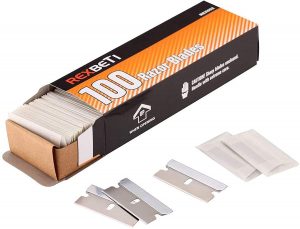 They're high-quality steel blades, so they're sturdy and durable.
On top of that, Rexbeti blades fit in any safety scraper or carton cutters. For example, you can use them to scrape paint off a surface.
Pros
Sharp blades

Smooth edge

Multipurpose
Cons
They dull fast

You may use several blades per job
Takeaway
Rexbeti blades fit in different scrapers, so you can use them to remove paint or some other scraping job.
---
5. Feather Artist Club - Best Razor For Sensitive Skin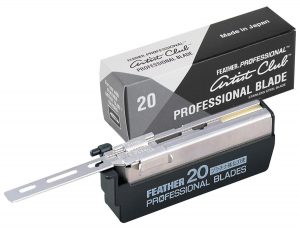 You'll want this type of blade if you have sensitive skin. The Feather Artist Club Pro Razor Blades suit all beard types regardless of hair thickness. A resin coating on them reduces friction as you glide the blade over your skin. That's how you prevent irritation.
On top of that, it has a platinum alloy coating for durability.
However, you'll spend more on a pack of 20 blades only.
Pros
For sensitive skin

It suits all beard types

Extra sharp

Platinum alloy coating
Cons
Takeaway
Feather Artist Club Pro Razor Blades are sharp, so the 20 blades in the pack ought to serve you for many shaves. They have a platinum alloy coating to glide smoothly and cut any hair thickness.
---
6. American Line - Best For Safety Blade Dispenser
It's a pack of ten sharp blades made of carbon steel, so you'll enjoy good quality. Further, this set comes with a safety dispenser giving it a professional feel. American Line takes away worries about cutting your fingers as you pull out blades from the pack.
These are multipurpose blades that trim, cut, or scrape.
Pros
Heavy-duty material

Durable carbon steel

Safety dispenser

Multipurpose blades

Appealing packaging

Sharp blades
Cons
It's a pack of 10 blades only.
Takeaway
This 10-pack of American Line single blades has a safety dispenser that eliminates the hazardous process of pulling out blades from a box. They are sharp, serve different purposes, and are of high quality.
---
7. Feather FHS-10 - Best For Blade Recycling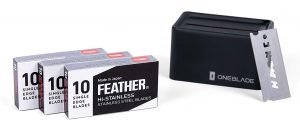 The Feather FHS-10 pack gives you 60 pieces, so you have enough for the next few months. Plus, since they have stainless carbon steel and a combination of platinum and PTFE coating, they'll stay sharp longer.
That'll give you a close shave that's not irritating.
What's more, you can use these blades on thick hair. It's safe to have them in your home as they come with a blade recycling bank where you store away used pieces.
Pros
Stainless steel

60 pieces

Ultra-sharp

Platinum and PTFE coating

Blade recycling bank
Cons
Takeaway
Feather FHS-10 has six sets of 10 blades each. After using a blade, slide it into the metallic blade recycling bank and dispose of them once it's full.
---
How To Choose A Single Edge Razor Blade
From our list above, it's clear that single edge razor blades aren't the same. They have different material, design, sturdiness, and use. So, how can you tell them apart?
Let's look at a few features:
Blade Material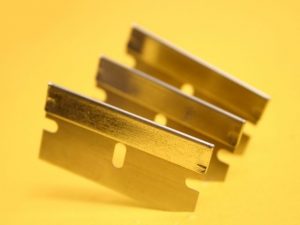 It's better to get one razor blade than to buy a pack of 100 pieces that break before you use them. Therefore, get long-lasting blades that you can use for five to eight shaves before disposing of them.
Further, heavy-duty blades have thick backing that prevents bending as you shave or scrape. They are better for multipurpose use, such as box cutting.
Heavy-duty designs like Bates have a straight edge razor design different from a double edge blade, such as Astra blades. It makes them sturdy for use on coarse, thick beard hair.
All blades may have stainless steel, but you'll see a difference in coating material and blade sturdiness. Also, the sharpness depends on the blade material as some go blunt faster.
Versatile blades you can use to scrape windows should have sturdy material. Further, they should be rust-resistant, or the 100 or 50 packs you get won't serve you for long.
Sharp blades prevent pulling and uneven shaving, and they cut close. A blade with quality coating has a smooth edge that won't irritate your skin. One that's weak will break to form a serrated edge that'll drag your hair. 
Safety
A double edge razor blade has the disadvantage of dealing with two sharp edges as you refill your safety razor. The single edge razor blade reduces that risk, giving you one blunt edge.
However, you'll also need caution when taking it out of the pack, unwrapping, and placing it in the single blade razor. That's why brands with a safety dispenser stand out, such as the American Line design we talked about earlier.
Also, even though you're getting a 100-pack, each blade should have individual wrapping paper. Another safety measure for disposable razor blades is a recycling bank where you store used razor blades instead of throwing them in the trash.
Once you get your pack of blades, it's time to load your razor and enjoy the shave.
So…
How To Get The Most From Safety Razor Blades
You'll get a better shave with a safety razor than a cartridge razor, more so if you have thick facial hair. It's sharp to clear hair in one stroke, and a single edge doesn't irritate as much as a set of blades cutting the same strand of hair several times.
Further, this disposable blade is more affordable as you have up to 100 pieces under $10 per pack.
To get the most from your safety razor blade:
Have A Pre-shave Routine
Whether you're dry or wet shaving, you need a care routine to protect your skin from razor burn. Wash your face with warm water to open the pores and soften the skin. That'll prevent pulling when the blade makes contact with the hair shaft.
You're likely to irritate your skin when there's no barrier between it and the blade. Therefore, get a shaving brush that distributes shaving cream evenly to have a uniform surface the blade glides on.
For example, the Wilkinson Sword shaving brush has sturdy bristles that create a thick lather to lift your facial hair until the blade glides over it.
Get some amazing tips for your pre-shave routine in this video:
Have Good Blade Hygiene
These blades are inexpensive, so it won't hurt your budget when you dispose of them after using them for several shaves. When you do so, wrap them with paper or put them in a blade bank. For example, the Rockwell Razor Blade Bank fits 50 used blades.
Disposing of them makes the razor maintenance process easy as you only need to wash the razor, your shaving brush, bowl, and other essentials. There's no risk at all of cutting your fingers while cleaning a sharp blade.
Lastly:
Shave In Short, Straight Strokes
Prevent razor bumps by making small strokes with minimal dragging. Since you have a sharp blade, it'll cover the patch in one go without a second shave of the same spot. Even when you have the safest blade, your cutting style can mess up the style or give you painful nicks.
Do you have unanswered questions about single edge blades? Check the ones below.
Frequently Asked Questions
Are Single Edge Razors Better?
Yes, they are, more so for beginners because there's only one cutting edge to maneuver but if you are a beginner and still uncertain you can look for the best safety razor blades for beginners. A double edge razor will have you worrying about the cutting angle every time you flip it.+
A single edge razor gives you the feel of a straight edge razor but with the option to dispose of after a few shaves. Injector blades are easy to change as they come in the form of a magazine.
Additionally, reduced friction makes them less irritating than double edge razors. A multi-blade razor cuts several times, while a single blade passes once.
Using single edge razors also minimizes ingrown hairs more than a de razor. Also, some single edge blades are thicker and stiffer than multiple blades. Therefore, they serve people with a thick mane better.
Are All Single Edge Razor Blades The Same?
No. The best single edge blades come from different brands, so their engineering differs. You'll come across injector blades, barber style, and FHS designs like the ones we mentioned in the review. Thus, we can't say there's a standard shape or design.
You'll note a difference in their thickness and size. For example, the RexBeti Single Edge Industrial Razor's thickness serves diverse uses from scraping to cutting.
What Are The Best Single Edge Shaving Razor Blades For Barbers?
The best single edge razor blades for shaving are in our review above, and we ranked the Derby Professional 100-pack as the best overall. There are enough pieces in this pack to serve many clients.
Where Can I Buy Single Edge Razor Blades?
Shop where you're able to compare the features of different blades. For example, compare brands on Amazon or West Coast Shaving.
As we conclude our discussion on the best single edge razor blades:
The Verdict
The Derby Professional single razor blade can last up to six shaves per blade thanks to its durable chromium, platinum, and tungsten material. It fits in any safety razor, meaning there's no additional expense when you get this pack. Plus, the blade's polymer coating makes it sturdy and smooth.
It's an affordable pack of 100 blades, but if you want to save more money, the Sharp Hi-chromium Half Blades is the best budget option. It's also a pack of 100 blades. Which one did you like?