Maybe you've been hearing so much about a slant safety razor that you want to try it out for yourself. However, you're uncertain whether this grooming tool is reliable and the right one for you.
With that in mind...
We present you with several of today's best slant razors. Take some time to check our slant razor reviews and their handy features. Who knows? Probably you'll find one of these razors well-suited for your needs.
Let's start with Merkur Safety Razor, our best overall product.
Best Slant Razors Review 2023
1. Merkur Safety Razor 39c – Best Overall
More and more men with coarse beards find the Merkur 39C a piece of handy grooming equipment. If you ask most men what the best slant razor is, this product tops their recommendations.
With all the exceptional features and the convenience that this offers, I can understand why. The 39C from Merkur features a more aggressive slant bar design than a straight razor head, even naming it the "sledgehammer."
It can shave a two-day-old stubble without too much pressure, which can help you avoid bumps, cuts, and other skin discomforts.
While individuals with sensitive skin might shy away from more aggressive razors, this unit won't injure your skin when shaving. The shaver is sturdy and allows convenient operation, especially for wet shaving.
Not to mention, this razor head also offers users excellent grip, although it might be bulkier than a conventional safety razor. The slant on each side of the headpiece starts at the upper left and goes down to the bottom right, so you only need minimal effort when using it.
Pros
Two-piece razor with chrome finish

Blade angle ideal for tough skins and heavy beards

Long, textured handle offering ease of operation even for larger hands

Barber pole groove for excellent grip 

Delivering an aggressive yet comfortable shave
Cons
Not suitable for beginners
Takeaway
The sledgehammer might be trickier to use for most beginners but proves to be an exceptional choice for more experienced users. It's a gentler slant bar razor requiring minimal passes to achieve a close shave, making it suitable even for sensitive skin.
---
2. Parker's Semi Slant Safety Razor – Best Value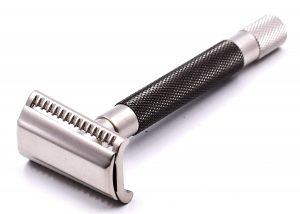 Parker incorporated a highly-efficient design into this safety razor head that allows users to cut from an angle instead of cutting hair straight. This unique design makes it the best slant safety razor at a more affordable price.
It delivers the benefits of using a slant razor without excessive aggressiveness or too much blade exposure.
Unlike other shavers with typical slant heads, this razor type has pretty smooth blades that feel milder on the skin. You can use it with more confidence, which is uncommon when using a slant razor that requires you to use it with more caution.
Many find it the best slant safety razor for standing out with Parker's exceptional performance in providing a close shave. With this razor's blade mounted at a shallow angle, it's a lot easier to use, even for newbies.
Besides, Parker is among the best slant razor brands that Shave Nation recommends. After all, it is not merely a top-rated product for nothing.
Pros
The best safety razor for beginners

No dramatic blade exposure

Delivers a milder shave

Features less torque for a more efficient cutting edge

Works like an open comb razor with minimal skin irritation
Cons
Takeaway
This well-made slant safety razor comes in three types of handle designs you can choose from, chrome, graphite, and rose gold handles. You can use this Parker semi-slant razor with your favorite shaving soap for a reasonable price for a more efficient hair grooming experience.
---
3. GBS Heavy Duty DE Slant Bar – Best Budget-Friendly
GBS Heavy Duty Slant Bar is among the best slant razors for budget-conscious users. It ensures that you get proper beard care with so much ease and without having to spend a lot of your hard-earned cash.
Many refer to this safety razor as the more affordable version of the Stealth Slant from RazorRock.
Both razors are identical in their sizes, except GBS is heavier because it has an even longer handle. What's even better is that the safety razor comes with a protective leather case, perfect for when you're traveling.
The blades, torqued on both sides, are highly durable and unyielding to pressure. Moreover, the razor has exposed blades, but it also has a built-in bar guard to help you avoid accidentally cutting yourself while shaving.
Its optimal angled design will allow you to glide through the contours of your face to eliminate stubble with ease and precision.
Pros
Durable construction with an elegant chrome finish

Texturized brass handle for a comfortable grip

Protective leather case included

Built-in bar guard for safe operation
Cons
Base and cap's unsecured fit can lead to possible blade aberration

Quite heavy
Takeaway
GBS allows anyone to experience smooth shaves you could expect from reputable brands at a fraction of their cost. It is no wonder how this device is the best slant safety razor for many of its existing users, given its exceptional precision. The razor even lets you do fade haircuts.
---
4. Merkur Double Edge 37C – Best For Sensitive Skin
Despite resembling the 34C model, you can expect the Merkur 37C unit to be a more aggressive razor than your standard closed comb razors. Many users with sensitive skin favor this shaving tool for cutting through hair effortlessly without the nasty razor burn.
The 37C model is a two-piece slant razor with a unique slant bar set at an angle to give you a more cutting surface.
Such an angle cuts through even coarse hair types effortlessly. You can now say goodbye to constantly tugging at your hair from the roots when cutting through your facial hair with this kind of efficiency.
Additionally, the safety bar comes with a scalloped design, feeding longer facial hair so the razor can do its job efficiently. It also has a shorter handle than its relative, the Merkur 39C, suitable for easy maneuvering.
Pros
Two-piece wet shaver with blade mount fixable to the handle

Delivers a clean shave with less resistance

Textured handle for improved grip and control

Shorter in length than other razors

High-grade material and sturdy construction for long-term use
Cons
Not suitable for beginners
Takeaway
Users who are more proficient at wet shaving will benefit from this Merkur 37C razor, as it cuts through the beard instead of chopping it as others do. Getting familiar with it and finding the right angle is easy; thus, you'd feel the noticeable difference even from the first pass.
---
5. iKon X3 Razor – Best For Mid-Aggressive Shaving
X3 Slant Head Razor is among iKon's new products that offer moderate aggression and impressively close shaves. It works remarkably on stubbles, not leaving a trace of unwanted hair with only three passes.
This razor delivers robust performance for even the most unkempt hair, as most of its existing users claim.
iKon's X3 boasts sturdy aluminum and stainless steel construction, ensuring corrosion resistance and long-term use. Further, it also has a bamboo handle with a distinct ribbed pattern for a comfortable, non-slip grip.
It conveniently works as a wet shaver, one you can hold onto securely, even with soapy hands or when showering. The shaving head's slant bar design can slice through coarse beards, not merely chop it straight, which can significantly minimize occurrences of ingrown hair.
Pros
Corrosion-resistant materials and durable construction

Polished bamboo handle with a texturized knob for improved grip

Mild on the skin but cuts so close

Short handle and compact design perfect for traveling

Includes extra five-pack Astra blades
Cons
Slight blade alignment issues
Takeaway
iKon's X3 model is the perfect combination of functionality and style. It offers the convenience of having a bulldog-style handle with an etching design for a secured grip upon contact. Multiple passes are also unnecessary, helping you avoid repeated scrapings resulting in skin irritation.
---
6. Fine Accoutrements Slant Razor – Best Ergonomic Design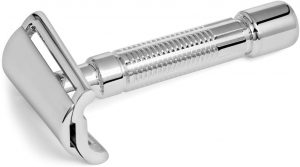 If shaving with ease has long been a problem for you, I'm sure you'd appreciate the convenience that Fine Accoutrements Slant Razor can offer you.
This DE razor provides the same exceptional performance you'd get from a torqued shaver head. Each of the three-piece slant razors is engineered thoughtfully from aluminum to ensure accurate blade alignment.
This handy slant razor yields a highly effective cutting action with its sloped and torqued blade. Consequently, you can use it with a mild blade and apply little or no pressure to your skin when shaving to achieve an optimal result.
Such efficiency is what most men with fuzzy beards are looking for, allowing them a comfortable and smooth shaving experience. Even the thoughtful choice of material guarantees a lightweight design for easy maneuvering and keeps it finely polished to stay rust-free. 
Pros
Offering the same shaving performance as a torqued-blade razor

Ergonomic and lightweight design

Easy to use than an unbendable cartridge razor

Features a well-polished look while keeping it rust-free

Interchangeable three-piece slant razor
Cons
Not suitable for individuals who prefer a more hefty shaver
Takeaway
This Fine Accoutrements three-piece interchangeable slant razor requires less force when shaving even the most stubborn stubble. It delivers a smooth shave with less risk of cuts and nicks; even beginners can use the device with ease and comfort.
---
Benefits Of Using A Slant Razor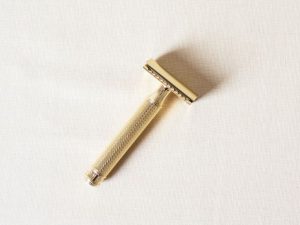 Your first and utmost consideration before deciding on an investment is a product's reliability and all the benefits it can provide. Most individuals new to this innovation probably ask, are slant razors better?
Whichever brand or model you pick, it's crucial to understand that no slant razor is entirely safe specially if you are a beginner but still there are best safety razor for beginners.  Employing the proper shaving technique is as significant as choosing a suitable device. Proper shaving and selecting the best slant razor that is safe to use go hand in hand in achieving a clean shave.
Also, you need to determine which product feature matters to you and find one that poses less hazard when shaving before you invest. Both a cartridge razor and a slant razor have distinctive advantages.
For now, let's focus on what you can get from opting for a slant razor:
Affordability
Cartridge razors are more expensive. Aside from purchasing the unit, you also have to pay for each cartridge. All the more, it would be too much to spend if you have thick, stubborn hair. It costs less when you opt for a slant razor since it already has all the tools you need for shaving.
Besides, you need to invest in shaving creams for electric shavers and manual razors to ensure a smooth, painless shave when using your traditional razors. Yet, these creams would sometimes clog your device and cause your blades to become less efficient. 
High Efficiency
Slant razors cut your hairs from an angle rather than cutting straight as cartridge razors do. It shaves like it's slicing through the hair rather than blunt chopping, which means applying less pressure on the follicle.
Using slant razors gives you more control in either head-shaving or eliminating your whiskers. For this reason, men with thick, coarse beards favor slanted razors more. Such razors enhance the ease of cutting since these handy tools eliminate stubbles with more efficiency.
Therefore, this hair grooming innovation gives you a cleaner, smoother shave with only a few passes.
Skin-Friendly
There's a reason why many consumers call slant razors the well-suited device for sensitive skin. Using a slanted razor would only require you to apply light pressure to your skin. It's also highly efficient, which allows you to reduce cutting resistance when shaving against stubbles.
Moreover, slanted razors use a single blade; only one blade goes against your skin, compared to other razors using multiple blades. The reduced friction against the skin and less pressure on the hair follicles significantly minimize the risk of irritation.
Convenience
Slanted razors are non-adjustable shaving devices with fixed blade angles. It gives a cleaner shave than when you have to cut it bluntly using cartridge razors. However, when transitioning to slant bar razors, try to do some research first to find the right blade.
A slanted razor can do so well in contouring a face or neck shave. You only need to test different options on what soap or cream will work best for you. Doing so will relieve you of shaving discomforts if you happen to choose a more aggressive razor.
Once you choose a soap, you may also use a shaving brush for generating lather that acts as a cushion for your skin while shaving. Make sure to clean your brushes after use to remove soap residue or mildew. Otherwise, it can result in bacteria build-up and skin infections.
Here's a short video on how you can clean your shaving brush:
Frequently Asked Questions
Are slant razors more aggressive?
A slanted razor might be more unheard of than open or closed comb safety razors. But currently, a growing number of users have already started getting familiar with it.
Such a razor technically has features as dynamic as a conventional safety razor; it only differs with its slanted bar blade guard. Although this sloped bar allows more room between the blade and blade guard, making a slanted razor more aggressive.
As a result, it can reach more hairs and give you a more precise shaving experience without the nicks and cuts. The more extensive the gap between the razor blade and the safety bar, the more aggressive the shave is.
That gap also determines the angle at which you hold the blade relative to the skin. Positioning with more angle means the blade also cuts more forcefully. However, if you get yourself familiar with slanted razors, there would be lesser chances of incurring an injury while shaving.
How do slant razors work?
Slant razors have torqued blades that cut your hair at an angle rather than straight on, unlike traditional razors. It makes cutting the hair effortless and with less pressure on the skin.
Such razor construction gives you the freedom to cut through the hair cleanly while ensuring an optimal gap between the blade and the skin. Its design helps you avoid irritation and achieve smoother shaves regardless of your hair type.
It might take practice to get used to a slanted razor; learning to use it the first time is like developing a new skill. You have to give it some time to master using it with experience. Also, you start shaving straight down and across to allow the blade to cut at certain angles.
Why is the angle of the slant razor better for cutting?
Extensive blade gaps and exposure allow more hair to get in between the razor's edge and the safety bar. Consequently, beard-cutting becomes less time-consuming and only requires a few strokes. Since it offers a quick, passable shave, there's less chance of ingrown hairs and skin irritation while solving shaving problems on the neck.
Final Thoughts
In conclusion, we now know that slant razors provide consistent performance than their conventional counterparts due to their angled design. But we also know that there's a vast array of slant razors on the market.
Hence, we have outlined the top-performing devices favored by many. The Merkur 39C Slant Razor is our best overall product due to its aggressive performance against fuzzy hairs yet is gentle on the skin.
Relatively, the Parker Slant Safety Razor provides the best value for a reasonable price with its sharp cutting edge that effortlessly slices through any hair type. May you find the above reviews helpful in deciding on the best slant razor to meet your needs.