What's your present situation? Are you dealing with frizz, dandruff, breakage, or split ends?
But...
You're not alone as these and more problems plague every person with 4c hair.
Our hair's neat coils make it unique, but they also make it fragile and dry.
Unfortunately, we can't use just any moisturizer. The fact is, we can't do without moisturizers. So we ranked the best brands to give you a practical guide.
Our top pick is the tgin Butter Cream Daily Moisturizer, which we ranked as the best moisturizer for 4c hair. Read on for facts.
Reviews Of The 7 Best Moisturizers For 4c Hair
1. tgin Butter Cream Moisturizer - Best Overall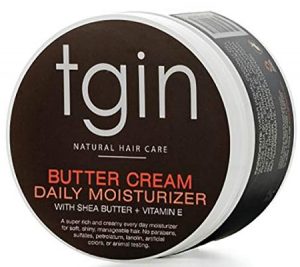 The tgin Butter Cream contains shea butter, one of the best ingredients when you need to lock in hair moisture. It stands out as our best overall because using such a sealant prevents your 4c from drying. It means this product targets people with dry hair.
What's more, tgin Butter Cream contains vitamin E, which promotes hair growth and strengthens your tresses, two other issues common with this hair type. Vitamin E also enhances blood flow to the scalp to prevent hair loss.
You'll also rock a healthy shine that'll result from cocoa butter.
If you're struggling with frizz, as most people with 4c hair, this moisturizing cream smoothens the hair cuticle such that it's easier to comb it without tangles. That means you'll enjoy a shorter, painless styling process.
Since it's a cream, you only need a dime-sized amount to work the magic without weighing your hair down or making it greasy.
Pros
Promotes hair growth

Softens your hair

Boosts blood flow to the scalp

It's easy to style your hair afterward

Many natural ingredients

Lovely smell
Cons
For use on dry, not damp hair
Takeaway
The tgin Butter Cream is the best moisturizer for natural hair 4c as it keeps your hair soft and supple for days, making your morning routine livable. Its rich, natural ingredients like cocoa butter make it a good choice for low porosity hair. On top of that, there's considerable hair growth in a few months.
---
2. Design Essentials Milk Souffle - Best Lightweight Formula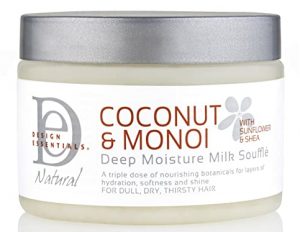 It's a moisturizer and a styler that turns dry 4c curls into lightweight, manageable curls using ingredients like coconut oil, argan oil, and shea butter.
It also contains rosemary leaf extract, so no more scalp issues as it cleanses your scalp and relieves irritation.
Another benefit is minimal hair loss as the sunflower seed oil enriches your shafts with minerals like iron and zinc. This moisturizer from Design Essentials saves styling time by revitalizing your curls to withstand any styling activity. 
Pros
Prepares your hair for styling

It's lightweight

Nourishing ingredients to soften your hair

Protects the scalp from irritation

Defines curls

No grease residue

Works on both dry and damp hair
Cons
Suits all hair types from 2A, not suited to 4c hair only
Takeaway
Design Essentials Deep Moisture Milk Souffle is the best moisturizer for 4c natural hair as it's lightweight to prevent grease residue. It also softens your hair, ready for styling.
---
3. Carol's Daughter Coco Creme - Best For 4b/4c Hair
We ranked it as one of the best moisturizers for natural 4c hair, plus 4b, for it suits curly to coily strands.
It's a blend of natural ingredients like almond oil, shea butter, and coconut oil to nourish and retain hair moisture to prevent your hair from drying.
Carol's Daughter isn't new to the game as it dates back to 1993, and it now has a diverse line of hair care products for natural hair. Thus, you'll be moisturizing your hair with a formulation tailored to your hair type.
Pros
Suitable for wet hair

Has natural moisturizing agents

Made by a renowned hair care brand
Cons
It may feel sticky or heavy
Takeaway
Carol's Daughter Coco Creme has a pleasant smell that doesn't linger. When you moisturize wet hair, it leaves your hair soft, thanks to the blend of nourishing natural ingredients like almond oil.
---
4. As I am Double Butter Cream - Best Organic Moisturizer
Its emollient blend of ingredients promises to preserve hair moisture on curls or coils, and that's what all 4c hair people want. It treats a dry scalp and dandruff as it has coconut and jojoba oils, and wheat protein leaves your hair healthy and shiny.
It's an organic moisturizer meaning no harsh chemicals that may leave you with dry hair. Further, As I am Double Butter Cream has provitamin B5 that'll repair split ends if your hair is already dry and brittle.
This moisturizer also works on transitioning hair because of its hydrating properties, plus it softens coarse hair.
Though it's a hair butter, its smell isn't overpowering, and its thick consistency makes it last for many applications. Even in the wolfing stage for 360 waves, this butter moisturizer won't over curl your hair. It has a smooth texture for easy application on wet hair without leaving residue.
Pros
An organic blend of ingredients

Repairs split ends

Strengths shafts and hair follicles

Softens hair to make it manageable

Enhances a healthy shine
Cons
It's expensive

A little greasy
Takeaway
As I am Double Butter Moisturizer's price is higher than that of other brands, but it's worth it as it softens even transitioning hair. It gets rid of the dry, brittle mass without the need to rehydrate your hair daily.
---
5. Okay - Best Coconut Moisturizer
Sometimes, you only need one ingredient with the properties to hydrate your 4c hair shafts. The Okay Moisturizer contains pure coconut oil only, which is famous for its hydrating qualities. It also promotes hair growth, given that coarse hair experiences little to no growth.
The shine from this age-old hair moisturizing agent is also natural without being greasy.
Therefore, one application gives you the sheen to last for several days. With a generous amount of this oil on your hair, it'll stop protein loss caused by combing damage.
Consequently, you'll have healthy, strong hair. It also has antibacterial properties to curb dandruff arising from harsh hair products or exposure to sunny weather.
You know, it works as a skin moisturizer too.
Pros
It contains pure coconut oil

A simple formula that isn't heavy on your hair

No harsh chemicals

Suitable for hair and skin

Has antibacterial properties
Cons
The smell might be overpowering
Takeaway
The Okay Moisturizer has pure coconut oil to nourish and strengthen your hair. It's so easy to apply it as you massage it into your hair from the root to the tip. We ranked it as one of the best moisturizers for 4c hair because it's perfect for hydrating your hair in any season.
---
6. Cantu Shea Butter - Best Budget Option
Cantu rules the natural hair circles for its range of products, and the Cantu Shea Butter is one of its budget-friendly solutions for 4c hair. It's an oil, so it's lighter than using a cream that may cause buildup in your already stressed hair.
Its shea butter scent is not overpowering, so you can moisturize your hair in the evening and still have a goodnight's sleep. Cantu Shea Butter has several ingredients to seal in moisture, such as beeswax and mineral oil that prevent breakage and dullness.
On top of that, it reduces frizz, which leaves you with manageable hair. It takes a small amount of Cantu to detangle your hair and leave it soft. Plus, you can use it daily if your hair needs extra moisture to withstand weather conditions.
Pros
Eliminates frizz

Makes your hair manageable

It's affordable

It's an oil, so you only use a small amount

Pleasant scent
Cons
White cast

Watery consistency
Takeaway
Cantu Shea Butter is an affordable solution to waking up with dry, tangled hair. It's an oil, so you'll use a small amount to turn your hair into a healthy, sleek mass.
---
7. SheaMoisture Curl & Style Milk - Best For Frizz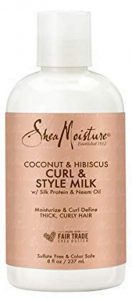 Of course, the first thing to check on any bottle of hair moisturizer is its ingredients. What's in it for your 4c hair?
Well, SheaMoisture is a famous brand with a variety of products for our coarse hair. This particular bottle suits hair prone to frizz, offering a list of commendable moisturizing ingredients. For example, coconut oil is in there to stimulate your hair follicles and enhance growth since our hair type denies us the natural privilege of long tresses.
The sage leaf extract in it is also moisturizing, and it slows down hair loss. Other natural ingredients in this SheaMoisture no-rinse cream are carrot seed oil, aloe leaf juice, and shea butter. It seems this moisturizer has good vibes only.
Pros
Natural ingredients

Various moisturizing ingredients

Promotes hair growth

Has coconut oil to fight dandruff
Cons
Takeaway
The SheaMoisture Coconut & Hibiscus Curl & Style Milk tames frizz when you apply it on wet hair. It has a pleasant, subtle smell with hints of coconut oil and shea butter.
---
Have you tried any of these moisturizers, and did you like them? Or you'd like some information on:
What Is A Good Moisturizer For Dry 4C Hair?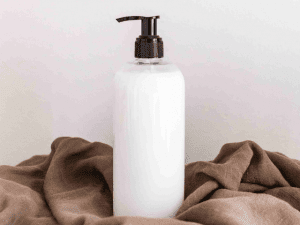 The best moisturizer for type 4c hair...
Doesn't Cause Product Buildup
Your scalp is already suffering from moisture loss, so if you cover it with grease, you risk irritating it or getting flakes.
Detangles
Tangles can cause hair breakage, especially when you comb your hair daily. It makes your morning routine longer. Therefore, a good moisturizer should smoothen your strands for a comb to glide through. 
Suits Your Hair Porosity
If you have low porosity, natural hair moisture doesn't penetrate the shaft to nourish the cuticle. Due to this, it takes longer to wash your hair even with the best 4C hair shampoo as the water doesn't penetrate. It's genetic, not a situation originating from your styling technique.
Therefore…
Using a product not meant for such hair means it sits on the surface at the expense of your hair's health.
On the other side of the coin is high porosity hair. Unlike low porosity, highly porous hair is excellent at allowing moisture into the shaft but poor at retaining it. It may be a genetic problem or a result of chemically treating your hair.
If you moisturize it with the wrong product, you'll have dry hair as the moisture will escape.
Strengthens Your Hair
Regular detangling and drying weaken 4c hair shafts as they lack nutrients and moisture. You may weaken the hair shafts and irritate your scalp if you use heat to eliminate frizz. The best way to avoid these outcomes is to nourish your hair with ingredients that strengthen the cuticle to withstand styling.
Contains Natural Ingredients
Nature can protect your hair from heat damage or the weather. Shea butter is one of the treasured ingredients for it soothes, moisturizes, and protects natural hair. It's the first choice when you need to repair your hair follicles or hair shafts.
Another favorite ingredient is avocado oil that nourishes your hair with vitamins A, E, D, B1, and B2. Also, consider sunflower oil as it contains minerals and fatty acids.
We've also discussed questions about 4c hair moisturizers below. Take a look.
Frequently Asked Questions (FAQs)
How Do I Moisturize My 4C Hair?
Wash your hair to remove grease or flakes. Don't overwash it, as you can strip it off natural moisture. Use a sulfate-free shampoo and deep condition your 4C hair afterward. Next, apply a moisturizing cream or oil to either wet or air-dried hair. Some moisturizers work on dry hair, while others are perfect on damp hair. Massage it from the roots to the tips to cover your hair shafts evenly.
This video shows how to moisturize a low porosity hair:
How Often Should I Moisturize My 4C Hair?
The tight coils of 4c hair prevent moisture on the root from reaching the tip. It shrinks more than other hair types when you wash it, which increases the risk of damage if combed when wet.
Due to these structural issues, you should moisturize your hair as often as necessary. The situation also varies when you add factors like the weather and physical activity. But, we can still set a rule of thumb and say, when you wash your hair, moisturize it. 
How Do You Keep Your 4C Hair Moisturized At Night?
First, moisturize and seal your hair with a product meant for this hair type. Next, wear a satin bonnet and sleep on a pillow with a similar fabric to prevent friction between your hair and the pillow. The silk fabric also seals in moisture so you can wake up with soft tresses.
Let's sum up our discussion on the best moisturizer for 4c natural hair with:
Final Thoughts
4c hair shrinks when wet, it's fragile, and it loses moisture fast. Therefore, the moisturizer shouldn't be too heavy, plus it should hydrate and seal the hair shafts to prevent moisture loss. That's the best description of the tgin Butter Cream Daily Moisturizer. It contains proven ingredients like shea butter, vitamin E, and cocoa butter.
But, if your budget is lower, Cantu Shea Butter is affordable.  It's a lightweight moisturizing oil with sealants like beeswax that keep your hair shiny. This budget-friendly moisturizer prevents tangles.