Have you ever experienced so much pain trying to comb, detangle, and style your natural hair? And at that moment, you just wanted to perm your hair the next minute. 
Or…
Have you ever desired a particular hairstyle and your hairstylist told you it would look better if only you had straight, relaxed hair? And this got you thinking that relaxed hair is the way to go.
But what if I told you that you could achieve sleek, smooth hair or a new look without applying a relaxer to your hair? Keep reading to learn about some alternatives to relaxers for black hair!
8 Alternatives To Relaxers For Black Hair
Relaxers are always the first choice for most people when they want to get straight hair, but it doesn't have to be. There are several ways to change your look and have a sleek hair texture.
Thus, let's dive into some viable alternatives to relaxers you can use. You can do them at home or at your stylist's shop.
1. Hair Straightening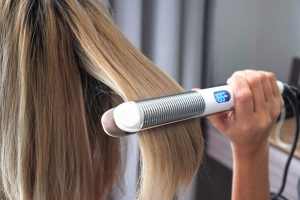 This is the most popular way to get smooth, sleek hair. This is because it is the most accessible alternative, and it can easily be done in the comfort of your room. You have to get a flat iron, preferably one with a steam option. This is essential as the steam supplies your hair shaft and strands with moisture alongside the heat. 
Before using a flat iron or straightener on your hair, ensure you apply a heat protectant cream, spray, or serum. This helps prevent excessive heat damage to your hair.
After all, you only want straight hair and not a damaged one. Afterward, part your hair into segments, then straighten them. Also, to prevent excessive heat, get a hair straightener with adjustable temperature options. This allows you to set the tool in the heat temperature your hair can withstand without damage.
Pros
Easy-to-do
Gives smooth and frizz-free hair
You can use them to apply different hairstyles
Cons
The tool can be pretty expensive
Constant usage would cause hair damage.
2. Keratin Treatment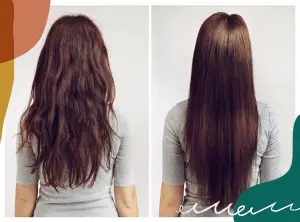 The protein keratin is an essential protein needed for healthy hair. Introducing keratin to the hair through the keratin treatment process is an effective way to achieve sleek hair. Both fine or damaged hair can benefit from this hair treatment.
Also, if you have curly or wavy hair and want to try a straight hair look without using a hair relaxer, I suggest you try out a keratin hair treatment. This treatment penetrates the porous parts of your hair to give a smooth, silky hair that can last up to six months when properly maintained.
However, this is not an alternative you try at home. Always visit an experienced hairstylist if you want this.
You should note that this process duration varies within individuals and depends on the hair length, texture, and chemical composition.
Pros
Suitable for all hair types
It prevents frizz and hair dryness
Effective at making the hair look silky and smooth
Effect lasts longer
Cons
Not suitable for pregnant women
Not affordable
It might trigger allergic reactions
Requires professional supervision and assistance.
3. Silicone Creams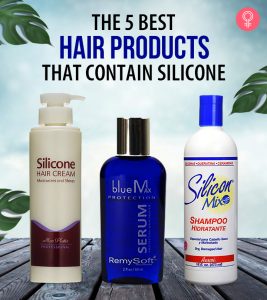 This is an excellent option for people with thick full hair that can't be effectively straightened using heating tools like flat irons. Silicone creams are one of the viable alternatives to relaxers for black hair that makes your hair smooth and frizz-free.
They are highly viscous creams with a thick consistency, making them superb for dense and thick hair. They work without using any heat tools. However, when using this product, ensure you apply it to your hair when it's partially wet to enable the cream to penetrate and get absorbed by your hair strands.
Make sure you start from your hair root and work your way up to the tips for optimum results. By doing this, you're guaranteed smooth, sleek hair till your next wash day.
Pros
Allows for simple hair styling.
Provides sun protection.
Removes knots and frizz.
Cons
Temporary effect.
Can clog your hair follicles.
Challenging to wash off.
4. Hair Vegetable Oils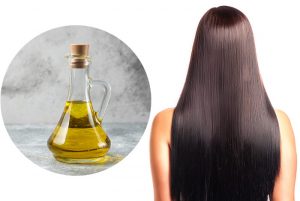 Hair vegetable oils are not your regular processed vegetable oils used for cooking; therefore, you should not mistake using the same oil you use to cook on your hair. The oils intended for hair use are unprocessed or cold-pressed virgin oils. The most common ones include coconut, argan, jojoba, and olive oil.
These oils have long been used in most DIY hair growth techniques. And have been proven to improve hair health, promote hair growth, rejuvenate dull hair, and treat scalp inflammations. Thus, using them on your natural hair can give you a smooth and soft hair texture.
You can use them as a hair mask before shampooing and conditioning. Or better still, you can apply lightweight oils to your hair without washing it off. This leaves your natural hair shiny and sleek in appearance.
Pros
Rich in vitamin E.
Protects the hair from sun damage.
Nourishes the hair.
Relieves inflammation.
The oils have antibacterial properties.
Cons
It might make your hair strands heavy.
It contains fatty acids and trans fats.
5. Blow Drying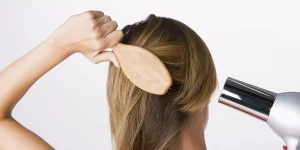 This alternative is very common, and I am sure most people have once gotten their hair blown dry. 
Blow drying your hair with a hairdryer and blow-drying brush would help remove frizz and make it straight and smooth. However, when using a hairdryer, ensure you use it when your hair is 70 percent dry for a better outcome.
Also, if you intend to do this at home, ensure the hairdryer you got is suitable for your hair type. This is because different hairdryers are designed for different hair types and textures. Remember always to use a heat protectant to prevent heat damage to your hair strands.
Pros
Easy to do without professional assistance.
Hairdryers are light and portable.
Affordable.
Flexible hair styling.
Cons
Weakens the hair thread.
Constant use can reduce your hair's brightness or shine.
It could damage your hair's texture.
6. Haircutting/ Trimming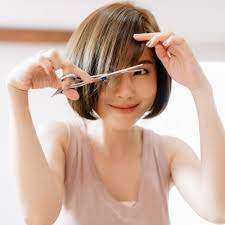 It may seem absurd to cut your hair as an alternative to hair relaxers because no one wants to lose their long hair. Cutting out split or weak hair ends, on the other hand, encourages the growth of healthier, longer hair.
Besides, I'm not recommending you become bald or have a short haircut. You can either trim the ends only or go for a tapered cut. It's better to do this following your wash day. This allows you to see and separate any split ends in your hair that must be trimmed.
So, the next time you're on the verge of perming your hair, take a deep breath and consider chopping out the weak ends or opting for a shorter hair length. You might enjoy your new look and style.
Pros
Removes weak and split hair ends.
Easy maintenance and care.
It gives a flattering appearance.
Cons
Limited styling options.
Might miss having long hair.
7. Make Long Term Protective Styles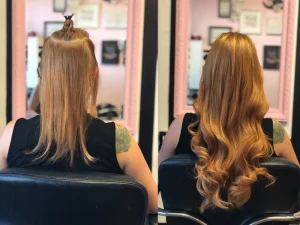 If you want your hair to be straight but don't want to use chemicals, then you can use hair extensions like weaves or wigs.
These extensions will give you the silky-smooth hair you desire while still allowing your natural hair to breathe. This will also encourage healthy hair growth. Hair extensions come in various styles and textures that can confuse you. Therefore, if you're on a tight budget, you can opt for synthetic hair instead of human hair.
Hair wigs are also advantageous because they are pre-styled, saving you time in the styling and design process. Those manufactured with human hair can also be mistaken for your natural hair.
Pros
Easy maintenance
Enhances hair growth
There are a variety of options 
Comes styled
Long-term use.
Cons
It can lead to itchy scalps
Quite expensive to purchase
Might cause hair damage and breakage.
8. Apply Hair Colors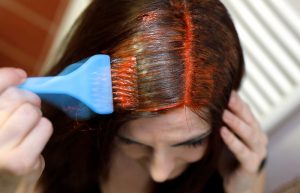 Suppose you have difficulties maintaining your natural hair and are about to give up on it because you want something new. I relate to you because I permed my hair over the same difficulty years back.
But guess what? I missed the versatility that came with having naturally curly hair. So, I transitioned back to natural hair, which took approximately a year to achieve. And I realized that I could have avoided this if only I had tried doing something different.
Dyeing your hair to a different color can give you a new look you so desire without using a relaxer on your hair.
You can use hair chalks, hair paint wax, temporary hair color spray, or get a hair rinse. They will enable you to get colored hair that's not permanent. However, before using products like hair chalks, temporary hair color spray, hair paint wax, or get a hair rinse, I suggest you visit your hairstylist for professional advice and assistance.
Pros
Quick to achieve
There are a variety of options
Affordable
Cons
Temporary effect
Might be hard to wash off
Dapper Point: You might want to try to fix your hair after applying a relaxer to your hair. Check out our post and tell us what you think -- Pomade Vs Gel.
---
Watch This!
---
Frequently Asked Questions
Is A Relaxer Good For Black Hair?
Yes, it is. A relaxer is known as a perm for black hair. If you want to go from kinky, wavy, or curly to straight hair within hours, then a relaxer is a suitable option. However, some chemicals in these relaxers might cause damage to your black hair if not used correctly. Thus, you must seek your hairstylist's advice before using a relaxer on your black hair.
What Can I Use Instead Of Hair Relaxers?
Some people are skeptical of applying a relaxer to their hair for fear of hair damage. If you're one of them and would love to change your look and go on straight hair, then using any of the alternatives to relaxers for black hair I mentioned above would do just the perfect job.
Is There Anything Like A Natural Hair Relaxer?
No, there is no such thing as a natural hair relaxer. Most hair relaxers contain chemicals intended to break the disulfide bonds in your hair to produce permanently straightened hair. However, if you are looking for a hair relaxer with fewer chemical content and safer for sensitive scalps, then try asking your hairstylist for a no-lye relaxer.
What Is The Best Relaxer For Thin Black Hair?
If you have thin black hair, then you must be very cautious about the relaxer you use. When you use the wrong products, you risk injuring your scalp and losing your hair. You should use a no-lye relaxer instead rather than one that contains lye.
Natural ingredients like shea butter and hair oils should be included in a relaxer to provide good hydration, strength, volume, and luster to your hair. You should know these things before purchasing any no-lye relaxer for your thin black hair.
---
Conclusion
Having curly or kinky natural hair can be quite appealing because it gives you that unique appearance. However, there are occasions when you just want to flip your long straight hair across your back.
Or when your natural hair is proving impossible to style, and you're considering applying a relaxer to it. However, before making a decision you'll regret later, why don't you try one of the alternatives to relaxers for black hair?
They're simple to use, work fast, and are devoid of harsh chemicals!