We can't always go to our stylist to have our curly hair adequately moisturized.
So we find ways to do it ourselves by finding the best deep conditioner for 4c natural hair.
The market is full of many hair products, each promising to deliver healthy strands and voluminous curls. It can get overwhelming to choose one that's right for you.
Hence...
Here's an overview of some of today's best deep conditioners for 4C hair; find out why Arvazallia Deep Conditioner is our best overall.
In-Depth 4C Hair Deep Conditioner Review This 2023
1. Hydrating Argan Oil By Arvazallia – Best Overall
Many people looking for the best deep conditioner for natural hair 4c see Arvazallia as a life-changer. The brand manufactures the now-famous Hydrating Argan Oil Hair Mask And Deep Conditioner.
Its growing popularity is due to its capability of treating damaged hair, especially if you went through a lot of bleach or hair dye.
It's rich in Macadamia and Argan Oil and likewise abundant in antioxidants.
As a result of its powerful ingredients, this deep conditioning treatment brings back the lost moisture in natural hair in no time. Users with sensitivity to harsh chemicals appreciate how this deep conditioner is free of parabens and sulfates. Moreover, it's well suited for all hair types.
Pros
Best deep conditioner for 4c hair

Provides an adequate amount of moisture to keep natural hair hydrated

Effectively treats damaged hair due to heat styling

Strengthens weak hair strands

It brings back hair luster and improves its manageability

Suitable for whatever hair type, even for those with thin hair
Cons
Not suitable if you prefer to smoothen hair than to moisturize

Slightly greasy feel
Takeaway
Having argan oil as one of its main ingredients, I'm not at all surprised how Arvazallia does wonders for curly hair. You can also use it for deep conditioning your natural hair daily and for repairing damaged hair.
---
2. SheaMoisture Hydration Hair Masque – Best Value
With the unique formulation of mafura oil and manuka honey, SheaMoisture brings lost moisture back to dry, curly hair. Hence, many users consider Intensive Hydration Hair Masque the best deep conditioner for 4c natural hair.
This deep conditioning treatment is also rich in shea butter and African rock fig.
These two ingredients not only restore hydration but even lock that moisture in. The buzz about this hair product is more than just hype.
It remains a go-to hair product for any user with a 4C hair type, which is prone to excessive dryness. Such hair types are ones prone to breakage and tangles, to which SheaMoisture works excellently. The sweet natural aroma is something you shouldn't miss, too.
Pros
Semi-thick consistency with light and delightful scent

Treats dry hair and leaves it soft and shiny

Easily absorbent; you can feel the results immediately after application

Deep conditioning treatment makes hair less prone to tangles

It gives the hair a vibrant look for days
Cons
Not suitable for sensitive skin since it contains parabens and sulfates
Takeaway
Intensive Hydration Hair Masque provides loads of benefits at a reasonable price. Thus, we find it worthy of its rank as the hair product that offers the best value. Not only does it make your hair look shiny, but it also gives you healthy hair.
---
3. Mielle Deep Conditioner – Best Organic Ingredients
Are you looking for an intense hydrating experience less the harsh chemicals? If yes, then Mielle Organics Babassu And Mint is the best deep conditioner for natural hair 4c that's right for you. This conditioner works best in treating hair damage with all the love and care it requires.
Thanks to its rich protein content, it minimizes frizz, balances moisture levels, and strengthens the hair. Those with low porosity hair are grateful for how Mielle smoothens their curls, making the hair less brittle. 
It can also give your curls more definition, making them more bouncy.
If you're allergic to the scent of coconut oil, you will find Mielle handy because it uses Babassu oil as an alternative. The mint is something you shouldn't overlook either. It gives a cold feeling leading to more relaxed hair.
Pros
Protein conditioner that strengthens hair strands

Safe for color-treated hair

Restores hydration to dry hair

Combination of citrusy and minty scent, not overpowering

Healthy scalp and moisturized hair

Organic ingredients
Cons
Takeaway
This deep conditioning treatment is a staple in your hair care regimen if you want to reduce your detangling time. It's a suitable choice for anyone who prefers to go organic. You'll love how refreshing its minty scent is while making your curls healthier and promoting 4c hair growth.
---
4. Camille Rose – Best All-Around Conditioner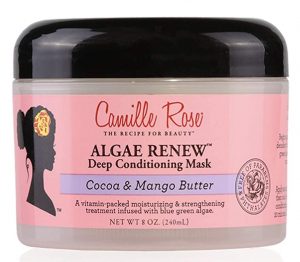 If you have long hair and like to keep it manageable and soft, Camille Rose Algae Renew Deep Conditioner might be worth considering for you. It's the best deep conditioner for 4C hair and even for those with fine hair.
This hair product is rich in antioxidants, nutrients, and biotin derived from blue-green algae.
Such a potent combination has a way of promoting natural hair growth while repairing hair damage.
Additionally, it also prevents hair loss by regenerating the cells for faster growth. Camille Rose Deep Conditioner further encourages hair elasticity and penetrates the roots deeply. It even locks moisture in the hair cuticle for longer-lasting softness and shine.
Pros
Ideal to use for different hair types and textures

Stimulates hair cell regrowth and prevents hair breakage

Moisturizes dry hair and eliminates frizz

Reduces hair loss

Peppermint oil gives a cool sensation and stimulates the scalp

Must-have hair product for damaged and heat-treated hair
Cons
Quite pricey

Too small container
Takeaway
Camille Rose Algae Renew Deep Conditioner is a gem for anyone needing the best deep conditioner for 4C natural hair. The vitamin-packed formulation makes it well suited for your hair's all-around needs, making the cuticles smoother while conditioning the scalp.
---
5. Aunt Jackie's Coco Repair – Best For Low Porosity Hair
Aunt Jackie's Coco Repair Deep Hair Conditioner works well for individuals wanting to take their 4C hair wash day to the next level. It's the best deep conditioner for 4C hair with low porosity, with all those frizz in your tight curls.
This conditioner may not work instantly, but when it does, it will do wonders as it nourishes the hair shafts.
It has a thick consistency providing much-needed nutrients yet still offers you an easy application.
Apply this conditioner to your washed hair and see how it turns an otherwise tedious detangling process a breeze. It lubricates every strand leaving your hair soft without making it dry. What's more, this hair product is practical to use since you only need a small quantity to go a long way.
Pros
Minimizes frizz and shrinkage for low porosity hair

Nourishes hair strands, helping them conform to their natural texture

No paraben and sulfate content

Perfect for low porosity curls, coils, and waves

Rich in coconut and avocado oil

Smooth application
Cons
It may not be suitable to use for styling the hair

It does not enhance hair definition
Takeaway
Aunt Jackie's Coco Repair Deep Hair Conditioner is an ultimate performer for users with low porosity hair. It does so well in keeping your tight curls looking and feeling at their best. All this while also repairing brittle hair and promoting hair growth for those with thin hair.
---
6. Carol's Daughter Coco Creme – Best Budget-Friendly
Keeping your locks moisturized doesn't mean spending a lot, especially with Carol's Daughter Coco Creme Hair Conditioner. It deeply moisturizes and restores the hair's natural shine while making it feel soft and easy to manage.
If you're looking to achieve these things for your hair without exposure to harsh chemicals, then this conditioner is your best choice.
It contains no parabens, sulfates, or mineral oil, so you won't have to worry about product buildup on your scalp.
This hair product from Carol's Daughter is the holy grail for users with dehydrated hair, keeping it well-nourished from roots to ends.
Pros
Adds an extra layer of much-needed moisture to your locks

High-quality at an affordable price

Thick, creamy consistency

Locks the moisture in, keeping hair hydrated for longer

Easy detangling, more manageable hair
Cons
Takeaway
This conditioner is part of the Coco Creme Collection; it's best to try it with the shampoo and moisture mask for best results. Although for something that can deliver exceptional results, this hair product is very affordable.
---
Tips When Buying A Deep Conditioner For Black Hair
Identify Your Hair Porosity
Knowing whether you have low, medium or high porosity can help you determine the kind of hair care products you need. Aside from this, each hair has its distinct characteristics you need to be aware of to help you decide on which conditioner suits you best.
Consider the lifestyle as well, as some individuals get hair heat treatment more frequently than others. Some of the examples include blow drying, perming, bleaching, etc.
Once you understand your porosity, you'll know what products to choose to make your mane healthier.
Check The Label For The Ingredients List
Make a thorough research of every ingredient and see which one has the content that is well suited for your hair's needs. It's always best to go for naturally derived products since doing so will save you from the harmful effects of chemicals.
Please stay away from products containing sulfates and parabens because they do more harm than good to your hair. Coconut oil and olive oil are only some of the best content your conditioner should have as they can enhance your hair elasticity.
Alternatively…
Amino acids work best for damaged hair and humectants for treating dry hair. Look out for emollients to achieve smoother hair and hydrolyzed protein to strengthen hair strands. Moreover, tea tree oil promotes a healthier scalp, while shea butter deeply moisturizes the hair.
If you have low porosity hair, try to avoid products with too much protein, as they can make your hair feel stiff. Emollient-rich conditioners will work wonders for those with tight curls.
Seek More Than Hair Moisturization
Moisturizing the hair is your goal, yet you shouldn't miss out on the chance to repair and strengthen damaged hair.
Afro hair is more prone to dryness, frizz, and breakage.
Hence, it is crucial to look for products to rebuild your hair strands and restore their natural pH level to enhance hydration. Aloe vera and vitamin E do an exceptional job at strengthening the hair, as much as avocado oil deeply penetrates the hair shaft.
Check For Any Hair Issues
Natural black hair is prone to several hair problems like tangles, dryness, and frizz. Once you identify specific hair issues you might have, it will be easier to decide which conditioner to choose.
Every hair product has unique formulations. Thus, knowing specific hair woes can help you pick the right ingredients for your conditioner. You can choose the most suitable formula to meet the demands and do wonders for your curly hair.
Frequently Asked Questions
How Often Should You Deep Condition 4C Hair?
For various hair types, it's best to do a deep conditioning treatment at least once a week. But for low porosity 4C hair, it's only practical to condition your locks every wash day. It's especially true if you're using a rinse-out conditioner since hair with low porosity does not let moisture in easily.
However, the frequency of deep conditioning the hair varies per individual. Some might have to do it a lot more than others and balance it out with your 4C leave-in conditioner. At the same time, individuals with oily hair might have to do deep conditioning less frequently.
Should you consider using a homemade conditioner, here's a short video you can watch on how you can use one on your hair: 
Is Deep Conditioning Good For 4C Hair?
Yes, deep conditioning your 4C hair is highly recommended. This hair type requires the proper nutrients to infiltrate the cuticles, making the hair softer and smoother. It enhances the feel and looks of your 4C hair, further improving hair elasticity and manageability.
What Is A Good Deep Conditioner For Low Porosity 4C Hair?
The local market and the internet offer various hair products to condition your low porosity 4C hair. Although among these seemingly excellent products, we consider Hydrating Argan Oil Hair Mask And Deep Conditioner By Arvazallia the best overall.
Treated, permed, and natural hair benefits significantly from this conditioner's exceptional performance. It effectively helps users achieve a salon-like hair spa at home.
Final Thoughts
The way you look at different products will change once you understand your hair's needs. We hope to have helped take the guesswork out of choosing the best deep conditioner for natural hair 4c.
In summary, we find Arvazallia Deep Conditioner a staple product in hair moisturization. Thus, it's our personal choice of the best overall. The SheaMoisture Intensive Hydration Hair Masque delivers exceptional performance for dry, over-processed hair at an affordable price.
Making the suitable choice means you would no longer have to endure unbearably dry hair days. Soon enough, you can say goodbye to hair problems such as breakage and split ends.