Who wants to have hair flying about?
Edge control is one of the reasons that'll have you looking for the best gel for 4c hair.
So...
The fact that you have coily hair doesn't mean it's unruly. It just needs a slick down, and we have a list of products for you to explore.
Start with SoftSheen Carson Let's Jam, as our reviews ranked it No.1. We'll tell you why it stood out shortly.
The Best Gel To Slick Down 4c Hair: 10 Picks
1. SoftSheen Carson Let's Jam - Best Overall
It's not only for holding your hair and making it shine, as it also does breakage control to maintain your 4c length.
That's why we ranked it highly as slow growth and breakage are two headaches to deal with when you have 4c hair.
With this gel, you have three times control over breakage.
SoftSheen Carson Let's Jam doesn't have harsh ingredients like alcohol and wax that can cause more damage to dry hair. It's also a known brand with products suited to coily and curly hair.
Pros
No greasing

No drying

Softens your hair

Suits both wet and dry hair
Cons
Takeaway
SoftSheen Carson Let's Jam has three times more breakage control than other brands. It smells good as it has a mild scent, and your hair is soft and shiny after you slick it down. Its thick consistency is an advantage as you use less of the product to get good results.
---
2. Creme Of Nature Perfect Edges - Best Colored Gel
Sometimes, you want your gel to do more than lay your edges; you want to cover gray hair. The Creme Of Nature Perfect Edges adds temporary color to your grays in the simplest way.
It contains nourishing oils like castor and sweet almond oil to moisturize your hair and promote growth.
On top of that, its argan oil scent is exotic and appealing.
It doesn't harden your hair, which is a concern with 4c hair as it's already too dry.
Pros
Edge control

Covers gray hairs

Has rich oils like almond and castor
Cons
Your hair might be too shiny
Takeaway
Creme Of Nature Perfect Edges repairs your thinning sides as it covers any gray hairs. You'll have no problems with flakes or hardness. What's more, it's the best gel to slick down 4c hair while softening it.
---
3. Style Factor Edge Booster - Best For Scent Range
The Style Factor Edge Booster is alcohol-free, so there's no damage to your already dry 4c hair. It comes in numerous scents, such as peach, cherry, coconut banana, and pineapple, to give you variety that matches any of your other hair care products.
It contains Camellia sinensis seed for shiny, healthy-looking hair.
Further, Style Factor Edge Booster moisturizes your tresses to prevent the drying effect of the weather.
This edge control gel is easy to apply, whether on your edges or for styling all your hair. You only use a small amount to achieve the shine and moisture content to last a whole day. Plus, you can use it on wet or dry hair, so even if it's not your shampooing day, you can still use it.
Pros
Numerous fragrances

For use on wet or dry hair

For edge control and styling

A firm hold

Moisturizes your hair
Cons
Takeaway
The Style Factor Edge Booster has a commendable hold on 4c hair. It lasts several days, comes in many pleasing fragrances, and when you use a small amount, it leaves no flaky residue.
---
4. Eco Style Gold Gel - Best Natural Ingredients
The Eco Style Gold Gel contains shea butter to protect and moisturize your hair. Other nourishing ingredients for your dry hair are olive oil, black castor, and flaxseed oil.
Even when used on braided hair, it doesn't leave flakes on your edges.
The hair may feel dry, but it softens when you run your fingers through it.
Pros
Professional styling gel

Has a range of moisturizing oils

Alcohol-free
Cons
Expensive for such a small tub
Takeaway
The Eco Style Gold Gel is on our list of the best gels for 4c hair because of its nourishing ingredients. As it holds your hair, it'll also protect it from drying by boosting moisture using olive oil, shea butter, among others.
---
5. Diamond Edges Black Panther Strong - Best For Braids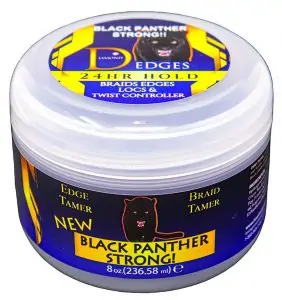 A styling gel for 4c hair should also work on protective styles like braids because we love braiding our hair, don't we?
The Diamond Edges Black Panther Strong Gel lays braids and curls for days meticulously.
It doesn't need reapplication, which not only saves time but also prevents product buildup.
Pros
It's not sticky

Holds your hair for days

No need for reapplication

Suitable for box braids

Prevents frizz
Cons
It may appear greasy after a few days
Takeaway
Diamond Black Panther Strong Gel can hold your braids for days to make your hairstyle last longer. If frizz worries you, this gel curbs it once and for all.
---
6. Instant Control Gel - Best Gel For 4c Hair Wash And Go
One of the best ways to prevent more damage to 4c hair is minimal heat styling. That's why you should get a wash-and-go gel to take care of the edges.
The Instant Control Edge & Braid Gel can do that, offering maximum hold for days. It is economical as you achieve maximum hold with a small amount of gel. Plus, it dries fast after application leaving you with no grease or the need to tie your hair down.
You can also use it to tame your braided hair while nourishing it with ingredients like castor and coconut oil.
Pros
Controls edges

Dries fast

It's non-greasy

A small amount works wonders

Suited for braids 
Cons
Takeaway
Gels that need tie-downs either lengthen your hair care routine or mess up your hairstyle. That's what makes the Instant Control Edge & Braid Gel different as it is fast drying.
---
7. Shine N Jam - Best For Braids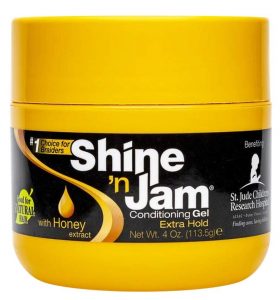 The Shine N Jam gel works on numerous hairstyles, from natural hair to braids and dreadlocks, so it's cost-effective.
It offers extra hold, which we all need, especially in humid conditions when our hair wants to act up. It's one of the best gels for 4c hair because it contains natural honey, both an emollient and humectant.
Shine N Jam isn't a thick gel, but it has an extra hold that'll keep your hair together longer.
Pros
Extra hold

Non-greasy

No residue

Great on braids

Lightweight gel
Cons
The scent changes when sweat or product accumulates
Takeaway
Shine N Jam is a lightweight gel that lays your hair in minutes but holds it for days. Its smell is pleasant, and you only use a small amount.
---
8. Moco De Gorila Snot Gel - Best Pack Option
This gel doesn't leave residue on your hair, so you'll have a sleek hairstyle. Moco de Gorila Snot Gel works like glue as it lays down every hair shaft.
Even for edge control or braids, the results are remarkable.
Pros
No flakes

Suitable for dry, thick hair

A little goes a long way

Lasts all-day
Cons
Takeaway
The Moco De Gorila Snot Gel is silicone-free to avoid drying your hair. It's a maximum hold gel that works on braids, natural hair, and even as edge control. Though its price is higher than other gels, it's economical because it comes in a pack of two bottles.
---
9. Got2b Ultra Glued - Best Budget Option
It comes in a pack of three tubes, which makes it a budget-friendly option.
This non-sticky gel eliminates the messy application process that leaves gel everywhere you touch.
You'll also love that it doesn't cause flakes on your hair.
Got2b Ultra Glued comes off with just a little shampoo when it's time to wash your hair. You can apply it to damp or dry hair. 
Pros
Budget-friendly pack of 3

Excellent hold

No peeling or flakes

Comes off easily
Cons
Takeaway
Got2b Ultra Glued gives you three tubes of extra hold gel to slick your hair for as long as you want. When it's time to wash it off with a 4c hair shampoo, it'll take you a few minutes to do so. It doesn't dry up and leave white residue on your hair.
---
10. Wet Line Xtreme - Best Clear Gel
Low porosity 4c can benefit from this clear gel as it holds natural hair, braids, plus twists for days. Another benefit is that it doesn't flake, a problem that would require you to wash it out just hours after application.
Wet Line Xtreme Gel contains nourishing ingredients like aloe vera, which treats scalp irritation, improves shine, and boosts length. 
Pros
Nourishing ingredients, such as aloe vera

Boosts hair shine

No residue 

Alcohol-free

Extra hold 
Cons
Takeaway
Wet Line Xtreme is an excellent styling gel that holds your hair for days. You can use it on braids or twists, and it contains ingredients to nourish and moisturize your textured hair.
---
Now you have a long list of gels to compare. We can now answer: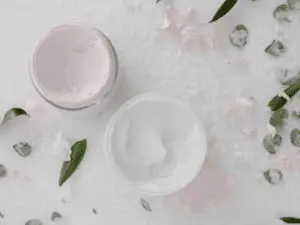 Frequently Asked Questions 
Is Gel Bad For 4c Hair?
No, a gel without harmful ingredients maintains and nourishes your hair. Since this hair type has less moisture, product ingredients that encourage dryness or increase hair breakage are harmful.
For that reason, pick a gel with ingredients that increase hair moisture and seal it. Further, choose a gel suited to the specific condition of your hair. For example, if you've chemically treated hair, the gel should be suitable for it.
Likewise, you should choose one of the best locking gels for dreadlocks if you are currently rocking locs.
One of the harsh ingredients is alcohol, as it dries your hair. You may find it labeled as propanol or isopropyl alcohol.
What Can I Use To Slicken My 4c Hair?
Use a gel as it gives extra hold for days. You can apply it on wet or dry hair, depending on the manufacturer's instructions. Using a gel affords you the benefit of moisturizing your 4c hair as some gels have natural oils. It's also easy to apply a gel at home, and it comes off fast. You don't need heat styling as some gels dry fast.
For other gels, you tie your hair down for a few minutes to get extra hold. Lastly, you can use gel to slick your edges, twist-outs, or braids.
Here are some of the best gels for 4c natural hair:
What Is The Best Gel For 4c Natural Hair?
After looking at various gels in the market, one stood out, and we've talked about it below. 
The Verdict
SoftSheen Carson Let's Jam works on both wet and dry hair, and it's alcohol-free. With it, you witness three times more breakage control and no grease residue.
If you have a tight budget, an affordable option is Got2b Ultra Glued. It's also cost-effective as you get a pack of three tubes to last several applications. It doesn't cause flakes, and it washes out in seconds. Even though it's a budget option, it has an excellent hold.