Last Updated: May 4, 2022
What is the best locking gel for dreads?
That's the first question we all ask when starting our locs journey.
But…
It's difficult to answer that question when you have no information to help you differentiate products, and everyone seems to give you a different opinion.
Therefore, we've rounded up the best locking gel for dreads to make it easier for you to make a choice. The Lion Locs Gel Cream stood out as the best loc gel, so you'll read about it first in our review below.
The Best Gel For Dreadlocks: 5 Top Picks
1. Lion Locs Gel Cream – Best Overall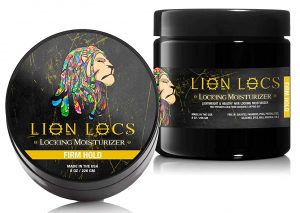 Lion Locs contains various natural ingredients like aloe vera leaf to strengthen your hair and prevent an itchy scalp, ylang-ylang oil to stimulate sebum production, and argan oil to moisturize your hair. Such a diverse range of awesome stuff.
It's for all stages of loc formation, whether you want to retwist your dreads or you're starting your locs journey.
What's more, Lion Locs is for all hair types, even if you have extra curly or straight hair. So, if you've heard that some hair textures don't form dreads, now you know it's possible for anyone to grow locs.
This locking gel leaves no residue, a problem experienced by most dreadlocked queens and & kings when using gels.
It's a lightweight cream, but you won't have stray hairs as it lays all of them down. Therefore, no reason to reapply.
Pros
No buildup

Silicone and sulfates free

Contains natural oils

Lightweight cream

Firm hold without stray hairs
Cons
Pricey for such a small amount
Takeaway
Lion Locs is wax-free, which means you'll have clean, shiny locs with no residue. On top of that, its combination of rich ingredients will moisturize your hair shafts and eliminate frizz. You can use it for starter locs or retwist mature dreadlocks.
---
2. Jamaican Mango and Lime Gel – Best Natural Option
The Jamaican Mango and Lime locking gel has a range of ingredients necessary for healthy-looking locs. For example, it has mango butter to nourish your hair and scalp with vitamins A and E.
Additionally, this gel has coconut oil for the same effect as mango butter and green tea extract to treat hair loss. This gel's scent isn't overpowering.
Hence, even if you twist and dry your dreadlocks at night, you'll have a goodnight's sleep without the smell of hair products on your pillow.
Its firm hold is worth noting, as it keeps your hair together, forming locs within a short time.
Pros
Pleasant scent

Prevents frizz

Firm hold
Cons
Takeaway
You can use Jamaican Mango and Lime locking gel to retwist your locs as it has a firm hold, and you'll not have breakage or frizz. Its scent is pleasant; its fragrance doesn't linger.
---
3. Cantu Shea Butter – Best Budget Option
Cantu Shea Butter stands out for its moisturizing benefits. When you read its list of ingredients, you'll come across coconut extract, soybean oil, coconut oil, and almond oil, among so many other nourishing oils.
Therefore, as it keeps your hair together so that the locs start forming, it'll also promote hair growth.
Cantu gel has a budget-friendly price, and it's a renowned brand. 
Pros
Silky smooth hold

Prevents frizz

Numerous moisturizing ingredients
Cons
It may leave product residue
Takeaway
Cantu Shea Butter gives your hair a manageable hold. It's the best product for locking hair if you're starting your locs, for it makes the twists firm.
---
4. Taliah Waajid Tight Hold – Best For Color-treated Hair
As your dreadlocks grow, you need to maintain them regularly. Using Taliah Waajid Black Earth Products Tight Hold gel nourishes your locks with natural ingredients because its combination is so rich that even its fragrance is from a natural herb.
The maintenance process can be expensive because you need a variety of other products, in addition to gel. Hence, by using this budget-friendly gel, you'll save for locs shampoo and conditioner, among other products.
If you're growing dreads after chemically treating your hair, this gel suits you. It'll prevent breakage and enhance hair growth.
It has a rosemary scent; its scent isn't overpowering. Additionally, it's not greasy, and you'll not have to use a lot of it to get a substantial hold.
Pros
Suitable for hold resistant hair

It doesn't contain alcohol

It has a variety of natural ingredients
Cons
It may cause flakes and residue.
Takeaway
Taliah Waajid Black Earth Products Tight Hold gel has natural ingredients that'll boost hair growth, moisturize your hair, and nourish your scalp. It's on our review because it suits people with chemically-treated hair.
---
5. African Pride Black Castor Miracle – Best Extra Hold Gel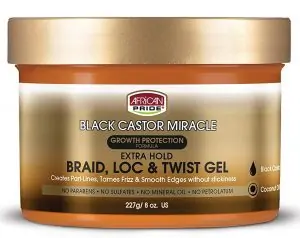 Like the other gels we've discussed, African Pride Black Castor Miracle has a range of natural oils like castor and coconut oil. You'll have no more stray hairs as the extra hold keeps your hair together longer.
Plus, its combination of ingredients deep conditions your hair shafts to prevent breakage and moisture loss.
Further, they repair hair damage.
The African Pride gel is easy to use as you apply it on damp or dry hair.
Pros
Deep conditioning ingredients

Natural ingredients, no mineral oil or sulfates

Prevents frizz

Boosts natural shine

Firm hold

Promotes hair growth
Cons
It leaves whitish residue.
Takeaway
The African Pride Black Castor Miracle gel is lightweight, non-sticky, and long-lasting. It has a firm hold, meaning no stray hairs. It'll leave you with a natural shine that makes your dreadlocks stand out.
---
So, when your friends ask what is the best locking gel for dreads, what will you say?
We can take the discussion further by answering some:
Frequently Asked Questions About Locs Gel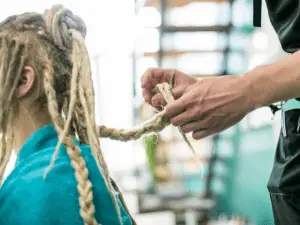 What Is The Best Product To Lock Dreads?
Based on our review, the best gel for dreadlocks is Lion Locs Gel Cream because it has nourishing ingredients like aloe vera extract, ylang-ylang, and argan oil.
It's suitable whether you're starting your locs or you've had them for a while. Though it's a lightweight cream, it has a firm hold.
How Effective Are Locking Gels?
They make the hair malleable as you retwist your locs, giving you a neat hairstyle. If you're starting your locs journey, using gel makes it easier to twist your hair. Gels work on all hair types; hence, it's possible to grow dreads irrespective of your hair texture.
On top of that, they contain a combination of nourishing ingredients that prevent scalp irritation, moisturize your hair, and enhance growth.
Gels also give you a natural shine that makes your locs appear healthy. You're better off using a gel as it comprises water; therefore, it washes out fast.
Watch this video on how to start dreads with gel:
How Often Do You Have To Apply Gel For Dreadlocks?
It's best to retwist your locs every four weeks as doing it more makes your hair thin and weak. Further, you can stay for four to six weeks before washing your starter locs.
Based on these two conditions, we can say you reapply gel in about a month, only on clean locs. If you reapply it on dirty locs, you'll have a buildup that'll be hard to remove later.
Plus, you'll weaken your locs as the moisturizing ingredients will not penetrate the previous layer of gel. This can also happen with the best gels for 4c hair as well if you're not careful.
As we conclude our review of the best lock and twist gel:
The Verdict
You know, even though dreadlocks are matted hair, it still needs to be healthy hair. Thus, our best overall product, Lions Loc Gel Cream, is the best gel for dreadlocks for its composition of nourishing ingredients. You'll be retwisting your hair with essential oils like ylang-ylang, argan, and lavender.
But it's a bit pricey. So, to cut your budget down, Cantu Shea Butter is the best budget option. Its composition is also healthy for hair, with oils like soybean, almond, and coconut. It also has a likable, firm hold. There's no reason you shouldn't have stunning locs now.