What's it going to be? A low skin fade, high bald fade, mid skin fade...?
Don't worry…
We've done your homework, perused dozens of men's hairstyling literature, and found 10 low, medium, and high skin fade haircut ideas that'll never go out of style. With such a variety, you can flaunt a different haircut every month.
If you're someone who loves experimenting, then we have your back for the next 10 months. Here are the best skin fade ideas on our list.
10 Cool Skin Fade Haircuts Any Man Can Pull Off
Before you ask for a fade haircut, know its maintenance process and if it's something you can do at home or if you have to visit your barber every few weeks. The skin fade ideas below have different maintenance routines, with some styles, such as a disconnected pompadour, better done at a barbershop than at home:
1. Skin Fade With Faux Hawk
A faux hawk has the sides in a skin fade, bald or mid-skin fade. It's an edgy hairstyle, but anyone can pull it off. 
Instead of the traditional spikes associated with mohawks, a fauxhawk is messy, with the hair at the top facing any direction, whether you want it curled up or displaying messy hair spikes.
All you have to do is get a haircut to trim the top and have the sides in a skin fade, then slick the hair at the crown with wax, clay, mousse, or gel.
2. Skin Fade With Curls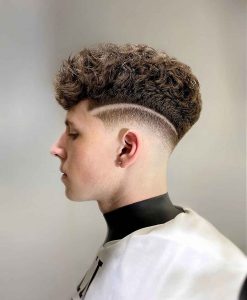 This fade haircut suits guys with curly hair. We all know how curly hair can make mornings stressful, so if you want out of the lengthy morning routine, get a skin fade with curls at the crown. 
This skin fade also works for men with thick, coily, or wavy hair. It's a simple hairstyle. Let the natural curls or waves grow at the crown, and ask your barber to give you a skin fade on the sides. 
3. Medium Skin Fade
The even cut becomes a skin fade at the temples, between the hairline and the tip of the ears. Once you have that seamless boundary between the two hair lengths, you can get creative with the long hair at the top of your head. 
Consequently, your medium skin fade can incorporate a skin fade pompadour with hair slicked back, curled, or waved.
4. Pompadour with Disconnected Skin Fade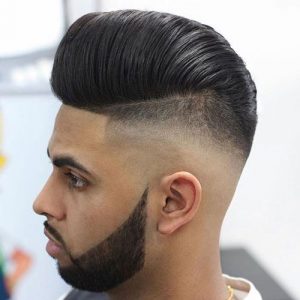 It needs at least two inches of hair at the crown so you can slick it back using wax or gel. The sides fade towards the nape, the same direction you'll comb to enhance the disconnect or side part between the skin fade and the longer hair slicked back.
Although we've said this fade haircut suits men with hair at least five inches long at the crown, you can get a mini pompadour if you have short hair. The hair won't fall over the mid-skin fade at the back, but it'll still have a pompadour hair design. 
To get this look, wet the hair at the top, then blow it dry as you comb it back. Next, apply some pomade on it, and it'll slick back.
5. Skin Fade with Blowout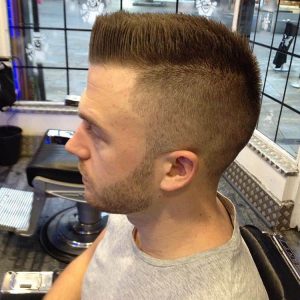 Who'd have thought combining blow-dried hair with a trim could make a stylish look? Well, try it one day if you have long hair. Get a fade on the sides to draw attention to the longer hair at the crown. 
Next, blow-dry the longer hair at the top and style it appropriately with gel or wax. This bald fade haircut is an excellent choice for men with a full beard.
6. Skin Fade With A Man Bun
Here's something for men with long hair or dreadlocks at the crown. It can be a high skin fade or one that starts low, just above your ears. Another way to personalize this fade haircut is to get a line cut between the fade and man bun. 
Alternatively, turn your bun into a mohawk for a bold hairstyle with all the attention on the bun. Still not as creative as you'd want it? Make your fade haircut stylish with a patterned fade alongside a man bun.
7. High Skin Fade
A high bald fade starts from the hairline, higher than where a medium skin fade starts. To make it stand out, combine it with a fringe so that the high skin fade starts at the temple and the dense hair at the crown gives the haircut some contrast.
A high skin fade haircut suits all hair types, from wavy to thick, coarse hair. It's even for men who want some 360 waves from the crown to the forehead.
When you do that, you have less hair to brush and form 360 waves as the rest of the head is in a high bald fade, and only the crown needs 360s. Another option for men with textured hair is a high fade with an afro or baby locs.
If you're getting a high fade with faux hawk or curls, then you can have a line cut disconnecting the crown from the high fade.
8. Low Skin Fade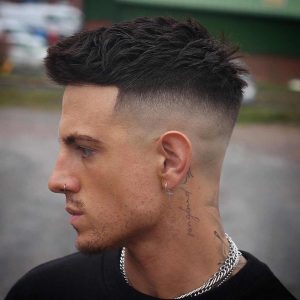 It has long hair at the crown that gets shorter gradually until there's a skin fade at the nape. A low skin fade lets you experiment with a variety of hairstyles, from pompadour to undercut and faux hawk.
Additionally, you can have a low skin fade whether you have wavy hair or straight tresses. This mid-skin fade is more suitable for men with oval, heart-shaped, or oblong face shapes.
If you're attempting a DIY on your bald fade haircut, it shouldn't start too low as it'll appear as if your hairline moved up. Start your low fade at the back and just above the ears on the sides.
9. Bald Fade With A Blonde Crown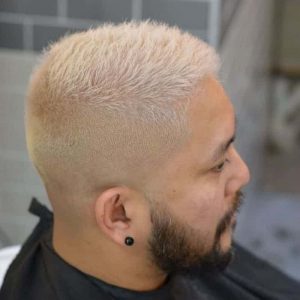 Here's a haircut suited to men with thick hair. It's a style everyone will notice when you walk into a room because of the blonde hair at the top. In addition to trimming your sides, your stylist has to dye the crown. Therefore, it's more complicated than other haircuts that only need a bald fade.
10. Skin Fade With Fringe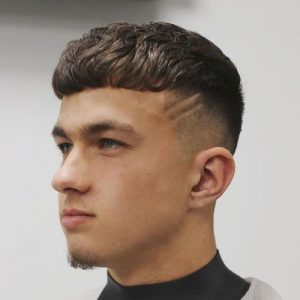 It's one of the skin fade haircuts for men with straight hair. You're likely to see this hairstyle on men with round faces. The scissor-cut fridge has strands flying out of the head, some falling over the hairline at the forehead. 
You'd need dense hair to get this volume and texture. But, you can also increase it using a volume spray.
It's almost a bald fade at the back when you compare the dark hair at the crown with the skin fade at the nape. However, the two blend seamlessly. 
The Difference Between A Taper And Bald Fade
We can say your barber gave you a taper if your hair's length changes gradually from the long strands at the crown to almost a bald fade at the hairline instead of one that starts inches higher. 
You'll notice the taper on the neckline or the sideburns as those will be the parts with the shortest hair, with the top of your head having hair over two inches long. 
This haircut injects symmetry into your hairstyle and makes it easy to manage your haircut without worrying that the bald fade at the temples or the back is growing long before your next hair appointment. 
A skin fade is just as the name suggests - the hair changes in length gradually until you have a bald fade exposing your scalp. Unlike a taper, a bald fade starts with shorter hair at the crown. Even if you have a mohawk or a man bun, there's short hair where the fade starts, unlike a taper.
Skin fades come in different lengths, from bald fade styles to high and low fades. They aren't as easy as tapers, so you might have to get a professional to help you with your bald fade instead of trying it at home. Why? You should know how to change the trimmer setting gradually, or you'll have an uneven skin fade or a bald fade that starts too high.
---
Watch This!
---
Frequently Asked Questions
What is a skin fade hairstyle?
This haircut has a decreasing length from the crown to the neck. In essence, you have long hair on the crown and an almost bald fade haircut at the nape. You have to specify where you want the fade to start, and this defines the fade style, whether it's a high, low, or bald fade. The sides and the back of the head have an almost similar style in all skin fade haircuts. 
Is a 0 a skin fade?
A zero setting leaves you with hair less than 1.5mm long, which is more like stubble. If it's still too long for the fade style you're aiming for, trim it using a razor. Your stylist may start with a #3 or #4 trimmer above your ears. 
Is a skin fade a good haircut?
Yes, it's stylish, bold, and comes in various hairstyles like the ones mentioned in the section above. Also, anyone can get a skin fade regardless of face shape or length of hair. It's also a haircut for any work environment or occasion. You only have to find a skin fade style suited to your hair length and face shape.
Are skin fades haircuts out of style?
No, they're always in style and offer a variety of hairstyles for different face shapes and lifestyles. Some men always go for a skin fade, and you'll never see them attempt anything else. For such guys, they may even prefer one hair design only, such as a bald fade haircut. Further, a skin fade works with any facial hair design, from a full beard to stubble.
---
Conclusion
A skin fade is dramatic and attention-grabbing. Whether it's a mid-skin fade or a bald fade haircut, there are so many things you can do with the longer hair at the crown. You can opt for a skin fade pompadour if you have long hair or go for a skin fade with curls. 
Even guys with dreadlocks can enjoy a fade at the back and on the sides. Only your creativity can stop you!