Tired of a head full of hair and want to experiment with high fade styles? There's so much variety that you'll not go back to other fade haircuts for men.
To get you started…
We came up with a list of the most stylish high fade haircut designs men swear by and we haven't left anyone out.
15 Cool High Fade Haircuts Men Adore
There's a difference between a high fade and other fade styles because the former has less hair at the back and sides. Here are common high fade haircuts:
1. High Fade With Man Bun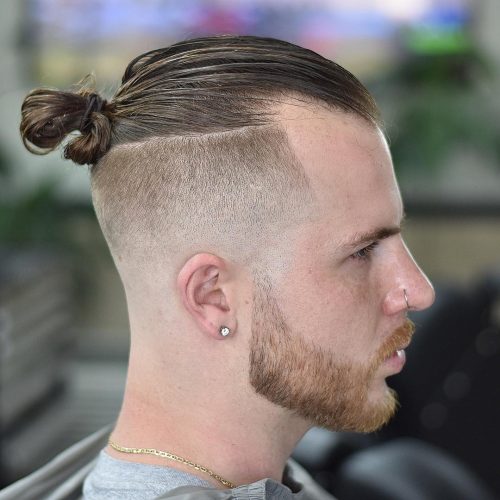 Some like to combine a high fade with dreads, while others go for a straight hair man bun. On top of that, you can dye your dreads or straight tresses to bring even more personality to the skin fade. It's also possible to style the dreads into a braided row running to your crown. Since the back and sides have almost nothing going on, you can add a patterned fade.
2. High Fade With Side Swept Pompadour
Instead of a pompadour slicked to the back, puff it and sweep it to the side. This style combines stylishly with a taper so that all the attention goes to the thick pompadour. It's even more stunning on a man with a beard to give texture to the lower part of the face.
A pompadour suits men with straight hair as it's easy to brush and slick it, compared to coily tresses. Guys with coily or kinky hair blow it dry, then brush it to the side.
3. High Fade With Thick Fringe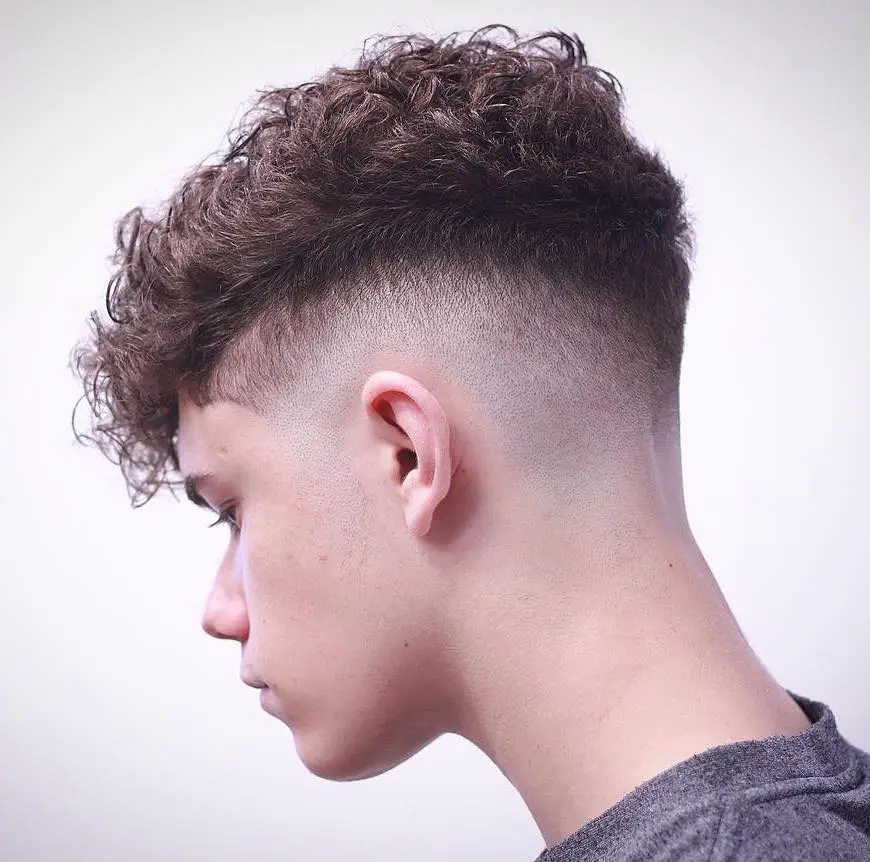 Instead of the usual high fade where the hair changes gradually in length, make it a sharp fade that leaves almost no hair on the back and sides and joins the fringe abruptly. You should have thick hair to create a contrast between the fade and your fringe.
Also, there's no limit to styling ideas, whether you want the top swept to the side or brushed towards your forehead. Even guys with curly hair can try this style, as the natural curls add texture to the fringe.
4. High Fade With An Afro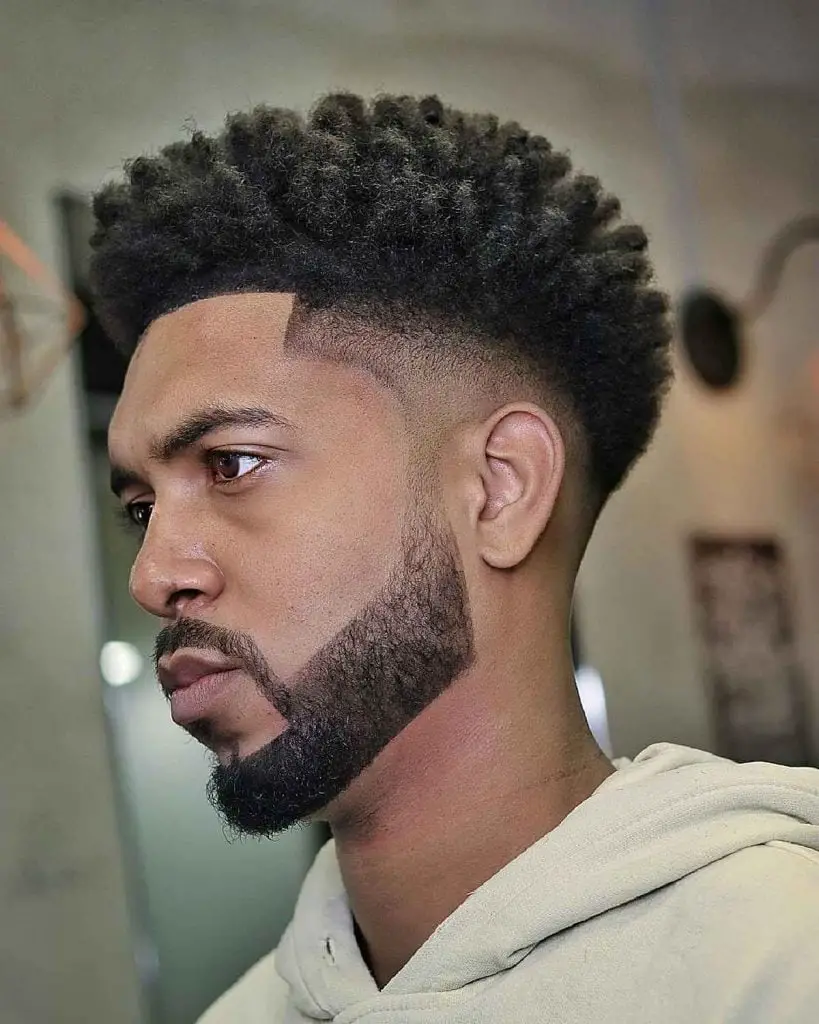 As we promised, we have a style for all hair types, and this one is for guys with thick tresses. 
The high fade leaves the sides and back neat, with the crown in a dense afro combed to perfection. Some adjustments to personalize this high fade include adding a line-up on your temples or a disconnected undercut separating the afro from the high skin fade.
Some men prefer a thick afro, baby locks, or dreads. It all depends on hair length, thickness plus, your style. Maintenance tasks for this high skin fade are less because your barber trims the afro and takes care of the fade, unlike when you have a full afro with its tedious and painful process of brushing and moisturizing.
5. High Fade With A Buzz Cut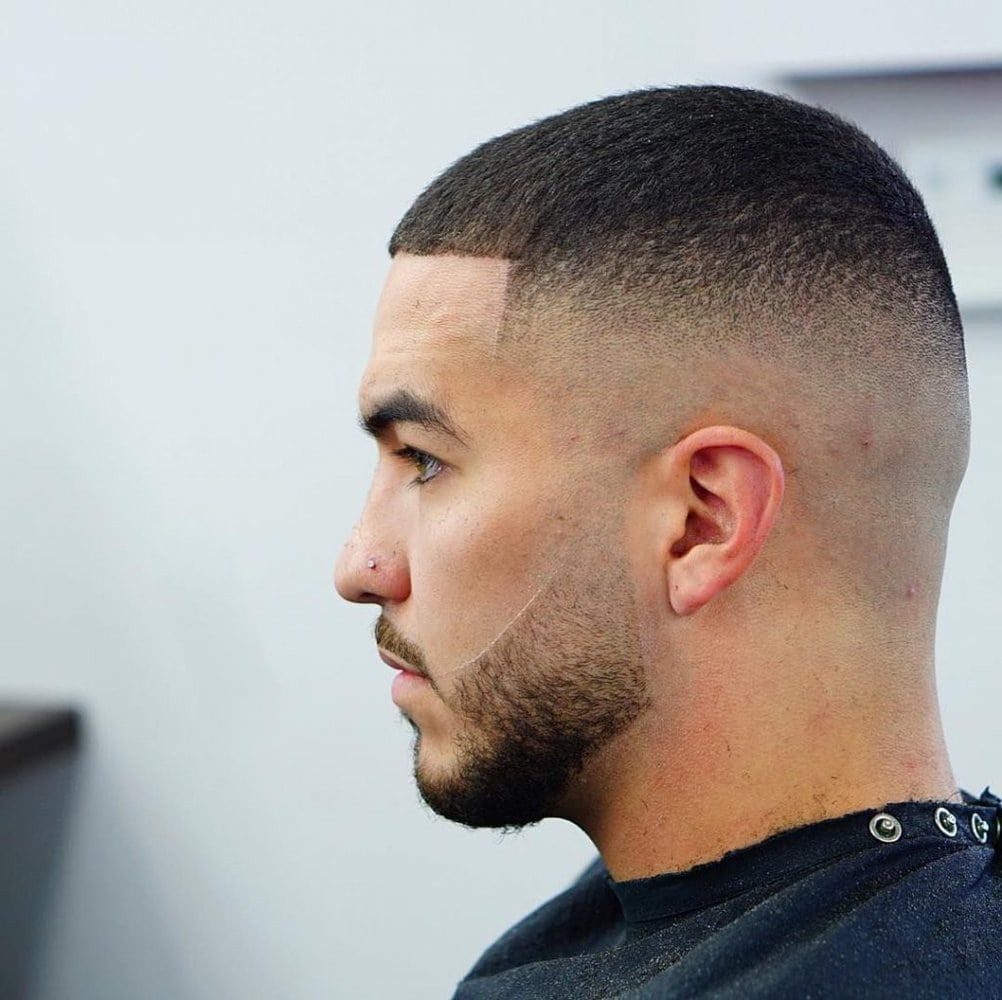 It's a style for men with short hair, so it suits all guys, from the ones with straight to coily texture. 
This bald fade haircut can pass off as a formal style, perfect for the workplace. The crown has long, thick hair compared to the sides and the back. Add a line-up if your high fade doesn't start lower than the temples. 
6. High Fade With A Crew Cut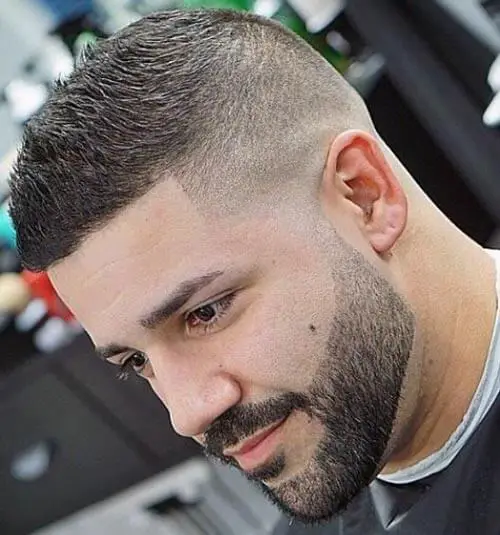 You'd often see it on men in the military, but it's now a top request in barber shops everywhere.
This style has short hair of the same length at the top, unlike a pompadour or other hairstyle, with shorter hair at the back and sides.  If you like, you can dye it, then get this fade haircut. Add this high skin fade to the list of styles suitable for both formal and casual settings.
7. High Fade With Braids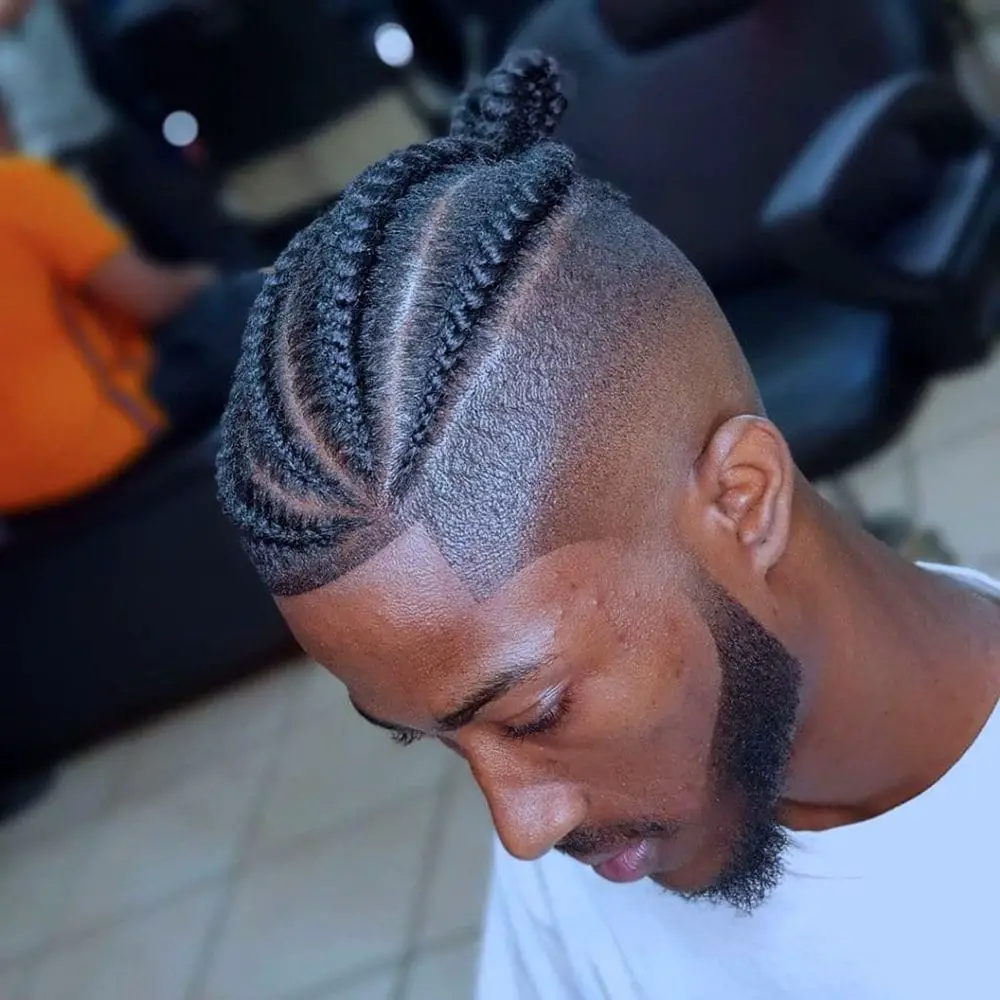 Instead of an afro or a man bun, you can braid the hair at the top. The most common braiding style is one to three cornrows pulled to the back of the head. Unlike an afro where you only trim it, you undo and plait cornrows regularly. 
Therefore, you'd need a stylist who can maintain both the high fade and cornrows.
8. High Fade With Curly Hair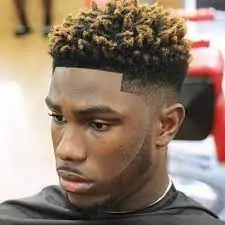 Curly hair fades have long or short, tight or loose curls at the top. You can also have facial hair like stubble or shave your face clean. Most men let the curls at the top fall over the forehead a little bit, but you can also have a tight fade with short curls that sit at the top. Other ways to personalize this style are a patterned fade, high taper fade, or a disconnected cut.
9. High Fade With A Slick Back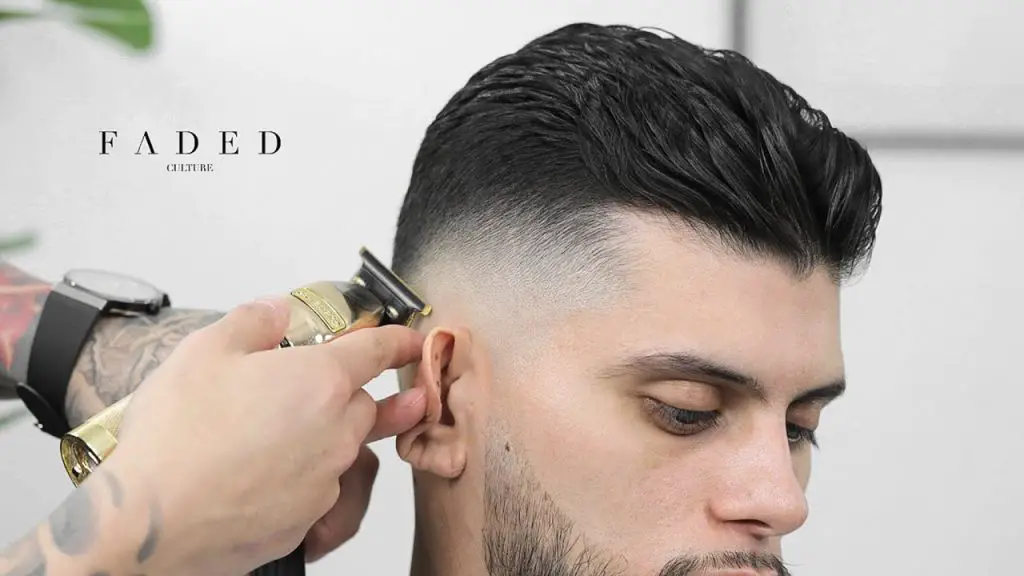 Some men don't want a fancy pompadour or other design at the top. They only want to slick back the longer hair at the top of the high skin fade. If you're one of them, you only need gel or mousse for this timeless haircut that's great even for corporate settings. Further, it's one of the less demanding high fade haircuts as there's not much styling needed.
10. High Fade With A Quiff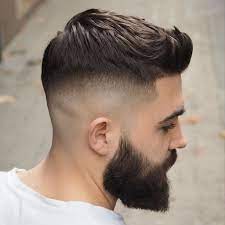 This one resembles a pompadour, but we'll list it separately because it's slightly different. Of course, both styles have a distinct high top with the long hair brushed back or to the side. But, a quiff gets its high top from continuous brushing to form a wave. It's a style for men with or without facial hair, and there's no limit to how creative you can get when brushing your quiff.
11. High And Tight Fade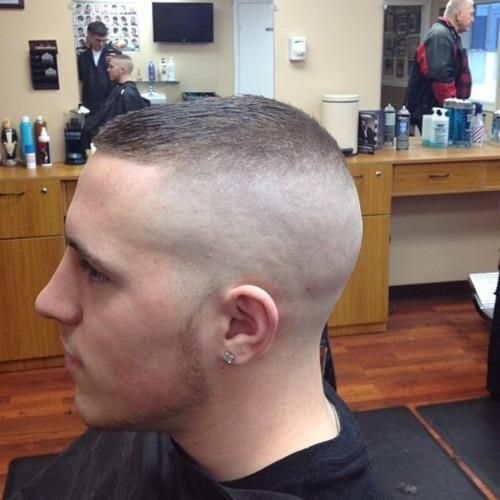 The high and tight haircut has a clean shave on the sides and back; therefore, it's different from a skin fade. The top also has a close shave that distinguishes it from other high fade haircut styles. It's a neat style suited for men who want a short haircut.
12. High Fade With Faux Hawk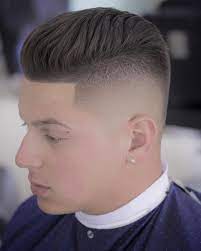 A faux hawk is like a gentler version of a mohawk. It has the same characteristic spikes but is gentler, unlike the ones common with a mohawk. You could even do a high taper fade for a gradual change from the back to the top. It could make your faux hawk appropriate for a corporate setting.
13. High Fade With Dreads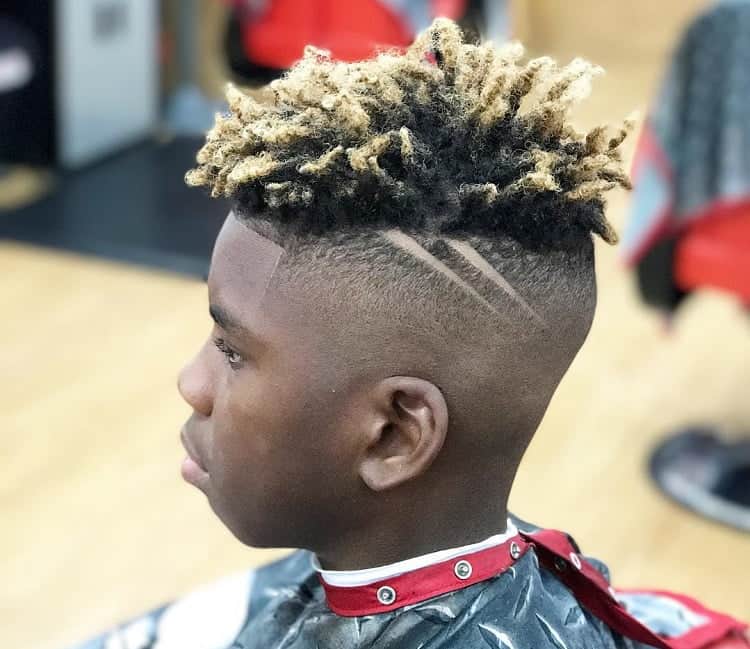 We mentioned a dreadlocked man bun is an option for high fades. What if your dreads aren't long? In that case, the magic comes from the taper fade style, as you can trim your hair but keep some dreads at the top. 
It brings a fresh look to your dreads and makes them manageable as they don't fall on your shoulders anymore.
14. High Fade With Flat Top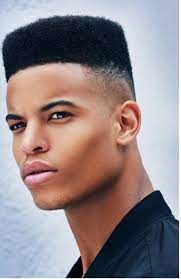 It's as dramatic as a pompadour or quiff. You'll make heads turn when you walk in town with a flat top haircut, flaunting a line-up and an angled front. Men with thick hair have more striking flat tops because of their density.
15. High Fade With Spiked Top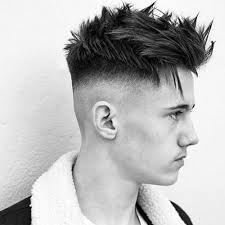 The hair doesn't wave like a quiff or slick back as a pompadour. Instead, it has longer hair at the top spiked up above a high taper fade. It's one of the common fade haircuts for men with straight hair as it forms spikes easily with gel or grease.
Dapper Point: Have you ever wanted to style your hair on your own but are afraid of doing it? We like to share some tips on how to go about this DIY project -- How To Cut Your Own Hair For Men. Afterward, you could try out this style for a beginner's haircut -- Shadow Fade Haircut.
Watch This!
---
Frequently Asked Questions
Is a high skin fade a good haircut?
Yes, you have many ageless fade haircut ideas to choose from, such as the crew cut that's suitable for corporate and casual settings. There are also high fade styles that work with your present hairstyle. For instance, if you have dreads, braids, or a man bun, you can combine it with a high fade.
What is the highest fade haircut?
Unlike a low fade, a high fade starts from the temples, leaving some length at the top of the head where you style according to the haircut you have in mind. 
However, if you're aiming for a high tight fade, taper from above the temples to have a smaller section with long hair. If it's a high drop fade, then the trim at the back starts low, almost at the height of a low fade. Thus, the hair at the crown gets depth.
How do I ask for a high fade?
You can tell your barber to trim the sides and back so that there's long hair at the top because that's the general outline of a high fade. But, also tell your barber the style you'd want at the top, whether it's a buzz cut or other hairstyles mentioned above.
Another factor is how close you want the shave on the sides and the back. If you want a high bald fade haircut, ask for a skin shave from the nape to about two inches above our ears for a quick transition to the top of the head. 
A sharp, high fade is a different hairstyle altogether. If you want this one, tell your barber to give you a skin shave on the sides and back of your head up to your natural hairline.
What high fade looks best?
All fade styles discussed on our list are stunning. But what works for one person may not suit the face shape, hair length, or personality of another, so the best is the style your barber suggests after your consultation. 
Best can also mean a low-maintenance style or one that takes several visits to your barber monthly for professional trimming and styling. Make the right choice!
---
Conclusion
A high fade trims more hair than a low or mid fade because your barber shaves from the nape to your temples unless you're going for a high drop fade haircut. Further, a high fade gives you many options for the longer hair at the crown, whether you want a crew cut, quiff, man bun, or an afro. 
Your choice depends on density, length, personality, occasion, and occupation. For instance, you can pull off a man bun if you're in the entertainment industry, but a corporate setting would demand a more conservative look like a buzz cut.