The low fade haircut is among the most popular haircuts for men and with good reason. Most face shapes and all hair kinds may wear it. 
Also…
The low fade haircut may be used to finish any fashionable hairstyle, including crew cuts and box braids. 
Yet, if you want something stylish but subtle, there isn't a better option than a low faded cut. Due to its elegance and formality, it is perfect for any setting. 
So if you're looking for some inspiration, you've come to the right place. 
Without further ado, let's dive into it!
Definition Of A Low Fade Haircut
There are several ways to style a low-fade haircut. A low fade haircut often ranges from low to mid to high; these cuts are as adaptable as your go-to tennis shoes. 
The low fade haircut is so-called because it begins above the ear and neckline. 
Fade hairstyles are ideal for medium-length and long hairstyle combinations that call for a thick hair appearance since they have less contrast and more texture on the sides. 
Although they have a variety of styles, they are all almost equally simple to maintain.
Top 40 Low Fade Haircuts
There are several variations on the fade haircut. 
Additionally, virtually all of the greatest short hair on the sides and long top hairstyles call for tapered or faded cuts since they are low-maintenance and require no styling. 
There are several various forms of low fade, some of which are listed here. Let's look at several low-fade haircuts for men that you may consider in 2022.
You'll be able to tell that hairstyle complements men's short haircuts, medium-length hair on top, long hair down below, and a range of hair textures and varieties.
There is a large range that you may experiment with combining. 
Here are the newest hairstyle ideas that go well with low-fade haircuts for men.
1. Low Skin Fade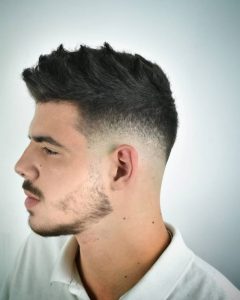 The low bald fade is the same cut as the low skin fade, with the length of the hair at the cut's base. A skin fade hairstyle has a broad top and a thinning bottom. These budget cuts are permanent.
2. Low Drop Fade
The low drop fade is the ideal cut for you if you want to create a contrast to the sides of your cut. 
The low drop fade style cuts the sides nearly entirely off while leaving a little amount of hair in the back. The prominent top enables you to create a very edgy and contrasty design. 
You have several style possibilities with the drop fade to match any environment. When you're in a relaxed and informal setting, let your hair on top of your head fall naturally. 
This low fade style is similar to a tousled low fade haircut and looks fantastic when it is done in a sleek way for a more polished appearance. 
Also, it works particularly well for your facial hair appearance.
3. Low Taper Fade
It's critical to understand the significant differences between a low fade and a taper. Although they are cut similarly, these two cuts are very different from one another. 
Having said that, these two cuts may be combined to produce a style known as the low taper fade haircut.
4. Low Fade With Heavy Layers
If you have your hair tightly cropped on top, a low shadow fade will look fantastic with it. 
Not only will it draw attention to the top, but it will also give your haircut a cleaner, more polished appearance overall. 
Don't forget to use a little bit of a texturizing product to improve the cut's structure.
5. Low Fade Long Hair
Due to how subtle this cut is, it looks good on the hair of any length, from shorter to longer hair. However, if you have a lengthy mane, a cut with longer hair and low fade is the way to go.
6. Bleached And Spiky Low Fade
Consider bleaching your hair blonde and style it spiked up if you want to stand out in the crowd. Choose a low taper haircut to complete this punk-styled hair. 
Being so subtle, it does not draw attention away from your eye-catching top. 
However, keep in mind to stock up on hair dye as the color needs to be changed somewhat frequently.
7. Low Fade Short Hair
You may wear this low fade style even if your hair is short. Make sure your hair is substantially shorter on the sides and back than it is on top.
8. Low Fade Blowout
You may choose a pretty disorderly style on top of your head if you have a low fade haircut since it gives your appearance a cleaner appearance. 
Consider combining it with a fashionable blowout to add dimension and movement to your style. You'll need a generous amount of hair mousse and a strong blow dryer to get it.
9. Comb Over Low Fade
A great illustration of how crucial it is that a man's hair appears great no matter what angle you may be seeing it from is the low fade comb-over. 
The contrast of the comb-over fade gives the low fade haircut a neat and fascinating appearance, especially when viewed from the rear.
10. Undercut Low Fade
Here's another instance of how the undercut may be used to combine two different haircuts to create a brand-new appearance. 
The undercut fade is a distinctive contemporary style that has suddenly emerged to provide men's haircuts with another alternative. 
For the fade undercut to look right, there is a secret to getting it. Three distinct portions of hair should be present. 
The skin fade undercut will have its longest portion on top, an undercut region below the crown, and a fade-in around the ears and temples. 
This low fade haircut results in a beautiful, clean, and expertly blended cut.
11. Low Burst Fade
The low fade style appears understated and modest. Additionally, choose a low burst fade haircut to give them a sophisticated twist without going overboard. 
The overall silhouette is still tidy and uncluttered. On the other hand, it seems more obvious and explicit due to the cut's curved design.
12. Low Fade, Long Top, Short Sides
Low fade long on-top haircuts are among the most well-liked variants of the traditional long top short sides style. 
The style is less harsh and high contrast than its conventional counterpart since the hair on the back and sides is trimmed a little graduated. 
However, this does not imply that it isn't daring or edgy. Your hairstyle is appropriate for any setting, from casual to formal, with short sides and a low fade.
13. Low Fade Quiff
It's no surprise that a low skin taper is frequently coupled with a quiff. 
There is no need to style the rest of the hair meticulously because the hair on top becomes the main point of the ensemble. 
Simply work the style product glob into the top and push the front strands upwards.
14. Undercut Low Fade With Hair Design
A low fade undercut effectively mixes the sharpness of the undercut with the smoothness of the fade, creating a well-balanced edgy hairstyle. 
You may complete the low fade haircut with a straightforward yet striking hairstyle for further focus. 
Keep in mind that this hairstyle needs regular maintenance to stay honed and defined.
15. Low Fade Curly Faux Hawk
This Mohawk, which is a lesser variation, looks stunning when used on naturally wavy hair. 
The unconnected sides that are shaved off are absent from the faux hawk hairstyle. Instead, it has a tapered fade that gives it a length on-top Mohawk appearance.
16. Low Fade Pompadour
This is the traditional pompadour fading. Usually, a pompadour hairstyle is done in a very structured and sculpted way. 
However, because the messy hairdo is a trendy new trend, it is feasible to wear it without giving off a bedhead vibe by adding a cut. 
Pompadour hair is known for having a neat appearance; therefore it's crucial to preserve the style's sharpness by trimming the sides and lower sections.
17. Side Part Low Fade
In recent years, the side part fade haircut has emerged as a contemporary style in the hair business. 
When choosing the side part hairstyles men want, it's crucial to consider your facial form. 
You may switch from a low fade to a high fade because of the face shape. 
With a men's side part, a high fade can make a face appear more oblong. Therefore it's crucial to have longer hair on the sides to keep the style from appearing unnatural.
18. Low Fade Brushed Back Top
Slicked-back hair is a timeless style, but if you want to accomplish it, you must give it a contemporary makeover to keep it from seeming antiquated. 
One of the two effects is possible when you decide to wear your hair pulled back. Either you'll appear dramatic and contemporary or stylish but outmoded. 
You may have a modern and chic appearance by putting a fade into your haircut without seeming to be from a different period.
19. Low Fade Man Bun
Consider this fade with long hair if you're going for a trendy, edgy appearance. With this cut, you can flaunt the man's ponytail, a style that not just any man can manage. 
The fade option included in this cut works well with facial hair and creates a sophisticated image. 
When wearing this style, the man bun and facial hair combination with long hair and a low fade take on a more manly appearance than ever before.
20. Low Fade Slicked Back Hair
You'll want to find a way to balance your appearance because, with this cut, the sides of your hair are removed. 
In this situation, your facial hair is a perfect addition. You can choose to sport a scruff or full facial hair. 
However, think about styling your top hair slicked back to achieve a fashionable look.
21. Brushed Up Fringe
Simply brush it up and get tapers added to the sides if you often wear fringe and want to improve it a little. 
You may then change your plain and uninteresting hairdo into a truly chic and beautiful one. 
This is a fantastic method to optically lengthen your face and make you appear a little taller.
22. Messy Pompadour Low Fade
Classic is timeless, especially when it combines two legendary hairstyles, like a pompadour. 
Their advantages are without dispute: you receive a hairdo that goes with any setting in addition to a suave and stylish appearance. 
However, you may want to choose a modest fade on the sides and back to make it more modern.
23. Low Fade Flat Top
A low bald fade has several benefits, one of which is that it quickly gives any hairdo a nice and tidy appearance. 
Even if a bedhead is your go-to appearance, the fade will enable you to wear it without seeming to have just hopped out of bed.
24. Low Fade Curly Texture
If you have naturally curly hair, a fade haircut is essential for you. Curly hair often takes a lot of attention and is unmanageable. 
A fade not only makes taming your hair easy but also makes maintaining your hairdo simple. Choose this haircut so you can best display your distinct hair structure.
25. Swept Back Long Top
Men who choose longer haircuts are sure to benefit from a fade. It greatly simplifies maintenance without reducing the length of their lengthy locks. 
Their efforts to grow their hair will not be in vain as a result. Also, you may get a tidy and elegant look by just sweeping the top of your hair back.
26. Low Fade Side Sweep
This haircut is best suited to more self-assured men who try to sport the most recent fashion trends. 
It could appear a little difficult at first. If you look closely, you can see that the sides and back of the hair are quite low, and the upper part of the hair is side-swept. 
Their combination will give you a standout haircut.
27. Slicked Back Tapered Cut
Slicked-back haircuts give a touch of sophistication to your appearance. 
They always turn out well-groomed and stylish. When coupled with a taper haircut, such hairstyles are significantly simpler to pull off. 
A highly renowned profile is also created by the seamless transition from the lengthy top to the bold sides.
28. Low Fade With Spiky Hair On Top
Do you favor ruffian or even rebellious hairstyles? Then you look great in a spiky top with a low skin fade. 
Make sure you have enough style aid to give the spikes a standout appearance. Use a hair gel to give your thorns a crunchy appearance for more flare.
29. Low Fade Textured Hair
A low taper fade is an ideal complement for your top hair if you want to make it the main point of the entire look. 
The low taper fade gives you the freedom to style your top hair any way you see fit. 
A nice alternative is to rake through your mane with fingers coated with a hairstyle product to give it some structure.
30. Side-Parted Pompadour
You could believe that having your hair styled in a side-parted pompadour makes you look fashionable and cool. 
However, you may improve its appearance by adding a low taper to your haircut. It won't offer much contrast, but it will give your appearance a smart and refined twist.
31. Low Fade Slick Comb-Over
The haircut that works for any setting and situation is a comb-over. It appears sophisticated and classy. You may add a low fade to your haircut to give it a fashionable yet understated touch. 
Make sure your style is flawless because as the hair from the sides is removed, attention is drawn to the hair on top.
32. Low Top Fade
Low fades are adaptable and complement most top haircuts if not all of them. 
Several low-top fade hairstyles are available, ranging from the pompadour and mohawk to the low fade slick back and comb-over.
33. Low Black Hair Fade
Men with black hair are among the first to try out this haircut, and it makes sense. 
Any hairstyle may be spruced up with this subtle yet elegant cut, which can also help you control your curls.
34. Low Fade With Irregular Fringe
Men can experiment with their top haircut as much as they like with a low fade. 
Regular fringe gives the appearance of a full head of hair and is bold and adventurous. This makes it the ideal option for men with thin, limp hair.
35. Faux Hawk Low Fade
A low fade haircut is an ideal partner for a faux hawk since it is so edgy and distinct. Together, they provide a hairstyle that is balanced and unified.
36. Low Black Haircut
On black hair, a low haircut looks great as it not only keeps it appearing tidy and clean but also facilitates the maintenance of your curls. 
You may make it more fashionable and elegant by adding a lineup to it.
37. Low Fade With Unusual Bang
An ornate top will become the look's main point if the back and sides of your hair are cut short. 
Therefore, a low skin fade haircut is the way to go if you're searching for a strategy to emphasize your unusual-looking bangs.
38. Crew Cut Low Fade Haircut
A crew cut looks excellent with a men's low fade haircut since it offers this classic haircut a modern spin.
39. Low Curly Fade
For males with curly hair, the low fade haircut is a genuine lifesaver since it lets you manage your hair with nearly one clip.
40. Afro Curls Low Fade
Low fades are another in-style hairstyle that black guys typically choose to modify their appearance. 
Black men often choose low fade haircuts because they seem nice and tidy and provide them the opportunity to preserve some curl length. 
To generate contrast, fading down to the skin is the greatest option for the low fade haircut used by black males.
Dapper Point: Maybe having a low fade is not your hairstyle and you might want a better-looking fade cut. Try this alternative fade style -- Mid Fade Haircut.
---
Watch This!
---
Frequently Asked Questions
What is a low fade haircut called?
Low fade haircuts have a little taper at the hairline, just as they look. As the lines behind the ears disappear, it is also known as a drop fade. This low-brown color fades hairlines to produce razor-sharp cuts that are simple to style.
What is better: low or mid fade?
While medium-length and long fades are balanced, a high fade quickly transitions from thick hair to thin and is faster than a low fade. A fade causes a side fake bald patch.
What is a low fade 1?
The phrase "low fade" refers to the hair that has faded on both sides of the face and has tapered upward on the face. Any appearance can be made elegant with a low fade using easy procedures. 
---
Conclusion
For men of any race, including white, black, Latino, and Asian, a lower fade complements any haircut or hairstyle. 
The only thing you must concern yourself with is what type of lower fade you want at the sides. 
This might be a fantastic new alternative for you if you feel disconnected and are sick of your traditional fade or high fade.
I can't wait to see you in your best and most comfortable appearance!