An excellent middle ground between a low fade and a high fade is the mid fade cut, commonly referred to as a medium fade haircut. 
Also…
The mid-fade haircut is flexible, pleasing, professional, simple to create, and easy to maintain. You have a lot of design options, depending on your preferences. 
You may pair it with a mid-fade and a side-part if you want to sport an old-school style while yet enjoying some modernity.
We've compiled the best mid-fade haircuts that will completely transform your appearance. So, scroll down to find out more about them!
Definition Of The Mid Fade Haircut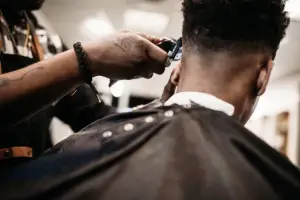 One of the most sought-after cuts is the medium fade. This design appeals to men because it gives them a highly recognizable but individual appearance. 
It effortlessly accommodates any stylistic choices because of its adaptability and balance of length, especially those that are intended to highlight the longer top.
Mid-Fade Haircut Target
For individuals who want a professional appearance with a hint of modernity, choose a mid-fade cut. This haircut may be incorporated into different styles because of its adaptability.
The mid-fade haircuts suit guys of all ethnicities, ages, hair textures, and lifestyles well. When paired with beards or stubble, this appearance complements better than ever.
Just make sure you have quality wax or pomade and anything else you need to show off the fade.
Steps To Achieve The Mid-Fade Haircut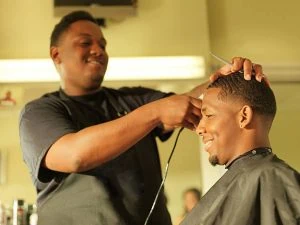 If you've finally decided to transition to a mid-fade haircut, these are the measures to take:
If you should texture the crown of your hair using the scissor-over-fingers technique depends on the style you want to achieve.
Repeat step one by shearing over your fingers.
Use a larger barber shear to continue the scissor-over-comb technique.
Using the blade-on-skin approach, cut the hair on the back and sides of your head with the 1/2-inch blade.
Repeat steps 4 and 5 with the 3/8-inch and 1/8-inch blades, respectively.
Step 5 should be repeated using the flat side of the blade to shorten the length of the fade.
To get to the middle, move the adjustable clipper halfway closed.
Repeat step 7 after closing the adjustable clipper's lever.
Finish with scooping motions.
Use a t-outliner to tidy up the neck, ears, and sideburns.
Top 40 Mid-Fade Haircut Styles
1. Medium Taper Fade
Men's fashion enthusiasts love the classic mid-taper fade for its ability to offer wearers a sophisticated, understated, and surprisingly sharp appearance. 
A wise barber suggests a mid-taper fade, which combines the steady length of a mid-fade taper and clean sides of a fade when a guy struggles between a taper and a fade. 
From the neck to the parietal ridge, the hair gets darker as the mid-taper fade rises.
2. Buzz Cut Mid Fade
The precise, classic buzz cut appears even more natural and manly with a sharp medium fade. 
Adding mid fade to the straightforward and well-known cuts is a wonderful approach to updating or altering them. Try to add some neatness to your buzz cut and beard if you enjoy wearing them.
3. Short Sides, Long Top, Mid Fade
Everyone has always talked about hairstyles: "long on top, short on the sides." Since people love contrasts so much, the mid fade is perfect as it may bring out the best in them. 
Look no farther than this undercut fade concept to accentuate the allure of the short sides long on top cuts.
4. Medium Fade Comb Over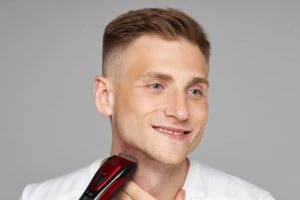 The mid fade comb-over with a shaved stripe is perfect for men who enjoy fusing traditional and contemporary ways to offer something special to their looks. 
To make your comb-over mid fade stand out, experiment with side and nape styles. The classic comb-over is given a fresh, stunning look by adding a fade.
5. Bald Fade With Beard
For men who choose it, the mid-bald fade looks sleek on top and smooth on the sides. 
The mid-bald fade, along with mid-skin fade cuts, looks best when worn with a beard since the bald fade creates balance throughout the whole cut and prevents the front from overpowering the silhouette.
6. Effortless Pompadour
It's always entertaining and spectacular to give historical haircuts a modern edge which is what this style does. 
A pompadour, with its voluminous top highlighted by a gentle fade, will unquestionably elevate your fashion game.
7. Mid Fade With Textured Top
Try different tops if you want to concentrate on the texture. 
Your cut can be neatly formed with a mid-bald fade, reducing the amount of transition on the sides to highlight the textured hair on top. 
Also, when combined with light stubble, this mid fade style comes out as unique and modern.
8. Brushed Up
Since a medium fade gives off a reasonable appearance, it goes well with formal and beautiful haircuts. 
So, if you just slick your hair back, you'll get the appearance that enables you to knock on doors at any time, and you can be confident that your hair is attractive.
9. Cornrow Top
A cornrow top is a way to go if you prefer to stand out in a crowd. 
It goes well with all mid fades, but choose a mid-high fade to give your hair a more striking contrast.
10. Front Brush Up Fade
By combing the front of your hair up, you may add a quirky and daring sense to your men's medium fade haircut. 
You'll be able to display your male facial characteristics while also giving the appearance that your face is longer and narrower.
11. Short Curls With Beard
You may get a style that expresses your inner self with the assistance of a skilled barber. So let the expert trim your short, curly hair if you wish to match the style of your beard. 
Remember that maintaining short, curly hair, which men believe to be so unruly, is essential if you want to appear good.
12. Mid-Fade Undercut Waves
You may accessorize your undercut fade with a mustache or beard and other facial hair. However, choose shorter beard styles if you leave the top of your head hair relatively long. 
You can top-knot or smooth back the top hair. However, you may just sweep it to one side for a light, almost hipster appearance.
13. Spiky Top
Making a great reappearance as a fashion trend, a short spiky haircut is the best choice for achieving a natural look. 
One of the major advantages of having spiky hair is that maintaining it doesn't take much work. 
Men with short, spiky hair should only add a bead of styling product to the top and dishevel it with their hands to style it.
14. Sharp Mid Fade
An undercut with a mid-skin fade and the long top hair is tough and stylish. Wave the top hair for more texture, then finish the whole thing off with a mustache. 
By doing this, you'll be able to recreate Elvis Presley's iconic look in a more contemporary manner.
15. Military Cut
Choose a military fade haircut to emphasize your hair's ruggedness and aggressiveness. 
Although it may appear a bit modest and outdated, a military fade gives the style an instantly macho and virulent touch.
16. Slick Back Hair
The slick back mid fade haircuts are a clear choice for those who like more elegant and sophisticated appearances. The layered style of the slick back hair prevents it from being too preppy. 
The medium fade haircut enhances the sauciness of the cut while helping to balance off the slicked-back top.
17. Curly Bang
There is no better method to draw attention to your hair's texture than to fade it. Bangs will look great with curly hair, whether you have it naturally curly or decide to style it that way. 
Also, once you pair this hairstyle with a guy's bangs, you'll understand how appealing curly haircuts are.
18. Undercut With Medium Fade
Unquestionably, a guy's undercut fade offers the optimal combination of aesthetic components, including an undercut and a medium fade haircut.
A lengthy top comb-over complements with an undercut. If you want to attempt something new, consider pairing a handlebar mustache with the mid fade undercut.
19. Mid Fade For Black Hair
For good reason, the Afro mid fade is one of the most popular black men's haircuts. 
It helps control your curly hair while maintaining a fashionable appearance. 
Feel free to complement the appearance with facial hair like a mustache or beard.
20. Side Parted Hair
Consider adding a side part to your slicked-back hairstyle or something similar if you feel like changing things. Ask your barber to cut a side part with a classic flair by asking for a hard part.
21. Mid Fade With Quiff
A quiff haircut combined with a medium fade creates a stunning masterpiece while still requiring very little care. 
Simply brush your hair back and run your fingers through it while they are dipped in a styling product. This will add more texture and elevate your quiff haircut.
22. Medium Fade With Dreads
The Afro haircut may freshen up your dreads. 
A mid-skin fade and a line-up complement black haircuts, making the hairstyle geometrically defined and edgy. 
Maintain a tidy face because the hairstyle suggests quite a bit of volume on top. Your absolute maxima facial hairstyles should be a little goatee and a thin mustache line.
23. Mid-Top Fade
Long hair on top of the head and fading sides and back characterize this mid-top fade haircut. There is a noticeable but gradual change between long and short hair. 
This hairstyle provides you with a ton of styling possibilities that range in ambiance and intricacy because of the wide top area.
24. Medium Fade With Curly Top
This mid-top fade hairstyle has long top hair that is receding toward the sides and back. Hair transitions from long to short in a conspicuous yet gradual way. 
Due to the vast top region, this hairstyle gives you a ton of styling options that vary in ambiance and complexity.
25. Mid Drop Fade And Spikes
A medium skin fade may be achieved in a variety of ways. A mid-drop fade is among the most intriguing and attractive styles. 
Even though skin fade gives you a clean-cut look, there is still a good amount of hair left on the back, so you may wear it even if you work a nine-to-five job.
26. Short Wavy Top
It is unnecessary to illustrate how difficult it is to style thick hair. Let's focus on the style advantages that medium fades can offer. 
The most famous method of giving thick hair textures a well-groomed appearance is undoubtedly short haircuts for men with tapered sides and textured tops.
27. Medium Style With Afro Curls
You may encounter mid-taper fade in the majority of black men's haircuts. 
This is primarily because unmanageable natural hair may be dealt with by clean sides and back, which will whip it into faultless form. 
If you want to flaunt your curls while maintaining balance, request short spiky hair from your barber to achieve a low-maintenance appearance that is also fashionable.
28. Mid-Fade Short Hair
Even if your hair is short, mid-fade haircuts can still be used to enhance it. This haircut may be used with any top hairstyle and length since it is very adaptable. 
You can choose a medium skin fade even if your mane is short to provide more contrast to your appearance.
29. Caesar-Inspired Cut
The Caesar cut can occasionally appear outdated. Add mid fade to it to make it more contemporary. 
This modern twist on a traditional hairdo is daring and stylish. Distress the hair on top of your head and go for a full beard for an even more informal style.
30. Razor Part And Mid-Fade Haircut
A genuinely exceptional haircut with a delicate mid fade that ends in a hard part and is razored midway is the purest form of expression. 
It complements a mid-bald fade effectively and just needs a quick style procedure.
31. Spiked Textured Top
When you get your sides and back faded, it simply takes one step from a formal to a ruffian haircut. 
You need to give your top-of-the-head locks enough texture and definition to get the effect. To get your hair to spike up, be sure to use a lot of hair styling products.
32. Shadow Fade Haircut
The shadow medium fade men's haircut is a good option for those who want a more understated look. 
Contrary to a bald mid-fade haircut, it does not significantly reduce the amount of hair on the back and sides while blending into your skin at the hairline. 
As a result, it works well in both formal and casual settings.
33. High Volume Mid-Fade Haircut
For males who like a more modest appearance, the shadow medium fade haircut is a wonderful choice. 
It does not drastically diminish the amount of hair on the back and sides while merging into your skin at the hairline, in contrast to mid-fade baldness. 
It, therefore, functions admirably in both official and informal contexts.
34. Tousled Mid-Fade Haircut
A medium fade cut is so advantageous that you may create a stylish look with little to no work put into styling your top-layer hair. 
Tumble the locks on the crown and add a mid fade to them to make your hair appear loose and relaxed.
35. Long Textured Medium Fade
It will be challenging to pull off this haircut. However, if you succeed, you'll be rewarded handsomely with the numerous accolades you'll receive. 
Make sure there is enough hair on top of the head and give it a distinct texture. Add a short side to draw attention away from the back and to the top hair.
36. Mid-Zero Fade
Everything we need to know about this mid-fade hairstyle is contained in its name. Sides are shaved on the mid-zero fading. 
This hairdo often referred to as a razor fade, is perfect for men who wish to reveal neck tattoos that have been covered up.
The combed-back style looks more glam from behind with one side of the hair shaved.
37. Fohawk Mid-Fade Haircut
The greatest method to play with a faux hawk quietly is to pair it with a mid-taper fade. 
Pairing your faux hawk with a mid-fade hairstyle can be helpful if you don't want it to be more imposing or if you want to start someplace while growing it out to be a real thing.
The disconnection is the main difference between this appearance and the typical fake hawk. 
Mid fade allows for the faux hawk to be tapered into a continuous gradient while still preserving the cyberpunk vibe. 
Additionally, if you want to add more attitude, you may separate your hair with a razor.
38. Mid Fade Mohawk
The popularity of the mohawk among males has persisted for a variety of reasons. No other men's haircut has the energy, attitude, and rock 'n' roll spirit like it has. 
The Mohawk becomes unstoppable and ageless when worn with a mid-fade haircut.
If you pair the haircut with a beard, the two styles are linked perfectly and beautifully, making the hairstyle look particularly modern and eye-catching. 
Your Mohawk will look elegant when worn with a mid-fade cut.
39. Mid-Fade Blowout
The mid-fade blowout will make you the focus of attention because of the stunning contrast. 
Combining a style with distinct fading sides and adding height and volume at the top is the key to this haircut.
This makes it the perfect look for men with more angular face characteristics. 
The hair on top should be retained for a significant amount of time to give the style more structure, and then the pomade should be used to hold it in place.
40. Low Mid Fade
For males who require a professional appearance but yet want a short, clean cut, the low mid fade is the ideal style. 
For guys, the low mid fade beginnings provide a classy trim. For an effortlessly stylish and masculine appearance, you'll be able to style all the most classic men's haircuts. 
You can further customize their appearance by adding a taper or skin fade to the cut.
Dapper Point: Maybe you want the military look with a fashionable twist, instead? Try these styles -- High Fade Haircut.
---
Watch This!
---
Frequently Asked Questions
What is a mid-fade haircut?
The mid-fade haircut features versatile cuts with a mid-fade. Between the low fader and the high fader is the tapering cut. Its adaptability enables a range of functions and aesthetics. 
With this, you may create your design in a variety of ways.
Is it mid fade or medium fade?
It is possible to decrease medium fades with slop, a straight line, or a curve. Midlength fades occasionally curve behind the head but are often drop fades. Another choice for a mid-fade cut is a circle around the head.
Is mid fade better than high fade?
A mid fade strikes an appealing balance while a high fade transition from thin to sparse more gradually than a low fade. This mid fade produces an unrealistic hairline on the neck's front or side.
What number is a mid-skin fade?
It's vital to keep in mind that when you request a mid fade from your barber, you are only stating the location on the sides and back where you want the fading process to begin. Guys may then select a number 0, 1, 2, 3, or 4 to determine how short the skin fade will be.
What is a traditional fade?
The hair is softly shaved a few inches above the nape and on either side of your head for a typical fade haircut. It may also be described as a blended fade and is intended to add some definition without being too jagged.
---
Conclusion
These mid-fade haircuts might be a solution if high fades are too high and low fades are too low. While leaving a small amount of length above the temples, the mid fade neatens the neckline.
The most adaptable fade length could be this in-between one. Drop fades that curve down behind the ears are frequently, but not always, used in mid-length fades.
All males can look good with the mid fade because it doesn't widen the sides. This makes the mid fade particularly attractive for guys with round features and complements thick, curly, and dark hair beautifully.