Looking to make a switch to an electric shaver? Whether you're or you're not, we sure know you look forward to the battle of blades between these two - foil vs rotary shavers.
But here's a spoiler:
There will be no loser between the two - Only one that works better for your skin, face type, or closeness of shaving.
As such, this article will address not only their differences but the strong points and drawbacks of foil versus rotary shavers.
Here we go...
Main Differences Between Foil vs Rotary Shaver
The main differences between a foil and rotary shaver are:
Foil shavers cut in an up-down or left-right motion, whereas rotary shavers shave only in a circular motion. 

Foil shavers are suitable for everyday shaving and fine hair, whereas rotary shavers are better for longer, thicker, and coarse hair.

Foil shavers deliver cleaner cuts in one pass, whereas rotary shavers require multiple passes to achieve the same results.

Foil shavers are perfect for detailing and sensitive skin, whereas rotary shavers are preferable for shaving contoured faces and the neck.

Foil shavers mostly generate a loud buzz, whereas rotary shavers are quieter.
Foil Shaver
A foil shaver has a rectangular head with oscillating blades (they move back and forth - L-R)  and a mesh foil cover. Circular holes on the nickel foil trap your hair in as the oscillating blades get to work.
This is one reason foil shavers can cut fine hair and sensitive skin close and clean.
Another is their fast-moving blades. And in general, it's why electric shavers shave close inconsequentially compared to straight blades or trimmers.
However, foil shavers are limited to cutting hair in a straight motion.
On the bright side, they are a good choice for detailed trimming, like shaping up sideburns or a goatee. 
Who It's For
You're a speed shaver

You shave daily

You like to detail your sideburns and beards

You don't mind shaving in straight lines 

You also want to keep bald head hair
Who It's Not For
You shave contoured areas on your face, neck, and back of the head

You want to shave quietly 
Rotary Shaver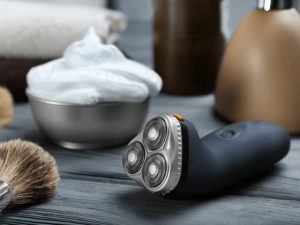 A rotary shaver is not so different from a foil shaver in terms of the overall design. It has three or four round cutting heads that also have a foil cover.
The round shape of the shaver lets a user go about his business in a comfortable circular motion.
Consequently, you can cut hair easily in ordinarily challenging areas to reach, like the neck, back of the head, or chin.
Also, this cutting motion coupled with the larger holes of a triangle works well with thick, curly hair. 
Who It's For
You have prominent facial features (cheekbones, jawline, adam's apple, etc.)

You have thick and coarse hair

You shave every other day or longer

You like the prospect of shaving in a circular motion
Who It's Not For
You have sensitive skin

You want the closest possible shave from an electric shaver
Rotary vs Foil Shaver: A Breakdown
Shaving Technique
So, we established the cutting motion of both shavers earlier.
But here's what we think:
If you love shaving with a cartridge razor (disposable shaving sticks), you'd equally love the foil shaver.
Why? Well, because you'll need almost no learning curve if you're just switching to electric shaving.
On the other hand, a rotary razor gives you more of a freehand motion while shaving.
Its rotation system grants flexible movement rather than a forced one-directional motion. This is awesome since facial hair grows in any direction.  
Hair Type
A rotary shaver is more versatile when it comes to cutting all kinds of hair. It has large openings on its metal head that easily let fine, thick, or thin hair.
Alternatively, foil shavers have smaller circular openings, like a wire gauze. It's why they work better with fine hair and give a smoother, closer shave. 
Shave Efficiency
Now, here's a category where foil razors shine. Quality foil shavers will get you a close shave faster and smoother than rotary ones.
So much so that some models of foil shavers are designed for balding hair or getting a super-close shave after cutting head hair with the best balding clippers.
With rotary shavers, you'll have to go multiple passes to get a close shave.
Noise Level
Because the foil shaver vibrates at higher speeds, it gives off a noticeably higher pitched sound than rotary shavers.
You can shave early in the morning without waking up anyone in the house with the latter. So, it's worth considering if noise is also a dealbreaker. 
Rotary vs Foil Shavers For Sensitive Skin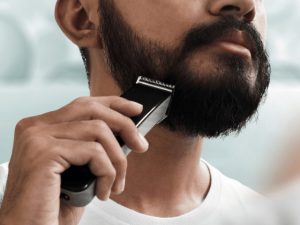 Many men, and I, for one, tout the foil shaver as the best electric shaver for sensitive skin.
Its high-speed blades and pinpoint hair contact cuts in swift powerful strokes, hence, less irritating shaves.
Also, it cuts the hair much cleaner, which will prevent ingrown hairs or razor bumps. Sometimes, your acne breakout might be a case of ingrown hairs.
But you may need to have a top-of-the-line model to guarantee a pleasurable experience shaving sensitive skin. This type would also let you use shaving cream for better comfort.
Styling
It's easier to pick a winner here.
Styling or shaping up facial hair requires the precision of trimmer blades.
However, the closest you can get with an electric shaver is when you use a foil shaver. Its rectangular head can outline the corners of the face or your sideburn.
Try to achieve the same with a rotary shaver, and abysmal might be an understatement of the outcome.
Nonetheless, some premium foil and rotary razor brands now include trimmer attachments. You can replace the cutter head with this attachment for better shape-ups, and cutting down bulk hair.  
Foil Versus Rotary Shavers: Similarities
The similarities between these shavers simply mean that you may find the same features in some models -  it's not universal.
So it's not fair to give one shaver the upper hand here, rather the brand, price, and quality would play a key role. 
Attachments
Both shavers come with accessories that transform them into a full grooming kit. Many have changeable heads for a beard, nose, or ear trimmer attachment while some have a pop-up trimmer.
The pop-up trimmer shoots out the side of the shaver's handle. You can shape up your stache or sideburns better, even with a rotary shaver, using this attachment.
Lastly, some brands include a brush that can prepare shaving cream on your face. 
Wet/Dry Capabilities
Either electric shaver can be waterproof, depending on the model. This feature is usually advertised as "wet/dry" and means you can clean or use the shaver under running water.
You can continue wet shaving with most wet/dry electric shavers, as well.
Nonetheless, it's vital to check the manufacturer's information to know the full wet/dry capabilities before buying. 
Battery Life
Most foil and electric shavers use rechargeable Li-ion (lithium-ion) batteries that can last 2-3 weeks on a single charge.
A shave session with a quality shaver lasts only about 5 minutes. And several models offer over 60 minutes of battery life on a full charge. That's an average of 12 uses on a single charge.
Needless to say, both shavers are also generally travel-friendly.  
Ease of Cleaning
Most electric shavers can be cleaned easily by rinsing the head under a running faucet.
However, some sophisticated models have a cleaning station that cleans and disinfects the shaver automatically. In most cases, the box will also double as a charger.
The Panasonic Arc 5 is one of the best shavers with this feature.
Aside from being more expensive than without a cleaning station, you'll need to buy special detergent packets, which may be scarce. But it is no doubt a fun feature to have.
This is how you clean and sanitize a foil shaver:
Frequently Asked Questions
Which one is better for sensitive skin - rotary or foil shaver?
It more or less boils down to the cutting power of either shaver. Any model with a higher cutting power will shave you smoothly enough to not cause any irritation. You can get even better results when you shave with shaving cream. So, while you're at it, find one that's wet/dry compatible. 
Which one is easier to use b

etween a foil and a rotary shaver?
Although it boils down to preference, rotary shavers tend to be more user-friendly. They usually have an ergonomic shape and coupled with their performance, let you shave with a comfortable grip. However, if you want to line up your sideburns, mustache, or beard, a foil shaver is much easier to use. 
Rotary vs Foil Shaver: Which is Better?
As you must have deduced from the article, a true victor isn't set in stone. And (as much as the statement is thrown around) is largely down to your preference and shaving needs.
If you want a close shave and prim edges on your sideburns every day, the foil shaver is the go-to. Meanwhile, a rotary shaver is better for thick, coarse facial hair and folks who want a quiet shave in the mornings.
Read our guide on the best electric shavers for further information on the best foil and electric shavers in the industry.