Whether you're a barber trimming hair or a customer getting a shave, we know it's no joke. Contrary to what most think, it's not as easy as it sounds.
And, of course...
Even when bald, we want to look the best we can; even a bald head has its charm, right? To those fine-looking fellows who wish for a smooth hair shave, here are some tips for you.
I recommend  Wahl Professional 5-Star as the best clippers for bald head individuals, but other options are also available that might suit you more.
9 Of The Best Balding Clippers Today - Reviewed
1. Wahl Professional 5-Star Clipper – Best Overall
When it comes to balding clippers, motor power and cutting length are important factors. When it comes to those factors, the Wahl Professional 5-Star Balding Clipper fights for the spotlight.
Powered by an electromagnetic motor, the clipper's blades perform at high speed to produce surgically close cuts.
That's essential for bald cuts and stylish fades, especially for barbershops.
In addition to fades, the purchase comes with attachment combs and a red blade guard for those who seek design variation in fades. You'll further find oil and cleaning brushes available for maintenance.
Aesthetically and ergonomically wise, the clipper offers a neat design comfortable to hold and easy to use and maneuver. The 8-foot cord may also be efficient for flexibility.
Something to beware of, though, is how sharp the blades are. They're efficient for close cuts, but they can cause bruises if not used properly. Make sure to read the instructions carefully.
Pros
Powerful V5000+ electromagnetic motor

Highly recommended for surgically close-cuts

Comfortable to hold

With attachment combs and guards
Cons
Takeaway
It's no wonder why people find the Wahl Professional 5-Star Balding Clipper a famous must-have for barbers and stylists. With high-performing motor power and close-cutting blades that are indeed essential factors, it's a product that tops the best clippers for bald head citizens.
---
2. Wahl Peanut – Best Value
Wahl Peanut offers a much more compact design than other clippers, yet still exquisite in terms of performance.
It does not seem like it, but I think you could go nuts over this product's features. 😀
With a powerful rotary motor and sharp stainless steel blades, you can shave precise and ultra-close cuts even with thick hair.
Many find it easy to maneuver, and with the attachable combs included, feel free to design your hair in different fade lengths.
People also find the Peanut comfortable to hold and stress-free to use. Its 7-foot cord may also come in handy for easy roaming in the barbershop.
Wahl Peanut's blades may not exert as much power as other clippers, but being worry-free of sharp piercings on your head makes up for it. Furthermore, it's advantageous in terms of portability for wandering barbers. A good bet for its price, isn't it?
Pros
Cost-effective

Compact and portable

Close-cutting blades

Easy to maneuver
Cons
Not as powerful as other Wahl clippers

Too small for some users
Takeaway
Wahl Peanut certainly proves the quote, "small but terrible," and it's indeed remarkably fantastic. It won't outdo the performance of other high-rated products, but its output is more than efficient. That and its compactness and portability make it the best balding shears for its value.
---
3. Oster Classic 76 – Best Durability And Flexibility
What makes Oster Classic 76 an eye-catcher is how durable it is for heavy-duty use. Even with thick hair, regardless if it's wet or dry, you'll find its single-speed universal motor trimming effectively.
The handle design also considers ergonomics. Although it might not be that comfortable compared to other products, many still find it easy to use and hold.
Its 9-foot power cord is additionally a bonus for those who prefer longer cords for flexibility.
People also love how versatile it is with different cutting blades. Speaking of, it comes with two detachable ones, #000 and #1, lengths that are excellent for balding.
You ought to watch over them carefully, though, as some buyers found them heating up too fast.
Furthermore, you might initially find it a tad expensive, but personally, the efficiency most experience after purchase is worth the investment.
Pros
Durable and long-lasting

Versatile among cutting blades

Powerful single-speed universal motor

Long 9-foot power cord
Cons
Heavy to carry

Relatively expensive
Takeaway
People know the Oster Classic 76 as a rival and competitor for the best balding shears. Despite its seemingly unreasonable price, you'll find the durability and versatility of this product quite the catch. 
---
4. Wahl 5-Star Magic Clip – Best Cordless Clipper
People see the Wahl 5-Star Magic Clip as a cordless version of our earlier Wahl 5-Star product. Just like what you'd expect from a cordless clipper, it draws less power than the latter but is still effective.
Powered by a lithium-ion battery, you can use this heavy-duty clipper for a lengthy period of around 90 minutes. Its zero-overlap blades come with a taper lever at the side for high precision in cutting, fading, and blending.
Additional attachment combs or guards are also included upon purchase to aid in hairstyles. As per ergonomics, many found it sufficiently comfortable, easy to use, and lightweight.
For the final trick, the "magic" behind this Wahl product is that, unlike most cordless clippers, it's usable when charging on a low battery. Hence, its name.
Pros
Usable when plugged

With taper lever

With attachment combs and guards

Long runtime

Lightweight
Cons
Not as quiet

Relatively expensive
Takeaway
Wahl products have made their name on balding clippers well, and Magic Clip is not an exception. It's highly recommendable for its flexibility, close-cutting, ergonomics, and runtime, possibly making it the best cordless clipper out there.
---
5. Andis T-Outliner – Best For Fades And Outlines
Others, including you, might know Andis T-Outliner as a beard trimmer; here's to inform you that it can be surprisingly efficient for balding, too.
What barbers love is its carbon T-blade-shaped trimmer that aids in making neat designs and outlines.
When zero-gapped, you'll find it sharp and close cutting, and with its electromagnetic motor, it's perfect for a smooth shave on the head.
Like other best balding clippers, it considers ergonomics with its contoured housing for comfortable and stable use. Cord length is 8 feet long, and it further comes with a hanger loop.
People generally consider it a well hair-finishing trimmer; however, watch over it carefully as it may heat up after some time.
Pros
T-shaped blade for quick designs and outlines

Close-cutting zero-gapped blades

Powerful magnetic motor

Contoured housing for a comfortable hold
Cons
Takeaway
Barbers love Andis T-Outliner for its blade, and you might, too. The T-blade design could aid in making those fades look clean and stylish. With that handy tool, shaving just became one step easier.
---
6. Oster Fast Speed Pivot – Best For Thick Hair
With the power Oster Fast Speed Adjustable Pivot's draws, it's a smart pick for shaving thick hair, be it wet or dry.
Its ceramic blades will assure a quick cut and are further adjustable from blade number #000 to #1 for easy designs.
The feature will be very efficient for stylists and barbers or anyone who finds buying and changing extra blades a hassle.
If you're looking for more variation of fades, it comes with three attachment combs and a blade guard. In addition, you'll find cleaning materials for maintenance.
The Oster Fast Speed clipper is also ergonomically designed with textured housing; it seems to be effective as many found it easy to use and handle. Some may further find its 8-foot cord proficient.
Lastly, what could catch your attention is that this fast-speed clipper is whisper quiet to use while you enjoy its top-tier cutting skills.
Pros
Powerful pivot motor

With attachment combs and guards

Textured housing for comfortable grasp

Whisper-quiet

Adjustable ceramic blade
Cons
Issues on delivery

Might occasionally pull hair
Takeaway
With a pivot motor for the exertion of maximum power, the Oster Fast Speed Adjustable Pivot is a good pick for trimming stubborn thick hair. The adjustability of its blades to easily make those fades is further a bonus.
---
7. Andis Outliner II – Budget-Friendly Andis Clipper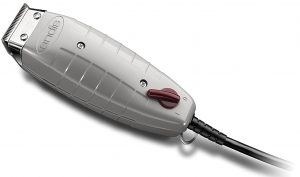 The Andis Professional Outliner II is a good pick if you'd like a cheaper and narrower blade width alternative to the Andis T-Outliner.
It runs with the same speed and magnetic motor power to give you swift and clean cuts. The carbon blades are likewise close-cutting, more so when you zero-gap them.
Most people also find its contoured housing a good feature for easy use and maneuver.
The heavy-duty 8-foot cord with a hanger loop is also present in this product.
But let's not compare it too much with T-Outliner. Overall, individually it's an efficient clipper for shaving, fading, and outlining.
Note, however, that it may not be as quiet as you'd want and that it can also get hot pretty fast.
Pros
Relatively affordable price

Close-cutting zero-gapped blades

Powerful magnetic motor

Contoured housing for a comfortable hold
Cons
Not as quiet

Heats up quickly
Takeaway
If you're a usual bald-cut lover and have been a fan of the Andis brand, consider Andis Professional Outliner II. It now comes at a more affordable price without removing the admirable essence of its specs. It's efficient-performing and budget-friendly; what a great combination.
---
8. Andis ProFoil – Best For Sensitive Skin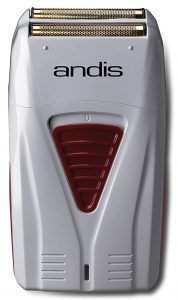 Are you looking for another cordless clipper safe to use on your delicate skin? Andis ProFoil is a good option.
Powered by a lithium-ion battery, using Andis Pro Foil lasts for around 80 minutes, sufficient for two or more shaves. And just like Whal's cordless clipper, you can further use it plugged when low on battery.
A good touch on this product is its blades made with titanium hypoallergenic foils for sensitive skin.
The ProFoil clipper produces one simple, smooth, close-cut design. It won't be suitable for those who look for variation in fades, but it's a big hand for stylists who have trouble making skin-close shaves.
The downside is that some buyers found it easily damaged.
Luckily, Andis also offers replacement parts that aren't that pricey for these unfortunate situations. Even so, prevention is still better than cure, so take care of them well.
Pros
Hypoallergenic foils

Usable when plugged

Long runtime

Skin-close cutting blades
Cons
Lack of accessories and blades for varied fade lengths

Some find them easily damaged
Takeaway
Andis ProFoil is a product for cordless clipper seekers. But even if you're looking for a corded one, it's a go-to balding clipper for sensitive skin with its hypoallergenic blades. Don't worry about quality and performance; they're more than efficient.
---
9. Kemei Men's – Budget-Friendly Cordless Clipper
Kemei isn't that much of a famous brand you'll see in reviews, but its cordless clipper is something worth noting.
Hundreds adore its lithium-ion battery, which comes with a USB charge, for its runtime. Some buyers were even able to use it for more than three trims because it loses battery gradually.
Its blades, like those of the best clippers for balding, give precise and smooth cuts. And with the adjustable taper lever, you'll find it easier to make blends and fades.
You'll also find using it easy and comfortable, and it further provides attachment combs and cleaning brushes for convenience. What's more, it's an eye-catcher for sturdiness.
The product is indeed a go-to cordless clipper for quality and performance, and the best part is you buy it at an affordable price! However, use it carefully; some also experienced the blades overheating.
Pros
Relatively affordable price

Long runtime

With taper lever

With attachment combs and USB cord

Durable
Cons
Not as well-known

Heats up quickly
Takeaway
Kemei Men's Hair Clipper proves its efficiency and reliability among buyer feedback, and its price is definitely worth the investment. With its quality and performance, it's the best clippers for a bald cut if you're on a tight budget.
---
What To Look In The Best Balding Shears
Blade Cutting/Trimming Length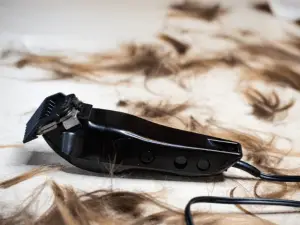 Cutting or trimming length is the key feature of the best clippers for bald head individuals.
If you aim for that bald or faded look, look for clippers with a 1-mm close-cutting length at most. At most. They'll make that thorough shave much easier to do and smoother-looking.
For the new members of the bald-haired club, to determine each product's cutting length, look for the blade numbers. For balding, it's best to choose from #000 (0.5 mm), #0000 (0.25mm), and shorter. Notice that more zeros mean shorter length.
Blade Durability And Design
Apart from trimming length, you should also consider the blade's quality and style. Some recommend stainless steel or ceramic blades for sharpness, high resistance to corrosion, and skin sensitivity.
If you have the option of purchasing blades separately, you should also recheck their teeth. Look for clippers with a closer set of teeth with a flat bottom to achieve the best bald look.
Motor Power
Having good motor power that matches your skill should go hand-in-hand with the blade to make things easier. Regularly, you'll find one of three types of motors:
Magnetic Motor
Magnetic motors, closely related to electromagnetic motors, are usual sights in barbershops. Their high speed to lessen tugging and pulling of hair makes them ideal for simple or intricate designed fades.
Because of their built-up (fewer parts), they consume less power and are less of a hassle to clean. With proper care, they are very durable and expected to last for a long time.
Pivot Motor
Pivot motors are usually found in beard trimmers but are also recommendable for hair clippers. They have a slower speed but higher power input.
Having that strong power draw makes simple trims easier, no matter how bulky your hair is. However, you should perform caution when using them to prevent accidents. They aren't the type you should use for fades, either.
Rotary Motor
Rotary motors are the most common type for the past years. They're your go-to motor for a balance of speed and power, and you'll usually find them in balding cordless clippers.
In terms of performance, they're passably efficient for cutting even through thick hair. However, don't opt to overuse them; they have a relatively shorter life span.
Type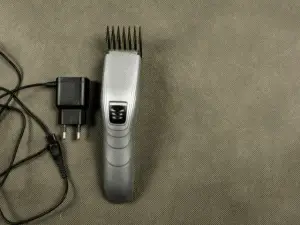 While corded clippers are certainly the first option, cordless have their perks depending on your need.
Corded
In terms of power, corded clippers have the upper hand; powering via electric outlets provides more consistent energy. If you don't have problems finding a socket, they're the ideal choice. 
Always have a lookout for the cords, though; they can get tangled or misplaced.
Cordless
Meanwhile, cordless clippers remove the nuisance of cord issues. They are also more lightweight and compactable, perfect for daredevil travelers. They score in terms of portability, but they won't offer the same amount of power corded ones give.
Design and Ergonomics
But of course, the user's comfort and convenience are factors for consideration.
Take note of the clipper's size, weight, and grip style.
Products that offer an ergonomic handle and centered weight are eye-catchers, most especially for barbers; you'll find them strain-free and much easier to control. That would significantly aid in making detailed fade designs.
You could also look for clippers with a waterproof feature. It does NOT give you the option of shaving during showers. But conveniently, it offers some degree of protection so you could clean the blades with water instead of brushing them bit by bit.
Further Insights
Having Attachment Combs
Some products offer combs and guards attachable to the clippers to guide you in cutting your hair. They are great tools for a variation in your hair lengths or fades, or if you don't plan on shaving your hair to skin level.
Power Considerations In Cordless Clippers
Cordless clippers come with rechargeable batteries for a power source.  Most come with lithium-ion ones that last for around 90 minutes.
If you're one to shave often, you'll notice gradual weakening after a few years —it's still a good investment.
Even if they're slightly more expensive, I'd recommend choosing clippers with lithium-ion or high-quality batteries. Cheaply made batteries usually have poor performance and require frequent charging (around every 30 minutes).
Considerations For Self-Sharpening Blades
A common question: "Are self-sharpening blades more efficient?"
Self-sharpening blades are an uncommon feature and may come in handy, but it's not an essential nor a significant factor. There are easy ways how to sharpen clipper blades that you can do. Instead, focus on a strong motor; it prolongs the clipper's lifespan and aids in a smoother cut.
Hair Clippers Vs. Balding Clippers
Remember, the best hair clippers for black men are NOT the same as balding clippers. Even the best hair clippers for balding might not give you the expectations actual balding clippers can do.
To prolong their lifespan, they need proper care from you. To aid you in this aspect, try watching this video on clipper maintenance and blade replacement and alignment by Andis itself:
Frequently Asked Questions
What is the best cordless balding clipper?
Based on our review, the Wahl Professional 5-Star is the best overall for its high ratings and outstanding features.
How close can balding clippers cut?
The best bald clippers cut as close from one up to 0.2 mm.
Is it advisable to use balding clippers every day?
Whatever type you use, shaving every day can lead to an unhealthy dry scalp. That's a no-no for your health. Even if your hair has a fast growth speed, limit shaving to a maximum of three times a week.
Final Thought
For a clean shave, look no farther for Wahl Professional 5-Star has got you covered. It tops our balding clippers review for its top-tier motor power and close-cutting trims, critical factors that we seek.
You could also consider Wahl Peanut, which offers the most reasonable price for its efficiency. Apart from its performance, its compact size makes it portable, perfect for cases of traveling.
But of course, it's all up to your preference and condition. Carefully consider which is the best balding trimmer for you.
Who knows? You might attract those ladies or gentlemen out there.